Back to templates
Free F-Shaped Pattern Email Template
Revolutionize your email marketing game and engage your audience in seconds with the F-Shaped Pattern Email Template!
How to use this template
To access the template, click "Get this template" and sign in or register for a Litmus Community account.
The template will open in Litmus Builder.
Customize the template in our code editor or copy and paste it into your ESP.
Update the logos, brand colors, fonts, and content to make it your own!
Start using the F-Shaped Pattern email template today
Elevate your email game with our dynamic F-shaped email template, designed to accommodate diverse content needs, from newsletters and reports to product updates, and more. This template takes the hassle out of crafting complex layouts. Enjoy the convenience of a user-friendly design, ensuring your messages captivate readers effortlessly.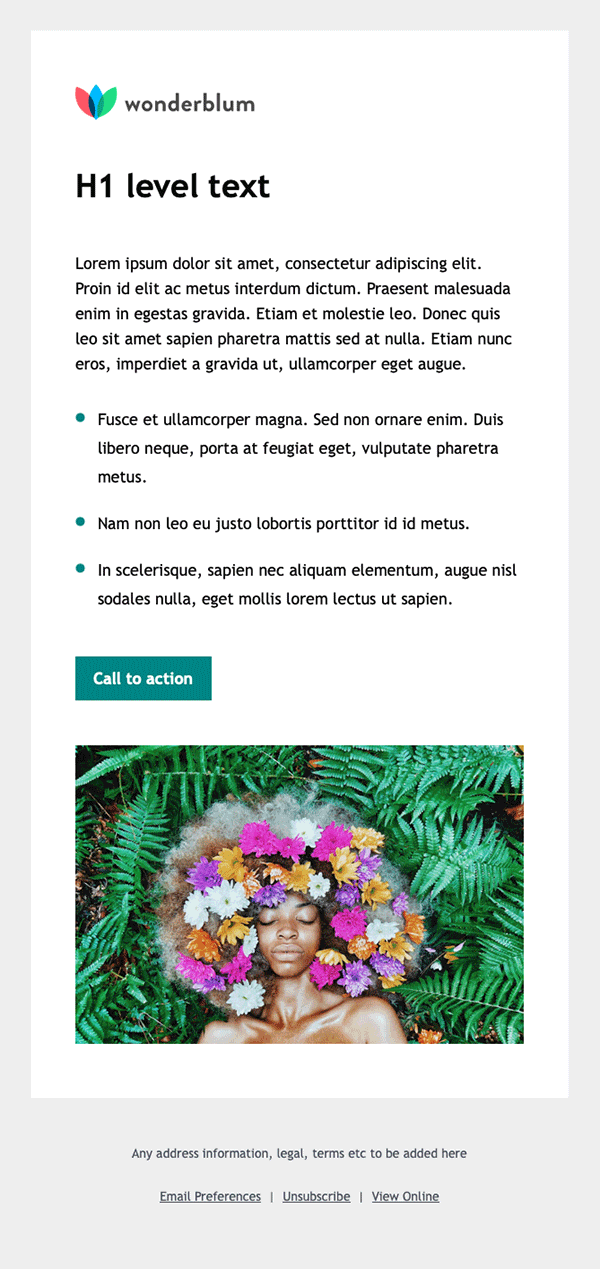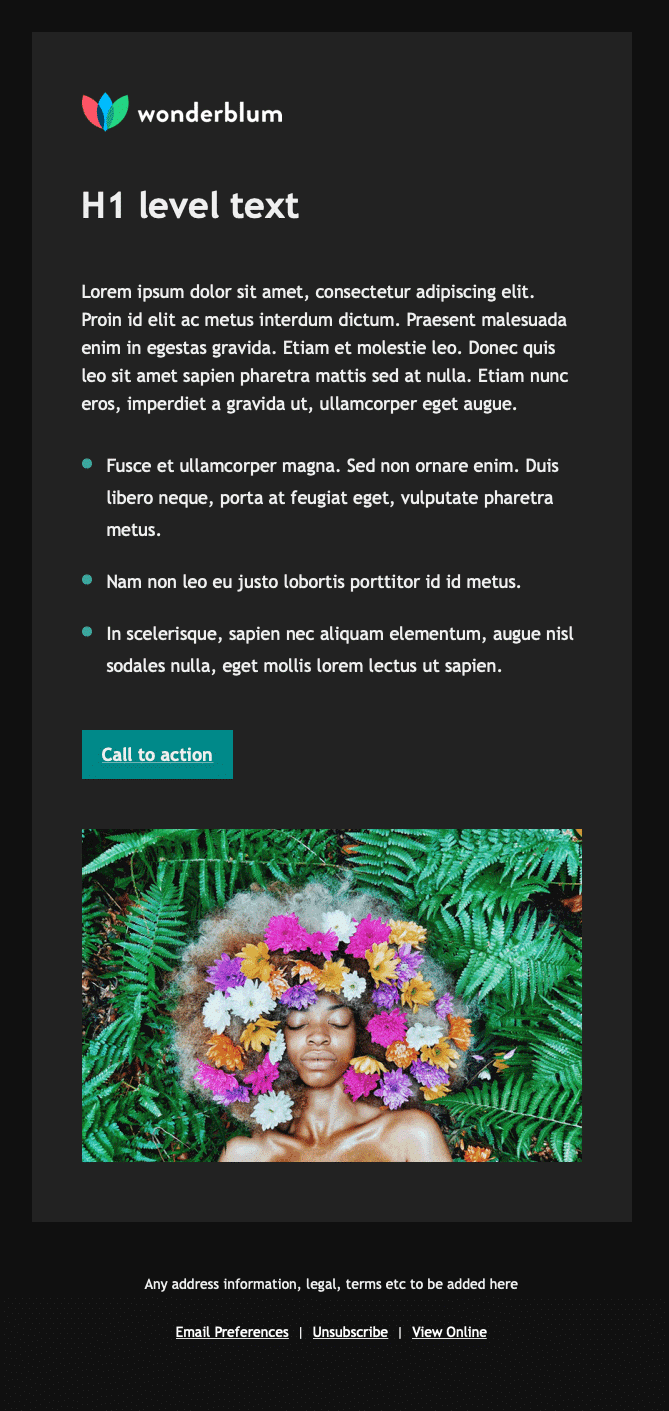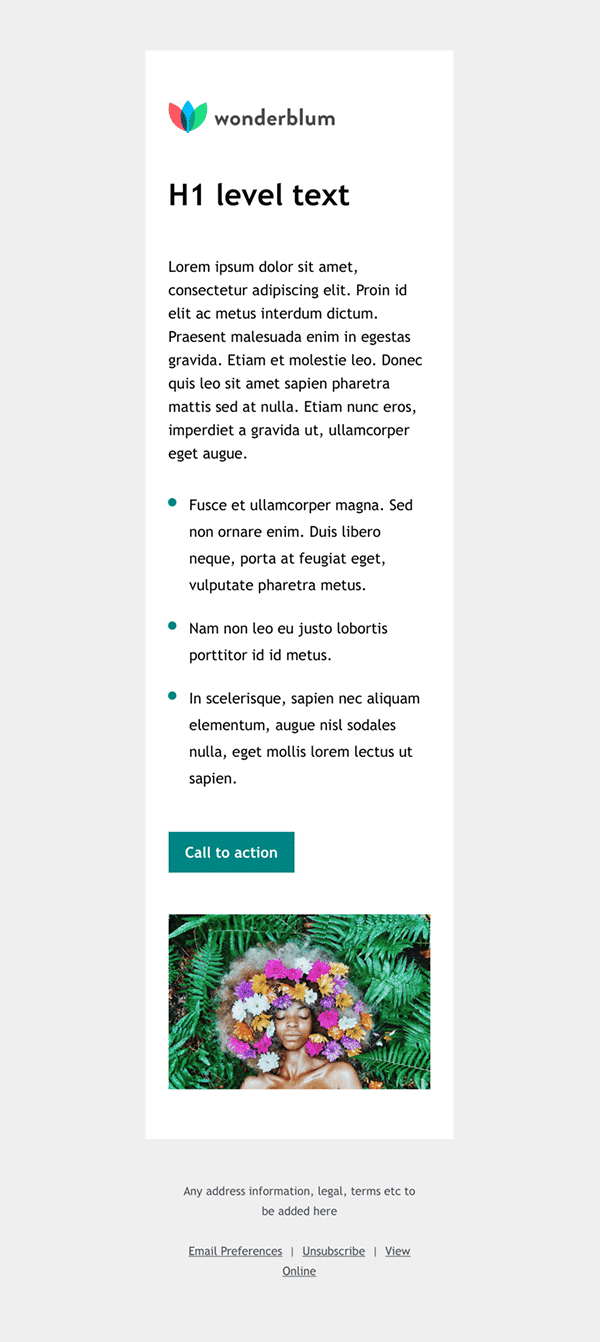 Litmus Previews
Frequently Asked Questions
Have a question about our templates not answered here?
Ask the community
What is an F-Shaped Pattern Email Template?
The F-Shaped Pattern is a term used to describe how users typically scan and read web content with their eyes. It's based on eye-tracking studies conducted on web users, which have shown that people tend to read web pages in an "F" or "E" shaped pattern. Here's a brief explanation:
The top horizontal bar of the "F" represents the initial horizontal scan of a web page's headline or main content area from left to right.
The second part of the "F" represents a shorter horizontal scan below the initial one, typically focused on subheadings or key points of interest.
The vertical stem of the "F" represents a longer vertical scan down the left side of the page, where users look for more detailed information.
This pattern is a generalization of how users tend to consume content on web pages—and can be applied to email, too. It suggests that important information should be placed toward the top and left side of an email, where users are more likely to notice it during their initial scan. It's a technique we're definitely fans of!
What are the use cases for F-Shaped Pattern Email Template?
An F-Shaped Pattern Email Template or any email template designed with the F-Shaped reading pattern in mind can be beneficial for a variety of use cases. Here are some scenarios in which such a template might be particularly useful:
Content-rich emails
If you send emails with substantial content, such as newsletters, updates, or educational material, an F-Shaped Pattern Email Template can help ensure that your subscribers quickly grasp the most critical information during their initial scan.
Marketing campaigns
For marketing emails, including promotional offers, product launches, or event announcements, using this pattern can help you catch your recipients' attention early and entice them to explore the full content.
Event invitations
If you're inviting people to events, webinars, or conferences, this pattern can help convey essential event details and encourage registrations.
News updates
News agencies, blogs, or publishers can use this pattern to ensure that headlines and key stories are immediately visible, increasing the chances of readers engaging with the content.
E-commerce
E-commerce businesses can benefit from this pattern by showcasing featured products, discounts, or special offers prominently at the top of their emails.
Product updates
Companies rolling out software updates, new features, or improvements can use this pattern to highlight the most significant changes and benefits.
What are the benefits of using an email with the F-Shaped Pattern?
Using an F-Pattern in an email can offer several benefits:
Improved readability
The F-Shaped layout aligns with how users typically scan and read web content. By structuring your emails accordingly, you make it easier for recipients to quickly grasp the most critical information, leading to improved readability.
Higher engagement
When recipients can easily find the key points, calls-to-action, and offers in your emails, they are more likely to engage with your content, click on links, and take desired actions.
Increased click-through rates (CTR)
Placing important links, buttons, or calls to action in the areas where the F-Shaped Pattern suggests users are likely to look can result in higher CTRs, as more recipients will notice and interact with these elements.
Enhanced information retention
Users are more likely to remember information presented in the F-shaped pattern, which can be crucial for conveying important details, such as event dates, product features, or promotions.
Effective storytelling
If your email content follows the F-Shaped Pattern, it can help you tell a compelling story or deliver a persuasive message by ensuring that the most persuasive and emotionally engaging content is prominently displayed.
Mobile optimization
The F-Shaped Pattern is particularly useful for optimizing emails for mobile devices, where users often engage in quick scanning. This ensures that your emails remain effective for users on smartphones and tablets.
Reduced friction
By guiding recipients through your email content in a logical order, you reduce friction in their reading experience, making it more enjoyable and less confusing.
It's important to note that while the F-Shaped Pattern can be a useful guideline, it's not a one-size-fits-all solution. Audience preferences (including language) and email content may vary, so it's essential to conduct A/B testing and continuously analyze the performance of your emails to refine your template and maximize its effectiveness for your specific audience and goals
What features does the F-Shaped Pattern Email Template include?
Here are some features and elements included in this F-Shaped Pattern Email Template:
Concise and engaging headline: A clear and compelling headline at the top of the email captures the recipient's attention and provides an overview of the email's content.
Visual hierarchy: The template utilizes visual hierarchy through font size, color, and formatting to emphasize important information.
Short and scannable paragraphs: Content is presented in short paragraphs to facilitate quick scanning, with the most critical information appearing early in each section.
Bullet points: Lists are used to present information in a structured and easily digestible format, ideal for showcasing features, benefits, or important points.
Clear Call-to-action (CTA): A prominent and visually distinct CTA button is included, encouraging recipients to take the desired action, whether it's making a purchase, signing up, or clicking for more information.
White space: Ample white space is maintained to reduce visual clutter and provide breathing room around important elements, enhancing readability.
Responsive design: The template is fully responsive, meaning it displays and functions correctly on various devices, including desktops, tablets, and smartphones.
What A/B tests can I run using the F-Shaped Pattern Email Template?
Here are some A/B tests you can run using this template:
CTA button color: Test different colors for your call-to-action (CTA) buttons to determine which one generates more clicks.
CTA button text: Experiment with different CTA button text to see which wording encourages more conversions.
Content length: Test shorter vs. longer email content to see which version keeps readers engaged and encourages them to take action.
Image vs. no image: Assess whether including an image or not in your email is more effective for your audience.
Content order: Experiment with the order in which content sections appear in the email to see if rearranging them improves engagement.
Font styles and sizes: Compare different font styles and sizes to determine which ones enhance readability and engagement.
Is the F-Shaped Pattern Email Template compatible with major email marketing platforms?
Yes, the F-Shaped Pattern Email Template is compatible with major email marketing platforms. major email marketing platforms, such as Mailchimp, Constant Contact, SendGrid, and more.
Is it optimized for different email clients and devices?
Yes! The template is Litmus tested and optimized for 100+ email clients and devices, and proactively monitored with Litmus Email Guardian to ensure it continues to look pixel-perfect and ready to drive results.
Does the F-Shaped Pattern Email Template meet email accessibility best practices?