Back to templates
Free Order Confirmation Email Template
Perfect your post-purchase communication and keep customers in-the-know with the Order Confirmation Email Template.
How to use this template
To access the template, click "Get this template" and sign in or register for a Litmus Community account.
The template will open in Litmus Builder.
Customize the template in our code editor or copy and paste it into your ESP.
Update the logos, brand colors, fonts, and content to make it your own!
Start sending order confirmation emails today
The order confirmation email plays a pivotal role in the customer lifecycle—concisely confirming an order and providing all key details. It ensures your customers know they made the right choice by choosing your products or services.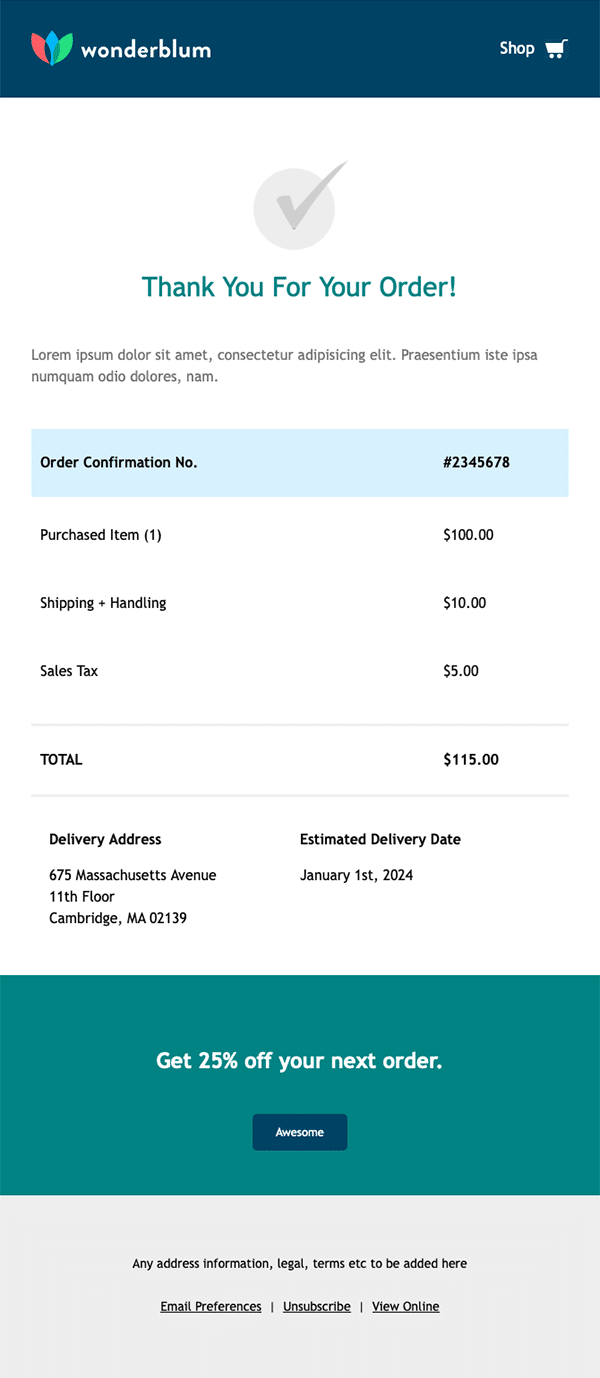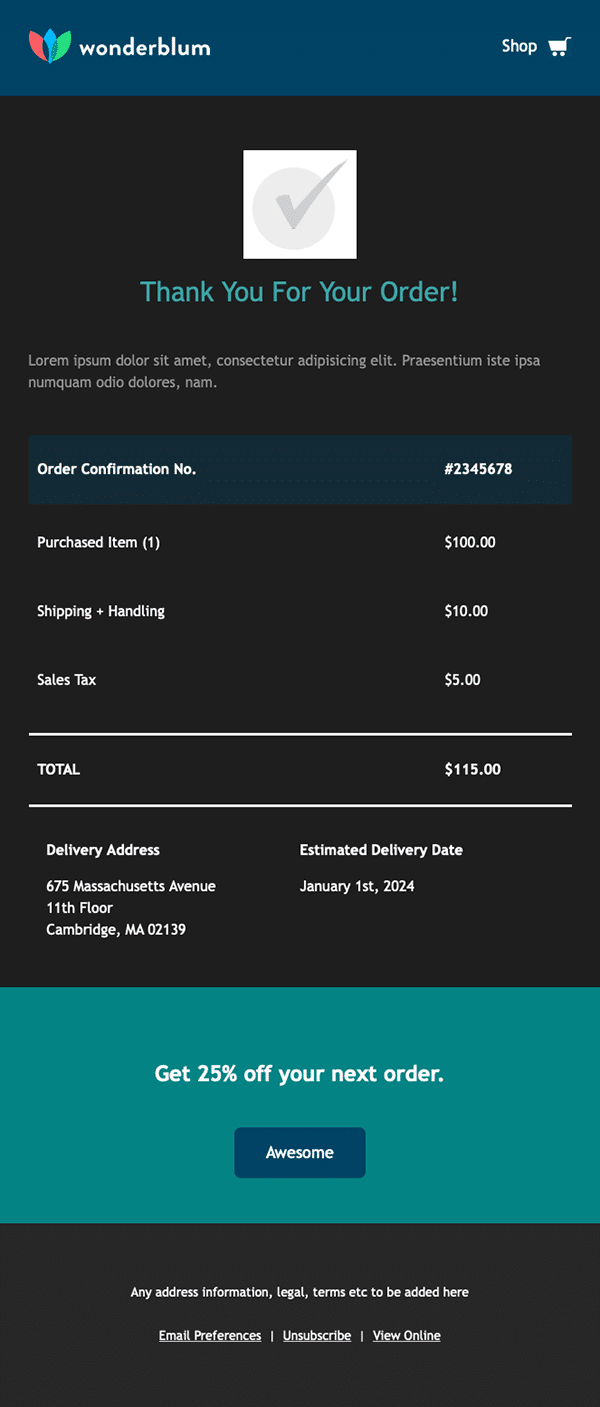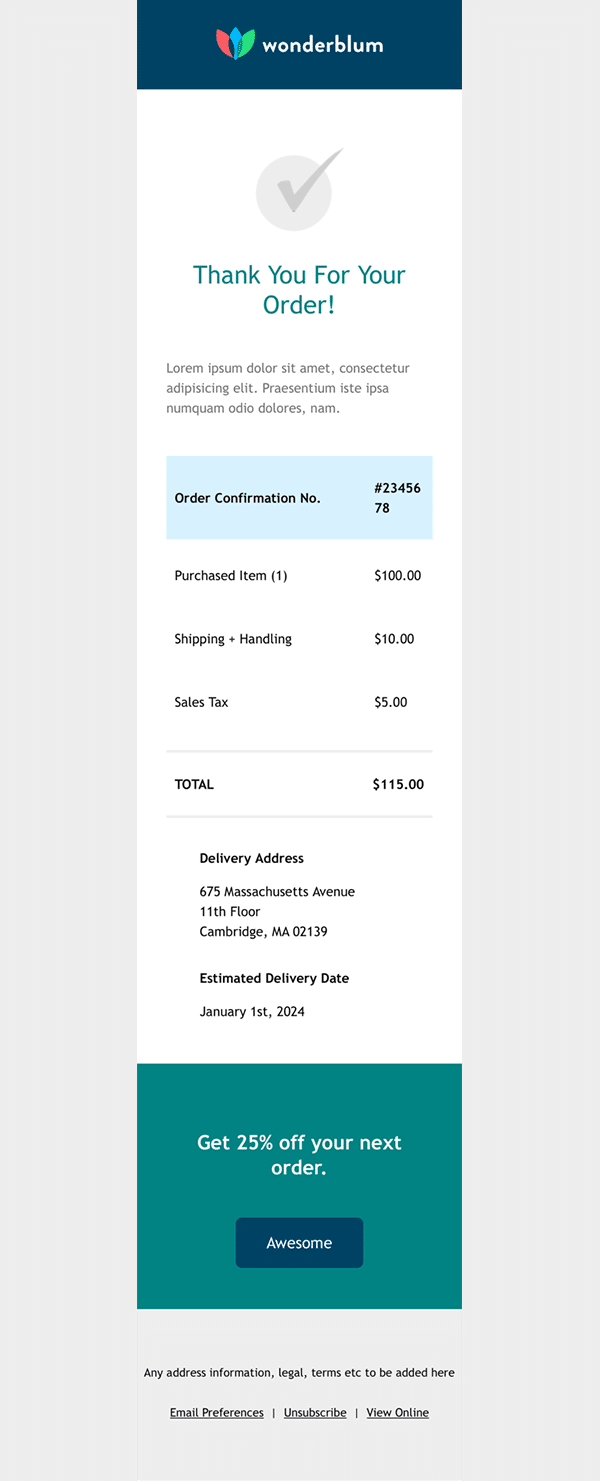 Litmus Previews
Frequently Asked Questions
Have a question about our templates not answered here?
Ask the community
What is an order confirmation email?
The Order Confirmation Email Template is the perfect template to use to send customers an order confirmation immediately after they've made a purchase. This type of email serves as a crucial communication tool as part of your email marketing strategy, confirming the details of your customer's order. It can include essential order details such as the order number, a list of the items purchased, their prices, the total cost, tracking number, and expected delivery date.
It also serves as a digital receipt, helping customers keep track of their purchases and providing a point of reference for any future inquiries or returns—right in their inbox. Moreover, order confirmation emails can also include links to additional resources, such as order tracking information or customer support contact details, to further assist customers and foster brand trust.
Who should use an order email confirmation email?
An order confirmation email is a valuable tool for businesses that sell products or services online. It serves as a standardized format for communicating important information to customers after they've placed an order. Here's who should use an order confirmation email template:
E-commerce retailers
Online stores that sell physical products should use the order confirmation email template to provide customers with details about their purchases, including order number, itemized list of products, pricing, shipping information, and estimated delivery dates.
Service providers
Businesses offering services such as consulting, coaching, or subscription-based services can benefit from order confirmation emails to confirm the service agreement, billing details, and any other relevant information.
Booking platforms
Companies in the travel, hospitality, or event industries can use this type of email to confirm reservations, bookings, or event registrations helping customers verify their plans.
Event organizers
If you sell tickets or registrations for events, concerts, conferences, or workshops online, an order confirmation email can provide attendees with event details, ticket/barcode information, and instructions.
Any online business
Essentially, any business that conducts transactions or interactions online and wants to provide customers with a clear confirmation of their purchase should consider using order confirmation emails to help improve customer experience, reduce support inquiries, and build trust with customers.
What are the benefits of using the Order Confirmation Email Template?
Using the Order Confirmation Email Template offers you several benefits, including:
Enhanced customer confidence
Enhancing customer confidence is vital, and this template helps you achieve that goal. By promptly confirming orders and providing essential details, such as order numbers and itemized lists, you reassure customers that their transactions were secure and legitimate. This enhances their trust in your brand and the purchasing process—and increases customer satisfaction.
Reduced customer queries
By including comprehensive order information, such as product names, quantities, prices, and delivery dates, you preemptively answer many of the questions customers might have had. This reduction in queries saves both your team and customers valuable time and effort.
Encourage cross-selling and upselling
By strategically suggesting related or complementary products in an order confirmation email, you can maximize the chances of customers making additional purchases.
Support post-purchase marketing
Leverage the order confirmation email to promote loyalty programs, referral incentives, or upcoming sales, thus encouraging customers to continue engaging with your brand.
Which A/B Tests could I run using the Order Confirmation Email Template?
When running A/B tests on your order confirmation emails, you can experiment with various elements to optimize engagement, including:
Call-to-action (CTA) button text
Depending on what you want the recipient to do upon receiving their order confirmation email, you could experiment with different CTA button text variations, such as "View Order," "Shop Now," or "Explore Products" to discover which CTA drives more post-purchase engagement.
Order summary
Experiment with the format and level of detail in the order summary section. You can compare a concise summary to a more detailed one to see which one encourages customers to take further action.
Cross-selling and upselling
Test the placement of cross-selling or upselling suggestions in the email to determine whether including related product recommendations leads to increased post-purchase sales.
How could I personalize an order confirmation email?
Personalization options are endless when it comes to order confirmation emails! Here are a few examples of what you can do with AI Recommendations in Litmus Personalize:
Showcase items frequently purchased together. Prompt shoppers with products that are frequently purchased alongside the products they just bought.
Recommend items for an individual shopper. Combine on-site behavior and purchasing habits to serve hyper-personalized product recommendations crafted for each customer.
Highlight similar items. Display the right product at the right time by showing products similar to what was just purchased.
Is the Order Confirmation Email Template compatible with major email marketing platforms?
You bet! All of our templates are built to work with any email marketing platform, like Mailchimp or Adobe Marketo.
Is it optimized for different clients and devices?
Of course! All email templates were thoroughly tested in Litmus to ensure compatibility across 100+ email clients and devices. Plus, it's proactively monitored with Litmus Email Guardian to ensure it continues to look pixel perfect and ready to perform.
However, since you customize these templates to make them your own, we always recommend to test every email before you send!