When it comes to sending email campaigns, what you don't know can hurt you.
Litmus pre-send email testing helps you find and fix issues long before your message hits inboxes. Simply connect to your email service provider (ESP), and we'll equip you with powerful tools you can use to collaborate, integrate, and evaluate your way to more effective marketing. It's the fastest, most reliable method for getting messages in front of the right people at the right time—in the most compelling format possible.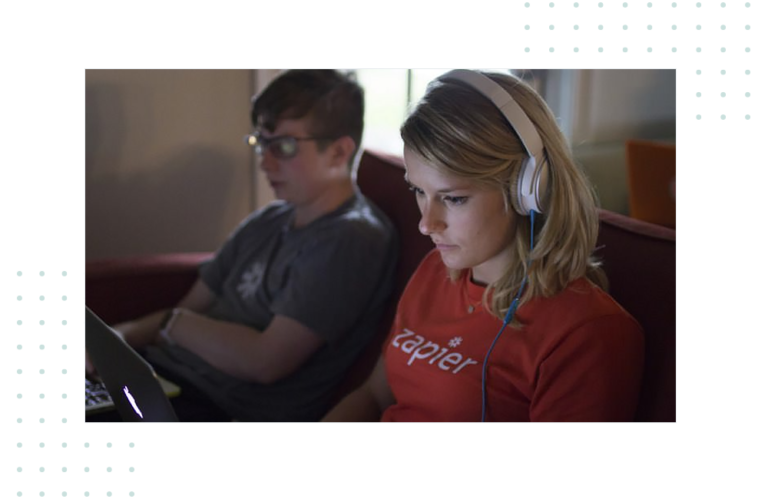 "Litmus allows us to catch errors more easily and helps us be more aware of how our emails look to our subscribers—insights we did not have before."

Sean Kennedy, Product Marketer at Zapier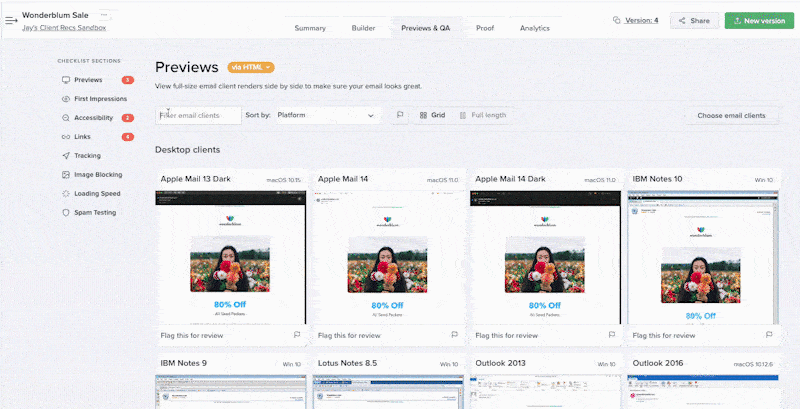 Make every email better, together
Ensure every email you send is seen, heard, and acted on. Litmus pre-send email testing takes dozens of manual tasks and transforms them into one seamless workflow, making it remarkably easy to spot check in seconds and collaborate across teams.
Run an automated pre-send Litmus Test to see what your email looks like on 100+ apps and devices and quickly find and view specific email clients and devices or those that are most popular. Plus, analyze subject lines, verify links, and check your code for critical tags. The entire process is quick, easy, and comprehensive. From Outlook to iPhones, you'll have a precise picture of the layout and line breaks each subscriber will see—without creating more work for your team.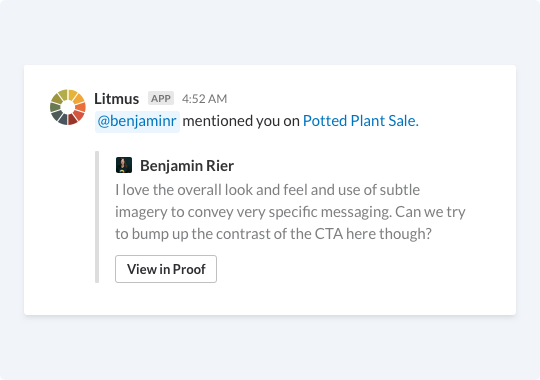 Integrate to accelerate
Email testing is essential, but it shouldn't slow you down. Litmus integrations make pre-send testing a breeze. Keep reviews and approvals on track, without having to switch between multiple apps and tools.
You can get reviewers to take action faster with Slack notifications, ensure stakeholders stay up-to-date in Trello, and preview campaigns alongside your code editor with the Litmus Chrome Extension. Better yet: By integrating Litmus Spam Testing with your ESP, you can make inbox issues and the spam folder problems of the past. The result? Faster approvals, more successful deliveries, and better-than-ever conversions.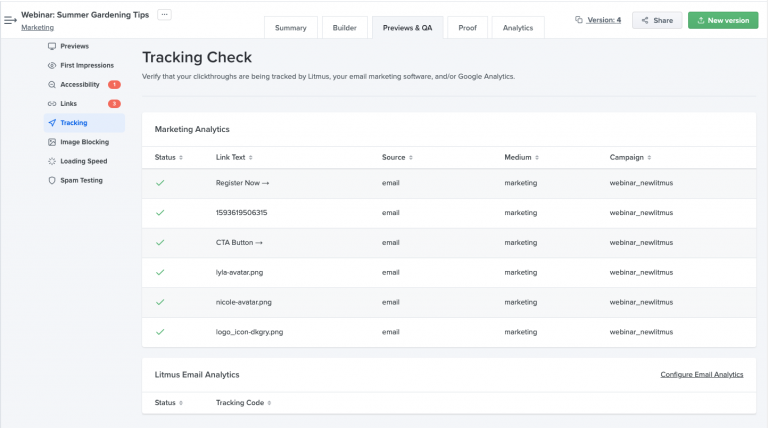 Gain greater insights
It's not just clicks and conversions that benefit from extensive email testing. Litmus-powered emails will give you higher returns on investment, too. After all, brands that use an extensive pre-send checklist experience 26% more ROI than those that don't.
The more of those mission-critical insights you can put on autopilot, the better positioned you'll be to get effective emails in front of read-ready subscribers in record time. The automated pre-send checks of Litmus Test ensure each click and conversion is properly tracked, so you'll be ready to catch trends when it's time to hit "send."

Catch broken links, test spam filters, optimize load speed, and more

Preview emails based on the latest updates to 90+ email apps and clients

Track every last click to measure results and discover important trends
Real Customers. Real Results.
Lenovo
"There is nothing more frustrating than working on something and then keep redoing it because there are issues. Litmus helps me save time—and my sanity."
Read Their Story