A few years ago, the idea of opening up your home to a stranger (or staying in a stranger's home) in a foreign city or country wasn't something very many people would gamble on. But Airbnb built their business on exactly that: Connecting those with spare rooms, couches, or apartments with those looking to stay for the night.
With an estimated value of over 25 billion, everyone wants to know: What's the secret to Airbnb's disruptive, innovative success?
Trust.
Airbnb takes the stress out of traveling—and the potential high costs of a hotel room—and allows travelers to make a human connection with a local. They make this work based on trust and brand equity.
Even if you're not a unicorn Silicon Valley darling, you can leverage Airbnb's email marketing best practices to build up brand trust and deliver contextual, relevant experiences to your subscriber. Let's dig into their emails at each stage of the funnel:
Inspire: Where In The World Should I Go?
Before planning for a trip even begins, users are probably off dreaming about where they'd like to visit. They may choose to use Airbnb or they may not, but a friendly nudge from Airbnb can turn a dream into a plan.
Using Data To Provide Relevance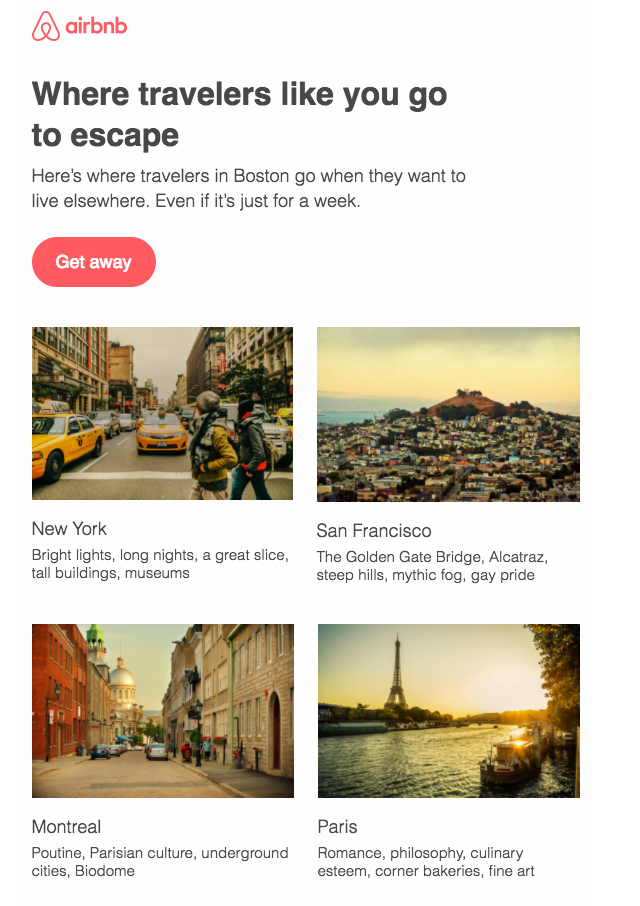 This email provides personalized recommendations based on information from a user's profile (in this case, their home location in Boston). This is exactly the kind of data that is helpful and relevant to a subscriber. It uses social proof, or the concept that we're more likely to take a leap if we know others are taking it with us, to show the most popular destinations from the Boston area—another great use of data that Airbnb regularly collects.
Or take this example of popular weekend getaways from Boston, sent on a Thursday and including first name personalization in the subject line: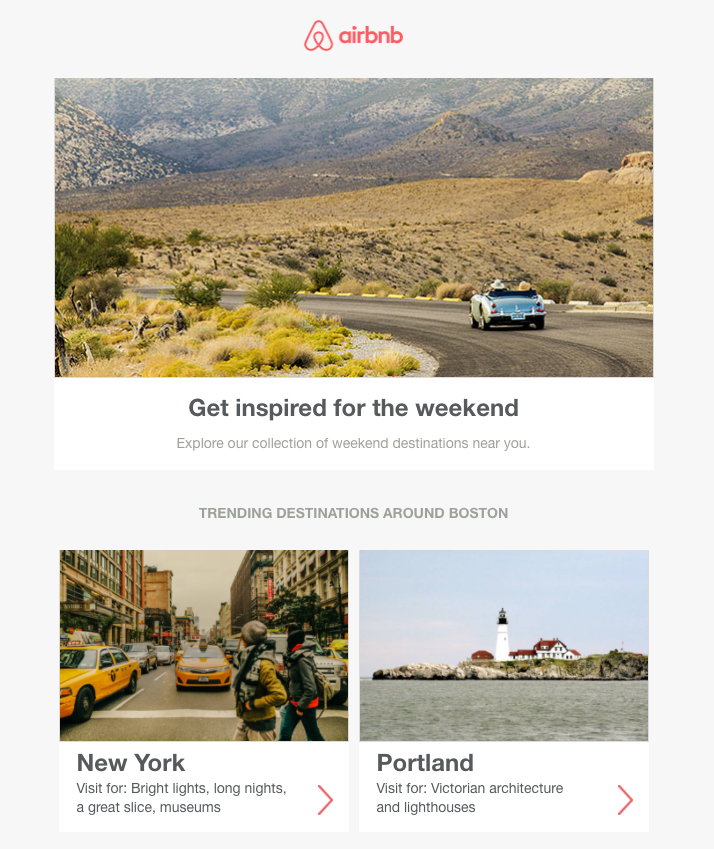 Your brand is likely collecting all kinds of data like this that may help your buyer make a decision. How can you inspire your potential buyers to dream bigger? What kind of data are you already collecting that can make this happen? And if you don't have that data, don't be afraid to ask your subscribers or use progressive profiling to improve your personalization.
Hot Destinations & Social Proof
Personalization isn't required for inspiration, however. This email is equally timely based on current events. Sent soon after the ban on Americans to travel to Cuba was lifted in 2016, it capitalizes on the buzz about Havana.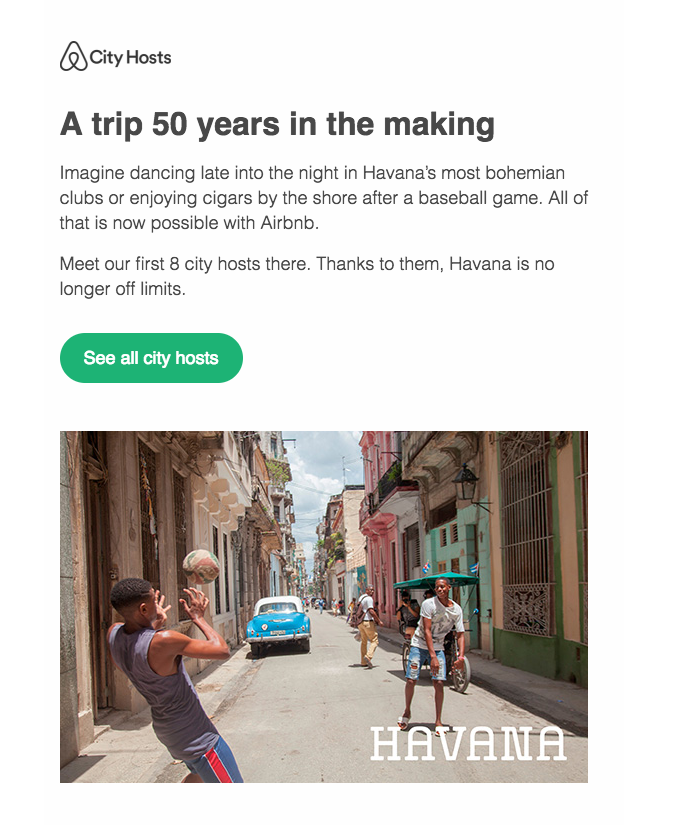 Below, Airbnb is still using social proof and data on popular destinations to build the content for their email, just without the personalization. Including these kinds of fallbacks for subscribers with incomplete data allows you to maintain a great experience for everyone.Though not super targeted, the concept still works perfectly: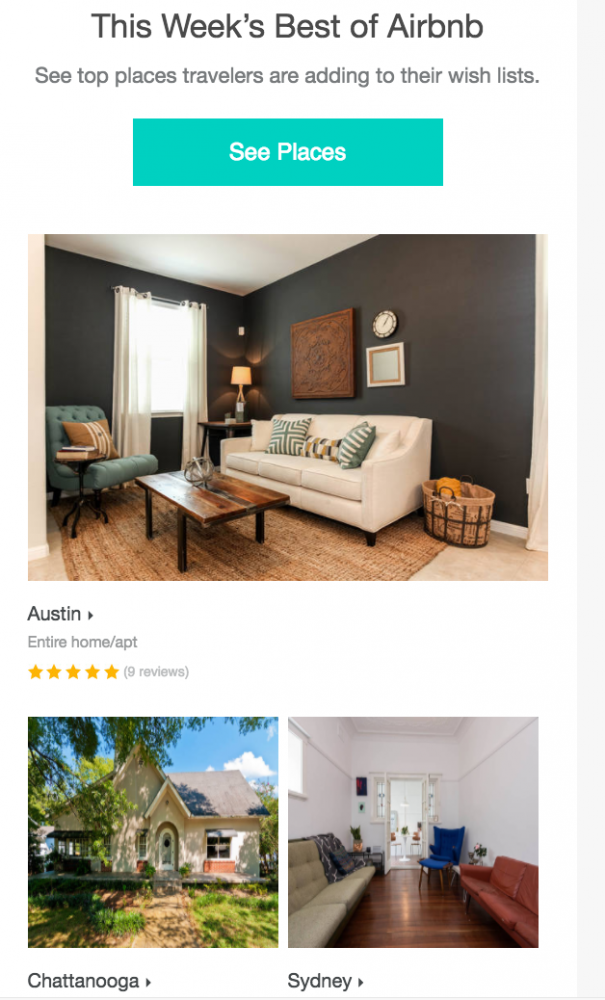 Research: Which Airbnb Will Work For Me?
Once users have been inspired to pick a destination, it's not always clear that Airbnb is the right choice of lodging. Targeting users based on where they're researching within the app can help match users to the right Airbnb.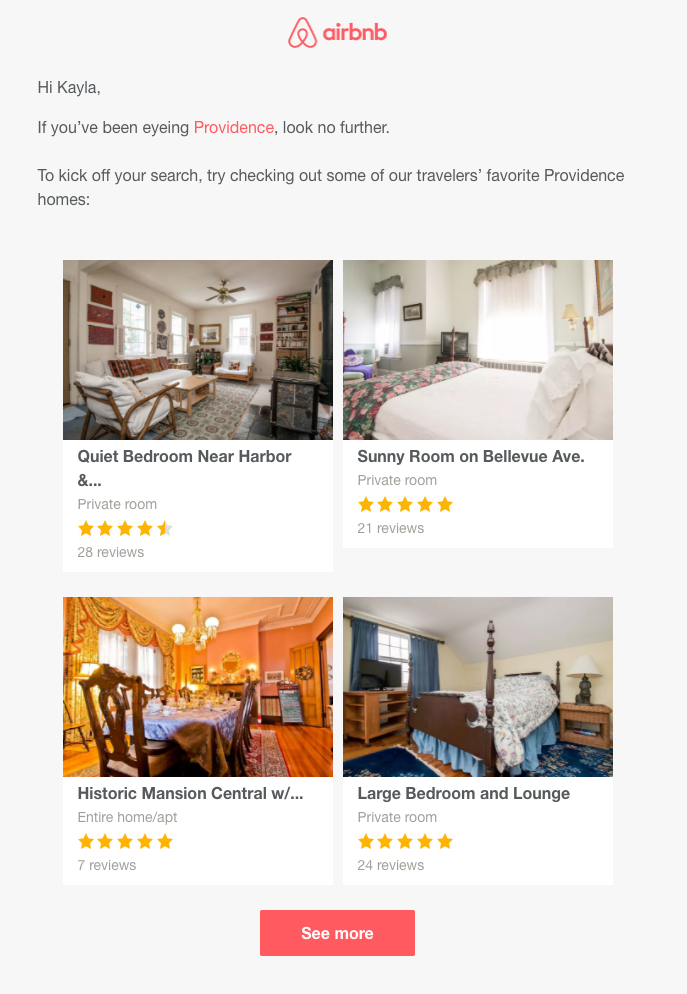 The biggest downside of Airbnb is its unpredictability in supply. Unlike a standard chain hotel, you're not sure what you're going to get. There are lots of different options, too: Do you want to stay on someone's couch, have your own room, or have an entire house to yourself? Here, Airbnb serves up only the examples the subscriber has looked at, narrowing the filter of housing options.
And this is also where trust comes back into play. If your host declines your request for whatever reason, you receive a timely email reminder pointing you to other available options for your stay, restarting your search for the right Airbnb for you. It also suggests instant booking options, to avoid dealing with approval lag time: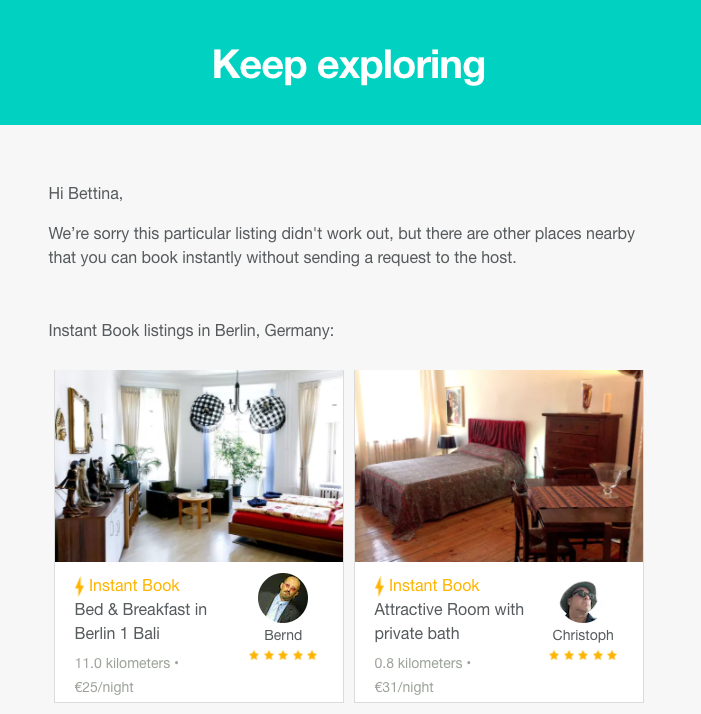 If you're traveling in a group, you can dream of destinations together. When you start a wishlist, Airbnb prompts users to invite friends to join and add their favorites to the shared list—making travel as a group easy and fun.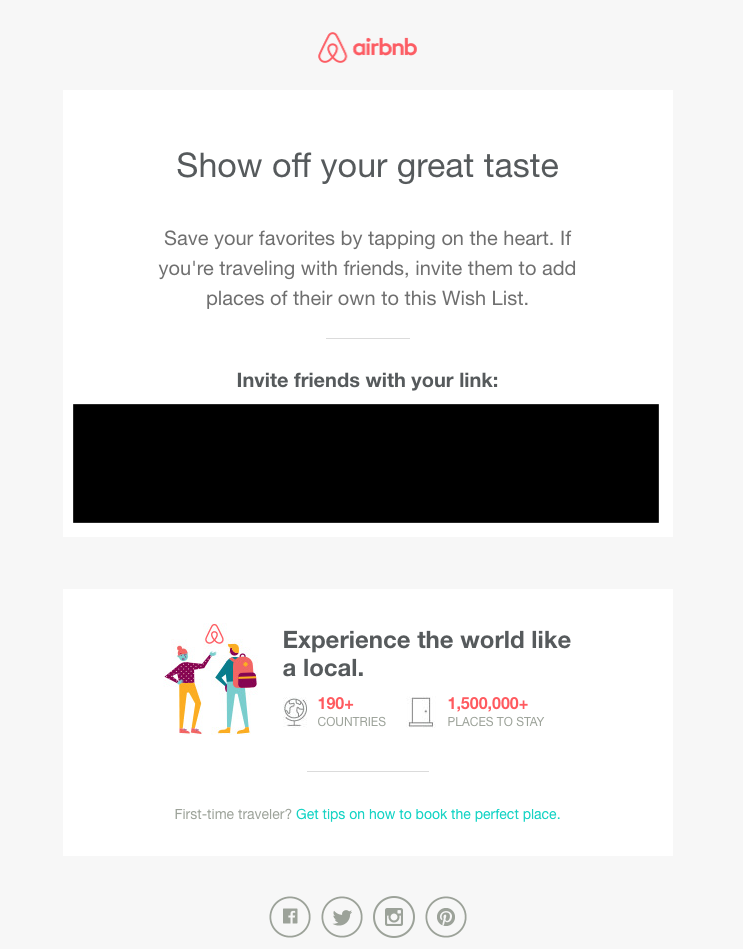 Conversion: What Travel Details Do I Need To Know?
Once a traveler has chosen a destination and booked their Airbnb, they're now a paying customer. Their reservation confirmation email is a great example of how you can make transactional emails helpful: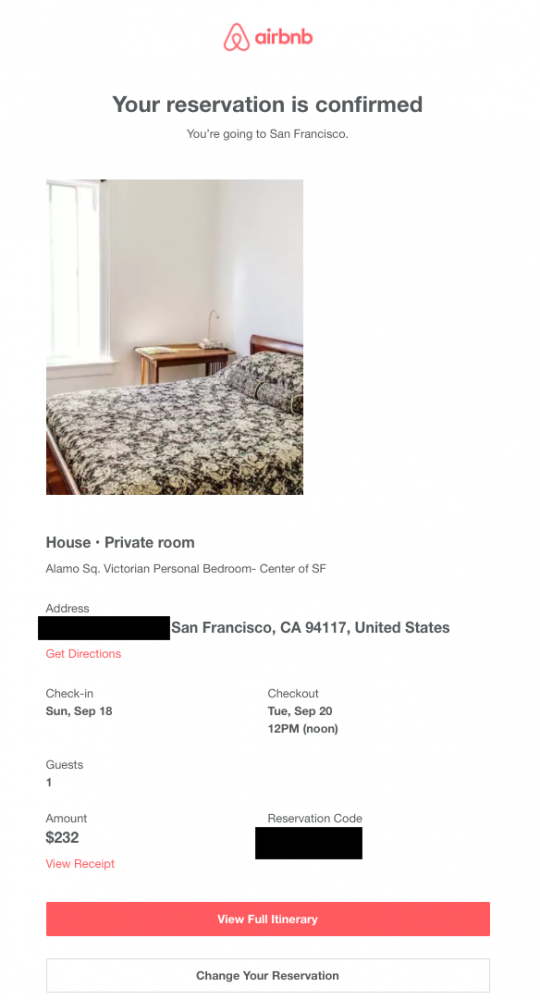 It's easy for something like a confirmation to get lost in the inbox, particularly if you're booking something months and months in advance like travel. Airbnb solves that problem by sending a friendly reminder email a few days before check-in: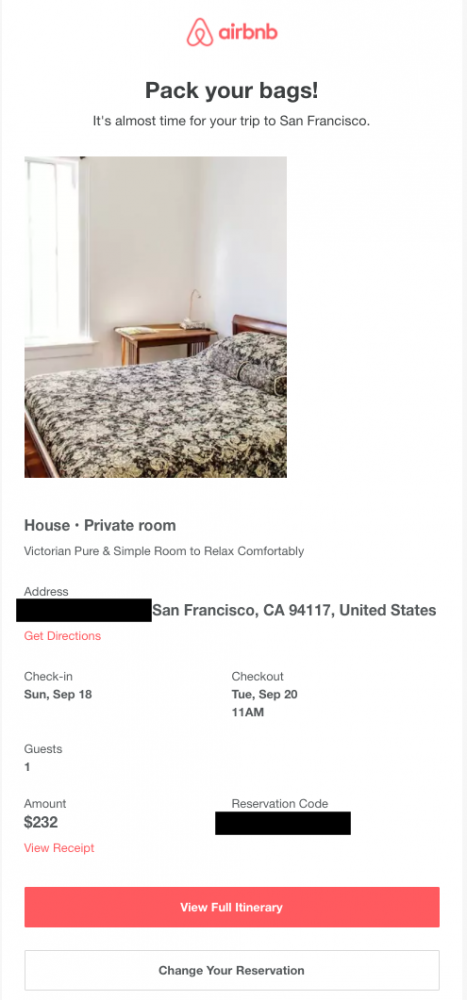 It also allows travelers to extend invitations to others who may be on their trip, easily sharing the information on address and location. This makes it easy to plan with multiple people: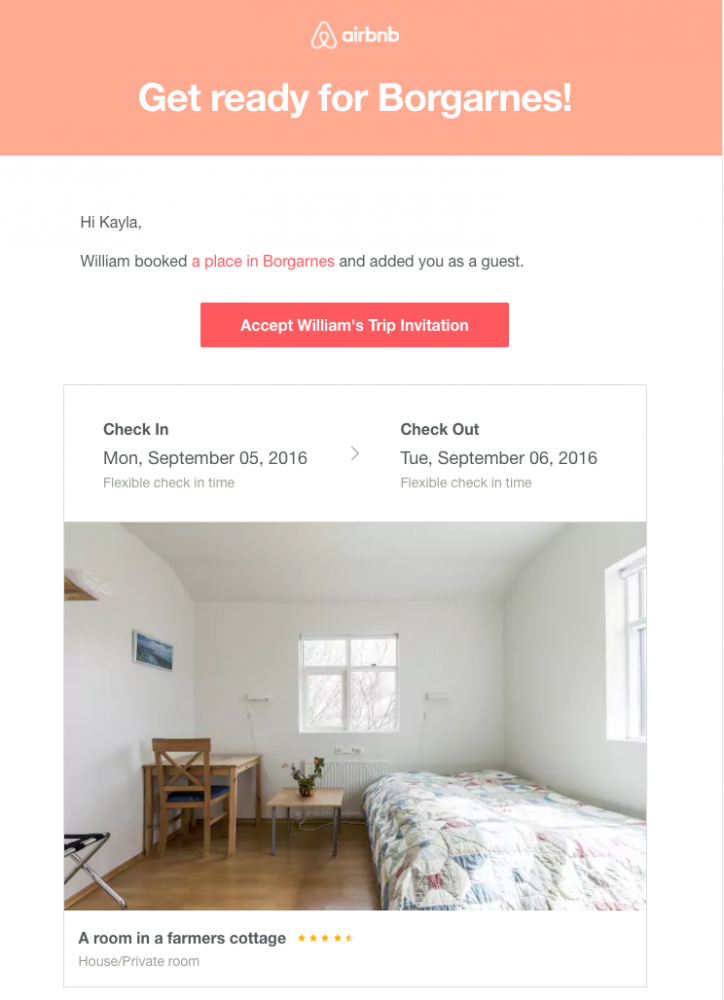 Post-Conversion: What Will Make Me Use Airbnb Again?
The first part of this answer is obvious: Provide a welcoming and positive experience. If a user has a poor travel experience (we've all heard the Airbnb horror stories) then no amount of email communication will make that person return to the platform.
The vast majority, however, have positive experiences of varying degrees. It's here where you can use email to turn up the engagement.
Part of what makes Airbnb work is having validated hosts and guests. No one wants a rowdy or disrespectful guest, and no one wants to land in a horror film setting by accident. Mutual reviews and ratings help Airbnb maintain quality from both sides of the user base.
Increasing App Engagement
Once a traveler has checked out of their stay, they'll receive two different emails: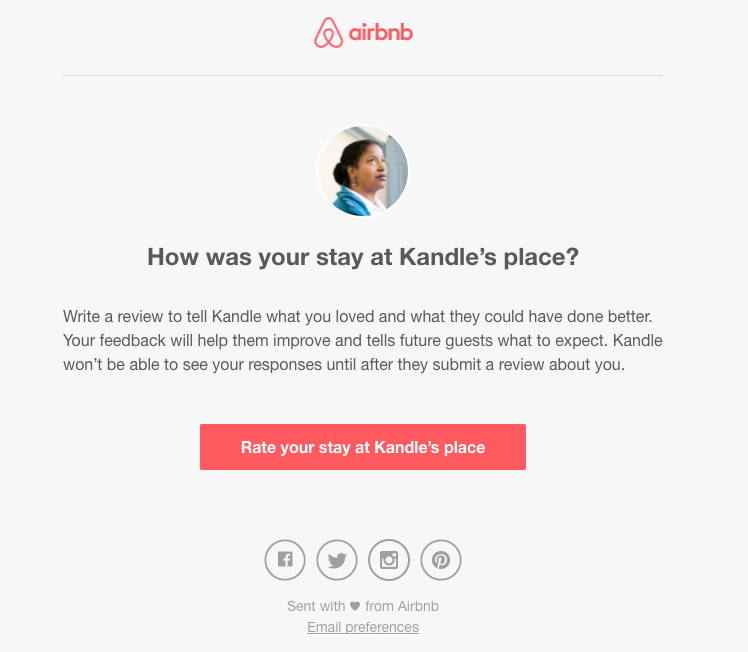 The first encourages travelers to write a review of their host. This benefits Airbnb, but also other travelers on the site, who use reviews to help choose a host that will best fit their needs and interests.
The second is sent after the host reviews the guest.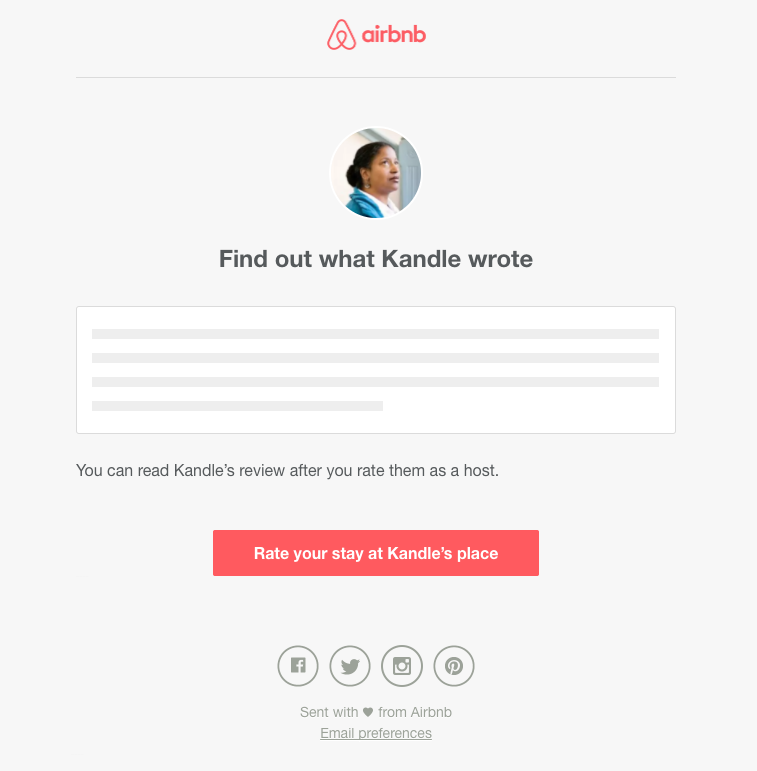 This second email increases engagement in the app through the curiosity gap, or the idea that once we know part of the story, we have to find out what happens next. In this case, it's hard to resist knowing what someone thinks of you! To be able to see the review, you have to write one of them first, pushing users back into the app and driving additional engagement.
The variation of this email occurs once both the host and traveler have written reviews: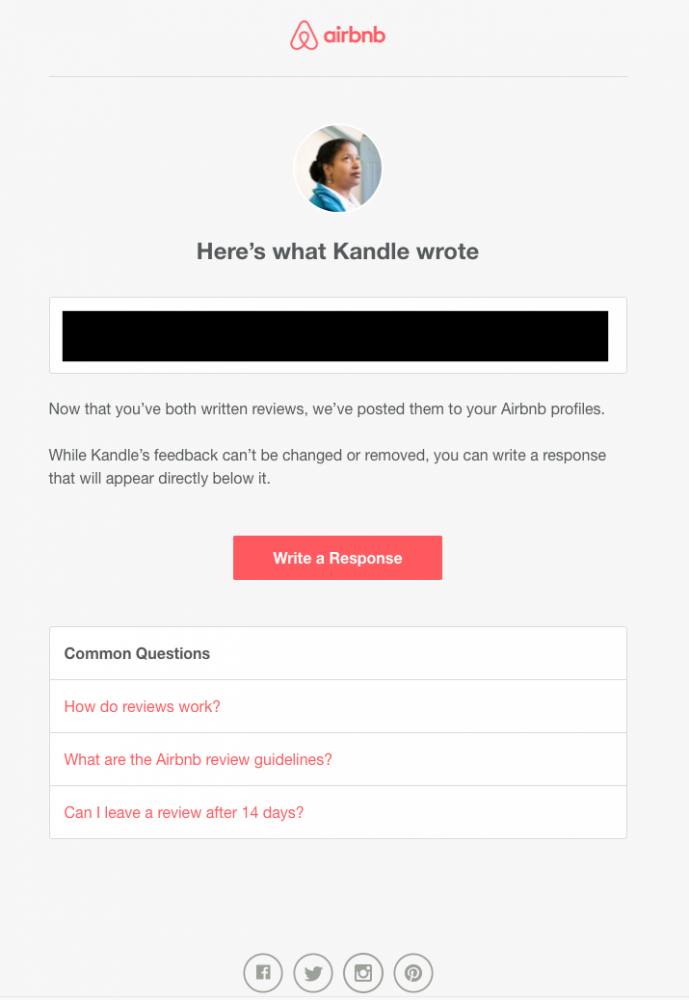 Just as before, the emails serve as a way to increase usage of Airbnb, while still delivering a value-add (What did they think of me?).
Restarting The Funnel: Inspire
At the end of the year, Airbnb sends a summary roundup email, allowing you to reminisce about your past trips. Their use of dynamic content for cities and nights makes it feel personalized, relevant, and resets the funnel back to "inspire," encouraging users to think about where they want to go next.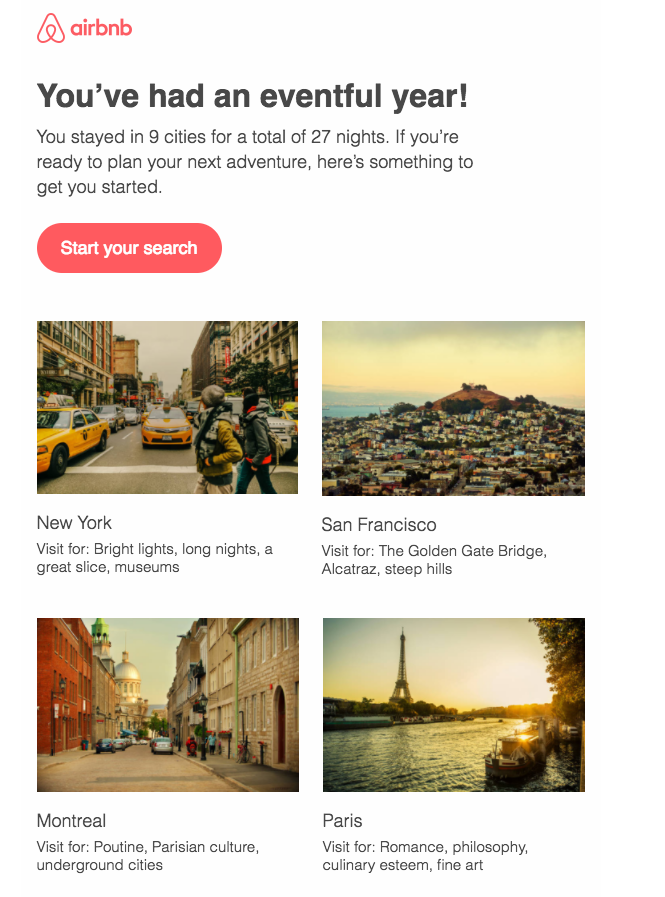 Gathering Feedback and Improving the Product
We're hungry for data, both qualitative and quantitative. Surveys take time and aren't always easy to implement…unless it's one multiple-choice question directly in the email: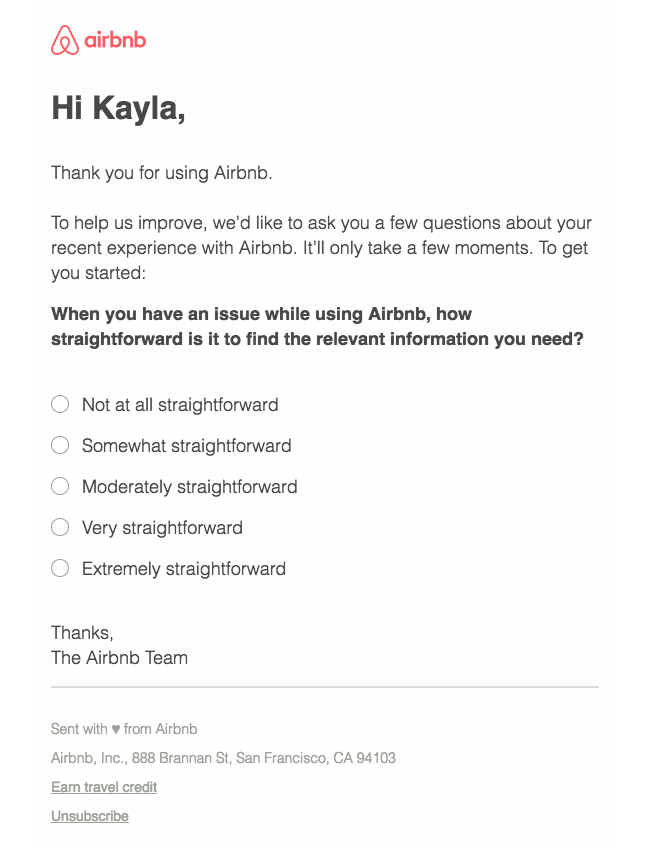 This is easy, quick, and to the point. And, the user doesn't have to leave their inbox to answer the question and move on. Creating an email design to mimic the look and feel of an online survey can help smooth the feedback process, increase responses, and leave the subscriber with a positive experience, too.
INSPIRATION DELIVERED STRAIGHT TO YOUR INBOX
Want to get more tips and advice like this? Subscribe to our weekly newsletter and get the latest content for email design pros delivered straight to your inbox. Every week.