Your email service provider is the beating heart of your email program. It's what connects your team's ideas with your customer's inbox, and it's usually a big budget decision.
With so much riding on a single tool, choosing the right one can feel daunting—and now we're talking about choosing multiple?
Yes, but don't fear. There are scenarios when two—or three, or four—ESPs are better than one.
In our latest State of Email Service Providers Report, we explored how teams of all sizes and structures send their emails. What we found were some scenarios that just might do better with multiple ESPs.
Larger companies have more ESPs—but why?
Large companies have more resources and special considerations than small companies, so it isn't too surprising that they approach ESPs differently. Most companies aren't just going to throw money each month towards multiple ESPs for no good reason, though.
So what's the reasoning behind what we found in the State of Email Service Providers report?
First, let's look at ESP habits of different-sized companies.
Companies with 100 or fewer employees are the most likely group to be ESP monogamous. 48% of these small firms use one ESP, and 31% use two.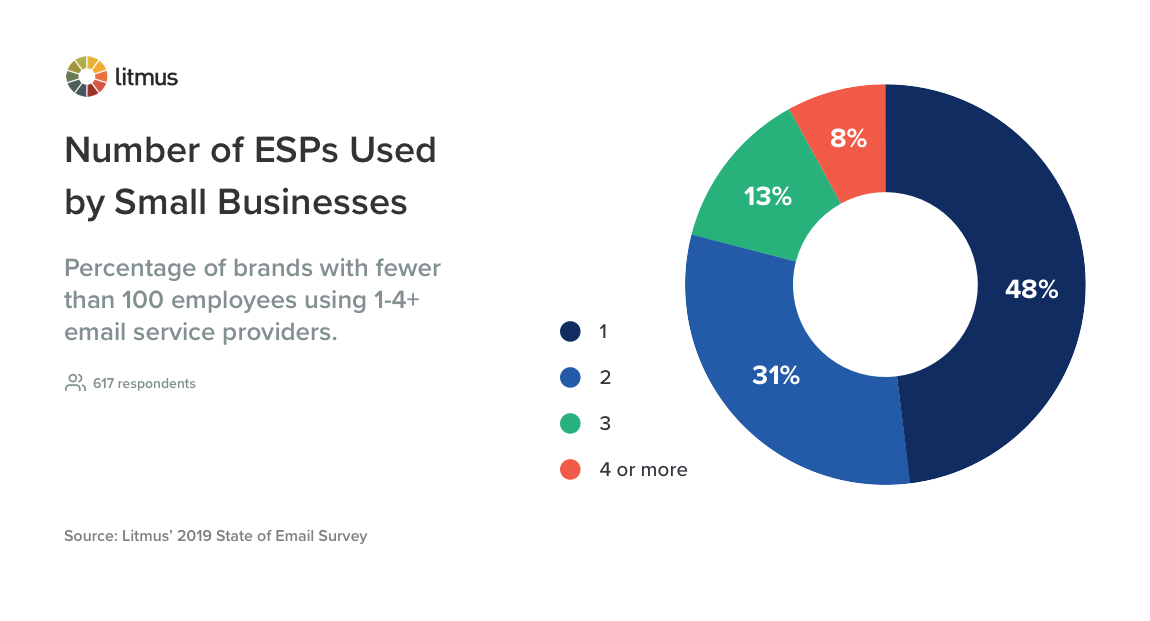 Medium-sized companies with 100-1,999 employees are the group most likely to use two ESPs, with 34% of respondents choosing that answer.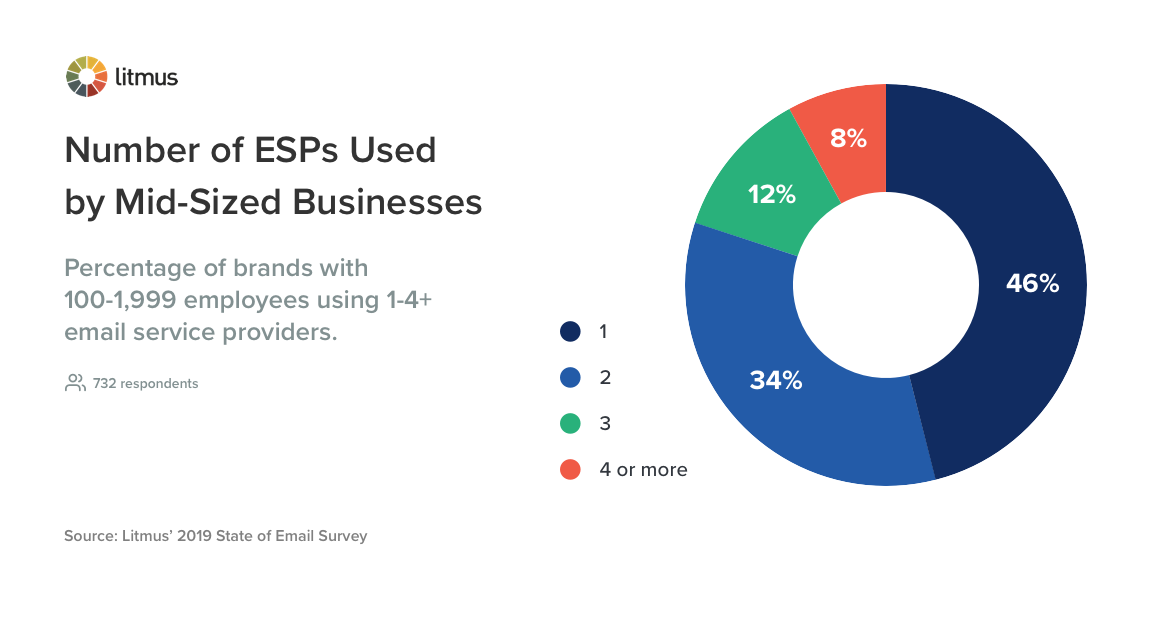 Then, we have large businesses. These 2,000+ employee companies are more likely to use four or more ESPs than smaller companies, with 11% of respondents having an expansive collection of tools.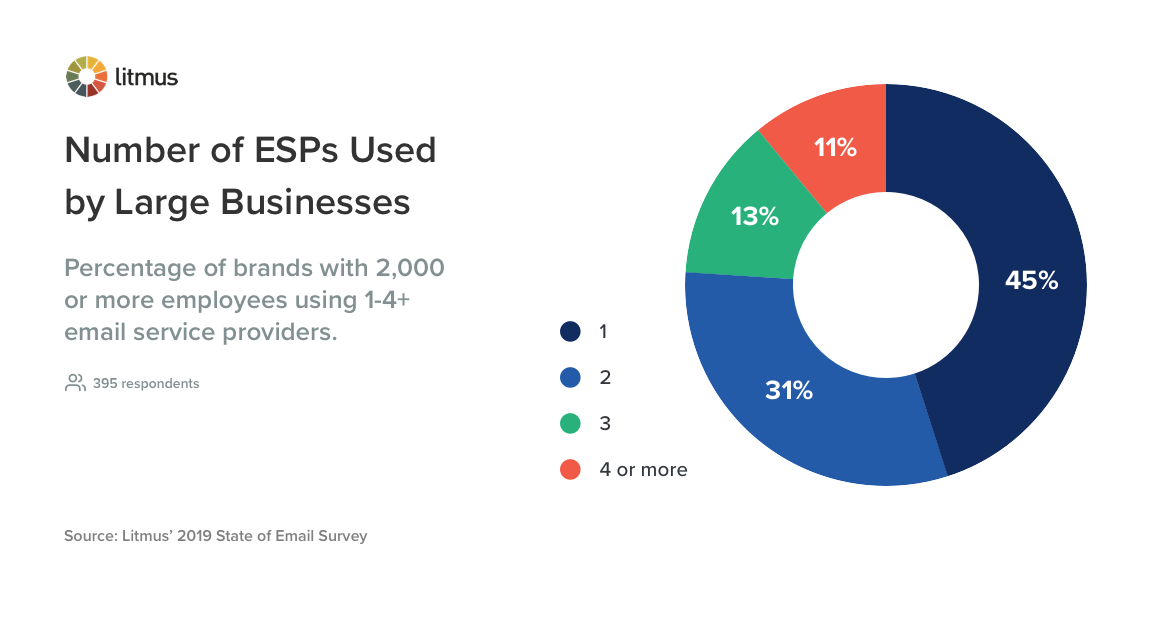 But what are the benefits of using multiple ESPs in larger companies? It might come down to a few factors.
Specialization around different types of emails
Sending different types of emails is common with every company, no matter its size. Transactional, promotional, and triggered emails benefit teams at all levels, but large companies may want more specialization. Adding extra ESPs might bring additional features into the mix that boost certain types of campaigns.
For example, some companies need a separate ESP that connects to their app or CRM to send triggered emails. These software companies may choose to use a more sophisticated ESP that can handle complex rules or has an API. Smaller teams (with smaller budgets) can do a lot with a general email marketing tool. However, large companies have the time and resources to use tailored tools. 
Protecting transactional email IP address
Delivery rates are essential to monitor. It's not surprising, then, that companies want to do what they can to ensure delivery rates and deliverability, especially on critical account-related transactional emails. Using a different ESP for transactional and marketing emails protects your email program in case of a delivery rate disaster.
If marketing emails were to start hitting spam traps suddenly, transactional emails sent from the same IP address might not make it to subscribers. By having different ESPs, or at least different sending accounts on the same ESP, you isolate the impact of poor delivery rates.
Greater cross-channel capabilities
Finally, multiple ESPs benefit bigger teams working across marketing channels. For example, Oracle Eloqua is used by 9% of large businesses for campaign management across the buyer's journey. Adding more ESPs to a team's rotation may also offer greater omnichannel analytics and personalization.
Team structure impacts ESPs more than team size
Surprisingly, there was a greater split between single- and multiple-ESP teams based on team structure, not team size.
56% of centralized teams use one email service provider, but only 39% of decentralized teams do the same. On the opposite end of the tech stack, 3% of centralized teams and 10% of decentralized teams use four or more ESPs.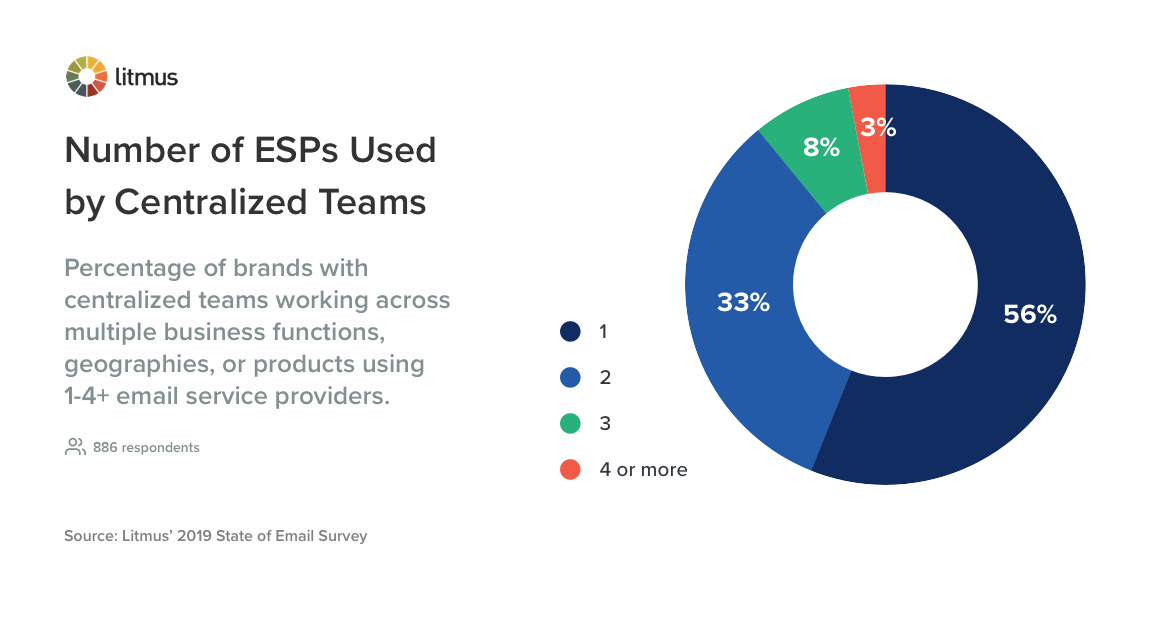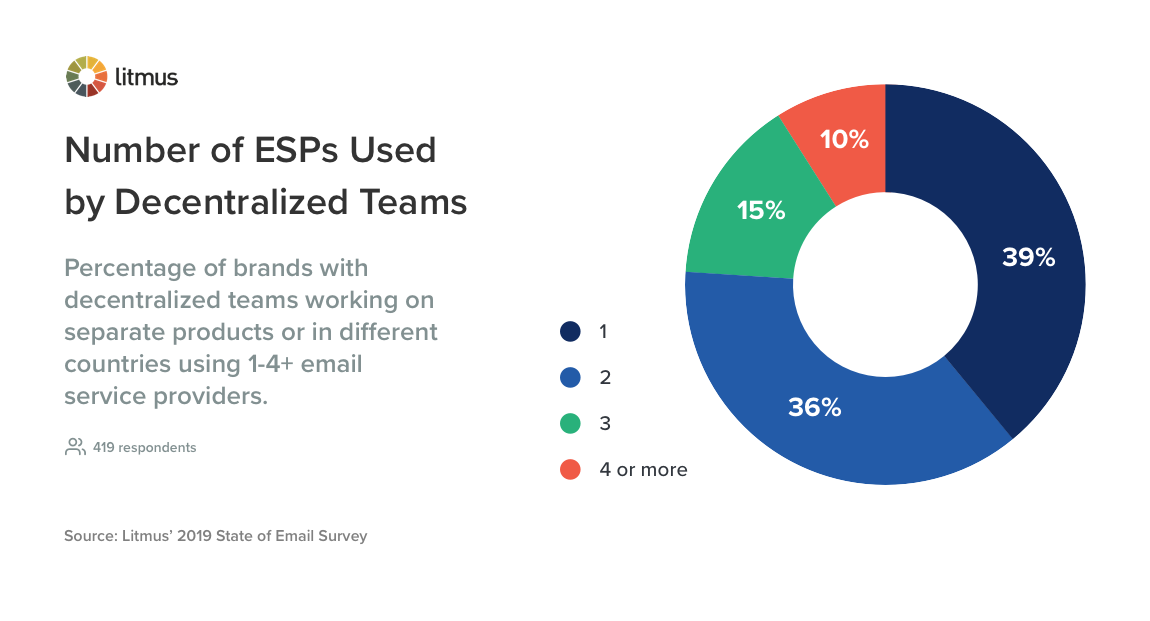 The reasons for decentralized teams to use multiple ESPs vary from the decision on company size alone.
Geographic preferences may sway decentralized teams
It's worth noting that big companies are more likely to have decentralized teams, and geolocation is the most popular decentralization format.
Why does this matter? Well, our report uncovered regional preferences in ESPs. Teams working in different parts of the world may have their own predispositions towards various tools, because certain ESPs provide local language support or because they're compliant with local laws and regulations like GDPR that others might not follow. As a result, decentralized teams with strong, autonomous local teams are more likely to utilize multiple ESPs.
Explore the most popular ESPs by Geolocation

What are the most popular email sending tools in the US and Canada, Europe, and other parts of the world? Download Litmus' State of Email Service Providers report to get the details.
Different products or divisions have varying needs
Another common way to split up email teams is by product or division, such as B2B vs. B2C. If a company has teams working with separate customer personas or sending varying types of emails, it might make sense to use multiple ESPs. Brands that work independently under the same umbrella company may also opt for separate ESPs. Finally, companies that split up teams to work on particular tasks, such as marketing automation, may opt for multiple ESPs.
Though our report didn't cover these types of decentralization in particular, it did explore ESP preferences between industries. For example, Adobe Marketo is most popular amongst tech companies, and retail companies opt for Salesforce Marketing Cloud most often. It is possible, then, that email teams across divisions have specialized needs.
See which ESP is most popular in your industry

Which email service providers do retailers, nonprofits, tech companies, and more prefer? Download Litmus' State of Email Service Providers report to see industry-specific ranks.
Should you use multiple ESPs?
Choosing an ESP is a critical decision, especially when you consider the potential ROI of email. The importance is compounded as you add more tools to your company's workflow. Here are a few scenarios where multiple ESPs might be in order:
You want greater control and customization across different types of emails

You need additional tools to plan, send, and analyze cross-channel campaigns

Your decentralized teams have regional preferences

Your decentralized email team is focused on a particular division with differing priorities
Does your email team use multiple ESPs? If so, why? Comment down below to share your experience.
Want to learn more about the ESPs your peers use and love? Download the latest State of Email Service Providers Report here.