Creating error-free emails that drive results is no easy task. And this becomes far more challenging when you consider all of the different technologies that need to be updated throughout the email workflow. You need to bring code from your email creation tool to your email testing tool, make changes, and remember to update those changes in real-time so all stakeholders have access to the most up-to-date version.
Phew!
On average, marketers use 12 or more different technologies1 when creating a campaign—and 60% of marketing leaders find themselves manually syncing data across tools.2 This manual process of switching back and forth between tools for every email build really limits efficiency. In fact, stopping to switch between applications can reduce your daily productivity by up to 80%.3
Litmus ESP Sync makes all of these challenges things of the past. Connecting your Litmus account to your email service provider (ESP) allows you to:
Automatically keep emails up to date as you build in Litmus Builder.
Easily import emails for final pre-send testing.
Integrate key insights from your ESP with subscriber-level engagement data from Litmus.
1. Automatically keep your emails current
Taking your email from your email editor to your ESP hasn't always been the easiest process. You have to swap out image URLs, compile code, and upload that to your ESP… and you need to repeat that process every single time you make changes to your email. 😬 Why? So stakeholders have access to the most recent version at all times and you can have a truly agile workflow.
ESP Syncing eliminates that hassle, letting you instantly keep emails updated in your ESP as you build in the Litmus Builder Code Editor or drag-and-drop Visual Editor.
We'll take care of swapping image paths, compiling your final HTML, and getting that over to your ESP for you—no copying and pasting of code required! Plus, you can test and review emails right within Litmus without needing to invest in additional third-party review tools or manage lengthy email threads.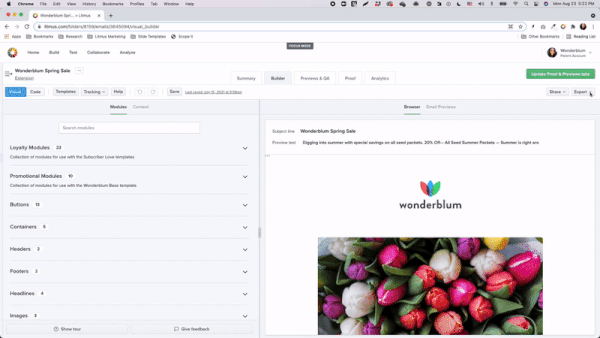 "Litmus makes it easy for us to instantly sync our emails to Eloqua without having to copy and paste and switch between tools throughout the email building and testing process. This helps us save at least 2-3 hours on each email and gives us the peace of mind that our code is always up to date across our marketing technologies and that we've run all of the vital tests to set our emails up for success."
— Donnell DeLeon, Marketing Automation Developer at VSP
Be more agile


ESP Sync is one of several agile ways to boost your email workflow. Discover the rest of our micro-efficiency tips in our ebook, Going Agile: The New Email Workflow.
2. Make final pre-send testing easier than ever
There are more than 300,000 possible renderings for every email given the variety of email clients, devices, and environments (like Dark Mode). On top of that, email clients and devices change constantly. From January to May of this year, the top six mobile email apps made 128 updates—which is the equivalent to a change every 1.2 days.
Any one of these changes can break an email and result in a negative subscriber experience. Research shows up to 15% of people may even unsubscribe because of a poor experience.4 At the end of the day, pre-send testing is a must for every email.
If you prefer to build emails in your ESP, ESP Syncing makes it simple to streamline your email testing process by running a Litmus Test and a Spam Test on your final, processed HTML in just a few clicks. No more managing manual test sends and distribution lists! 🙌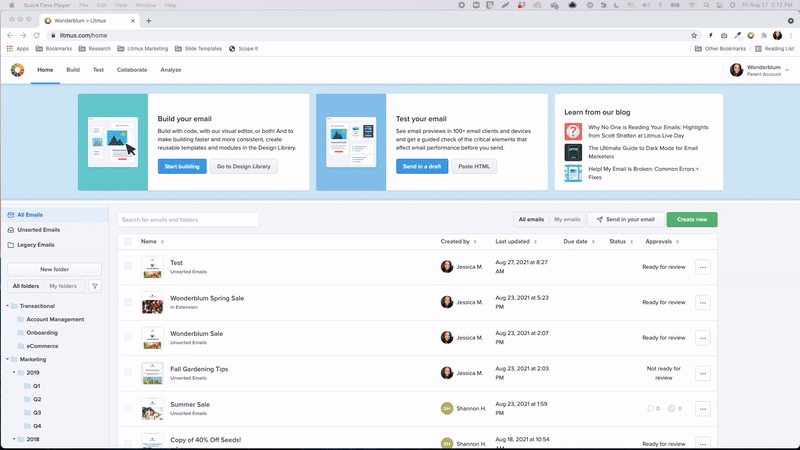 "The Litmus Eloqua integration allows us to test emails as we build, saving us 3 hours per email."
— Lily Cardiner, former Senior Email Marketing Strategist at Zendesk
3. Gain access to the insights that matter most—in one place
The power of ESP Sync doesn't stop when you hit send. The same ESP connection that lets you build and test more efficiently also helps you see an aggregated view of key metrics from your ESP and Litmus in one, consolidated view!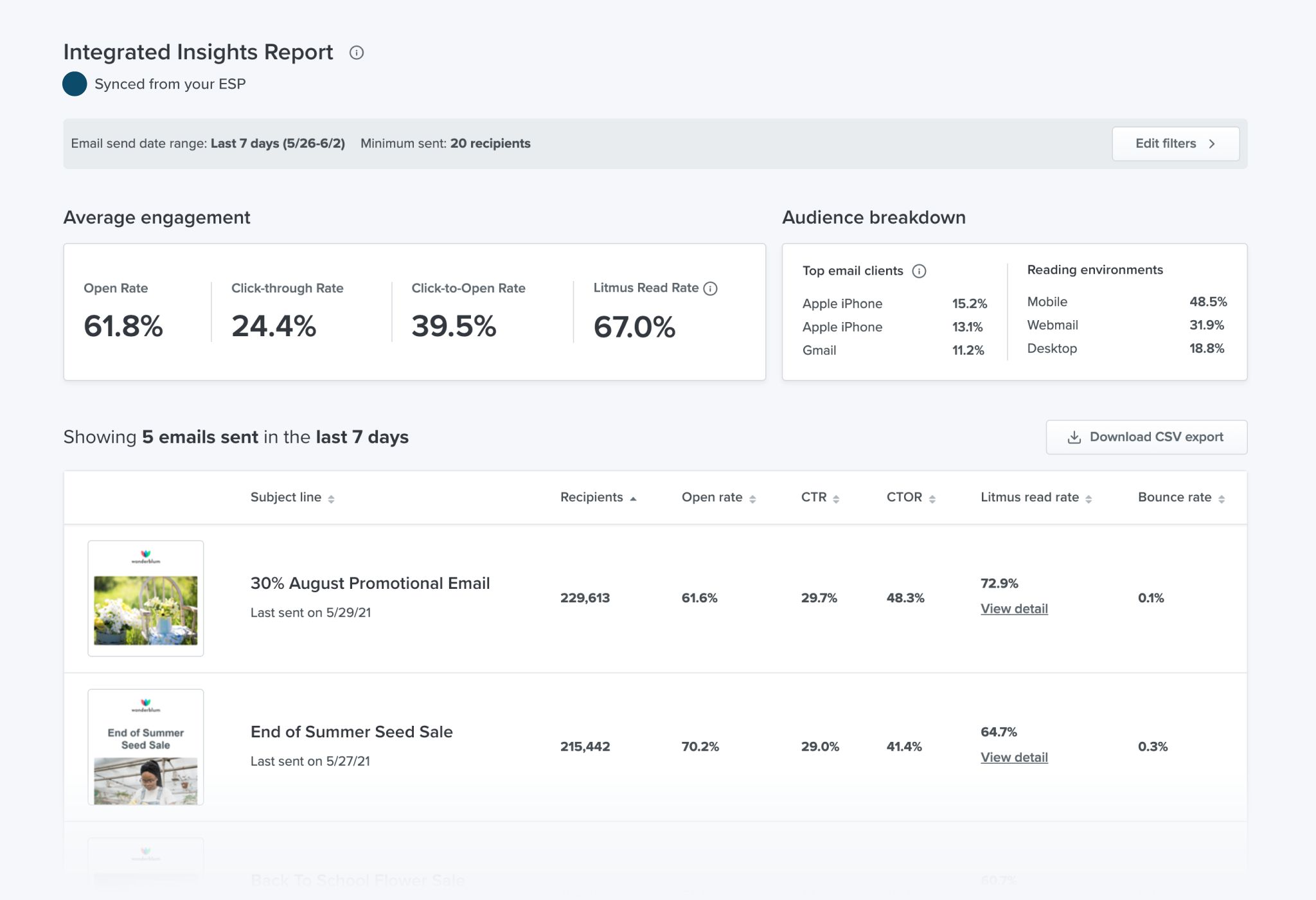 Plus, anyone on your team can receive an automated weekly digest highlighting your top-performing emails, even if they don't have a Litmus user license themselves.
It's never been easier to share insights across your team and inform all of your marketing efforts.
How to sync your ESP to Litmus
It's easy to connect your ESP to Litmus. Once connected, you can start taking advantage of all of these time-saving email workflow optimizations right away. Learn more about which ESPs are currently supported and follow these steps to get started today.
Don't see your ESP on the list? Let us know which ESP you'd like us to integrate with next!
Email efficiency, here we come
When it comes to embracing a truly efficient and agile email marketing strategy, busy marketers like you need integrations like ESP Sync to do the hard work of keeping emails up to date across technologies. When all team members have access to the most current email content, teams can get more done synchronously and, as a result, get more high-quality, error-free emails to market, faster.
Create flawless emails faster with Litmus


ESP Sync is available for Litmus Plus and Enterprise plans on select ESPs. Get started today so you can create more effective emails faster—now.
Sources: