Email geeks, you've done it again. Thank you, thank you, thank you.
Our friends at G2 recognize the best of the best in software each quarter. We're thrilled that they have recognized Litmus again in their Fall 2023 awards.
What makes these extra special? It's not just an award—it's based directly on excellent reviews from email geeks like you. At Litmus, supporting our customers and community is super important to us. Winning an award is always nice, but what's even better is that it reflects on our ability to serve you, the email marketers, developers, and designers working every day to make email better.
Check out our new awards below:
Litmus wins 39 Fall 2023 G2 Badges
We're consistently recognized by G2 as one of the best of the best in email. This quarter, we won a whopping 39 (!!) badges, including:
High Performer

Easiest to Do Business With

Easiest Admin

Easiest Setup

Best Usability

Best Relationship

Fastest Implementation

Most Implementable

And more!
G2 determines each award based on detailed customer feedback through their review form. Since Litmus can help with multiple areas of your email workflow, we've earned badges in email marketing, email testing, and email deliverability categories, as well as several regional distinctions.
To every email geek who has taken the time to leave us a review—thank you. These badges come from direct feedback from real customers who know and love Litmus' suite of email design, deliverability, and testing tools. Here are a few snapshots from our 250+ five-star reviews on G2: 
Why Litmus customers love us
What makes us a shoo-in for badges like Best Usability, High Performer, and Easiest to Do Business With? Feedback like this:
"A great email marketing platform that helps increase conversion and ROI."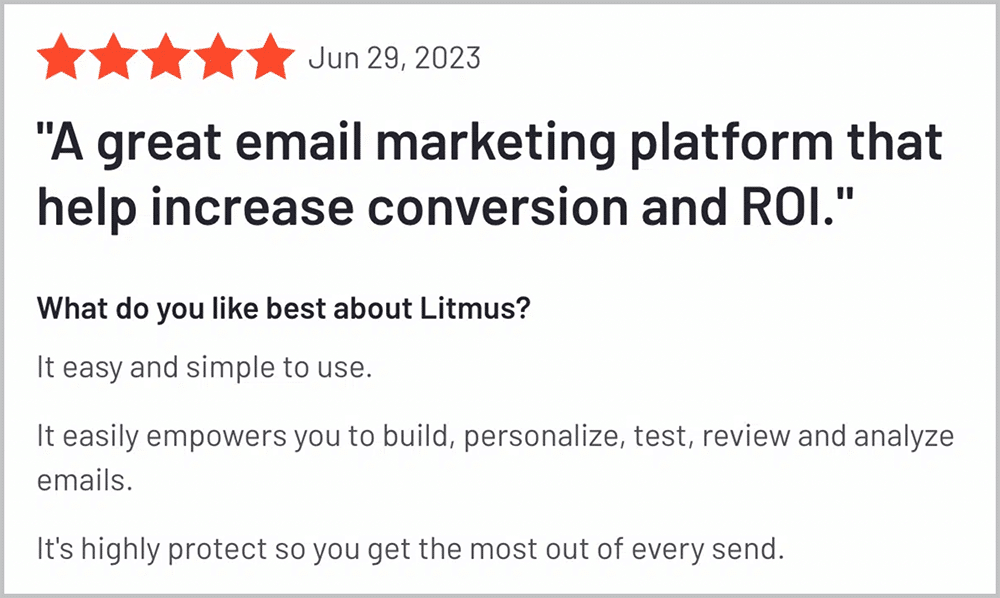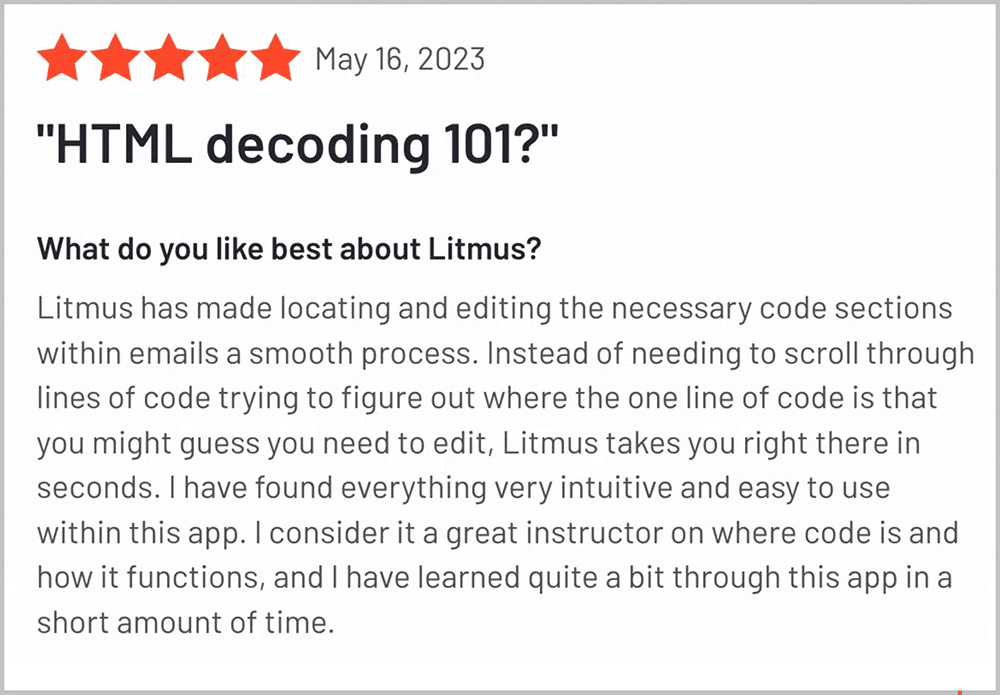 Email geeks, keep these reviews coming! While reading such positive feedback is always an ego boost, we want to hear both sides of the story. The more feedback we receive, the more helpful we can be. If you'd like to let the world know what you love about us, leave a G2 review here.