We know that switching back and forth between tools can be a hassle. The more often you have to jump between different tools, the more time you lose—and the more likely it is for errors to creep in. When your marketing tools are connected, information seamlessly flows from one to the other so you can automate manual tasks, set your campaigns up for success, and improve your workflow. That's why we're on a mission to seamlessly integrate Litmus with more of your favorite email marketing tools.
Today, we're so excited to announce that we've added another ESP to our arsenal! Litmus now integrates with SAP Marketing Cloud, bringing the power of Litmus Email Previews into SAP's Content Studio.
Preview your emails across 90+ email clients and devices
Our integration with SAP Marketing Cloud has you covered: Test your emails in 90+ email clients and devices with real-time, Litmus-powered previews in SAP's new email editor. Save time by building and testing your emails within SAP Marketing Cloud, eliminating the need to switch between tools.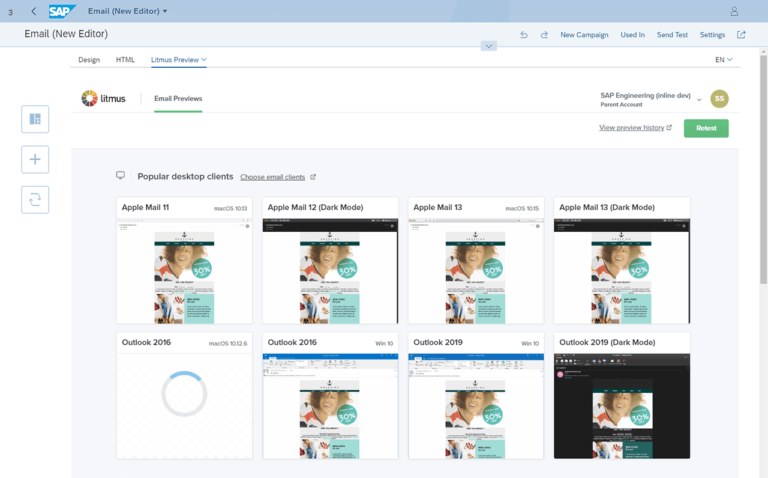 It's super easy to access, too. Here's how:
From the Campaign Management Dashboard in SAP Marketing Cloud, go to "Content Studio"
Open your email in the new email editor and make any edits you need
When it's ready to be tested, choose "Preview Litmus" in the dropdown
Click "Run Test" to preview your email
…and that's it!
Unlock the full power of Litmus + SAP with Litmus Enterprise
Litmus Email Previews in SAP Marketing Cloud are available with a Litmus Enterprise plan.
Not a Litmus Enterprise customer? Talk to a Litmus expert to get started.