It's back to school season, and we're going back with Agile Email Marketing (AEMKT) 101, our introductory course into the fundamentals of agile marketing. Your instructors? Jessica Raggio (VP of Product Marketing at Litmus) and Raviv Turner (Agile Trainer & Coach, Partner at AgileSherpas). In this webinar, they covered:
What agile marketing is
Why you should consider it
How to apply the principles to your email marketing workflow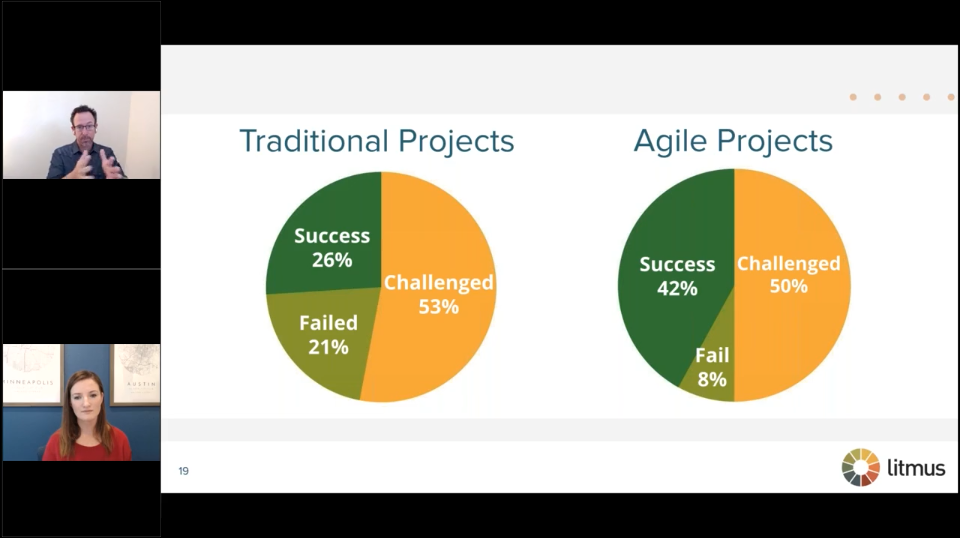 Didn't have a chance to watch the webinar live? Don't worry. You can access the full recording at any time and read the Q&A below.
Q&A
A big thank you to everyone who chimed in during the webinar with a question! Here's a recap of our answers to the most popular ones. Have more? Ask us in the comments below.
Agile seems like it could be awesome, but also a bit overwhelming. What's an easy way to start?
Raviv suggested starting by doing simple things. He explained, "Even just looking at your process or workflow in one chart, looking at the steps, seeing what you can cut out, and how much time you spend."
This can help you figure out how you can deliver something sooner and with better value.
He continued, "Another great technique is visualizing your work. You can start with something as simple as a Trello board using the default state of 'to do,' 'doing,' and 'done'—called a kanban board in the agile world."
We agree! It's important to learn the methodologies and start small with micro-efficiencies so you don't feel overwhelmed by trying to go all in at once. For example, start with a daily Slack standup if you're distributed. Our team does that here at Litmus.
Go agile with email marketing

Learn about the micro-efficiencies so easy to adopt, even your most stubborn stakeholders can't resist going agile. Plus, view our agile email workflow chart for reference.
Do you need a full brief for every project?
There's always planning that should go into play, but no, you don't need a full brief for every project. Jessica shared, "Balance when you need a full brief and when you can do more of streamlined planning." For example, when we do webinars, it involves multiple stakeholders, so we do a full brief every time. Whereas, for some emails that are more rinse-and-repeat and involve 2-3 people, we don't need this.
How do you ensure you are agile and working efficiently when you are a team of one?
When we think of agile, we typically think of a team sport. However, there's a lot you can do even if you're a team of one. Raviv said, "Even if it's just you, I would still start by visualizing the work. Put all your work down and visualize your needs like a kanban board. It really brings clarity to even a team of one."
You can jot down all the things you need to do and how long it takes to do each thing. This gives you better time management. And if you have any blockers? Put them in the blocked column. Then you can visualize the bottlenecks, too. Having this picture of your workflow allows you to have a more meaningful conversation with your manager about the resources you need.
Can you share more about the template modules? I would love to see examples and how we can implement this in our team.
Jessica's #1 recommendation? "Have a design system in place. Identify and do an audit of your email program to determine what are the similar types of emails. What are the constructs of those emails? Are there ways you can standardize the design system to build out modules that are brand consistent and cover most of your email use cases?"
For more info, check out our blog post on 6 steps to a powerful design system your team will love.
What's the best way to build an agile team from scratch?
Raviv took this one away with, "Think of yourself as an individual contributor in a cross-functional team. So you might be working with someone from the marketing automation side of the house, maybe a designer, a copywriter, and maybe even a marketing analyst if you need access to data. And when you think about the size of your team, think about the two-pizza-pie rule: Can you feed your team with two pizza pies? If you can't, and you need to order more pizza, that might be a sign that your team is too big."
In other words, 6-9 people on a cross-functional team is your sweet spot. Get all team members trained (critical!), then move into real life with a pilot program. Then, how do you take your team and make it play nicely with other teams like sales? This is org transformation. In a nutshell:
Individual contributor → Team leader → Org transformation
Our marketing is cyclical. The same emails go out at the same time each year. Can an agile workflow work for this instead of a waterfall approach?
Raviv made an excellent point: "So it's going out around the same time, but can you improve the results over and over? Agile is a great way to do this as long as you can change something and come back. Agile, by the way, pairs up really nicely with A/B testing. Even if you have a predictable cycle, what did you do last year? What were you able to deliver? Now, let's look to improve this 10-20%. What can you do differently? Using agile, document the experiment, and then come back to the results and learn from it. You can even experiment with mini campaigns that lead up to your big campaign."
So, even if it's predictable, it doesn't mean you can't use agile to improve the results every time.
Are there team-oriented training on agile methodologies?
Most of the training AgileSherpas does is for teams. Check out their online course, Agile Marketing Fundamentals, and their more advanced course, Agile Marketing Leadership.