Read Time: 16 min
4 Steps You Must Have In Your Email Brief for Campaign Success [Free Template]
Every marketing email your brand sends should have a clear purpose and a sound strategy behind it. Sounds simple, right? As much as we may have this in mind, there are a number of forces working against marketers from achieving this that an email brief could solve.
Does any of this sound familiar?
Your initial plan for an email isn't very well thought out.
Your initial plan for an email is solid, but that plan slowly changes as the in-progress email is passed from copywriter to designer to developer.
Stakeholders come into the process late and change the plan.
Having an email brief for every email you create is a powerful solution to these problems. And it helps you get more out of your email campaigns to drive success in your overall marketing strategy.
In this post, we'll walk you through:
What is an email brief?
An email brief should outline the email's goals, audience, messaging, timing, key performance indicators (KPIs), and other important details. Email briefs act as a compass for an email as it goes through the production process. Think of it like your North Star—it keeps stakeholders informed early on and helps the entire team stay on the same page.
Why you should create email briefs
So should you use an email brief? The short answer is: Yes! And here's why.
Keep stakeholders on the same page
Creating an email brief during the conception stage of an email and sharing it with all stakeholders ensures that everyone agrees on the purpose and plan for the email. This prevents the hassle of back-and-forth feedback in the review process and last-minute changes. Ultimately, this saves you and your team time (and headaches).
Guide your team in the right direction
Email briefs are valuable for all email marketing programs, especially if yours is high volume, has a large team, or works with many stakeholders. In particular, they're essential for agencies who need to give clear guidance on the scope of the emails they're creating for their clients.
Copywriters, designers, and developers can refer back to the email brief to ensure what they're doing is appropriate and that there's no scope creep. Then—at the end of the process—the final email is checked against the brief to see if what was delivered is what was asked for.
Increase campaign success and ROI
According to our 2020 State of Email Workflows report, teams were less likely to plan content with briefs due to change in workflows caused by COVID-19. Our survey revealed 41% of teams never used an email brief, which is up from 31% in 2019. This is a mistake.
We get it—you have to move fast and adapt to unpredictable changes. But that also means you're more prone to mistakes and miscommunication, which end up taking more time to course correct. Email briefs don't have to be lengthy. And they're worth it.
Marketers who use an email brief consistently see a higher return on investment (ROI) than those who don't.
According to the 2020 State of Email survey data, teams that use an email brief for every email see an ROI of $43 compared to those who use them only sometimes ($37) or not at all ($34). That means if you're not using email briefs, you could be missing out on a 26.5% higher ROI—and that adds up. For example, if your brand's annual email revenue is $1 million and you aren't using email briefs, you could potentially miss out on $265,000.

Briefs make such a difference because it helps you put more thought into your email marketing strategy—sending the right content to the right audience at the right time.
How do you write a good brief?
Creating an email brief doesn't have to take a long time. In fact, creating one for a fairly routine email should be relatively quick. You can speed up that process by pre-filling portions of your email brief for a routine email—such as a monthly newsletter—that might always have the same audience and goals, for instance.
However, the more complicated the email, the more time writing up an email brief will take—and the more time and pain the email brief could potentially save you.
We recommend a four-step email brief and planning process. Only Step 1 is critical to the conception stage of email creation. Steps 2 and 3 get more into copywriting, and Step 4 gets into email design. Take it as far as makes sense for your organization and process.
1. Define the email's purpose and goal
To get to the heart of your email, you must answer these eight, key questions. If you can't answer one of them, it's best not to proceed with the email until you reconnect with your team and get the answers to these crucial questions.
WHO should get this message?
All subscribers? A particular segment? Only those taking an action?
Clearly define who on your list should get your email. Only subscribers who have opened an email in the past month? Previously made a purchase? Or lives in a particular zip code?
On the flip side, it's also important to consider who should not get your email.
Do you want to exclude a specific segment from the send? If you're promoting a product, you may want to exclude people who just purchased it. Or if you're saving a segment for another email, be sure to note that.
Whatever your audience, clearly define it, preferably in the terms used in the audience selection tool within your ESP.
If it's an automated or transactional email, then your segment is defined by the trigger. For example, some questions you might ask are:
Is it going to people who abandoned their online cart, or who've just made a purchase?
Would your email go to those who opened recently or haven't opened in 6 months?
Are you sending an email to note a milestone moment, like a subscriber's birthday? Did a product come back in stock?
WHAT action do you want those subscribers to take?
This is basically the goal of your email. Do you want people to make a purchase or donation? Register for an event? Use a hashtag on social media?
Emails that have one very clear primary call-to-action (CTA) tend to do better. But can you have more than one CTA? Sure, but understand that you might be diluting your email's message. Secondary CTAs have their place, but the hierarchy of the email should make it clear what action you most want your subscribers to take.
WHY will those subscribers be motivated to take that action?
Think of what could drive your subscribers to convert: a discount, deadline, compelling information, emotional appeal, etc.
Try to determine what messaging will be the most effective in getting the recipients of your email to take the desired action. Not sure? Perhaps an A/B test is in order.
WHEN should those subscribers receive the message?
Immediately? On a certain day? In the morning, afternoon, or evening?
Timing is critical. If your subscribers need forewarning in order to take advantage of your CTA—as they would to plan to attend a concert or a webinar—then send the email well ahead of time. On the other hand, if they expect it immediately—such as a password reset email or purchase confirmation email—then send it ASAP.
Day of send and time of day can also impact performance. The timing of an email can affect design considerations as well (discussed in the next question).
WHERE are those subscribers likely to read the message?
Consider which email clients your subscribers use or what's most popular, and if they'll be on a desktop or mobile device.
There are several factors that can affect the open environments for your emails. For example, sending an email on the weekend or outside of business hours during the workweek is likely to significantly shift your email opens from desktop apps or webmail clients to mobile devices.
And keep in mind that the email clients your subscribers use will differ from those used by other brands' subscribers. It's important to consider those differences as they can impact the design and content of your emails.
For instance, if a majority of your subscribers open their emails on Outlook 2007-2019 desktop, then using animated GIFs probably is unwise since those email clients block the animation. And if your subscribers use Dark Mode, you'll need to design your emails a little differently.
We highly recommend you use a tool like Litmus Email Analytics to gain a more comprehensive understanding of which email clients your subscribers use.
HOW will you measure this email's success?
Take into account your KPIs which could be revenue, downloads, leads, clicks, opens, or something else.
This is the most important question you'll answer because how you answer it may change how you answer all the other questions in your email brief. Also, if your email team and business stakeholders are measuring the success of a particular email differently, then you may want to reconvene on your overarching strategy and goals.
IS this email part of a series of messages or a subscriber or customer journey?
How does this email build on previous ones and set up the next? Context is important. How is this email building upon prior emails, or moving your subscriber along in their journey or interaction?
DO you have any supplemental material that's important to answering any of the previous questions?
A case study? Blog post? Competitor's email?
Often, email inspiration comes from another email blog post, or report that your team member saw. Include any references or supporting content if you think it could be helpful for your copywriter, designer, developer, or stakeholders. Then, make sure you include it as part of your email brief.2. Define your inbox strategy
Use your answers in Step 1 to develop an inbox strategy for how you will earn an open from those most likely to convert. We also call this the "envelope" information. It's the first impression—what your subscribers first see in their inbox.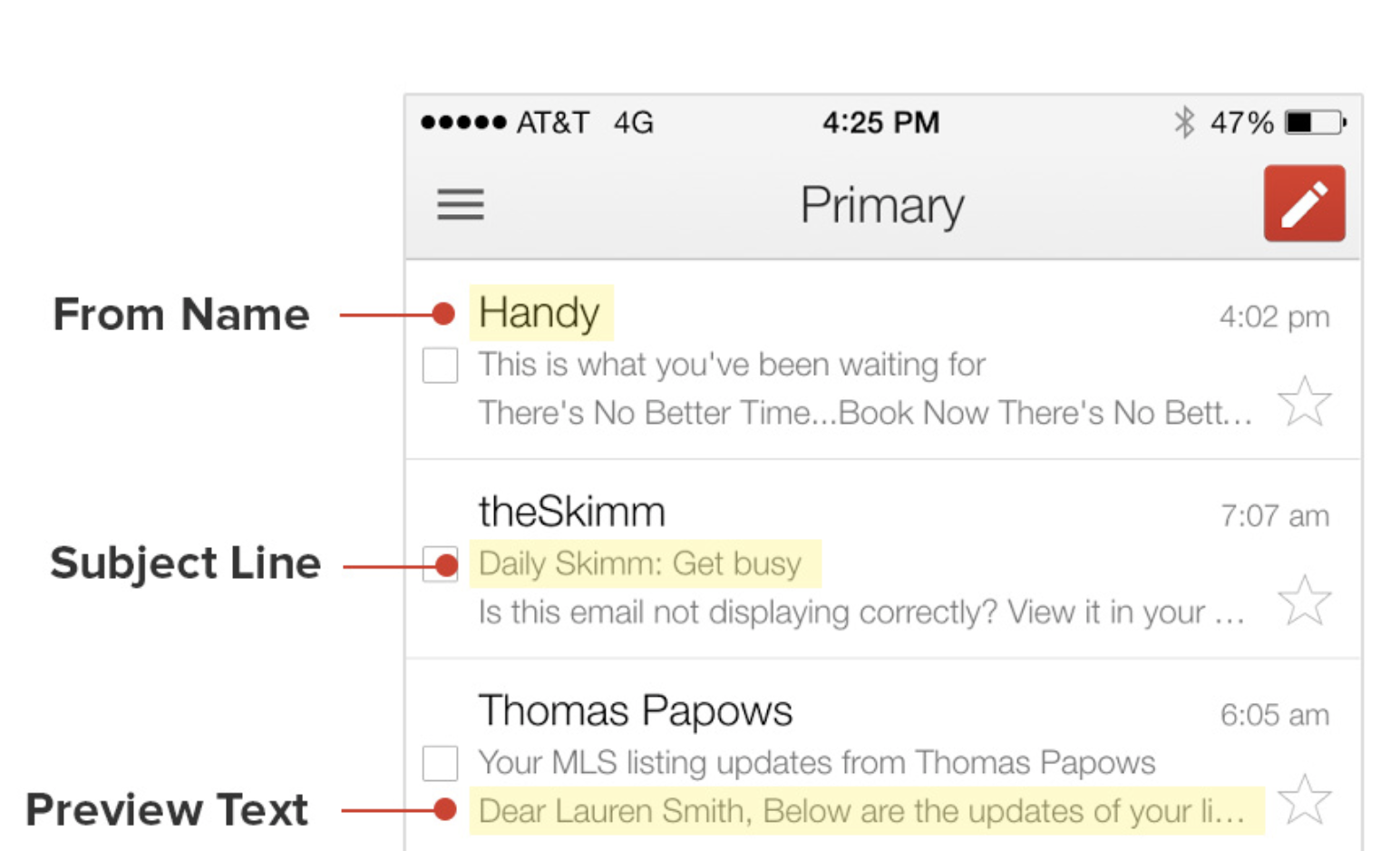 What is your sender or from name?
Who are your subscribers expecting to get email from? You don't want to use a name they won't immediately recognize.
Most of the time—if not all of the time—you'll want your from name to be your brand name, since that's the name your subscribers will be the most familiar with. If you feel strongly about using a salesperson's name or your CEO's name, ask yourself: Why do I think that name would be more likely to generate engagement?
If it's because you think your recipients are more likely to open an email from an unfamiliar person than from your brand, then you're simply manipulating your subscribers, which is a poor short-term strategy and a dismal long-term strategy.
If you genuinely believe that using a name is important for recognition purposes, then consider using the person's name and your brand name. For example, you could have your sender name be "FirstName at CompanyName" or "FirstName LastName, CompanyName."
Here at Litmus, we use the "FirstName at CompanyName" approach when we want to use a name as the sender name. For example, you'll receive a follow-up email from "Melissa at Litmus" for Leading FWD, a newsletter from our CMO.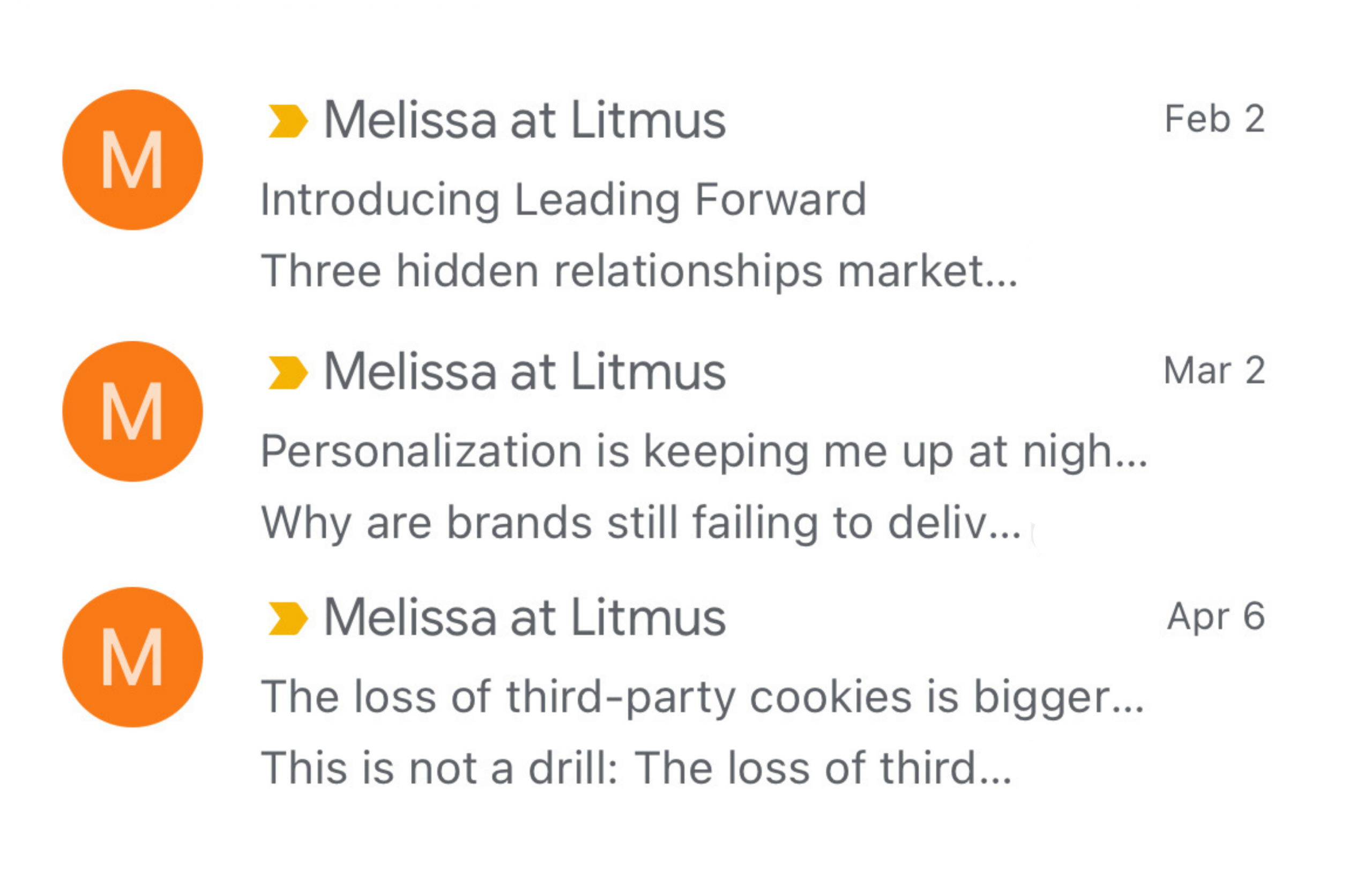 What is your from email address?
Make sure that it includes your brand name to give your subscribers extra confidence that the email is indeed from you.
What is your reply-to address?
As with your from email address, make sure your reply-to address includes your brand name—again, to provide reassurance that the email is legit. Avoid using no-reply@ addresses that make the relationship feel one-way.
What is your subject line?
Is it on-brand? Does it give subscribers a decent sense of what the email will be about?
Subject lines are perhaps the most misunderstood email marketing element. That sometimes leads to marketers using subject line tactics that undermine the brand's goals, including using misleading subject lines that sacrifice brand trust in the hopes of getting additional opens, a trade that is never worthwhile.
Subject lines also have a reputation for being left until the last minute. That tendency is also why subject line mistakes are too common.
What is your preview text?
Generally appearing under or to the right of your subject line in inboxes, your preview text should support and extend your subject line.
Brands are getting better at thoughtfully defining this text, instead of just letting whatever text or links are at the top of the email get pulled into this highly visible and valuable space. However—like subject lines—preview text tends to get written last-minute and so are prone to similar errors.
3. Define your body content strategy
Your email's body content is the core of your email—the primary message to your subscriber. It should inspire openers to take action, and continue the messaging you set for your "envelope" content in Step 2.
A good body content strategy should not only provide value to your subscribers, but also help your business meet its goals. Here are some questions to consider when defining the primary message of your email.
What is your headline?
It's best to keep these short and punchy. Email attention spans are not long; the average time spent reading an email is about 11 seconds. So your headline must be attention-grabbing and entice people to keep reading or take action.
If you have subheadlines, what are they?
Keep your subheads interesting to encourage subscribers to keep scrolling through the entire email. Think of subheads as the preview text for your body copy—they should serve as an extension of your headline.
What's the body copy?
Like your headline (and subheadline), keep your body copy sharp and succinct. Aim to limit text blocks to no more than six lines long. Keep in mind: You can be conversational and not always use full sentences. Consider using bulleted lists.
What's your call-to-action?
Something like "click here" is usually too vague. Best practice is to use action-oriented, subscriber-centric words like "get on the waitlist" or "shop and save 25%." Not to mention, it's great for email accessibility and screen readers. Limit your CTA to five words or less, and try to make the transition to your CTA as seamless as possible. Does it feel natural reading from the body copy? How about skimming straight from the headline?
What are your supporting graphics or images?
Are you using lifestyle or product images? Company- or customer-sourced images? Animated GIFs or video? Either way, compelling visuals that support or illustrate your message are the way to go.
If your email will have secondary messages, apply these questions to those as well.
4. Sketch your content hierarchy
Fleshing out the vision for your email will help bring it to life. Doing so will not only help you visually organize your content, but also help you reflect on any improvements that can be made before the email is handed off for production.
This is essentially a very rough mockup of your email.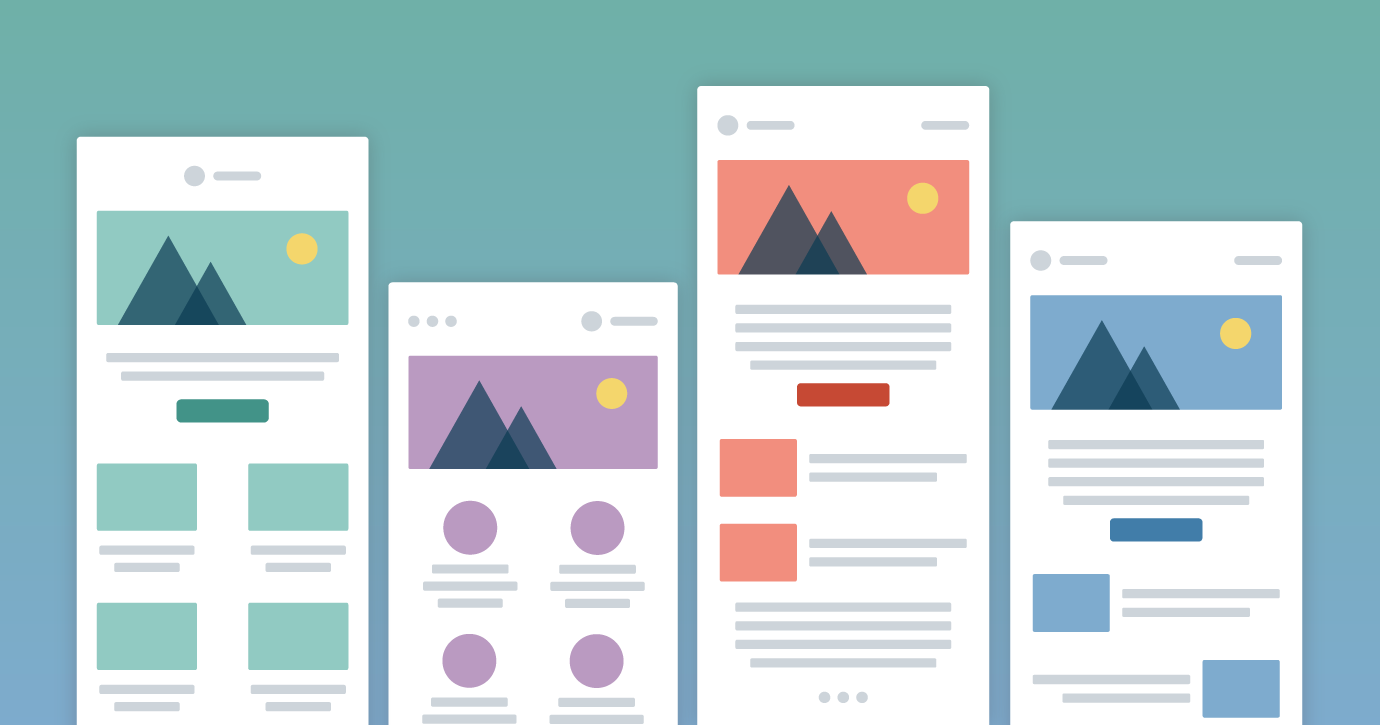 Start by thinking of this like a modular email. Lay out the most important components of your email from Step 3. Then, work on the other elements supporting it.
Remember: Keep your subscribers' needs in mind!
Let this provide a visual gut-check on how much content you're trying to get into this one email. And once you're done, double-check that the email is achieving the goals you expressed initially, to keep you on track with creating a high-performing email.
Get your free email brief template
The best emails start with a plan. Starting your process with an email brief will give you, your team, and all other stakeholders clarity as the email makes its way from production to your subscribers' inboxes—all with your goals in mind. Not only can it improve your workflow, but also the subscriber experience. Time to put everything in action!
Download your free email brief and planning worksheet →
Originally published on September 15, 2018, by Chad S. White. Last updated April 29, 2021.