We hope everyone had an awesome first day at Litmus Live Week! For those of you who didn't make it or haven't signed up yet, here's a re-cap of what you missed from our live sessions today—all lovingly compiled by yours truly, Jaina Mistry, and Jason Rodriguez. But seriously, what are you waiting for?! See the full schedule and get your seat before it's too late. 🙂
Kickoff & Welcome | Melissa Sargeant, CMO @ Litmus
Our very own CMO, Melissa Sargeant kicked us off by talking about how to win customers for life with an #EmailFirst strategy. Creating customers for life starts and ends with great brand experiences. Think about the last great brand experience you had. What made it so special?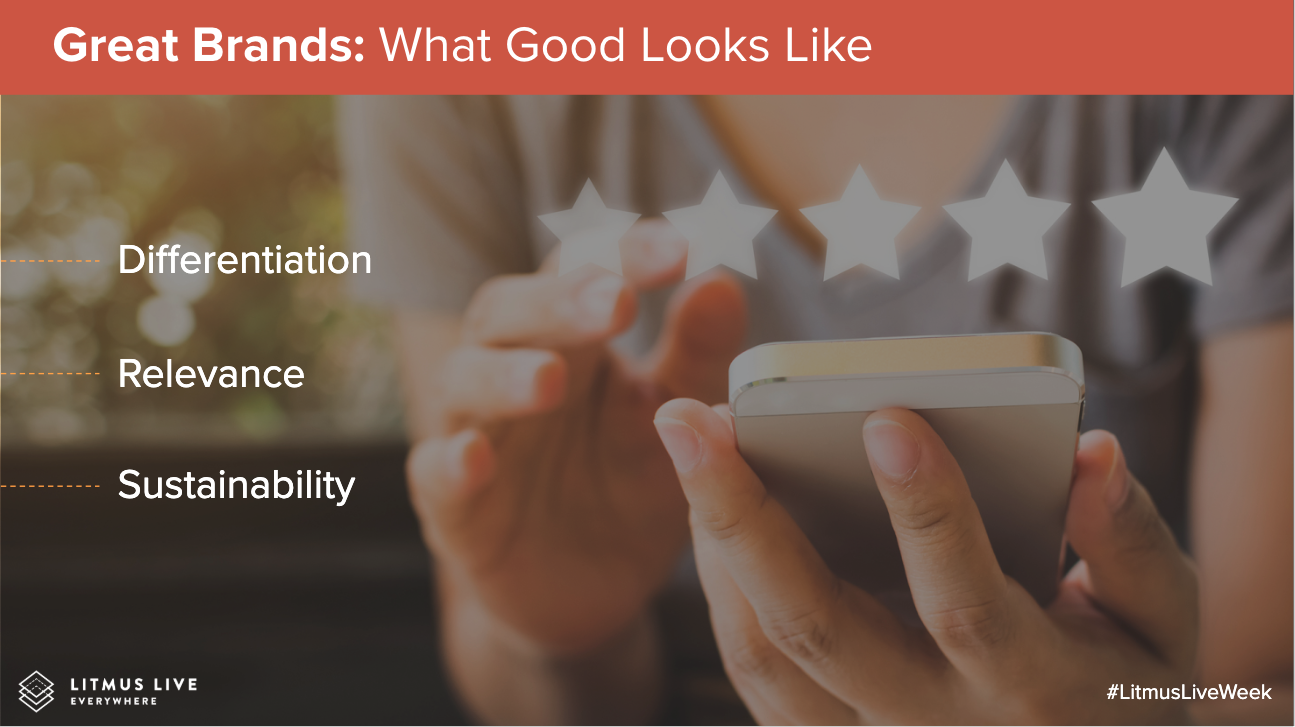 You'll have to check out the recording next week to find out which brand Melissa is a fan of and what experiences have shaped her love for them. But what we can share is that a lot of it boiled down to email being an extension of and delivering on their brand promise. It's the most personal channel to build those connections.

Our recent 2020 State of Email Report bolsters that claim, with email being more important in 2020 than ever. You knew it, Melissa knew it, and now the data shows it.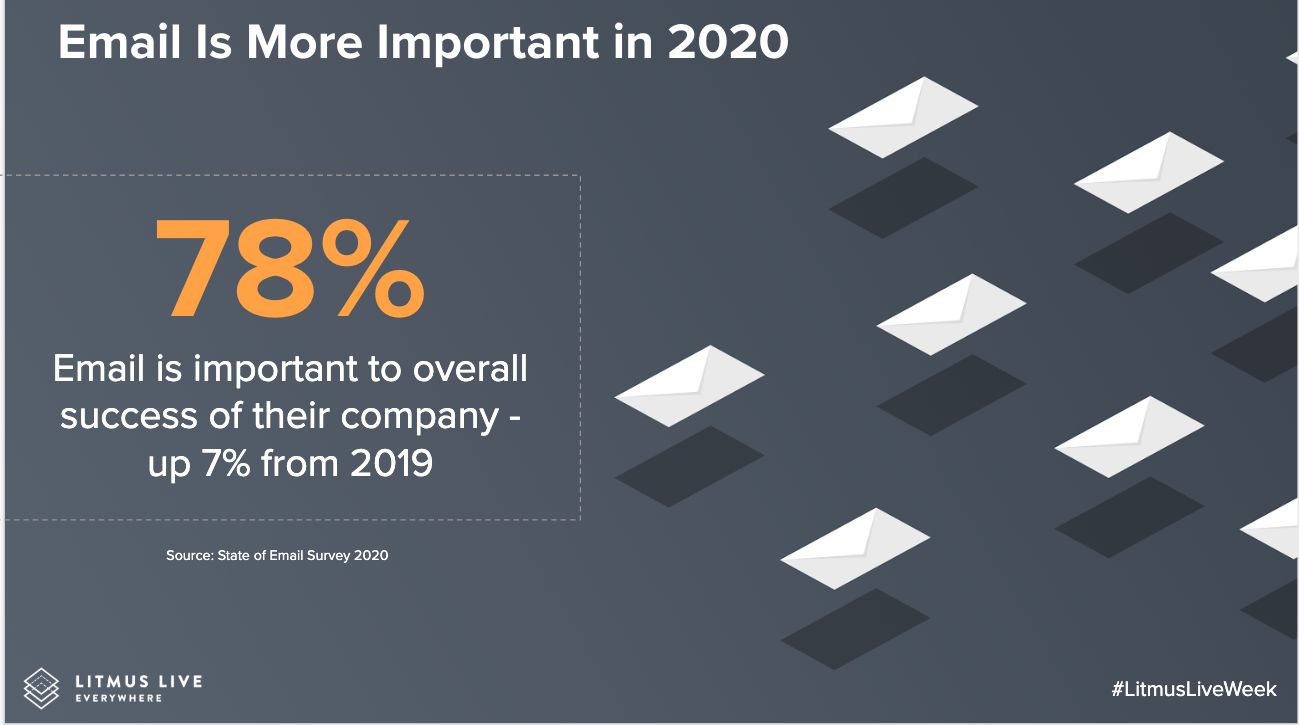 Because of the importance of email, and the ability to create those deeply personal brand experiences with it, more email is on the way.
So, how can you get it all done? By going agile in email marketing. Melissa previewed the new Agile Email Marketing Workflow, which you can see again in more detail in Wednesday's session: Going Agile: The New Standard for Email Marketing Efficiency & Success. But in the meantime, here are some points to ponder when thinking about the switch.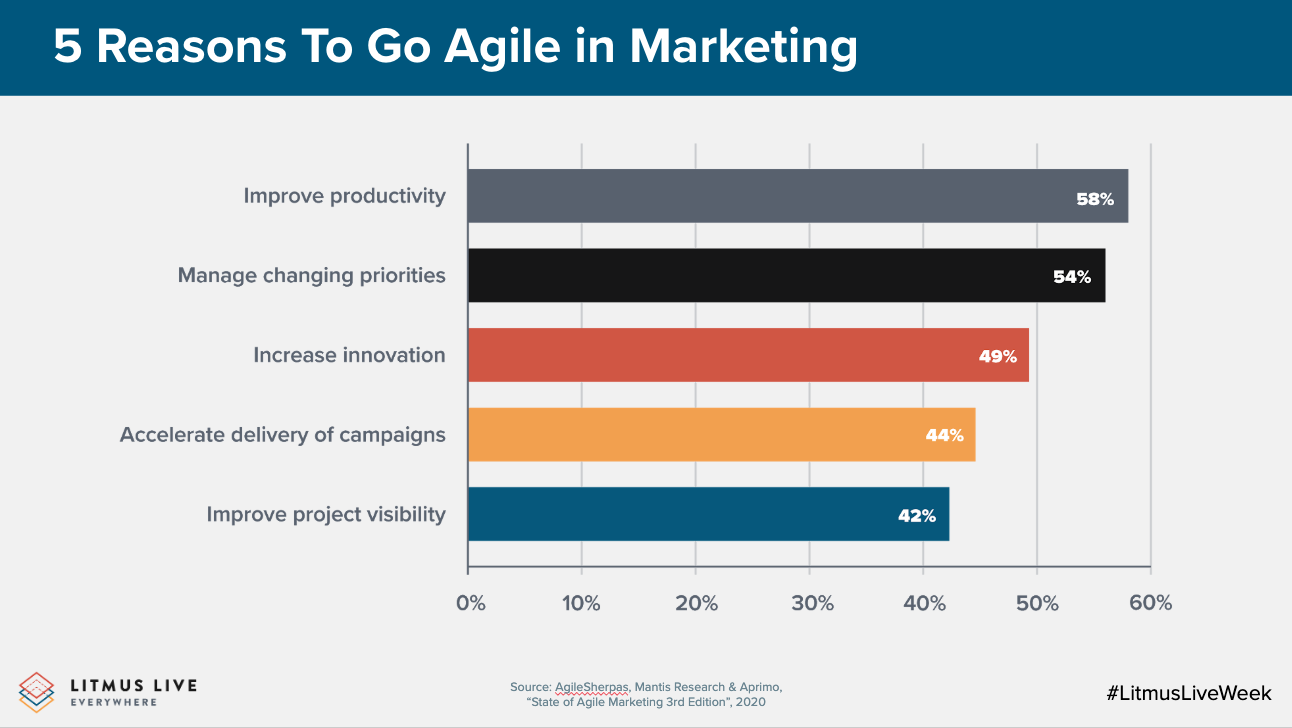 Then we dove into a "choose your own adventure" with the audience choosing to learn more about Analytics & Personalization.
This wasn't surprising with 60% of email marketers saying it's a priority moving forward. When you put Email First, you quickly realize that your email analytics, unlock a wealth of insights to give you the ability to truly understand what your customers, subscribers, and prospects want to hear from you. These can easily be applied to driving better segmentation and personalization (and not just for your next email campaign, but for your entire marketing mix!).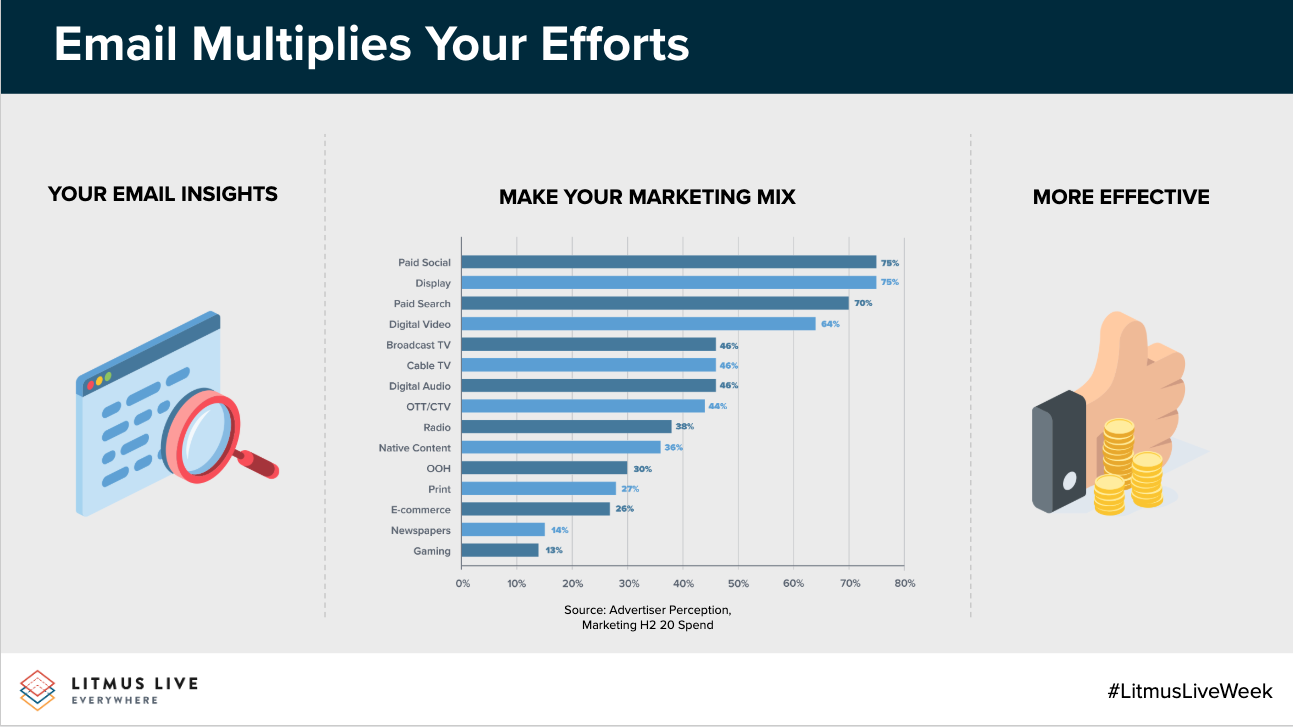 And while consumers want marketing experiences to be personal, don't make it too personal.
87% of consumers think it's important to purchase from brands that understand the "real me," but "49% of consumers also said a brand bad become "too personal."
For the next part of our journey, Litmus Live Week attendees chose Marketing in 2021, with the top three highlights being:
Personalization: Adding on to the discussion above, striking the right balance of personalization, while not being creepy is key in your future efforts.
Cookies: Understanding the third-party cookie crackdown is an important area to focus on. 43% of marketers said they didn't have a good understanding of it.
AI: Getting a good handle on how you can use AI in email marketing today will not only help workflows, but also help in driving increased business results.
The next stop? The session recording next week! You can catch Melissa's full presentation on the above AND the two paths exclusive to the recording: Email Marketing ROI and Customer Experience.
How to Create an Email Newsletter People Will Clear Their Calendars to Read: 7 Lessons From the Past 7 Months | Ann Handley, CCO @ MarketingProfs
It's no secret that newsletters help you and your brand get results. But the past 7 pandemic-filled months have heightened our obsession with them. So how do you create a must-read newsletter?
Ann Handley, Chief Content Officer at MarketingProfs, shared her tips on how you can make email newsletters work more effectively and how the smartest brands have shifted their approach during the pandemic.
The email newsletter is key to building trust X affinity. Especially right now.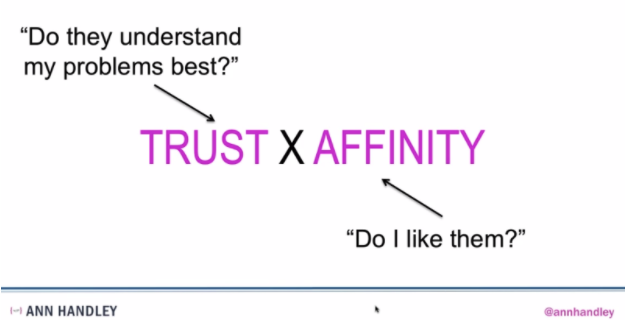 Your newsletter is critical in a crisis. (Which is what the world has been in for the majority of this year!) And during a crisis, it's even more important to show (and not just say) you're there for your subscribers and readers. How do you do that? Build trust with your audience by communicating with empathy and compassion.
65% of us say that a brand's response in a crisis will have a huge impact on the likelihood of purchasing in the future – Edelman Brand Trust and the Pandemic
Set expectations and belonging
Setting the scene and establishing the tone of your newsletter is key to its success. Start off on the right foot with a welcome email for your newsletter. This is THE place for you to set expectations with your audience—let them know how often they'll receive your newsletter and when to expect it in their inbox.
My colleagues know that I harp on this ALL the time: Set expectations! "Only 57.7% brands send a welcome but they generate 4x more opens and 3x more transactions" #LitmusLiveWeek #LitmusLive

— Emily Benson (@ebenson_emily) September 14, 2020
Use a non-neutral voice
When writing a newsletter, speak directly to your people. Ditch your marketing voice in favor of something more personal and unique. Something that'll attract your readers. It may detract some of your audience who don't "get" your voice, but that's okay.
"Lose the marketing voice" — @MarketingProfs

💯 — this is the advice we didn't know we needed #LitmusLiveWeek

— Elliot Ross (@IAmElliot) September 14, 2020
Tip: Count the number of times you use the word "you" in your newsletter. The more there are, the more conversational your newsletter will be.
And in summary…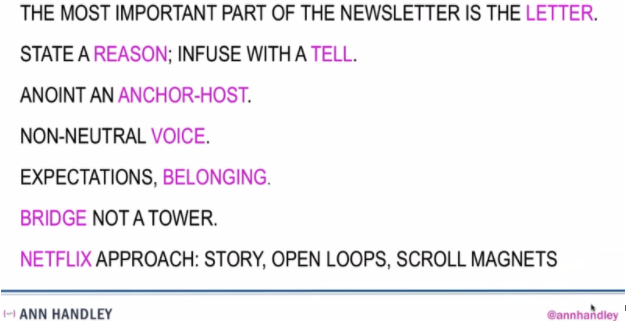 Online Tools, Offline Conversions: How PolicyGenius & Redfin Found Success | Jessica Owen, Policygenius + Katie Raynolds, RedFin
Jessica Owen from Policygenius and Katie Reynolds from Redfin took to the virtual stage to chat about how their two different companies face similar challenges and how they worked together to evolve their email strategies. Through a series of case studies, Jessica and Katie shared some of their successes and failures on their path to successful email marketing programs.
Email is vital for connecting online and offline experiences
Even though industries differ, all companies need to make sure their digital experience matches in-person experiences. Continue conversations, use strategy to reinforce messaging across both scenarios, and provide value throughout the journey.
Jessica shared how Policygenius combined email and SMS to get more people to call their insurance experts, a vital part of their funnel. Email is used to explain that there are real people waiting to talk to them via phone, not replace that interaction. By relying on email to nudge people towards calling reps, Policygenius saw huge wins.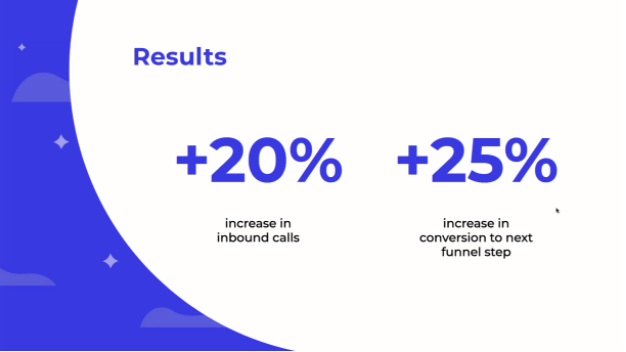 HTML and plain text emails serve different purposes
Both companies use HTML emails to provide important information and reinforce the brand on top of delivering a personalized shopping experience. However, they use plain text to give a more personal feel and to generate a response from subscribers.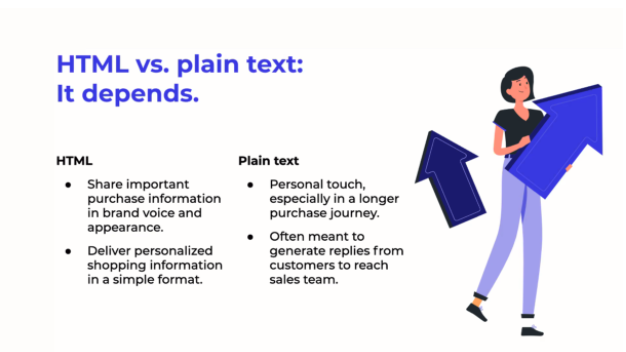 It's an interesting take on a debate we've been having at Litmus and speaks to the need for marketers to understand the purpose behind every single campaign.
Know when to let humans do the driving
Email is a great way to provide information and get your message out, but it's not a cure-all for companies. Email works well when it comes to delivering newsletters, product updates, and transactional information, but sometimes we need to get out of the way and connect customers to actual people. Use email (combined with other channels) to incite actual conversations to build better relationships with your audience.
…and that's a wrap for day 1 of Litmus Live Week. "See" you tomorrow! (Seriously, you should register if you haven't already.)