People are always on the move and email content should reflect this. By using live dynamic email content like countdown timers and showing recipients their nearest stores, you can serve email recipients with contextually relevant and up-to-date emails.
There are several ways in which you can target subscribers using live dynamic email content, including:
Ways to use live dynamic email content
1. Location
Location: Live content updates based on the location of the recipient at the time they open the email

You can display different live dynamic email content depending on where the subscriber is at the time of open, showing different content in different locations. A great way to use live dynamic content is by harnessing a recipient's location data and including directions, via a map, to the nearest store in your emails, based on their location at the time of open. For example, if your recipient registered in your Manchester-based store, but is in London when opening your email, live content enables you to direct them to the nearest London store.
This example from Puma displays a map to the nearest store where the recipient opened the email. This is a great way to encourage customers to visit brick and mortar stores, as well as making them aware of stores in their area.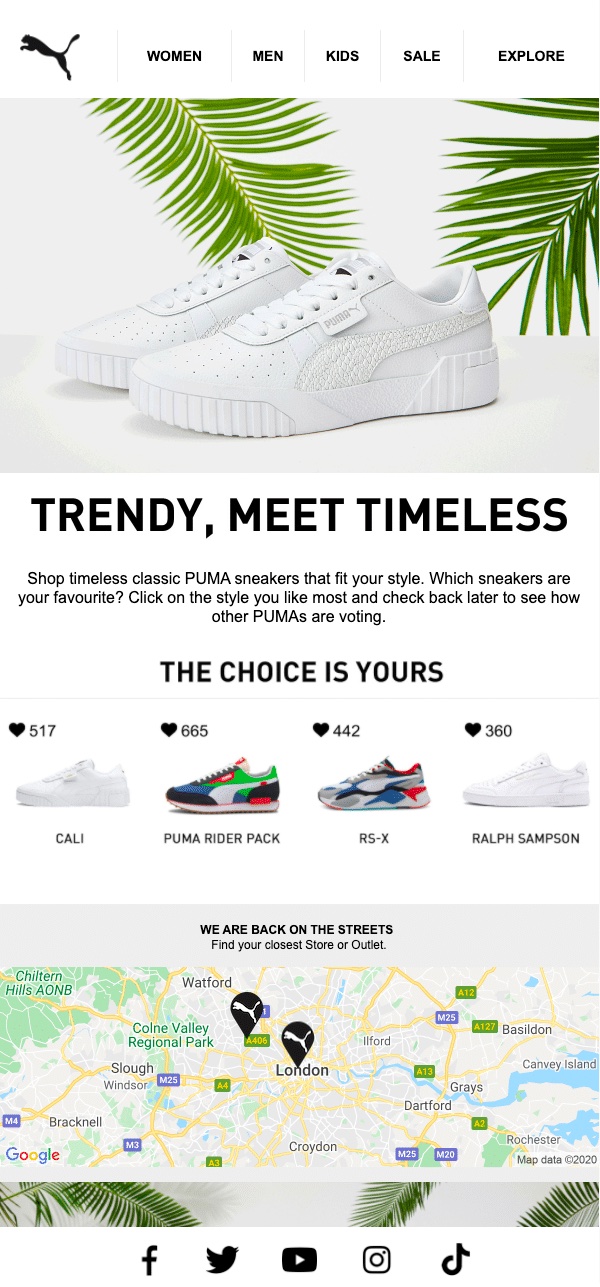 2. Device targeting
Device targeting:
Android or iPhone?

Use live dynamic email content by displaying different calls-to-action (CTAs) depending on what device, tablet, or environment recipients use to open your email. If they open your email on an iPhone, live content will display a link to your app in the app store.
This dynamic email from British fashion brand Topshop will show an alternative link to download their app, depending on whether the recipient's device is an iPhone or Android.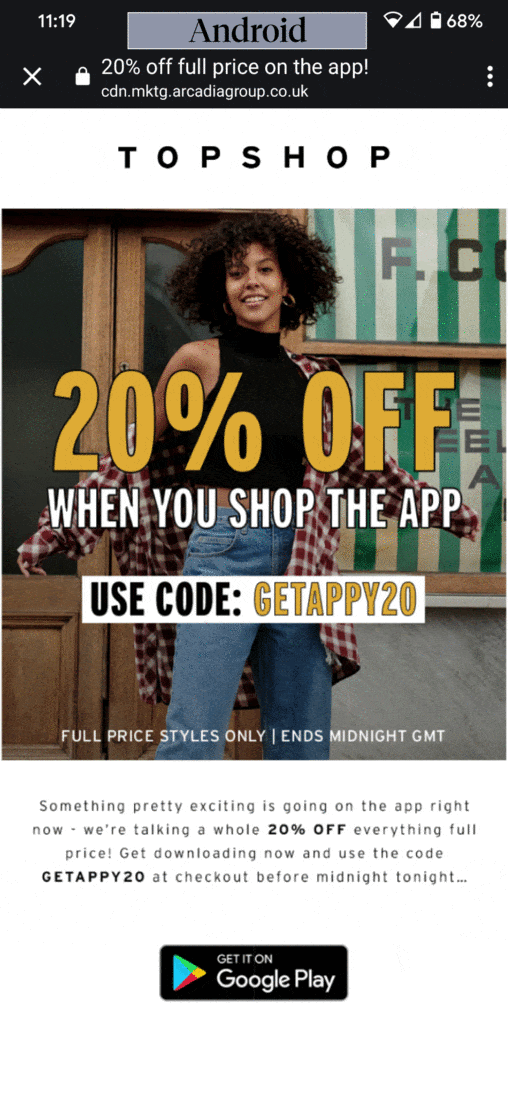 3. Timed content
Timed Content:
Not everyone opens an email at the same time

Changing the content based on the time the recipient opens your email is a great way to show engaging and up-to-date content. Show a timer or clock in your email illustrating a real-time countdown to the end of the sale to drive urgency, or display different images every day until the end of the campaign. It's a great way to keep customers engaged and coming back for more through the use of live dynamic email content.
This example from Boohoo updated every hour to reflect their 6 hours, 6 offers campaign. By doing this, they encouraged the customer to keep returning to the email to see what offers were available at every hour.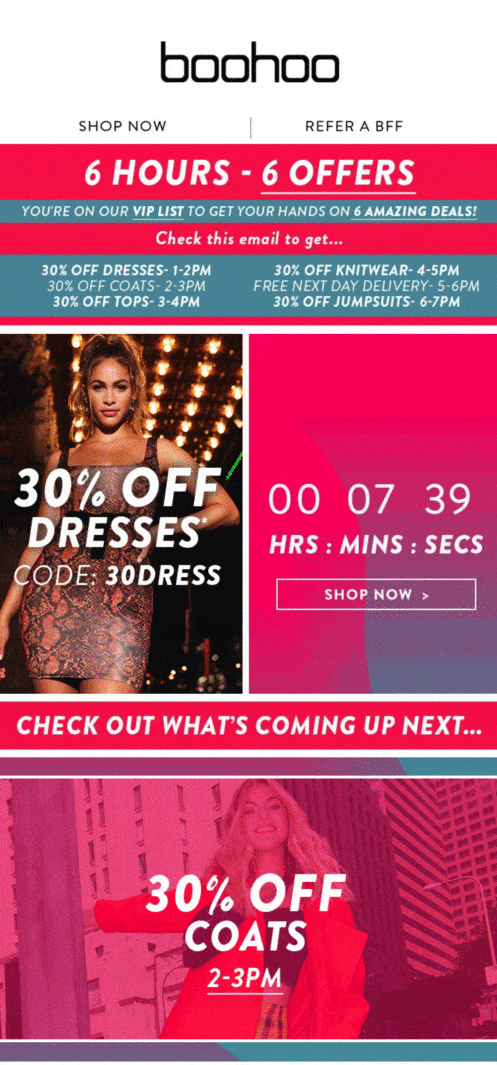 4. Testing optimization
Testing optimization:
A new way to test

Test multiple images in one email with every campaign to optimize your images, without having to manage multiple complicated split tests. This is the new way to send relevant email messages. Using testing optimization, you can manage everything with only the need for one HTML tag, removing the roadblock of having to create multiple emails to show different email content.
This live email example from Fortnum & Mason displayed different products depending on each subscriber's previous purchasing history. They showed different hampers based on the customer's average order value.

By incorporating live dynamic content into your emails, you are giving customers the most up-to-date live content. As a result, they are much more likely to engage: the content they see in their email will be reflected on site and feel even more relevant to them.
Kickdynamic's Best Live Emails of 2021

Learn more about live dynamic email content and more personalization tools to enhance your customers' email experience—with over 50 examples from leading brands.