Countdown timers are a quick, effective way to boost engagement—whether they're for sales or newsletter sign-ups. Introducing urgency into the inbox encourages email openers to take action. As a powerful visual tool, countdown timers are a tried and tested tool to build anticipation and encourage action.
There are plenty of questions people still have about utilizing countdown timers to their advantage. Read on to learn:
The science of urgency: Why email countdown timers work
Why should you use countdown timers in email? Think about regular clocks; they help us keep track of time. When you see a clock ticking, it reminds us that time is moving forward.
But now, imagine that clock as a countdown timer, ticking closer to zero by the second. What happens then? It triggers a sense of urgency, a feeling of "I should act fast!" This sense of urgency is like a mental nudge that tells us to get moving quickly.
Now, let's talk about limited-time offers, like discounts. When you see one, you might automatically start thinking, "Do I want to miss this?" And here's the twist: when something is rare, exclusive, or hard to get, it becomes more desirable. As humans we have a tendency of wanting what we can't easily have. That's the scarcity factor at play.
So, what's the connection to countdown timers? Well, countdown timers bring together both urgency and scarcity. They make you feel like time is running out, and something special is slipping away. That's why they're impactful—they grab your attention and make you act fast.
Aside from promotional purposes, countdown timers can be great for creating excitement for an upcoming event, e.g. a conference or holiday. They can also serve as reminders for an important date. The options are endless!
Reminder: while they can be powerful elements to add to your emails, avoid using countdown timers too frequently. You don't want your subscribers to become fatigued. Use them for big events, promotions, or personal things like a birthday or holiday countdown. We'd also recommend not using timers when the promotion ends too far in the future—short bursts and short time windows mean openers are more inclined to take action.
Types of countdown timers
So—how should you approach countdown timers in email? There are two approaches you can take: animated GIFs or dynamic content. Let's dive into the pros and cons of each.
Dynamic content vs. animated GIFs
At Litmus, we opt for dynamic content with our countdown timers. Here's why:
Less production.

With dynamic content, you can be more specific—without the extraneous planning and design work. For example, lets say you're promoting a nationwide concert where tickets will be available to purchase at 10am, local time. Instead of scheduling each campaign send time to match up with your animated GIF—or creating one for each different time zone—you can send one email that updates dynamically based on a subscriber's location.

Accuracy.

A dynamic countdown timer will always be correct because, well, it's dynamic! The very nature of dynamic content is that it will change based on a set of rules, data, preferences, etc., and for that reason, it will always be up to date.

Relevant—even after the clock strikes zero.

What happens after a countdown timer hits zero? With dynamic content, you can have your content flip after its done so that you're not serving up an image with 00:00:00 to subscribers if they open after the event.
Check out this screengrab of a dynamic Litmus Personalize countdown timer in one of our very own emails!

When should you add a countdown timer in email?
Countdown timers are extremely versatile! They can be used in a variety of ways:
In retail

, they're predominately used to countdown until the start or end of a promotion. They're also used a lot to visually show delivery information (e.g. two hours left to shop for next-day delivery).

Fashion

brands also use them for new launches, events, and fashion shows. 

In travel

, it might be a countdown until your departure date.

Media outlets

might use them to show the time left until your subscription expires.

For events

they could be used to countdown until an event occurs, or until pre-sale tickets are done being sold.

Non-profits

could use a countdown timer to create urgency around a donation matching time period.
Countdown timers can also be used in transactional emails (or operational emails). Below is an example from a transactional send to Litmus Live 2022 attendees featuring a countdown timer not necessarily to drive action but more so create excitement for an upcoming event.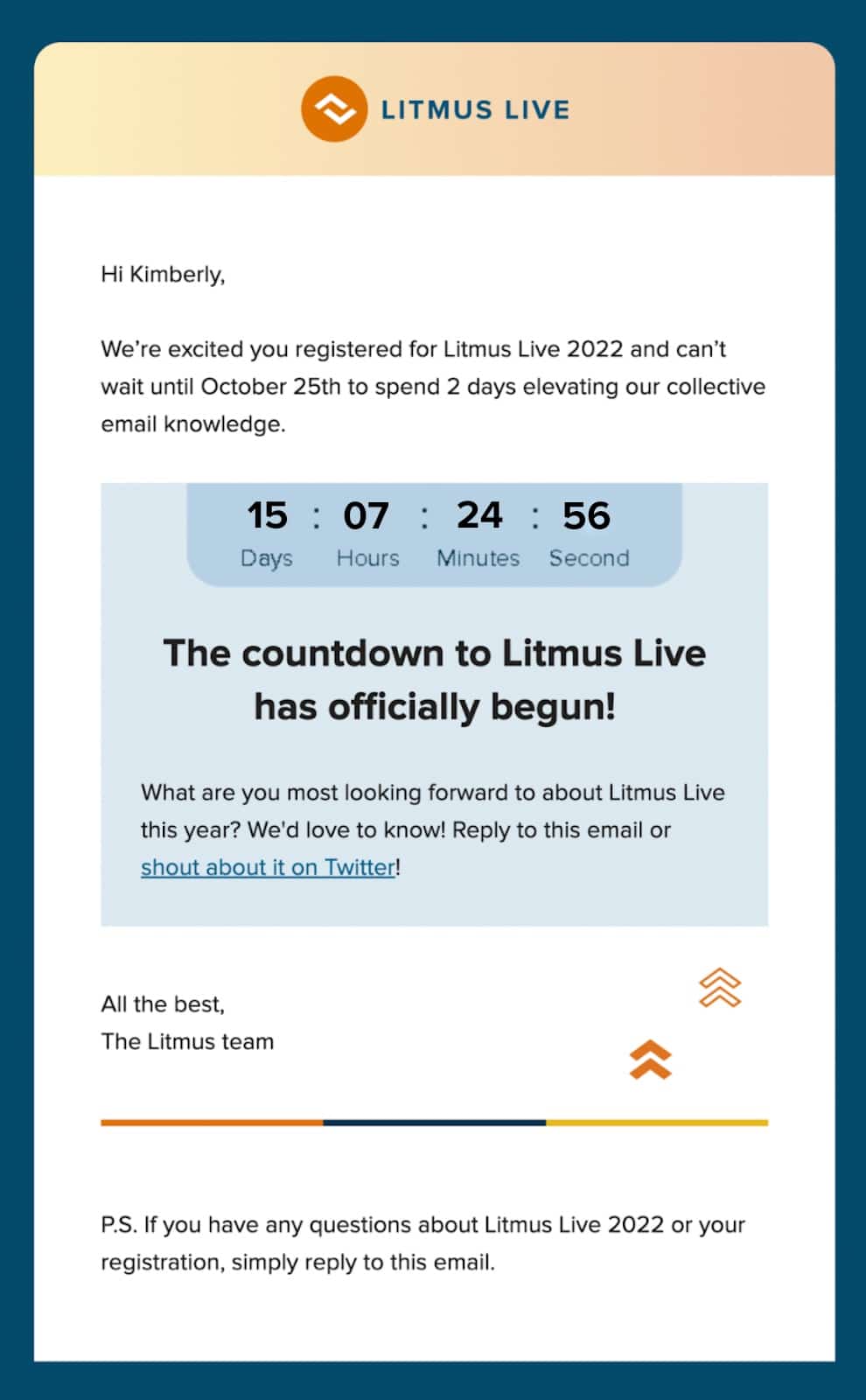 Email messaging you should use with a countdown timer
For maximum impact, clear messaging is essential to making a countdown timer meaningful and easy to understand. In some cases, we've seen countdown timers placed at the top of an email without any accompanying information explaining its purpose. Avoid doing this and consider adding concise messaging near the timer that clearly conveys what it is counting down to.
It's also important to be transparent and honest. Countdown timers can create a sense of urgency around an event or promotion, but only if the event or promotion actually has an end date. If you create a false sense of urgency with a countdown timer your subscribers will remember and adding a countdown timer to your next email might not have the impact that you would like.
This example from lingerie retailer Boux Avenue is a great example of using clear, informative messaging, but still keeping the brand's identity at the forefront.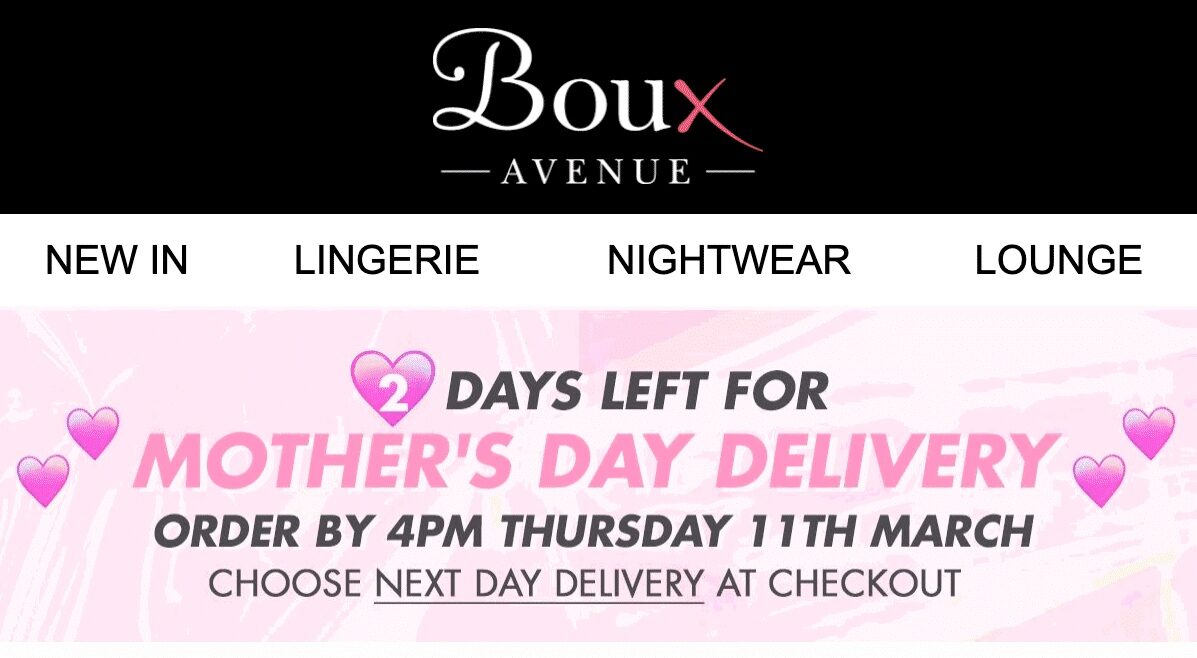 How should you label a countdown timer?
Make sure to put time labels on every countdown timer for the same reasons as having clear messaging: clarity. Recipients need to know how long they have left before the timer runs out. It's that simple.
Don't forget to include days, hours, minutes, etc. to make it clear to subscribers what you're counting down to. Avoid only using numbers as this can be confusing.
In this example from sports nutrition and wellness retailer Bulk, they've clearly marked out the hours, minutes, and seconds in the header image.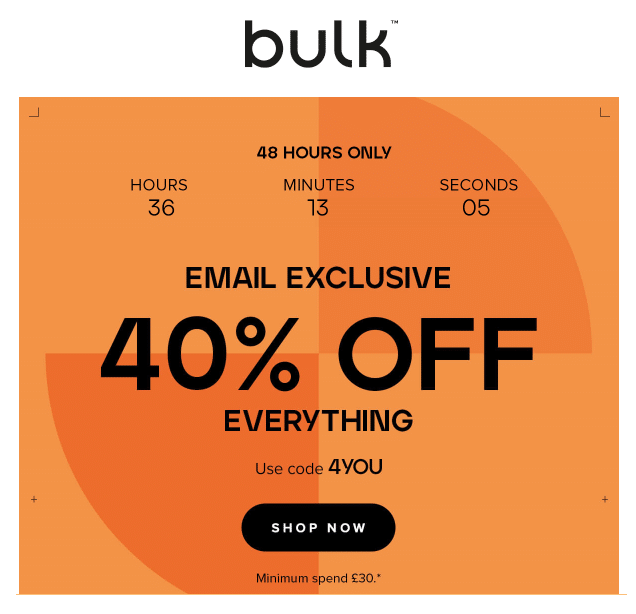 Where should you position a countdown timer?
As most things in email: it depends!
For example, if you're sending a promotional email about the launch of a sale, placing a timer at the top will increase the likelihood of subscribers seeing it. And with short subscriber attention spans (less than 9 seconds), having it visible upon open will be optimal for visibility.
In the email from Hunter Boots, a countdown timer is placed at the very top of the email, making it the very first thing seen when the recipient opens. The great use of contrasting colors draws attention to it even more.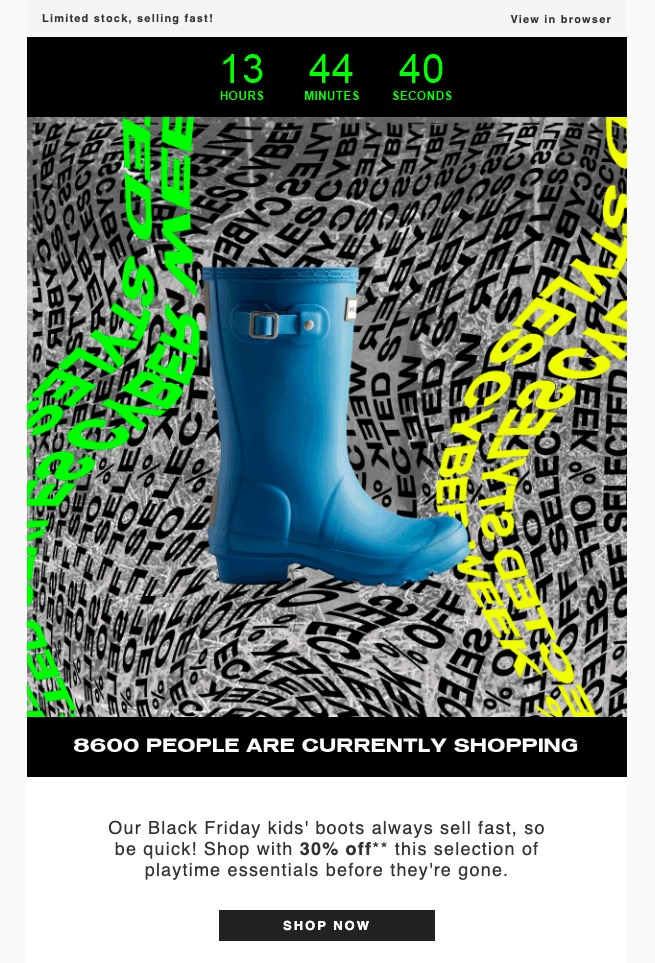 What type of timer should I use?
There are many different types of timers and they serve the same (and different) purposes. Here are some examples:
Event countdown, e.g. "48 hours, 5 minutes, and 27 seconds until the webinar"
Launch countdown, e.g. "3 days and 4 hours until our new song launches"
Subscription renewal countdown, e.g. "3 days until your subscription renews"
Birthday, wedding, or anniversary countdown, e.g. "7 days until your big day"
Expiration countdown

, e.g. "5 days left until your trial expires" or "5 hours left to shop"
If the event is further out, try using number of days. Then closer to the event, you can get more granular by switching to hours, minutes, and seconds as the event nears.
The online retailer Studio uses a bright and bold countdown timer to alert recipients that there were only 100 days until Christmas. They also used their CRM feed to include the recipient's name in the timer, too—a great example of personalized imagery.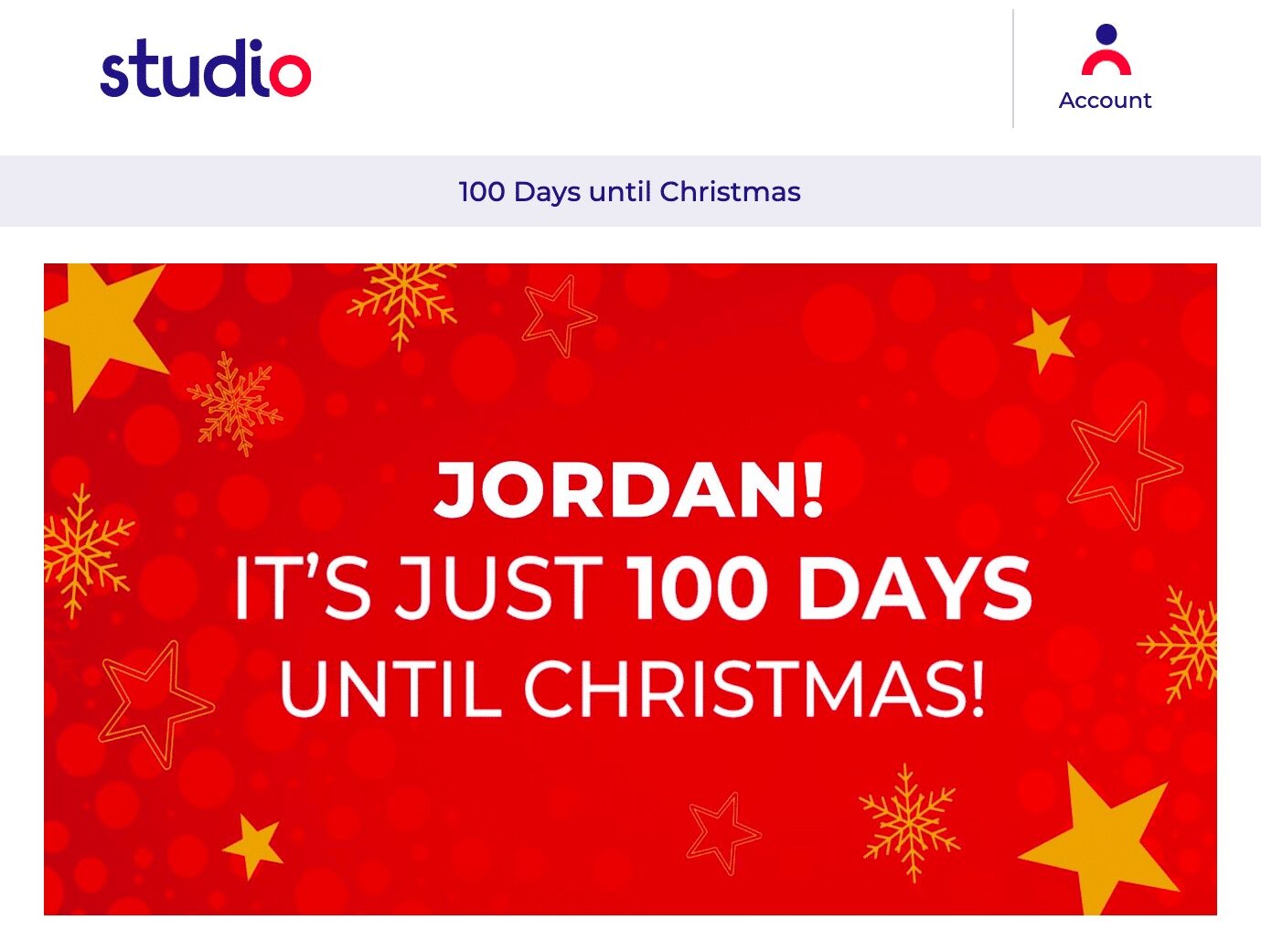 Design ideas for countdown timers
Let's take a look at different ways to incorporate countdown timers into your email design.
Subtle timer
Timers can be small, but mighty. This timer from Kate Spade, placed directly beneath the logo, is a lovely example of a small, punchy timer that captures attention.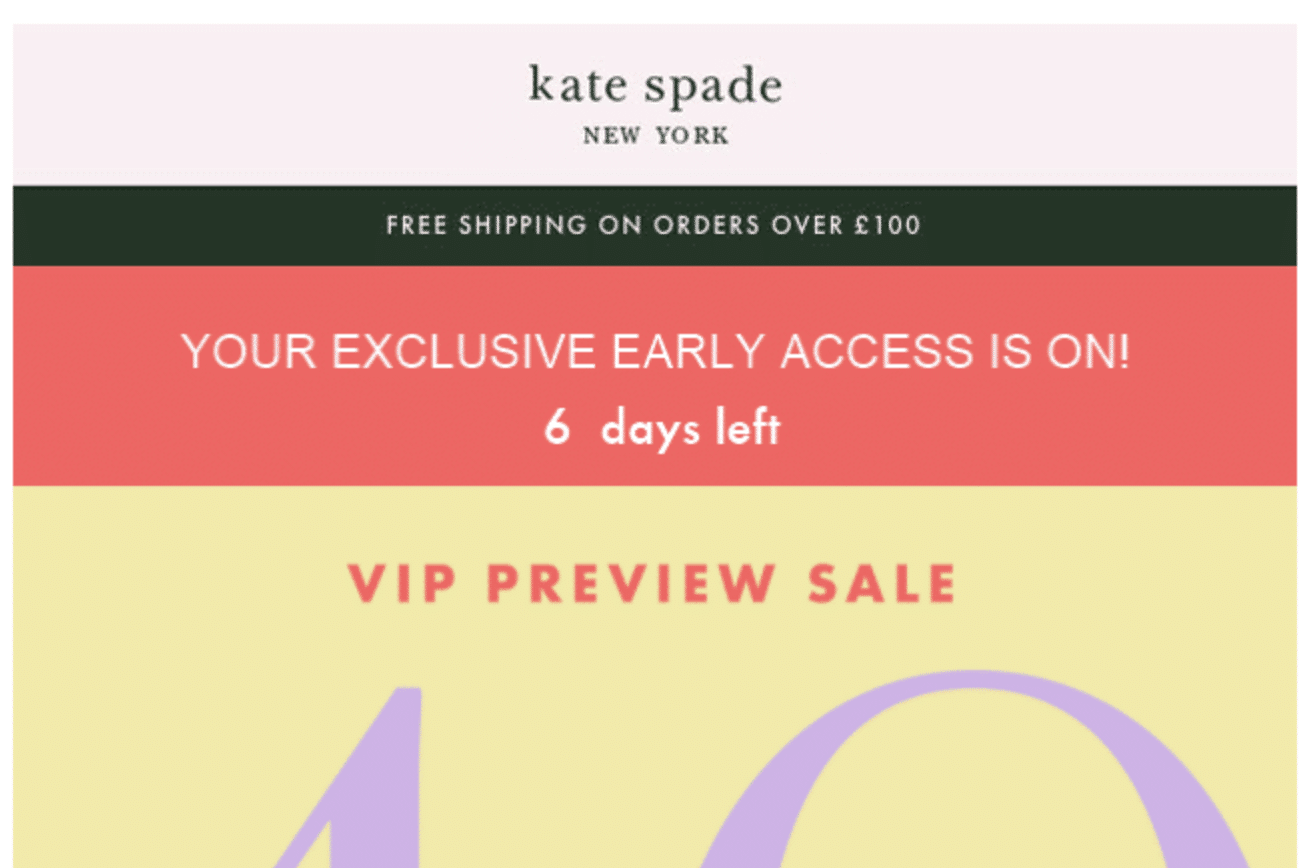 Shapes-based timer
Timers don't have to be linear—and they don't have to tick. A simple days or hours to go roundel can work wonders and gets the message across just as effectively.
P&O Ferries uses a roundel for their countdown timer to let customers know how long they had left to change their departure dates for no extra cost. Simple, yet effective!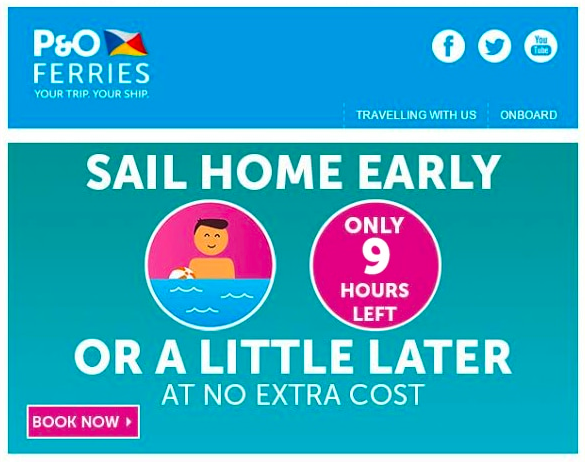 Fun and unique timers
While the options are endless with design, it's best to stick to the simpler designs to let the timers speak for themselves. If the design is too complex the timer can get lost amongst the chaos. Of course, you'll want to incorporate design elements to help the timers adhere to your brand's look and feel—like Anya Hindmarch does below.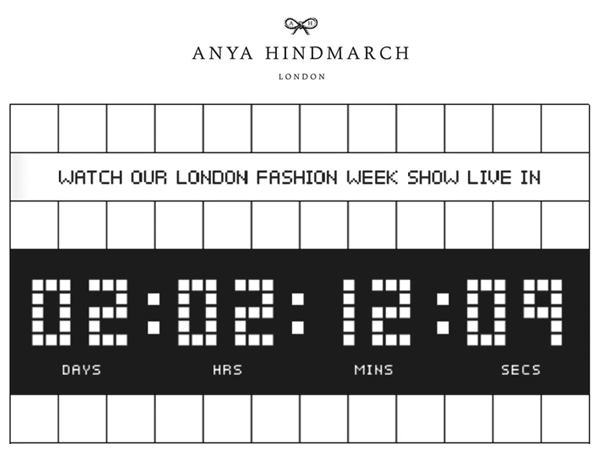 Can you include other forms of personalization with a timer?
If you want to really up the stakes, add other live functionality alongside the timer. Personalized images work super well to enhance the message, it shows the recipient that you value them as a customer.
This timer from fashion retailer Topshop includes the recipient's name (via personalized imagery) above the countdown timer, adding a touch of personalization as well as urgency to shop.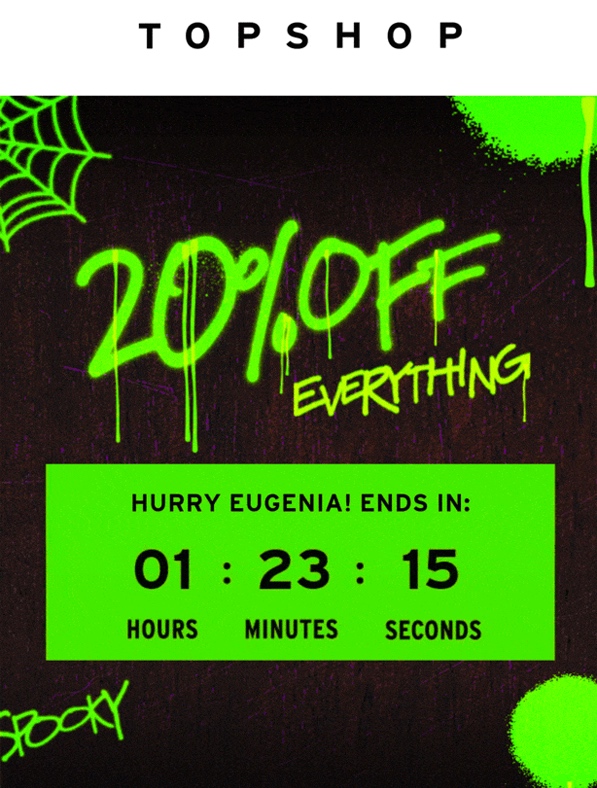 Don't forget a CTA
Of course, you'll want to include a call-to-action (CTA) with your countdown timer. Make sure your audience knows how to take advantage of your limited time offer!
This email from Canadian retailer Endy includes a "Shop now" CTA button right in the header image, beneath the timer. By adding the CTA close to the countdown timer, it encourages recipients to click.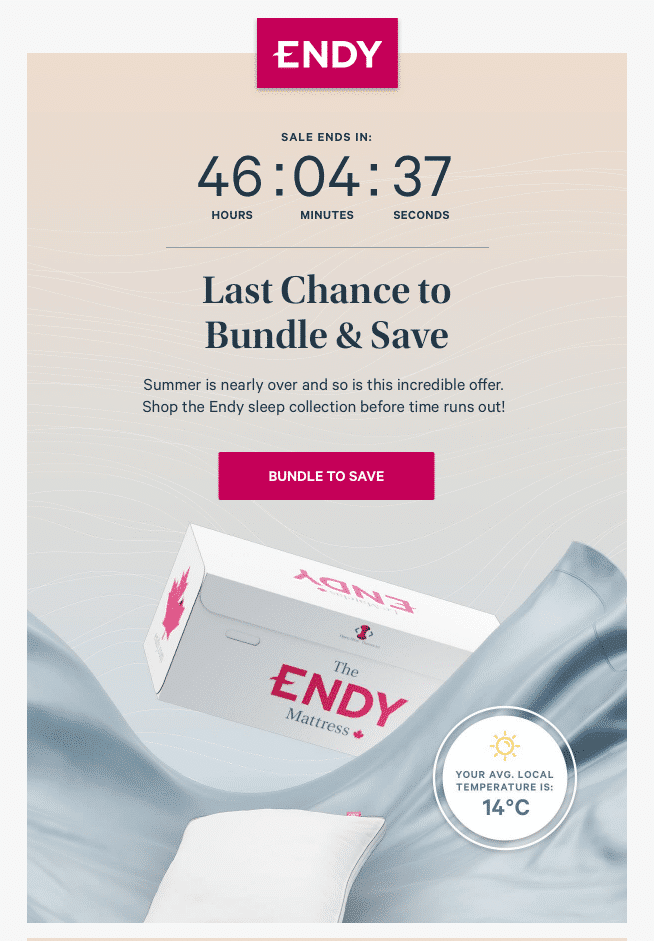 What happens when it's over?
Just because it's over, doesn't mean it's really over. There's still opportunity for timers, after they've hit zero!
Many brands will swap the timer with another message after the clock strikes zero. This way, late openers—or folks who reopened—will have the opportunity to engage with your offers.
When this timer from Australian fashion retailer Johnny Bigg expired, they replaced it with win-back messaging reading "You're too late! See what's left."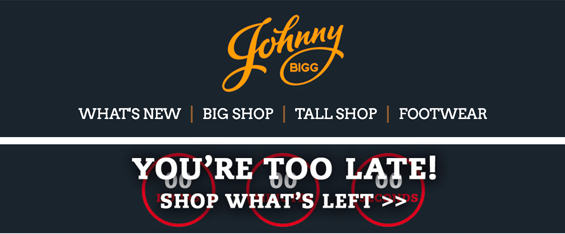 Create a sense of urgency with subscribers by using email timers today!
Using email countdown timers in your email marketing campaigns is an excellent way to drive urgency and engagement. Learn how Litmus Personalize can help you create individualized experiences at scale.
Originally published on February 15, 2022, by Martyn Lee. Last updated September 26, 2023.