If there's one thing we can say about 2021, it's that it accelerated industry changes that were already underway.
The launch of iOS15—and Apple Mail Privacy Protection—is a great example of that. Consumer data privacy has quickly made its way to the forefront of marketing.
And while many claimed this change to be the death of email marketing, our recent State of Email Report found otherwise. The demands on email teams are higher than ever. Companies are increasingly realizing how critical email is to marketing performance.
At Litmus, we've known that. That's why we've been working hard to adapt Litmus to the changes impacting our community—so you can have a platform you can rely on, regardless of how the email landscape shifts. In the past few months, we made a number of updates we're proud of and excited to share with you.
Here's what's new in Litmus.
Quickly save code modules for future use.
Want to speed up email development? Try modular building. Now you can create snippets and partials in Design Library faster than ever. Simply highlight your code and click "Save to Design Library." Next time you're building an email, click "Insert" to add a saved module to your email.
Edit & review your subject line in Litmus.
You can now edit your subject line and preview text in Litmus Builder—then easily review and test it in Proofs and Previews & QA. This makes it easy for stakeholders to review and approve your whole email.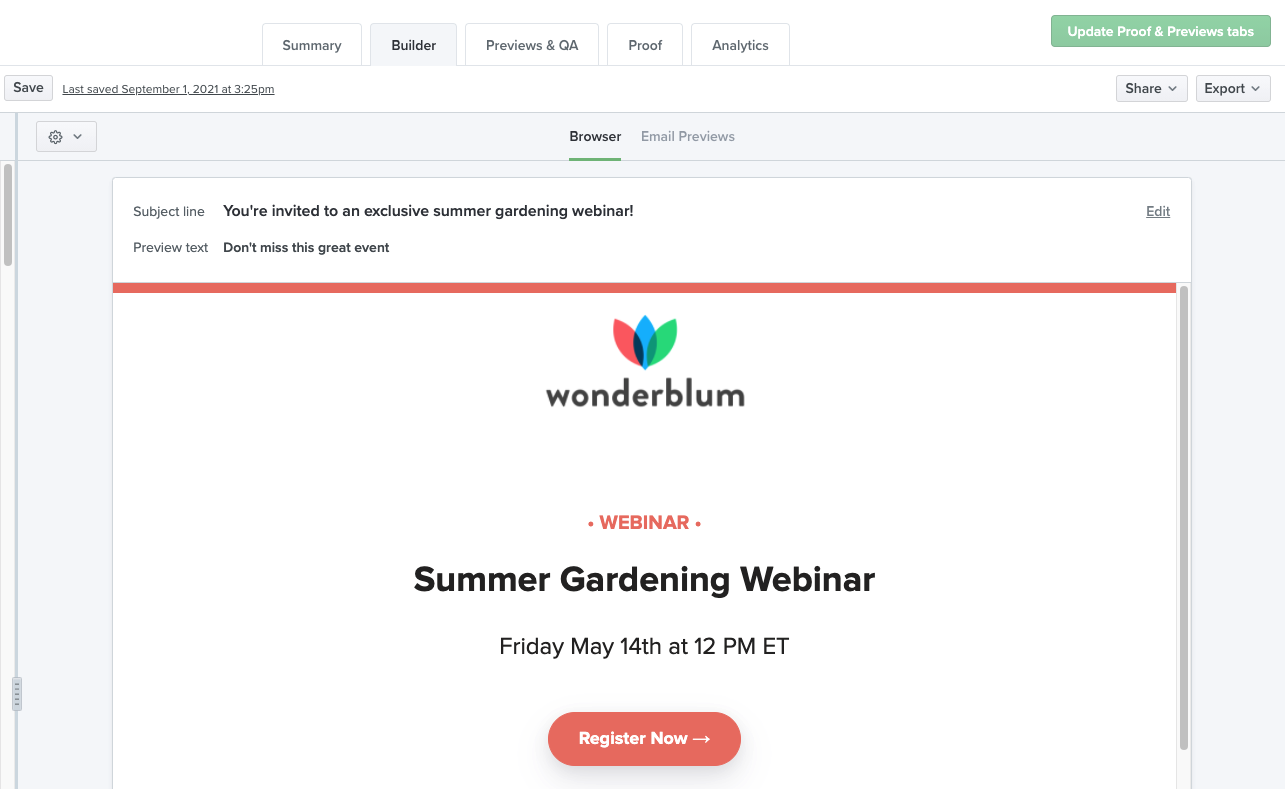 Minimize distractions with Focus Mode.
More coding space at your fingertips. Click Focus Mode to minimize toolbars and navigation—and focus your attention on coding.
Improve testing and segmentation with Email Analytics.
Updated metrics within Litmus Email Analytics help you work smarter, not harder, by automatically filtering and displaying reliable opens from those that are impacted by Apple data privacy measures. Engagement data is automatically filtered so you can continue to make data-driven decisions with confidence.
*Available exclusively on Plus and Enterprise plans
Get powerful, holistic integrated insights.
The Litmus Integrated Insights Report combines key metrics from your ESP with subscriber engagement data from Litmus in a single view. Plus, you can easily toggle to view automated sends, so you're comparing emails with similar goals.
*Available exclusively on Litmus Enterprise plans for Salesforce Marketing Cloud, Oracle Eloqua, and Marketo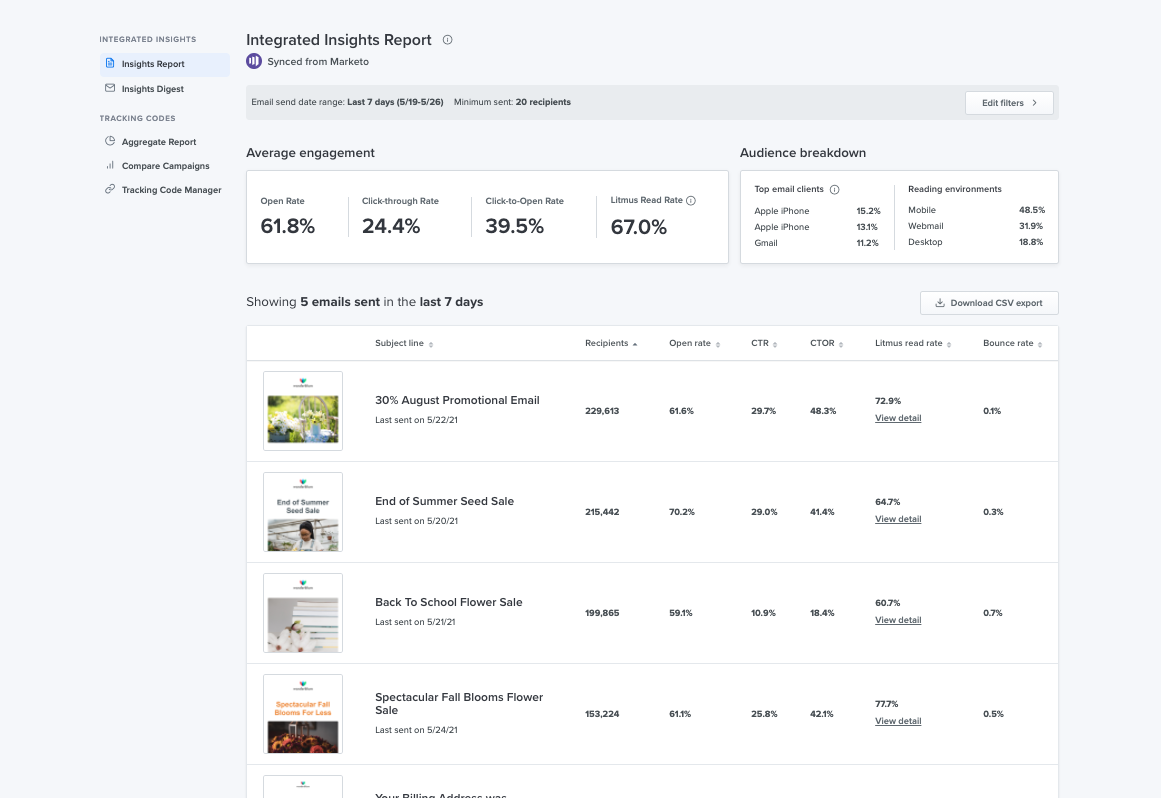 Speed up review cycles with Proof.
Proofing emails just got easier. Stakeholders can now click a unique link in their email to review and approve a Proof—without logging in.
*Available exclusively on Enterprise plans
Never miss a Proof with daily reminders.
Receive a daily email notification of Proofs you need to review. Once you've viewed the Proofs assigned to you, you'll stop receiving the reminder.
*Available exclusively on Enterprise plans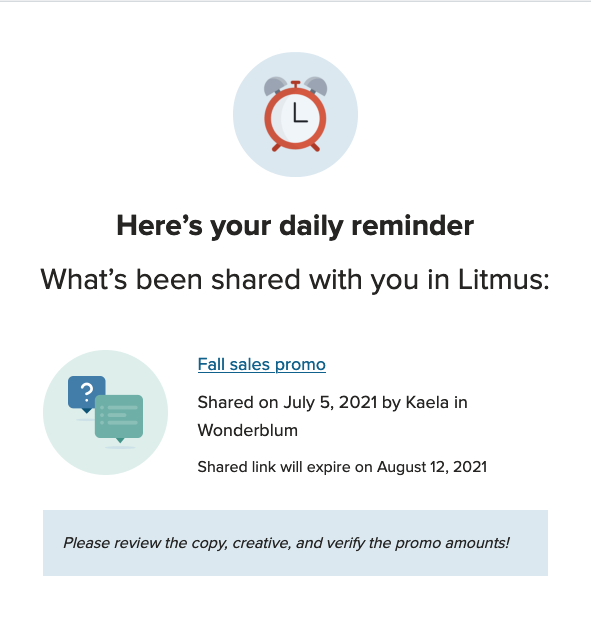 Preview emails on the latest devices—and in two new ESPs.
Adobe Journey Optimizer and Intilery customers can now preview emails as they build using Litmus. Plus, joining the 100+ email clients and devices you can preview in are:
iPhone 13 iOS15
iPhone 13 Dark iOS15
iPhone 13 Pro Max iOS15
iPhone 13 Pro Max Dark iOS15
iPad mini (Gen 6) iPadOS 15
iPad mini (Gen 6) Dark iPadOS 15
Windows 10 Mail Dark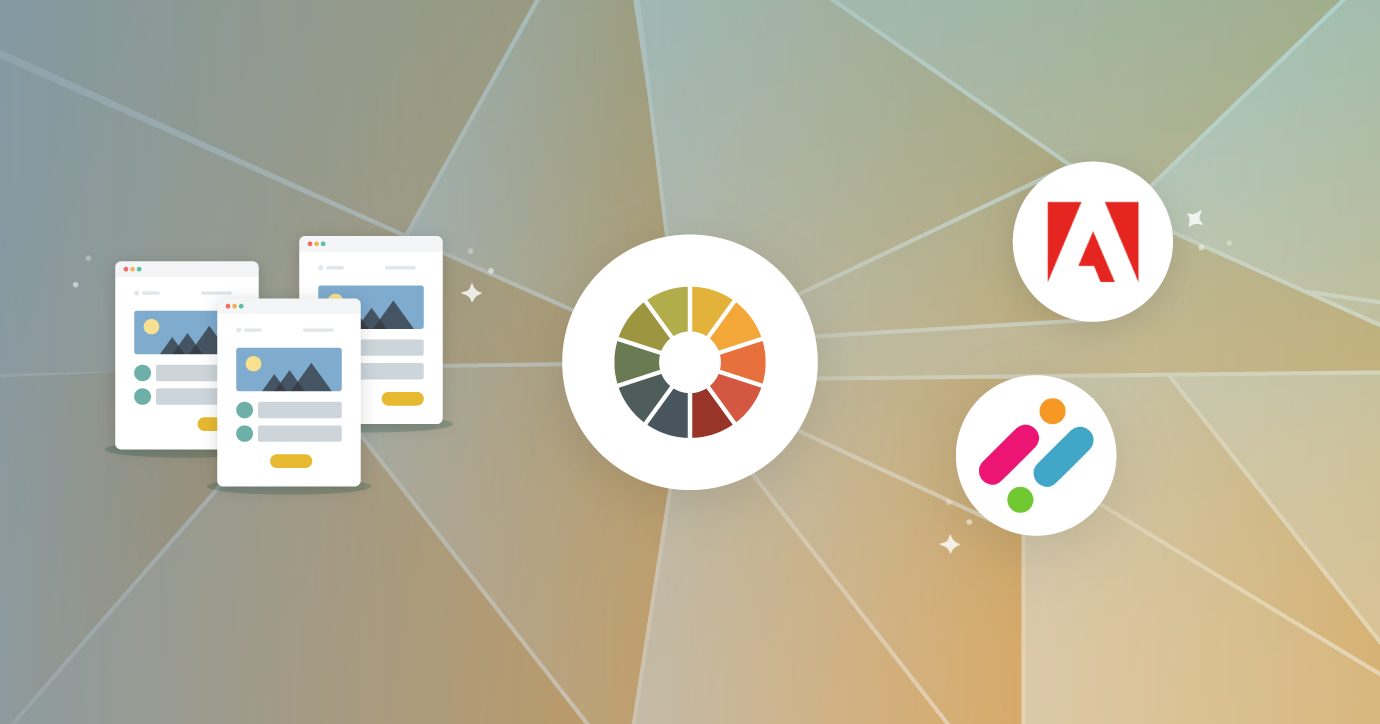 Ready to get started?
Try Litmus for free for 7 days—and see why more than 700,000 people trust Litmus to build, test, review, and analyze their email campaigns.
Already use Litmus?
These updates are in your account! Just log in to take advantage—and reach out to our helpful support team with any questions.