Newsletters are the cornerstone of our email marketing strategy here at Litmus. They're key to helping us build trust among our subscribers and customers. And, we have a lot of fun with them!
But earlier this year, one of our once top-performing newsletters—Litmus Weekly—hit a bit of a slump. Engagement rates were dropping—open rates dipped by 29% and click-to-open rates (CTOR) had sunk by 44%. And it just wasn't driving the amount of traffic to our content that we were used to.
According to our 2020 State of Email Report, Fall Edition, 54% of companies are increasing email volume this year. And with everything going on in the world, we can't say we're entirely surprised at the increased competition for our subscribers' attention.
So, we made some changes.
Open rates are now back up to nearly 40% (even better than where we were at pre-pandemic!) and our CTOR is climbing again. Read on to find out what we adjusted, and how it worked for our newsletter.
Creating a more enjoyable reading experience
Back in July, Litmus Weekly was given a shiny new makeover. And that "new" factor had an impact on our subscribers with engagement rates jumping. But it was short-lived. The shiny new design sparked some interest, but it faded. What went wrong?
The design and content lacked momentum—we weren't doing a good job of encouraging the reader to scroll through the entire newsletter.
So, we introduced pattern breaks in all the content we share with subscribers to give the newsletter the momentum it needed. That's sharper headlines, more compelling imagery, and some structure to ensure our readers were engaged throughout each email every week.
The headlines and subheadlines change every week. There's now more imagery at the top and bottom of each issue. So while there may be a lot of content in any given week, it's always scannable. The different section headlines keep things interesting to encourage subscribers to scroll through the whole newsletter versus glossing over something they think they've seen before.
Here's a side-by-side of what Litmus Weekly looked like before and after: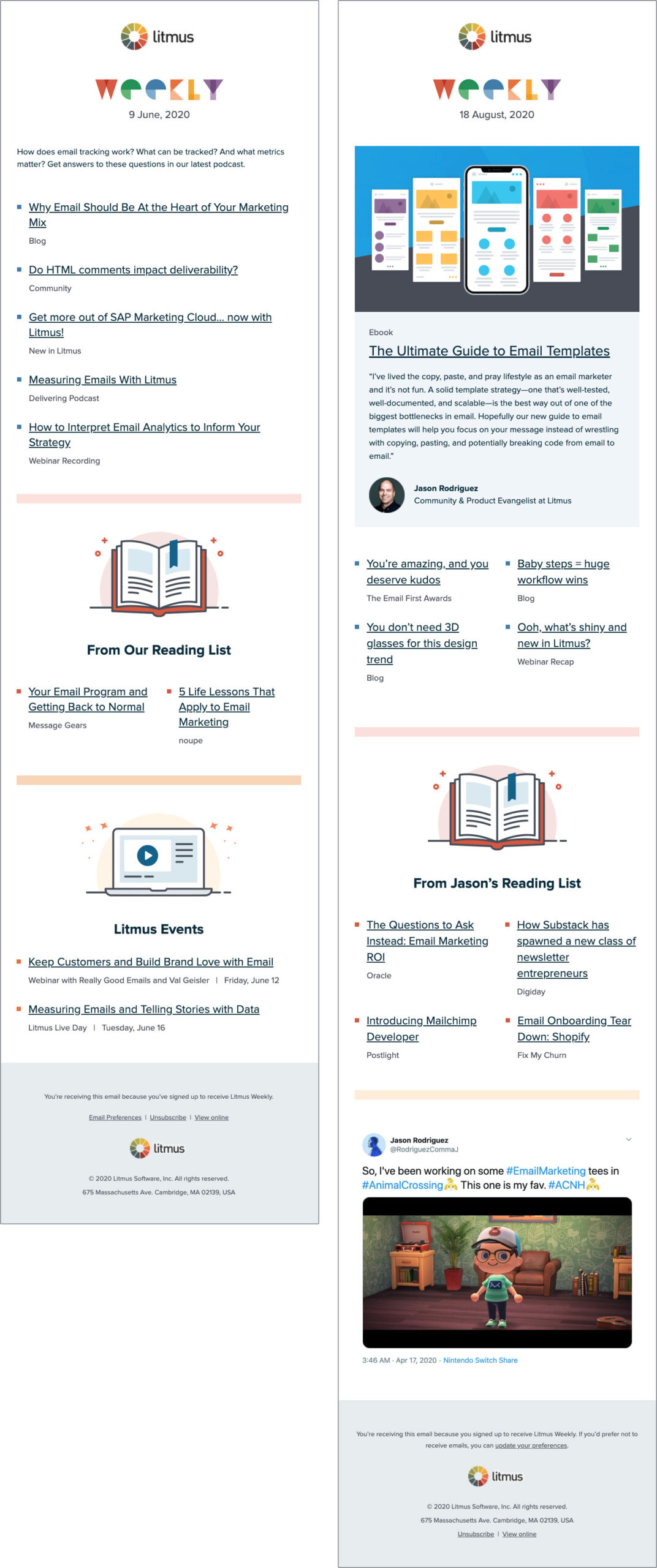 Making a human connection
While we were doing a great job pushing some awesome content with Litmus Weekly from our own blog and the broader email community, it lacked any personality or narrative. It was simply a list of links.
"If your brand is to thrive in 2020, you've got to show your face. Show up. As a person. As an individual."
– Ann Handley
Litmus Weekly lacked personality—it didn't have that human connection to you, the reader.
To create that human connection, each Litmus Weekly issue is now curated by a different member of the content team. Team members offer a bit of narrative on the content they're sharing, highlighting the value in what they see in the content, and offering subscribers a reason on why they should care enough to click through.

---
There are five more tips that Ann Handley shared in her Litmus Live session that are sure to work, too! Check out her session today to boost your newsletter engagement.