I'm curious: for those reading this blog, how many of you…
Are a one-person email team at your current company (or have been in the past)
Have imposter syndrome when it comes to your email skills
Know just enough coding to get by, but not enough to not totally break something
Are terrified when you press "send" or "schedule" every single time
If you relate to any or all of the above points, you're in the right place. I myself have felt every single thing (and more)—I've been on both sides of an email team, as an email marketer myself and as a marketing specialist anxious to get an email out the door. I've spent so much time worrying about breaking something, but trying anyway so I can get my campaigns to market faster—without bothering my developers.
To all the marketing specialists out there: email may be part of your role, but only one of many things you're responsible for. You don't have time to learn the ins and outs of code, but still need to be responsible for creating great, on-brand emails. But how do you do this? So much time goes into creating a single email. In fact, most marketers take 2 weeks to take an email from conception to sending. And if you have multiple people involved in reviews and approvals? Forget it. And again, email marketing is only one of your responsibilities.
Your current solutions just aren't cutting it
Sure, you could use the WYSIWYG editor in your ESP, but that can be challenging on its own and can lead to broken code. You really need a solution that lets you:
Utilize pre-tested templates to quickly build emails—without having to touch any code.
Protect your developer's carefully crafted code—and your brand reputation. No off-brand emails!
No lengthy set up or implementation process. (Who has time for that?)
Be able to test and get feedback in one centralized spot. No more hopping back and forth between tools.
But a solution like that just doesn't seem to be out there. What's a marketing specialist like you to do?! I have great news: There IS an easier way, and there IS a tool out there that exists! 🤩
With Visual Editor in Litmus Builder, you can do exactly that.
But how?? I'm going to break something!
No you aren't! I promise. Visual Editor is literally built to ensure that doesn't happen. You can:
Edit text, images, calls-to-action, and links
Duplicate or remove sections (like items in a list)
Move sections of your email up and down
… all without touching any code at all. And if you accidentally delete or duplicate a section, you can undo that change, too. Plus, you can quickly instantly test your email—previewing it in popular clients; verifying links, images and tracking; and more to ensure a great brand experience. You can even loop teammates in for feedback and approvals in one centralized spot.
It seems too good to be true
Does THIS seem too good to be true?! 👇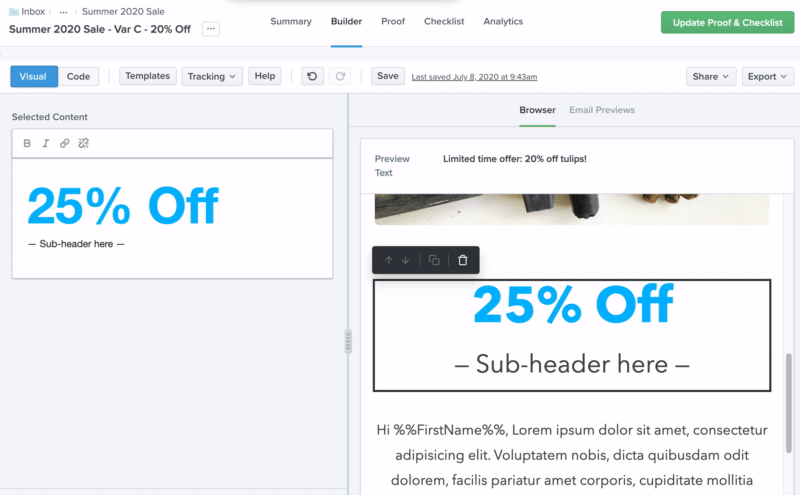 Okay, it probably does, it is pretty amazing—but it's real and available for all Litmus accounts. Gone are the days of worrying about breaking something in your email's code, or waiting and waiting to get an email out the door. You can feel empowered to create your own pixel-perfect emails in Visual Editor. I know I do, and you can take my word for it, right?
---
Super interested in Visual Editor, but wondering how the rest of your team would feel about it? Check out our previous post from a marketing manager, and keep an eye out for our next post from a developer's point of view.