Email engagement is like a black box for many email marketers. Too often, marketers only look at opens and clicks, but have no insight into what happens in between. Like in any marketing discipline, better insights are the foundation to improving campaign performance in email marketing. So it's surprising how many email marketers heavily rely on metrics that only scratch the surface of the subscriber experience.
Think about how this compares to web analytics, for example. Online marketers don't just look at the number of visitors and clicks on their sites. They also know what devices visitors use to browse the website. They have access to geolocation info to see where visitors are based. And they also know how visitors engage with the website: How long do they stay on each page? How many visitors bounce? How do they move on the page and what do they do there? Insights like these are crucial for website optimization—and they're just as powerful in email marketing.
Are you ready to open up the black box of email engagement?
Introducing Litmus' first State of Email Engagement report
Set on a mission to find out how the average subscriber engages with email, we analyzed more than 10 billion—yes, that's billion with a "B"—email opens tracked with Litmus Email Analytics to understand what email clients subscribers use, when they are most likely to open email, how long they engage with email messages, whether they forward emails, and more.
Here's a sneak peek of what you'll find in this report:
Gmail is now the #1 most popular email client
For the first time ever, Gmail is leading the global email client market share, moving Apple's iPhone—for years the #1 email client—to the second spot on the leaderboard. But there's another client that has seen a rise in market share: Outlook!
Learn about the most popular reading environments →
There's no
one
perfect time to send email
Curious to know the best time to send email? Our research shows that it heavily depends on factors like geolocation and the device used to open the email.
In the United States, the most popular reading time for email is in the morning. About 7% of all opens happen between 10 a.m. and 11 a.m.—and most of these opens happen on mobile devices.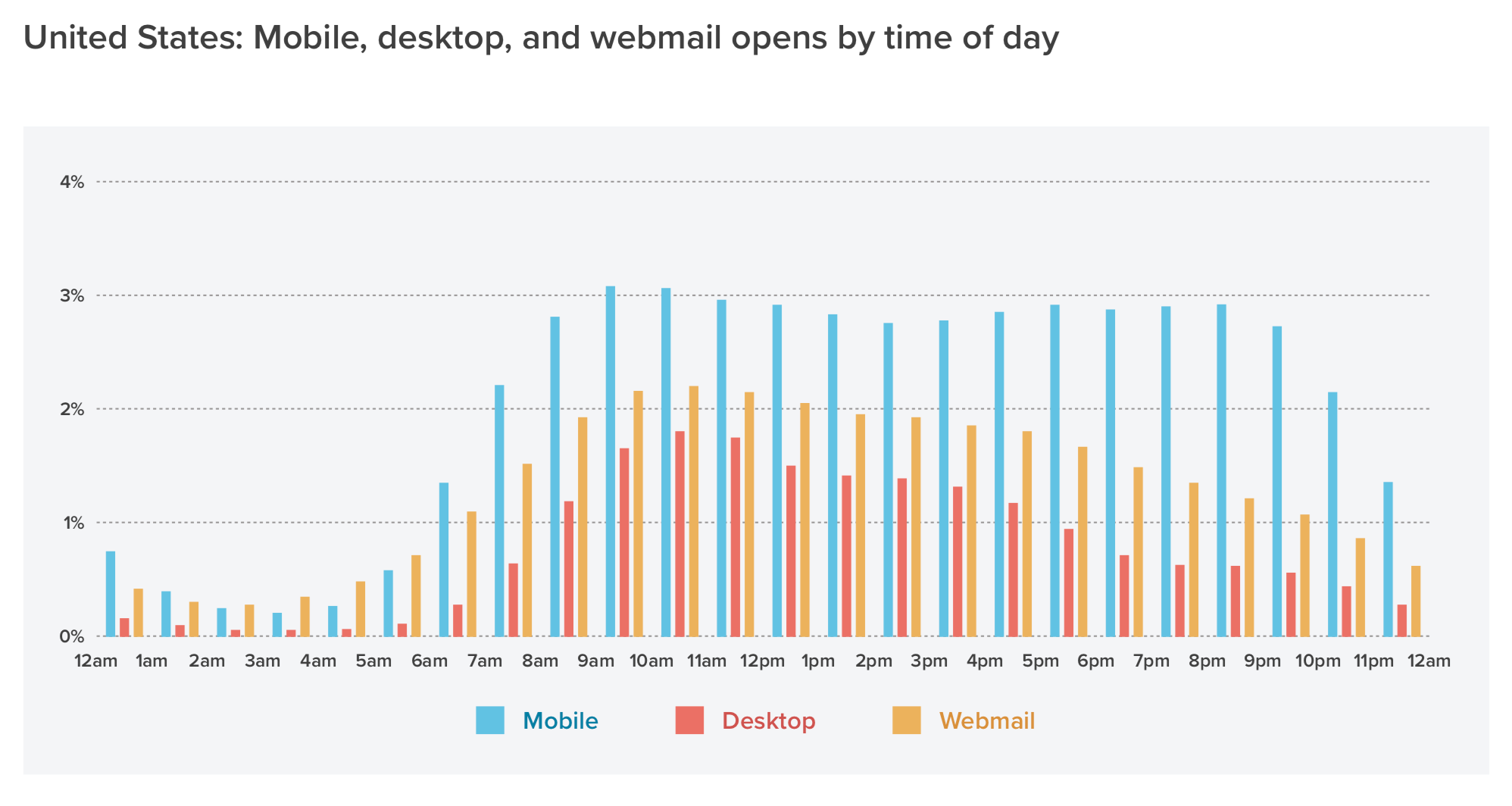 In other geolocations, however, the distribution of opens looks very different—and that means the best time to send email is different, too.
See how other countries compare →
Subscribers spend an average of 13.4 seconds engaging with email
Mobile phones, Twitter, texting, video games, and other digital era trappings are blamed for shortening our attention spans to less than that of goldfish. You might be tempted to throw email in that bucket… but you'd be wrong. The average time spent reading an email increased to 13.4 seconds in 2018.
See what share of subscribers read, skim, and glance emails →
Use these insights to benchmark your email performance against your peers and get actionable advice on how to turn engagement insights into strategies and tactics that improve your email program.