While many email service providers supply good data on the performance of your emails, they don't let marketers see the whole picture. You may want to analyze how much time subscribers spend in your email, what device they're using to view your message, or how many times your email was forwarded or printed—and these metrics are something your ESP might not be able to provide.
That's why a growing majority of brands use third-party analytics to supplement their ESP's dashboards.
In our State of Email Survey, we asked thousands of marketers if they use third-party analytics tools and if so, which ones they use. Here's what we found.
Brands that use third-party analytics use 1.6 additional tools on average
Over half (63%) of brands have embraced third-party email analytics. Of those who rely on additional tracking tools, 70% utilize Google Analytics, making it the most popular third-party tracking tool for email marketers. Google Analytics is a key tool for connecting email activity to conversions on the web. Nearly 30% of brands use a homegrown, internally developed tool for additional analytics, followed by Litmus Email Analytics (23%), Adobe Analytics (16%), and other tools.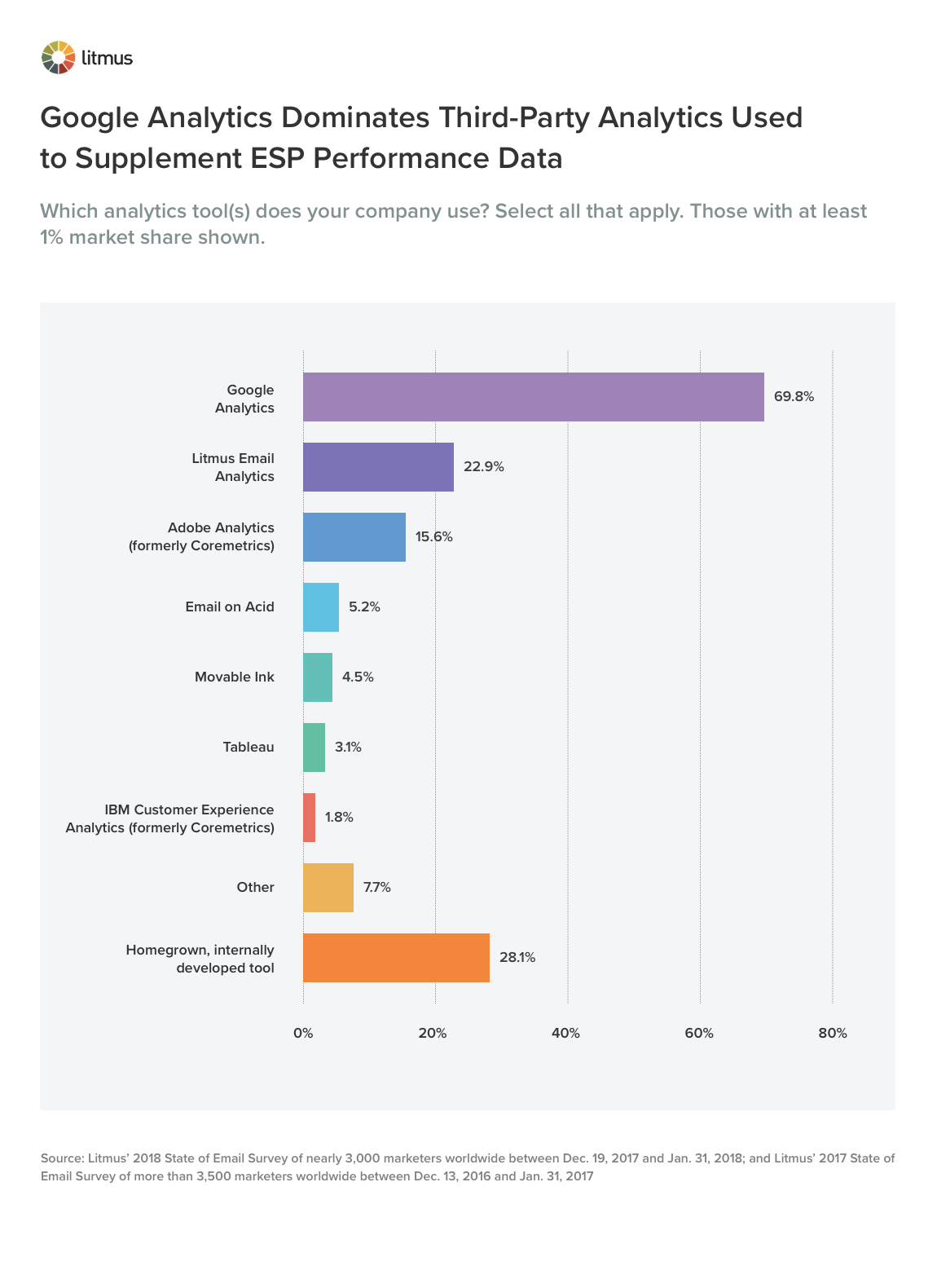 More insights means better results
Using additional third-party email analytics tools gives you a more holistic view of your subscribers and allows you to target them more effectively. Having reliable insights into email performance also allows you to understand what's working and what doesn't so you can make better decisions and continue to improve your emails. And that pays off: marketers who use additional analytics tools with their ESP saw an ROI of 43:1, and those who only relied on their ESP reported an ROI of 39:1.
Brands that use third-party analytics tools see an email marketing ROI that's 10% higher than that of brands that only rely on metrics provided by their ESPs.
Get more insights on what metrics brands track—and how they do it

Interested in more email analytics insights? Check out our latest State of Email Analytics report to see how your email analytics stack up against your peers, learn where you have visibility gaps, and understand how you can bring your email performance tracking to the next level.