It's no secret that email marketers are incredibly busy. According to our State of Email Survey, 69% of teams have up to 10 emails in production at any given time, and it takes 53% of teams 2 weeks or more to produce just one of those emails.
Add those factors to today's climate—with tight resources and budgets—marketing teams need to get the most out of their existing headcount and tools, so they can continue to optimize and drive business results.
Thanks to the newest updates in Litmus, marketers can cut email development and collaboration time by 75%. It's never been easier to get high-performing campaigns to market faster—with no additional resources necessary.
Scale email production with intuitive email creation for all, regardless of technical skills with Visual Editor

There are a variety of codeless editors in the market today to help non-coders build emails. However, they require long, complex implementation processes. Plus, they don't work with your existing templates. Your templates need to be changed to work with the tool—and then once that happens, it not only messes with your carefully crafted code, but those templates then can't be used elsewhere if you decide to switch building tools or ESPs.
What if we said you could cut your email development and collaboration time by 75%?
You can do it today with Visual Editor in Litmus Builder.
Visual Editor in Litmus Builder empowers every member of your team—no matter their technical skills—to quickly produce perfect emails.
There's no lengthy set up or training needed for Visual Editor—it automatically works with your existing templates and doesn't change your code.
Here's how to get started:
Add your email templates to the Design Library
Start a new email project and click on "Build"
Select which template you'd like to use for your email
That's it! You'll automatically be dropped into Visual Editor in Litmus Builder and you can get to work changing links, images, or text and moving content blocks or removing them if they aren't needed. Visual Editor allows you to:
Control editing and lock down areas to ensure brand consistency. When you set up your email templates in Design Library, we automatically enable codeless, visual editing and lock down your brand guidelines—like font type and color. When teammates use these templates, these aspects won't be editable in Visual Editor.
See edits as you build and verify everything is error-free

. As you edit links, images, and text in the Visual Editor, automatically see your edits in the preview pane to ensure everything is displaying correctly. Plus, in a single click, check critical elements of your campaign, like link tracking and subject lines, to ensure your email is set up for success.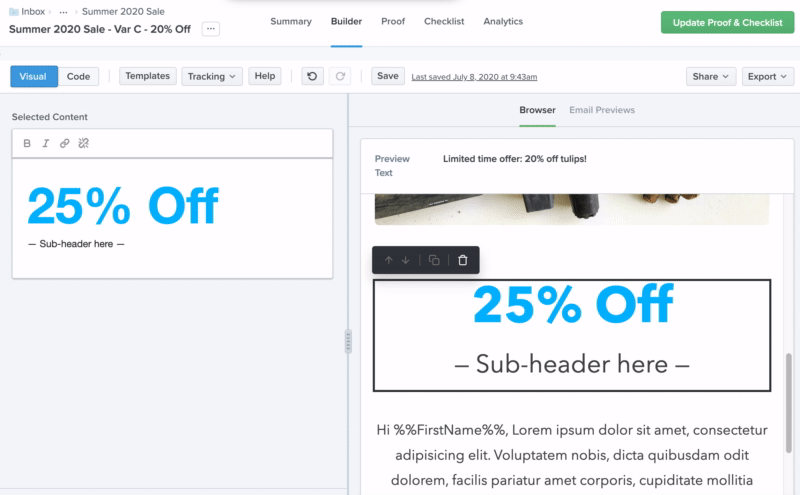 Here's what a few of our customers have had to say about Visual Editor:
"Constantly hopping back and forth between tools, it used to take us over two hours to produce one of our templated sends. With Visual Editor in Litmus Builder, that time has been cut to 30 minutes, freeing up 75% more critical time to focus on revenue-generating projects."
– Joe Savitch, Marketing Manager, Altos
"The Visual Editor in Litmus Builder empowers our team—developers and marketers alike—to quickly and effortlessly create emails. It's intuitive and easy to use, and makes creating emails a breeze for everyone, regardless of their technical background. With Visual Editor, we can build an email in a matter of minutes, saving us critical time to focus more on innovation and driving results."
– Chris Greufe, Senior UX Designer, Duke Energy
Quickly share and collaborate on multi-email campaigns with folder sharing

Collaborating on multiple emails in a campaign or versions of an email with dynamic content can be time consuming and complicated, leaving more room for error and slowing down production times.
With folder sharing in Litmus, it's never been easier to collaborate on multi-email campaigns or dynamic content versions. Get the right people involved—with the right level of access—at every step of the email workflow. Plus, get full visibility into the status of every email within a folder, so you can quickly take action.
When a folder is shared, users are notified by email, keeping the email production process moving without having to hop between tools.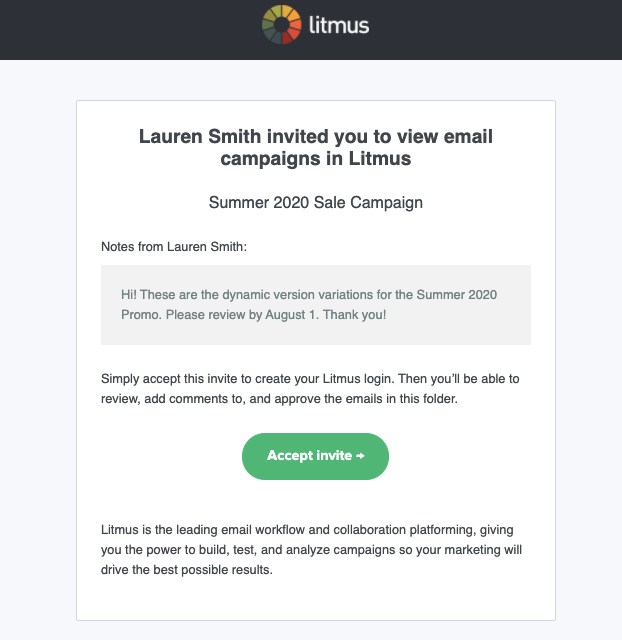 Get the insights you need and easily share results with Email Analytics enhancements

The latest enhancements to Email Analytics make it even easier to get the insights you need to improve future campaigns and drive success across your entire marketing portfolio.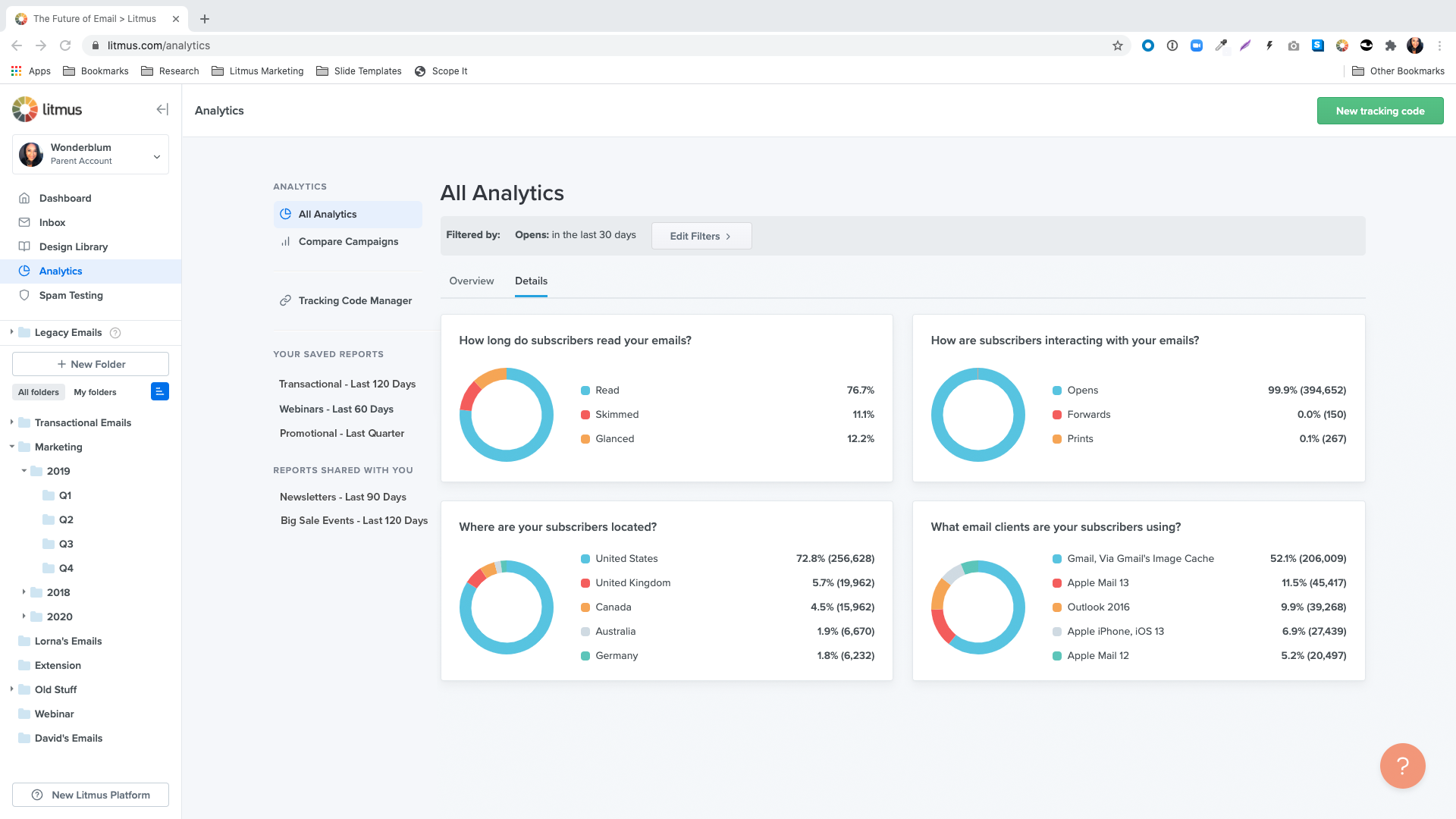 You can now group and compare similar campaign types to make sure you're getting the insights you need. You can also easily save and share custom reports across your team to share the data that matters most, boosting collaboration and cross-channel performance.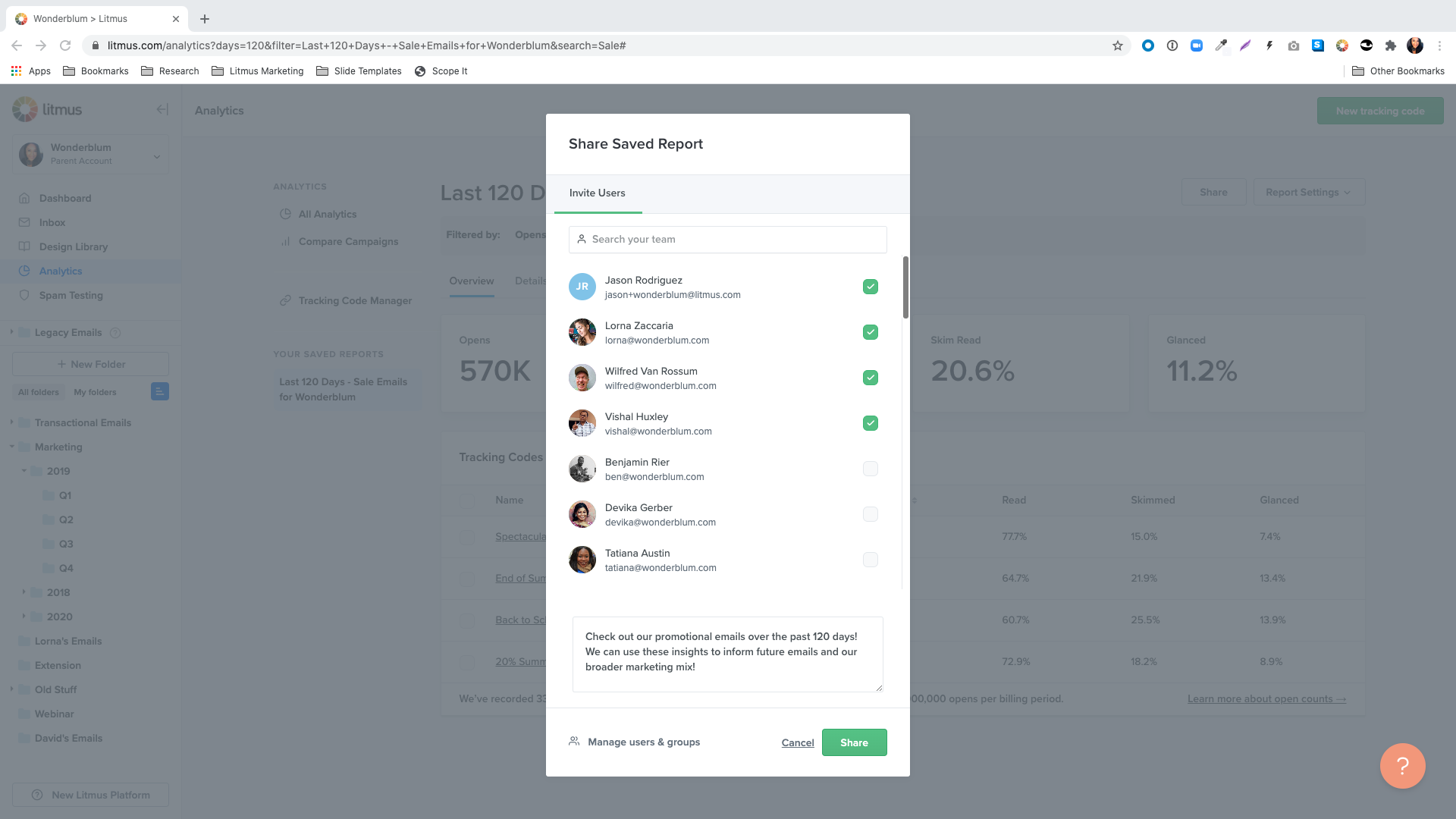 There's still more!
We also added these new email clients to Litmus, available for testing now:
Android 9 (Gmail App)
Android 10 (Gmail App)—Includes Dark Mode
iPhone SE (2nd Gen)
Outlook.com (Dark Mode)
And for Litmus Enterprise customers, you can now get even better visibility into your team's usage trends across Litmus Email Previews and Litmus Email Analytics with our new Account Holder dashboard. Plus, you can more easily manage users and ensure they have the proper level of account access.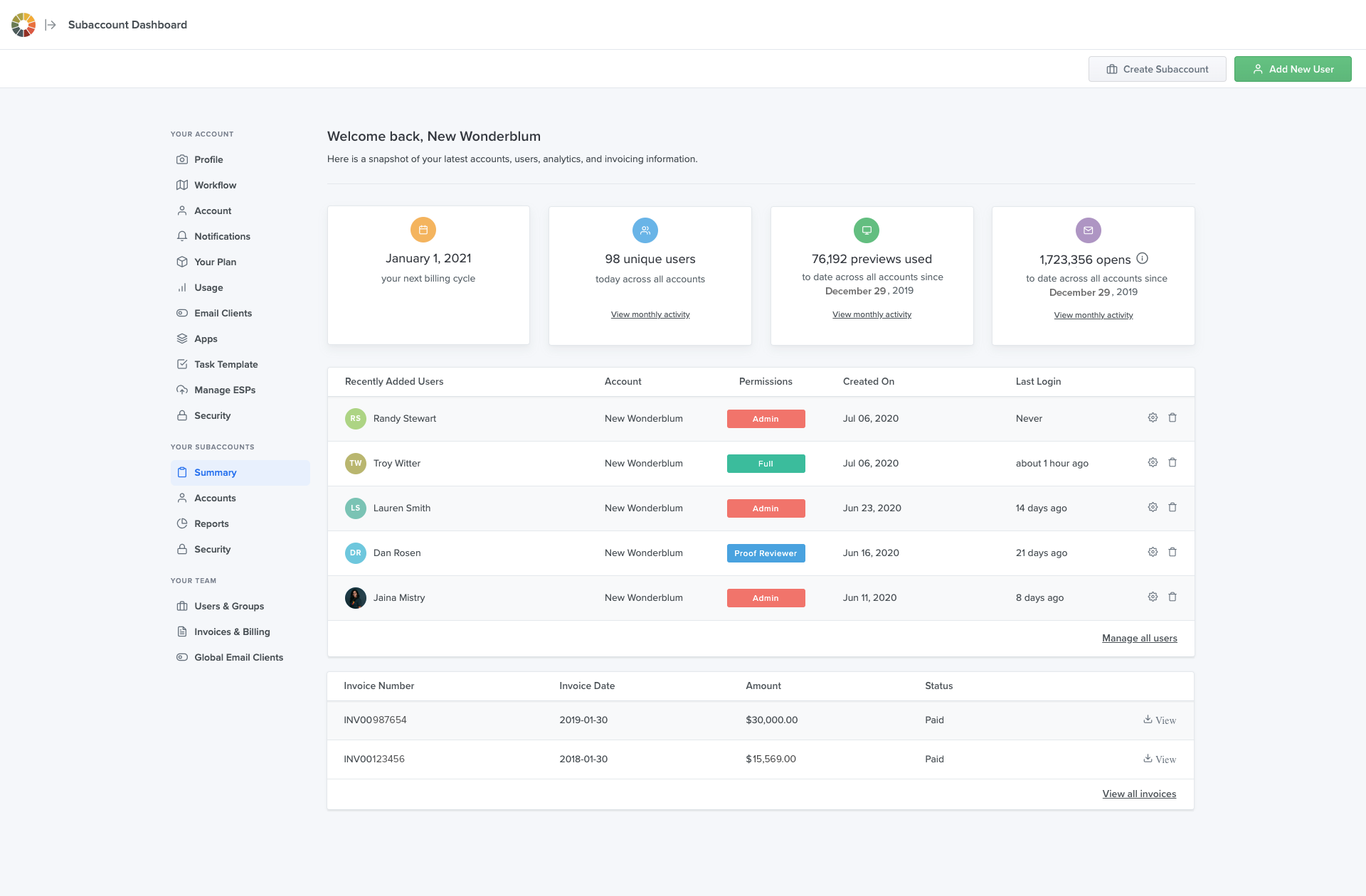 This dashboard is available to Litmus Account Holders only.
Ready to dive into our new features?
If you already have a Litmus account, get started with these updates today. We can't wait to hear what you think!
Not a Litmus customer yet? Start a free trial or talk to a Litmus expert for help getting started.