Read Time: 3 min
Introducing the Apple Audience Report: How Many of Your Subscribers Use Apple Mail?
Have you heard of a not-so-little thing called Mail Privacy Protection? When Apple Mail users opt in to that, it prevents email senders from seeing who opens, time of open, geolocation data, and the specific device used. As you might have already guessed, it will have major repercussions for email marketing. And it goes live as early as next month.
Breathe. Evaluate. Plan. You've got this.
Before you start scrambling, pause and first see what your personal impact is. No need to crunch the numbers—we've got you covered with the automated Apple Audience Report in Litmus Email Analytics.
Get a personalized breakdown of your Apple Mail audience
The new Apple Mail Audience Report packages up all the info you need to assess where you stand today:
How much of your audience uses Apple Mail
Subscribers' Apple OS versions and devices
Apple Dark Mode usage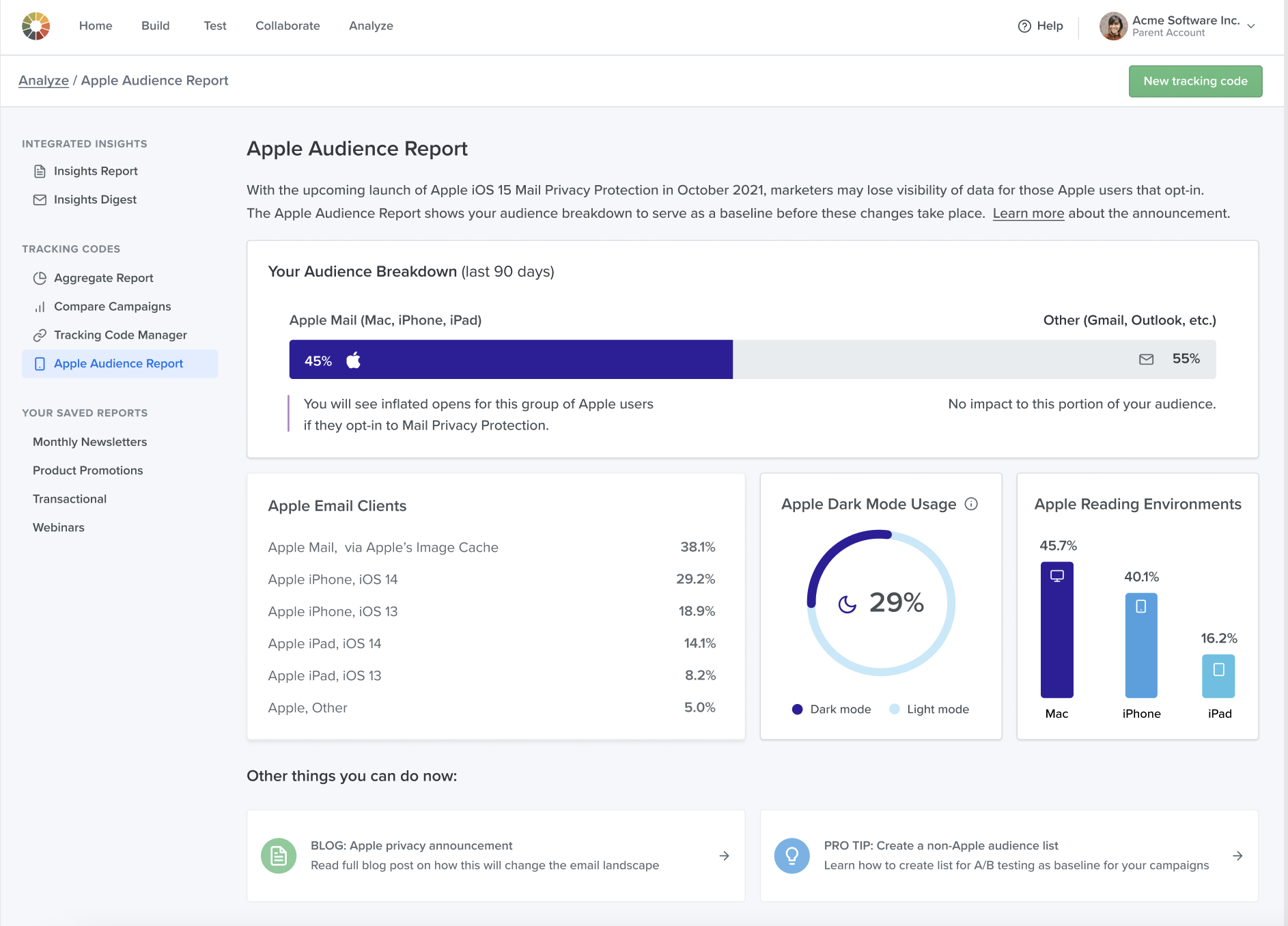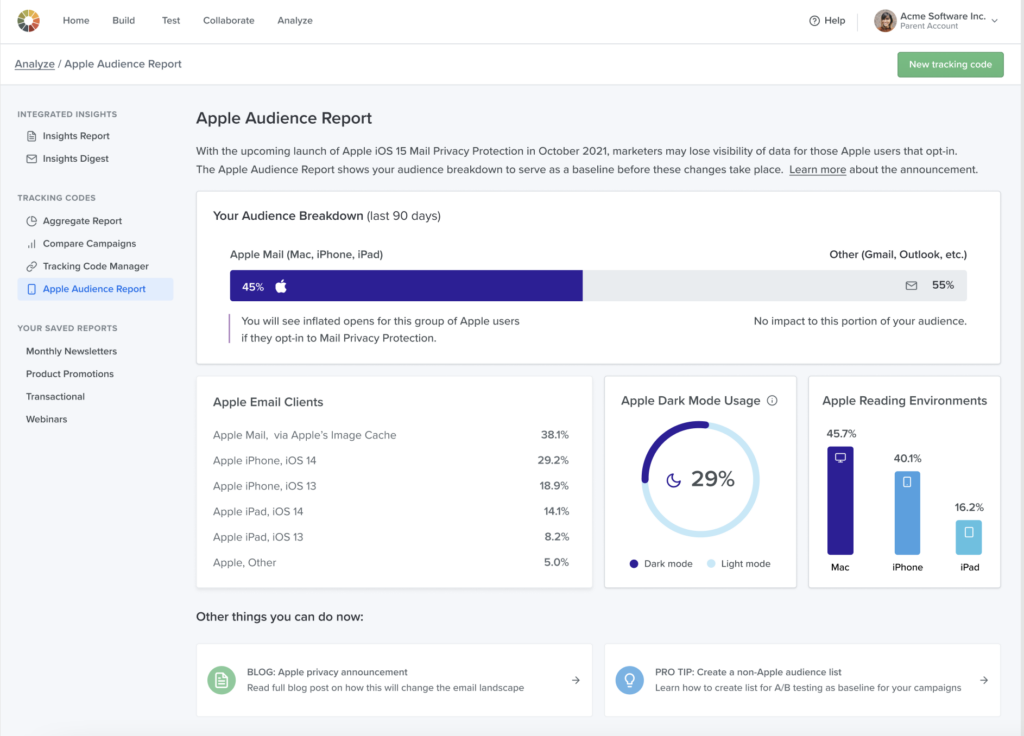 Your report is based on the last 90 days of activity tracked with Litmus Email Analytics tracking codes—and continues to evolve as you send more tracked emails until Mail Privacy Protection goes into effect. So, you always have the most up-to-date measure of the potential impact Apple's Mail Privacy Protection may have on your email program.
And with this information? Quickly and easily build a baseline of engagement insights that can be used to plan and test new strategies that'll work in this next era of email marketing. For example:
Create a reliable opens audience for non-Apple Mail users as a proxy for measuring email performance, monitoring deliverability, and more.
Estimate what your inflated open rate may look like (and then work backwards after the fact to get a good guess of your pre-Mail Privacy Protection open rate).
Optimize email design and development for the email clients—including Dark Mode—and reading environments (e.g., mobile vs. desktop) your subscribers use most.
Even after Mail Privacy Protection goes into effect, the report remains useful as a historical snapshot of your Apple Mail audience.
How to get started
The Apple Audience Report in Litmus Email Analytics is available on Litmus Plus and Enterprise plans. Here's how to get your very own Apple Audience Report.
Never used Litmus before at your current company?
Get a 7-day free trial of the Plus plan and start using Email Analytics.
Are you a current customer on a Basic plan?
Upgrade to a Plus plan, then create Analytics tracking codes and add them to your emails—easy! On top of the Apple Audience Report, the Plus plan also gives you access to deeper engagement insights on your campaigns overall, ESP integrations, and Litmus Spam Testing. Worth. It.
Already use Litmus Email Analytics frequently?
See your report now—and keep on using Email Analytics to keep your data fresh.
Are you a current Plus or Enterprise customer but haven't used Email Analytics yet?
Jump into Email Analytics and start using it more to gather as much data as possible for your personalized Apple Audience Report. It's incredibly easy, and the payoff is huge.
Have an inactive Litmus account?
Reactivate your account and be sure to hop on a Plus or Enterprise plan to start using Email Analytics. Contact us if you have any questions or need some help. (And welcome back!)
We hope your Apple Audience Report gives you the confidence to pivot with ease!
You've got the insights—now take action

Wondering what to do next? Get our handy checklist and a step-by-step action plan (including an open rate impact calculator) in The Mail Privacy Protection Survival Guide for Marketers.