As far as marketing channels go, email remains a powerhouse with 4 out of 5 marketers preferring to give up social media than email marketing. Why? Businesses drive more revenue—$36 for every $1 spent—and brand awareness with email than ever before.
However, we all know your strategy needs to adapt to your customer's preferences. If you want to keep up with the latest consumer expectations (and have the time to do it), you need to find the right email marketing platform for your business that'll help you be both effective and efficient.
Still, 40% of marketers say email marketing is under-resourced at their company. And only 12% plan to add email staff. We get it. It can be tough taking your email marketing program to the next level on a tight budget—but it's possible.
So, what do you need in your toolkit to master email marketing in 2021?
We teamed up with our friends at HubSpot to find out:
Email marketing trends to watch in 2021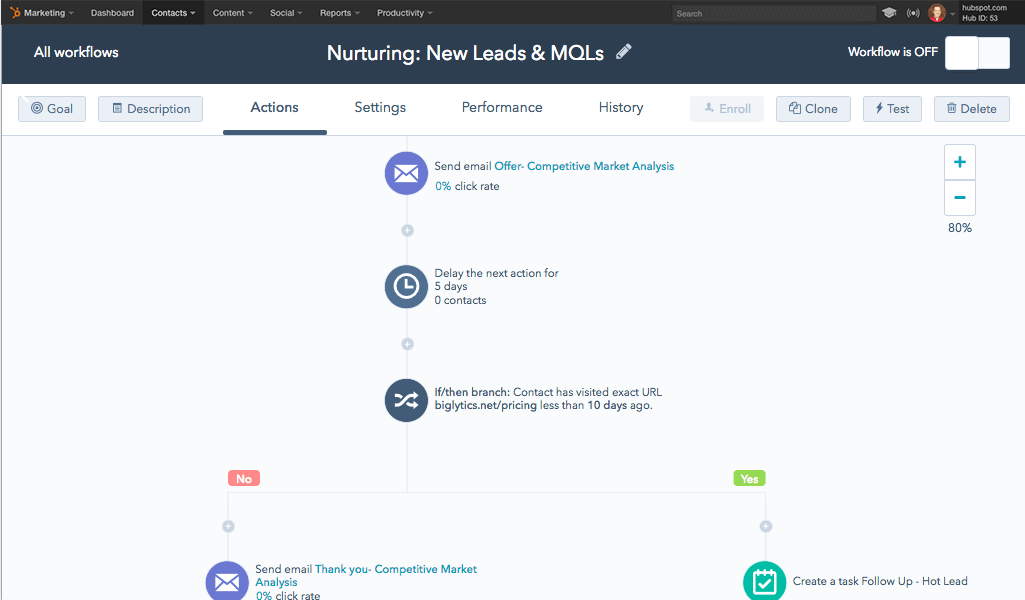 Every year, it seems there are new trends, features, and best practices for email marketers.
So, how do marketing teams make the most of their time?
Prioritization.
To get the most out of your email marketing strategy, you need to identify which tactics have the most significant impact, and focus your energy there first.
Here are the top trends in email marketing for 2021.
Segment your email list
At its core, marketing aims to build a relationship between your business and your customers. If you want to build strong relationships with email marketing, segmentation is crucial.
More than 70% of consumers have received an offer via email that demonstrates the sender clearly doesn't know their recipient.
Sending mistargeted emails can destroy the brand trust you took precious time to build or even cause someone to unsubscribe from your list. Businesses that generate the highest return on investment (ROI) from email marketing in 2021 will know exactly how to message each customer segment.
Personalize emails to your subscriber
When surveyed, 90% of Americans claimed that personalized emails are more appealing. Personalization can be as simple as adding a customer's first name or sending an abandoned cart notification.
Customers expect businesses to know who they are, which means you need to personalize your email subject lines and content. Personalization increases open rates, conversion rates, and conversion values.
Set up email automation
About 60% of marketers say boosting email personalization is a priority—even more so for those in ecommerce, retail, and consumer goods. But keeping up with multiple customer segments and personalized messaging can quickly eat up your team's time. So to get the most out of your marketing strategy, you need tools to automate your email sends.
It's no wonder that expanding the use of email automation is marketers' number one priority according to our 2020 State of Email Report, Fall Edition. Automated emails empower your team to send the right information at the right time. When you automate emails, you can take the time to plan your email strategy carefully.
And if you have a longer sales funnel, automation allows you to nurture leads more efficiently. By setting up the right workflows, you open up time for your team to focus on high-value deals and strategy.
Want more next-level email marketing tips?

Stay in the loop on the latest email marketing, design, and development news, strategies, and how-tos with our weekly newsletter.
What to look for in a free email marketing tool
Not all marketing tools are equal, and this is especially true for free tools. Before you find the right software for your business, you need to know which features are best.
When it comes to free email marketing software, we recommend finding a provider that offers a template library, A/B testing, customization options, and is easy to use. We also recommend taking the time to see what is included in the free plan.
Template library
Email templates make it easier for you to establish consistency with your brand. That's why 67% prefer building emails with a WYSIWYG editor, drag-and-drop visual editor, or design library.
Find software where you can create and store templates for each of your communication types, including welcome emails, newsletters, and offers.
A/B testing
Your email marketing strategy should be as unique as your audience. So, to learn what works best for them, you need to A/B test your emails. In fact, 90% of marketers A/B test, with more than a quarter doing so often or always. This isn't something you can overlook.
The best email marketing tools offer simple A/B testing for variables such as subject line, imagery, send time, and email content.
Easy to use
About 50% of marketers say optimizing their email marketing process is a priority. So you don't want to choose a free tool only to be slowed down by a learning curve. It's just not worth it.
Look for email tools that offer a drag-and-drop email editor in addition to templates. And, before you make your final decision, read through reviews to see which software is most user-friendly.
Customization options
Customization is essential for email marketing because it allows you to establish a brand image. So it's no surprise that 70% of marketers have email brand guidelines. Ideally, your email marketing tools empower you to choose fonts, styles, and colors that fit your brand.
What's included in the free plan
Finally, when choosing your email marketing tool, take time to see what's included in the free plan.
Generally, email marketing has one of the highest ROIs of all marketing platforms. However, email can quickly become expensive, depending on the software you choose.
Email marketing tools often charge based on your number of subscribers and how many emails you send each month.
36% of marketers are dissatisfied or neutral about their email service provider, so before choosing an email marketing tool, make a list of the most important features to you. Use that list as you compare software options to find the right fit for your company.
Best free email marketing tools
Here are some of the top free email marketing tools to help your business grow in 2021 (in no particular order).
1. HubSpot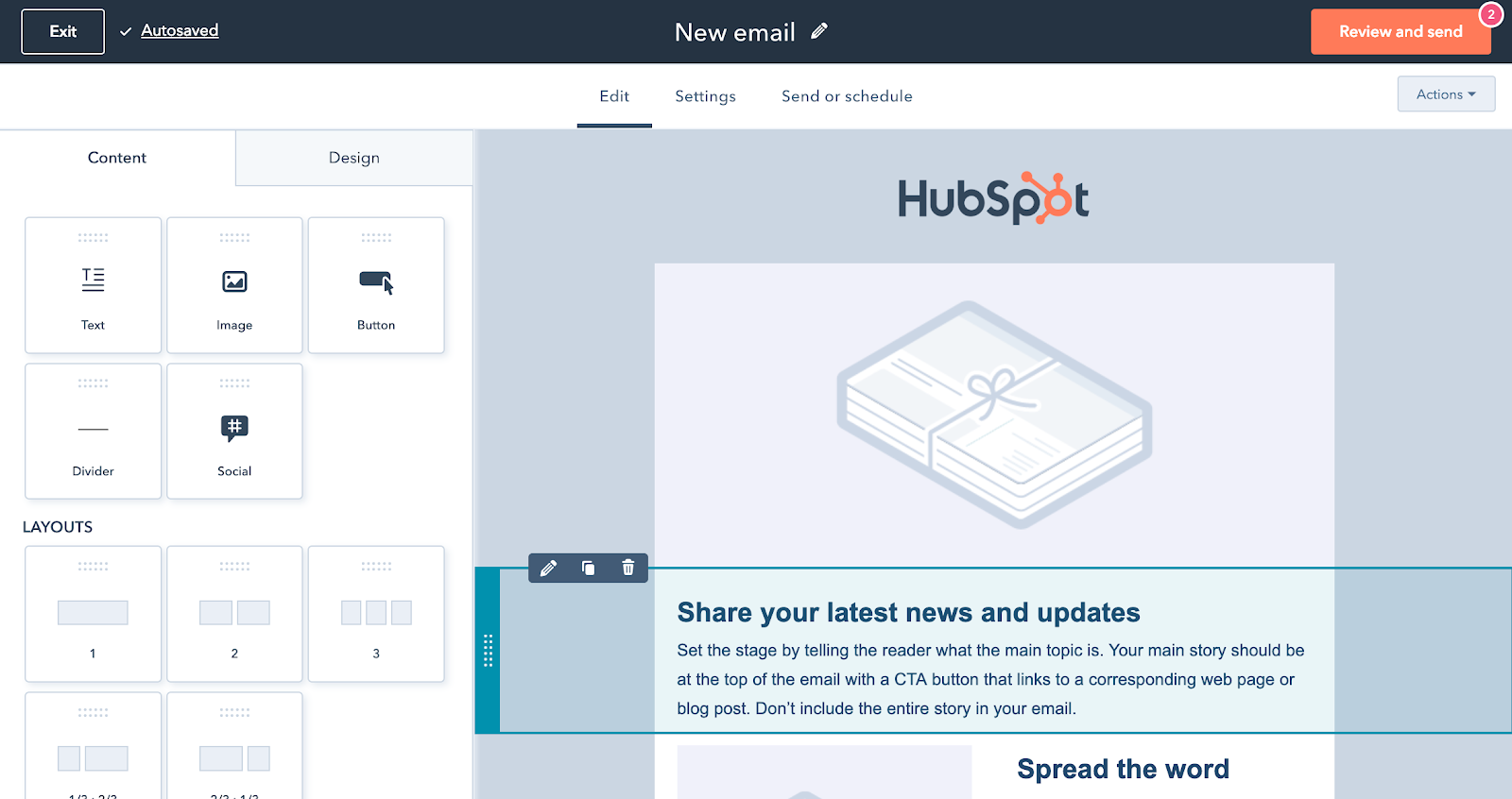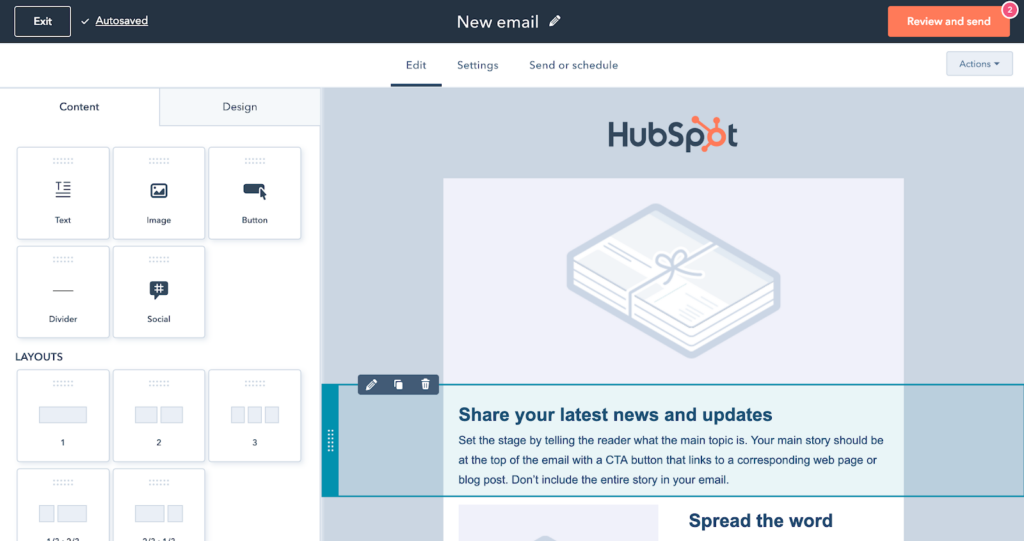 HubSpot is an email marketing software focused on inbound marketing strategy. It helps you grow your business by bringing your customers to you. HubSpot's email marketing software is included in their marketing hub and has a multitude of features packaged in an easy-to-use interface.
Amp up your email marketing strategy right away with HubSpot's goal-oriented templates. Or create templates explicitly tailored to your brand. You can also personalize your emails to each recipient using data points such as name, location, and sales lifecycle stage.
Key things you can do with HubSpot email marketing software:
Easily create and personalize messages using drag-and-drop email templates.
Build a library of templates for your marketing and sales team.
Empower your sales team with the Salesforce integration.
Use HubSpot's Smart Send feature to boost open rates and engagement.
HubSpot is the best email marketing tool for: Companies looking for an all-in-one marketing solution.
Pricing: HubSpot offers a free email marketing tool plan that includes up to 2,000 email sends per month as well as email integration and tracking. HubSpot customer relationship management (CRM) lets you manage your contacts, deals, and tasks.
HubSpot's free email marketing tool also includes five:
Email templates
Documents
Canned snippets
Smart segmentation lists
If you want to go further with your email marketing strategy, HubSpot's premium plans start at $45 per month.
2. Omnisend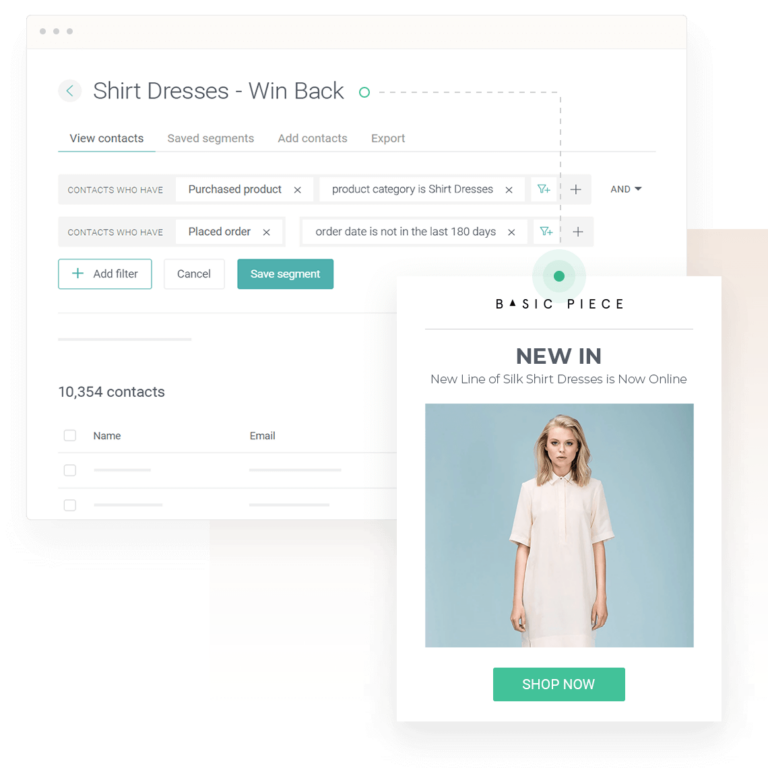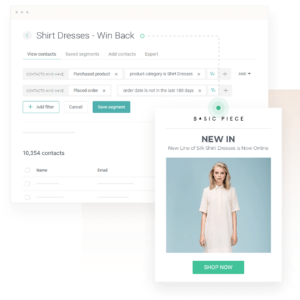 Omnisend empowers ecommerce businesses to send the right information at the right time with personalized messaging and shopping experiences. Omnisend's pre-built email templates are built with ecommerce consumers in mind.
In addition to Omnisend's library of templates, you can save multiple templates for several different ecommerce brands to save time. On top of its email marketing tools, you get sign-up forms, pop-up boxes, and landing pages to capture new leads or future customers.
Key things you can do with Omnisend email marketing software:
Easily customize templates with dynamic content blocks.
Sync data from your online store to create segmented email lists.
Optimize your emails with Omnisend's intuitive Campaign Booster.
Send out the most effective email with A/B testing.
Create coupon codes.
Omnisend is the best email marketing tool for: Ecommerce.
Pricing: With Omnisend's free email marketing tools, you can send up to 15,000 emails per month and create up to five segments. You can also measure your sales, sign-up, and campaign performance with the free version of this email marketing software.
Ominsend's premium tiers start at $16 per month. They include expanded email features, segmentation, and customization capabilities, as well as A/B testing. Email automation also helps you follow up with leads promptly.
3. Constant Contact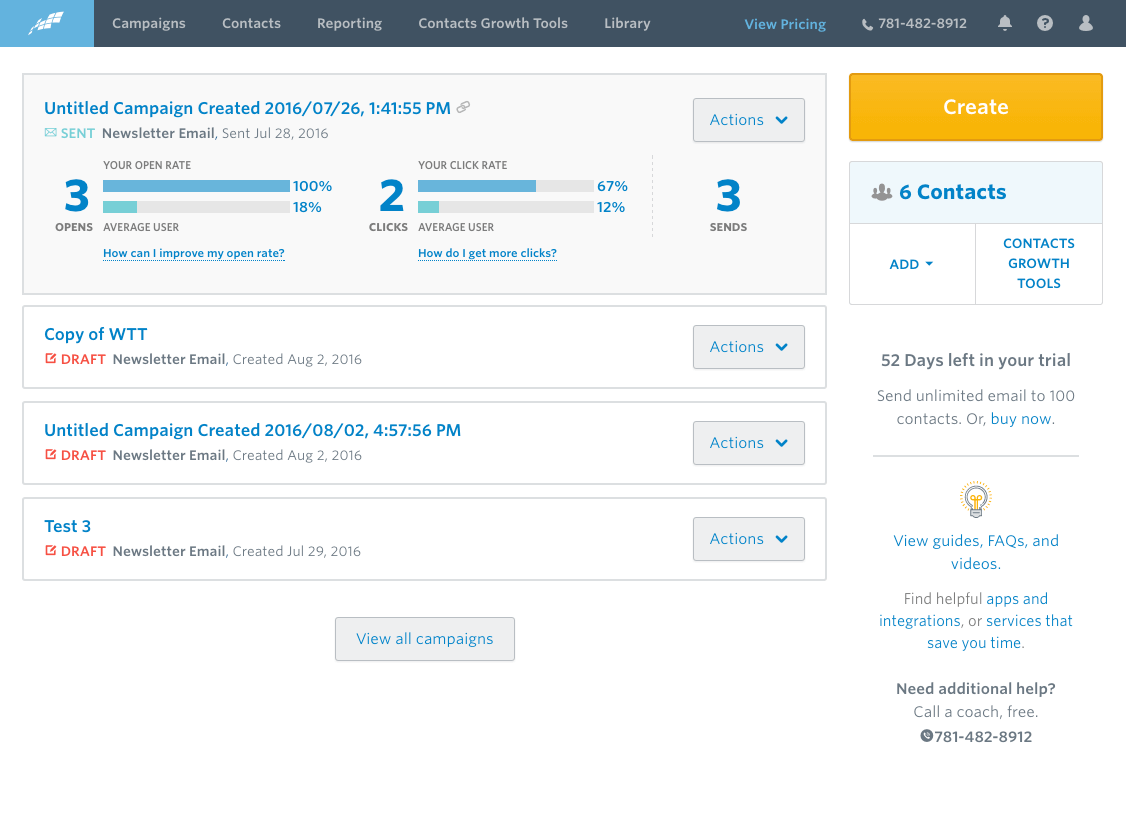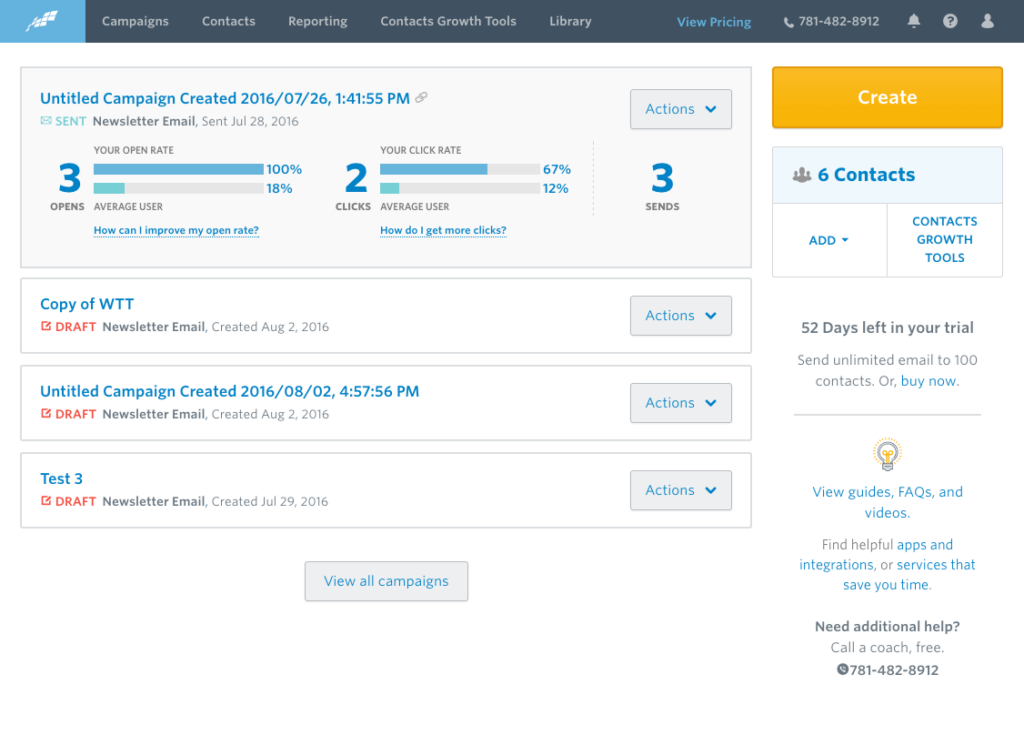 Constant Contact serves businesses, nonprofits, and even individuals. It offers marketing tools centered around email but is built to expand to other channels for a complete online marketing solution.
With Constant Contact, you have access to a comprehensive customer service team and advisors to help you develop your marketing strategy.
Key things you can do with Constant Contact email marketing software:
Create beautiful designs for desktop and mobile with a drag-and-drop email builder.
Send unlimited emails.
Build customizable templates.
Create website pop-ups.
Learn more about your customers with surveys and polls.
Constant Contact is the best email marketing tool for: Businesses with a small team.
Pricing: You can try Constant Contact's email marketing tools for free for 60 days. Plus, you don't need to enter your credit card information to use the free trial.
After the free trial period ends, Constant Contact offers two email marketing plans: The Email plan begins at $20 per month, and the Email Plus plan starts at $45 per month, depending on the number of contacts you have.
4. Mailchimp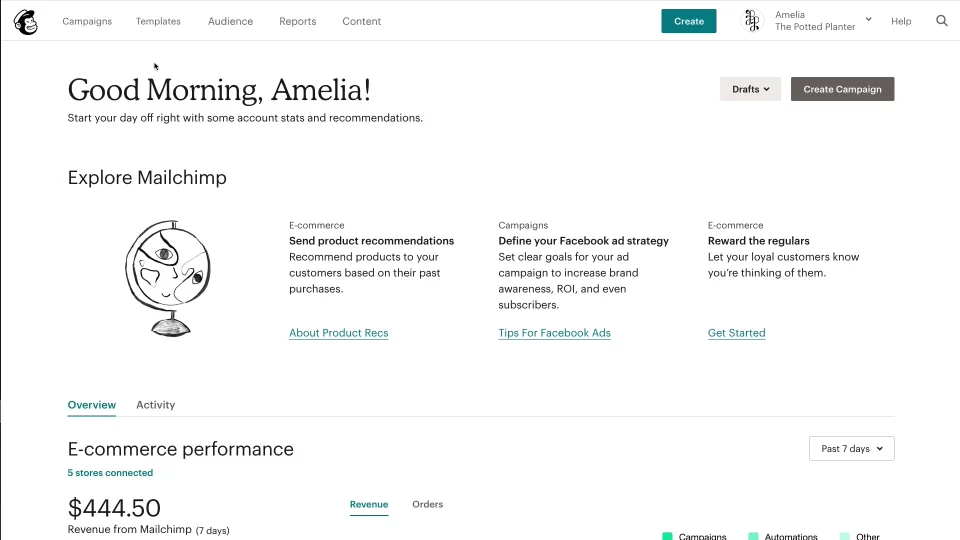 Mailchimp offers email marketing software for beginners and businesses looking for an all-in-one marketing solution.
Design professional emails with Mailchimp's drag-and-drop editor, and keep all of your files handy with its Content Studio. Ensure you're sending the right information at every stage of the customer journey with email automation and transactional emails.
While there are many similar tools out there, Mailchimp stands out for a number of reasons. For one, it offers a rich library of email templates. There are more than 100 ready-to-use, beautifully designed templates that can inspire your next campaign.
Plus, Mailchimp includes automation tools, integration with your online store, and a mobile app that allows you to send email marketing campaigns from anywhere.
Key things you can do with Mailchimp email marketing software:
Customize your audience with segments, tags, and contact profiles.
Streamline the design process with the Mailchimp content studio.
Access an email template library.
Manage social media and website channels.
Automate emails.
Get email performance reporting.
Mailchimp is the best email marketing tool for: Small businesses that need an all-in-one solution.
Pricing: Mailchimp's free plan lets you add up to 2,000 contacts, and you get 10,000 sends per month. There's also a daily send limit of 2,000 emails.
Mailchimp also offers three premium tiers: Essentials, Standard, and Premium. Each premium plan allows you to remove Mailchimp's logo from the footer and increase your contact and send limits.
With Mailchimp Essentials, you get access to A/B testing and 24/7 customer support.
The Standard and Premium plans offer advanced audience insights, such as behavior-based automation, demographic prediction, and customer lifetime value.
With all of these premium plans, you can create custom-coded email templates and use Mailchimp's retargeting tools.
5. Benchmark Email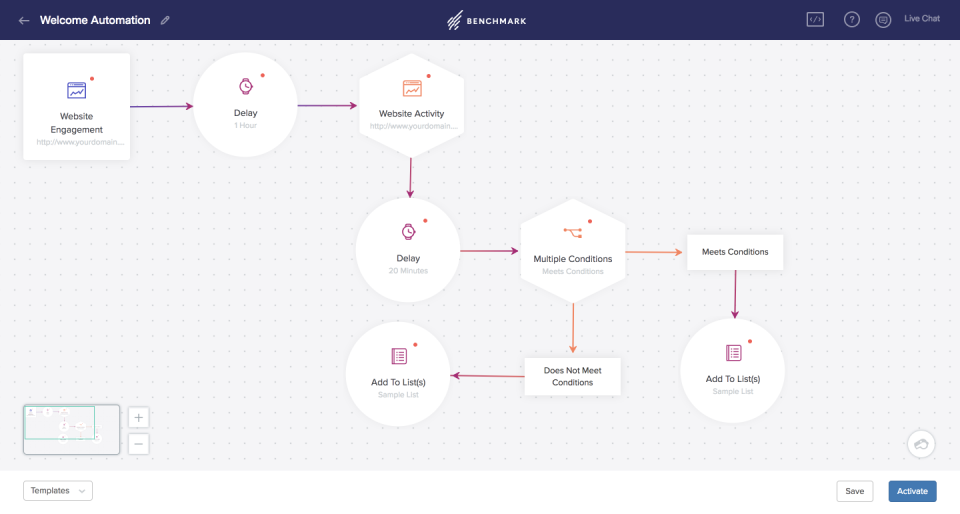 Benchmark Email offers a simple email platform so you can spend less time on setup and customization and more time nurturing stronger relationships with your contacts. They offer an integrated, automated, and robust feature set built to help companies of any size—with everything from list acquisition to engagement throughout the customer journey.
Something unique about Benchmark Email is that they're an international company with offices in 15 different countries around the world, supporting nine different languages.
Key things you can do with Benchmark Email email marketing software:
Create sign-up forms and landing pages to grow your email list.
Craft emails with a built-in drag & drop builder, code editor, or RSS feed.
Send automated emails triggered by website and email engagement.
Automatically test how your emails look in multiple email clients and devices.
A/B test everything from subject line to delivery time.
Benchmark Email is the best email marketing tool for: Companies looking for powerfully simple email automation.
Pricing: Benchmark Email offers a free plan to send up to 250 emails per month. It comes with basic email marketing, email delivery management, basic automated drip campaigns, sign-up forms, polls & surveys, basic reporting, and online-only support.
Benchmark Email also offers two premium tiers starting at $13 per month based on number of contacts: Pro and Enterprise. Both come with unlimited emails per month and more advanced features and higher levels of support. They also offer plans based on email send volume.
There are add-ons you can tack on to any plan for an extra cost: list verification, image hosting, dedicated IP, and inbox checkers.
6. SendFox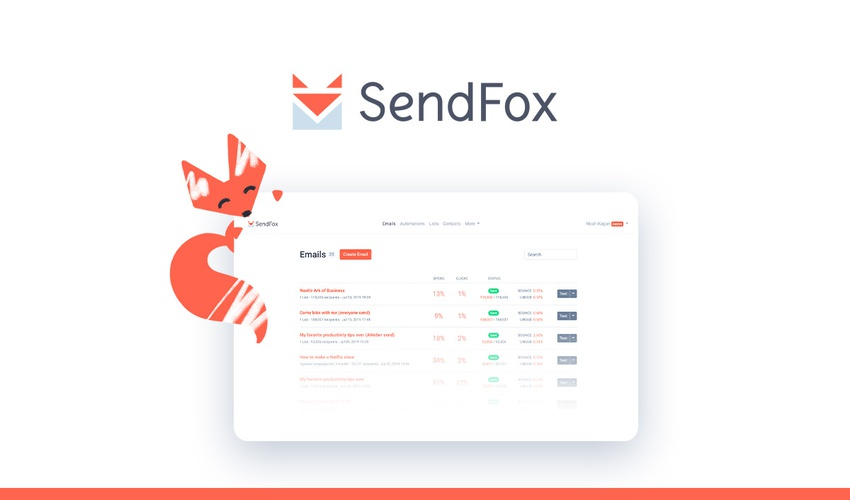 SendFox lets users create and send email newsletters for free and upgrade if they need more bells and whistles. While a fairly new tool, it gained popularity in 2020 thanks to an out of the box, 1-on-1 promotional approach driven by their team at AppSumo, the creators of the tool. Instead of throwing a wide net, the team reached out to specific influencers and potential users to get their tool out there.
One of the key differentiators of SendFox's email marketing service is that it's built with simplicity in mind. For a segment of users, less really is more, and they are happy to adopt a tool that isn't complex. Plus, it actually helps you focus almost solely on growing and messaging your subscriber list.
Aside from scheduling email newsletters with SendFox, you can also build landing pages to bring in more subscribers, even if you don't have a website.
Key things you can do with SendFox email marketing software:
Schedule automated emails.
Create custom emails, landing pages, and sign-up forms.
Use smart campaigns and RSS feed updates.
SendFox is the best email marketing tool for: Content creators.
Pricing: SendFox offers a free plan for up to 1,000 contacts with throttled sending.
SendFox's Lifetime plan is a one-time payment of $49, which lets you upload up to 5,000 contacts and send up to 50,000 emails per month. For each additional 1,000 contacts, you'll make a one-time payment of $10.
For Lifetime plan users who want to remove SendFox branding, dive into HTML editing, and get the best deliverability, SendFox offers an Empire Add-on for $18 per month.
7. MailerLite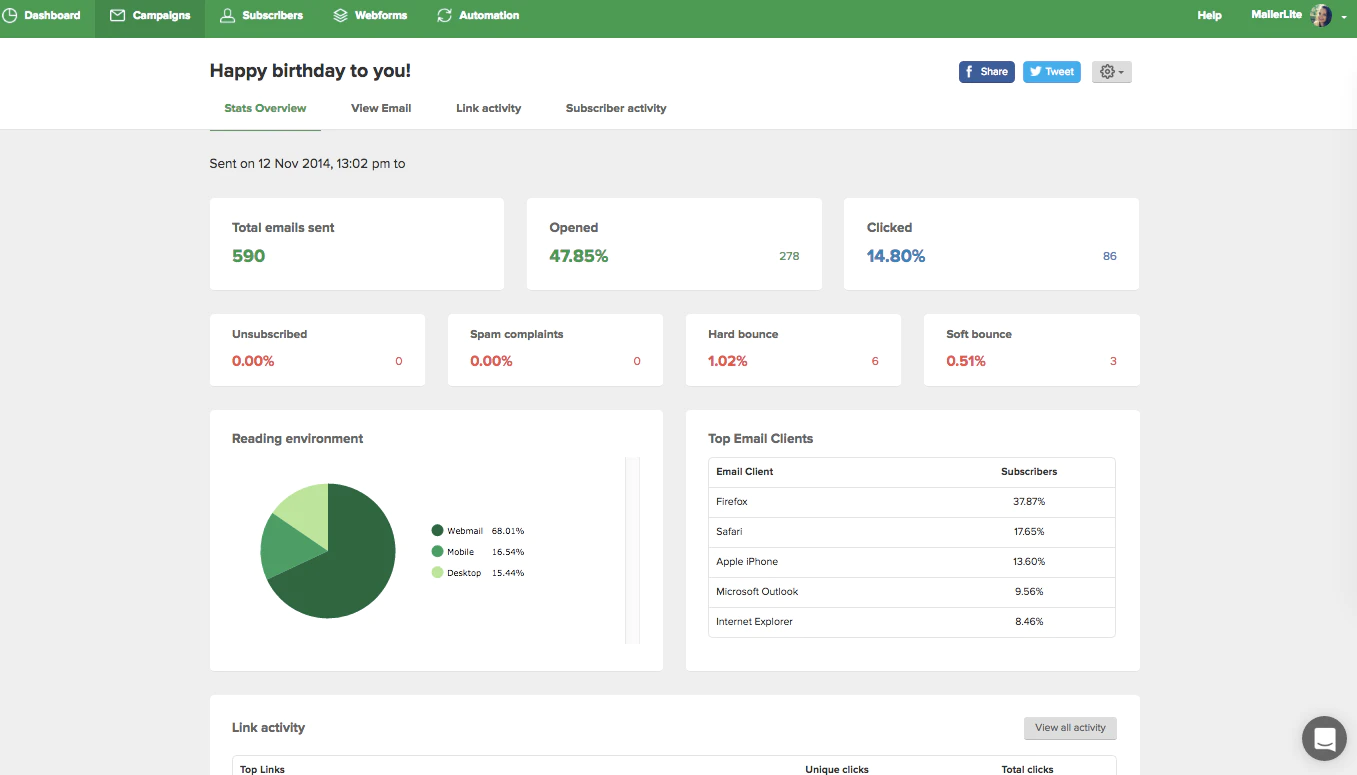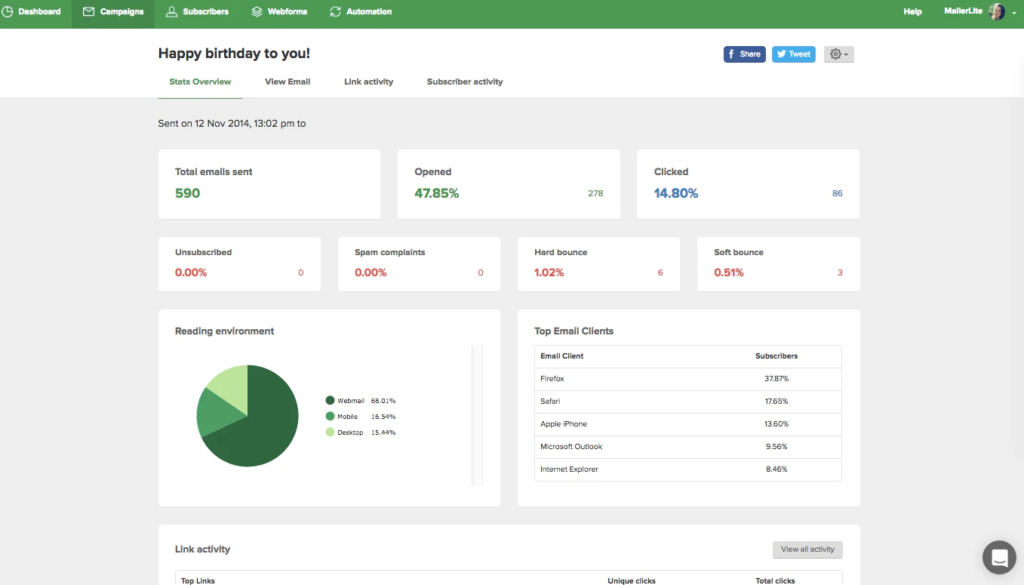 MailerLite provides email marketing software to more than one million businesses, startups, and entrepreneurs. They focus on offering a robust solution without unnecessary complications.
With MailerLite, you can create beautiful emails with a drag-and-drop editor, rich text editor, or HTML.
Optimize your content with email automation and audience segmentation. In addition to email tools, MailerLite includes lead generation features that help you grow your subscriber base.
Key things you can do with MailerLite email marketing software:
Build and manage email campaigns.
Grow your list with landing pages.
Create a website.
Build pop-ups for your website.
Set up email automation.
Segment your audience with lists and interest tags.
MailerLite is the best email marketing tool for: Startups.
Pricing: MailerLite's free plan allows you to upload up to 1,000 contacts and send 12,000 emails per month.
If you want unlimited sending, pricing starts at $10 per month and increases depending on your number of subscribers.
8. Mailjet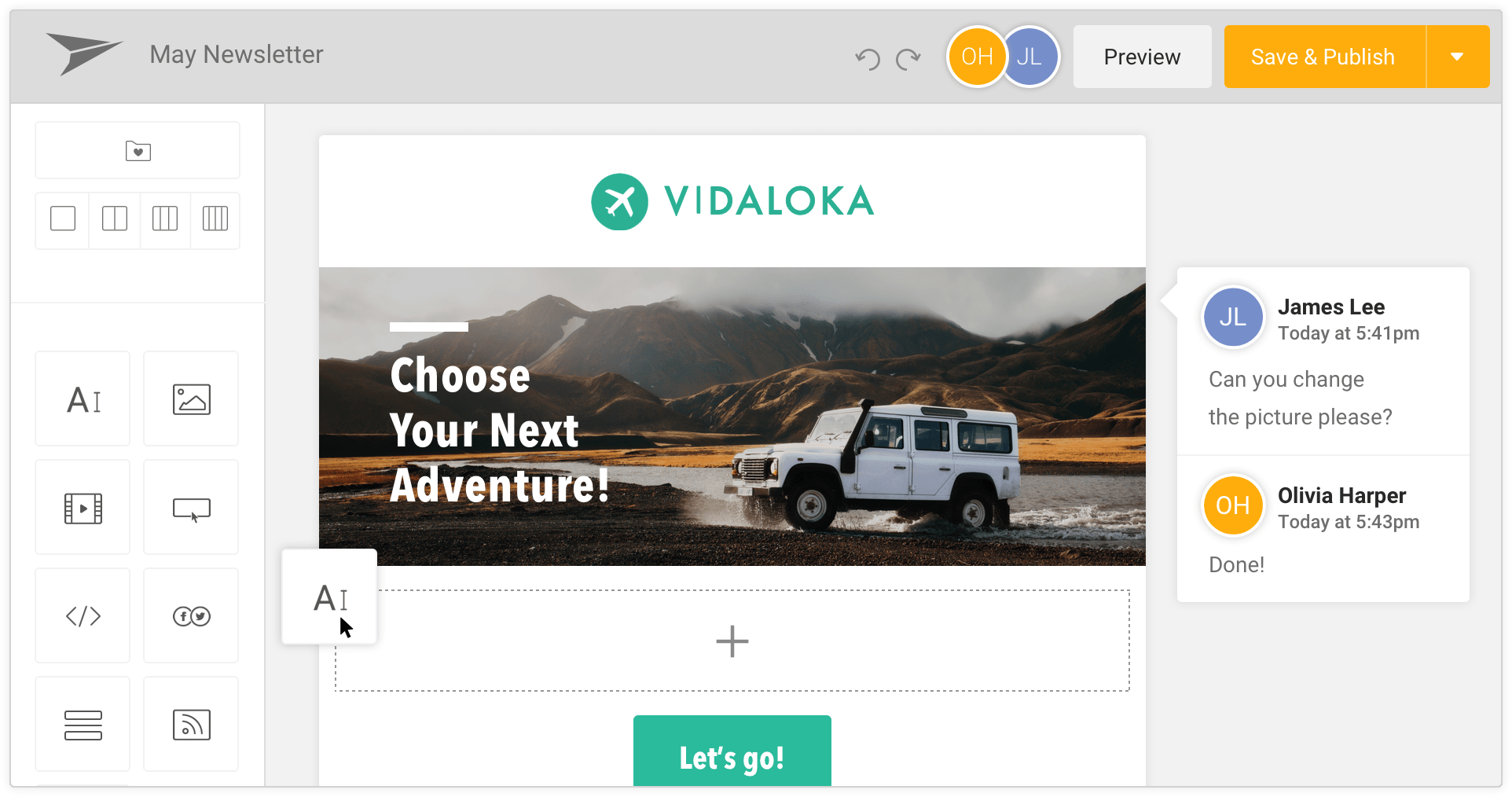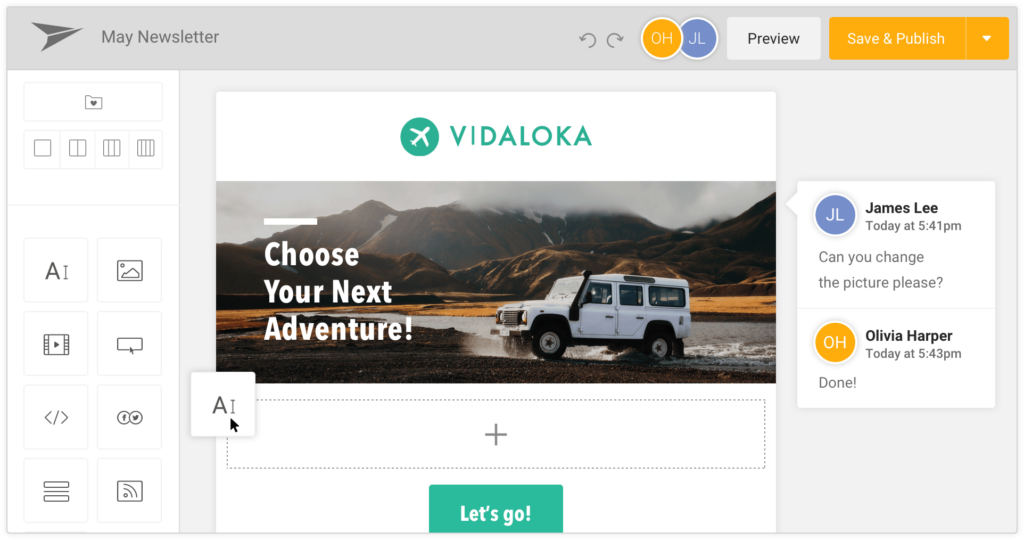 Mailjet email marketing software helps businesses grow by fostering collaboration between marketing and development teams. It aims to optimize email deliverability and support marketing channels that build relationships with customers.
Create stunning email designs with Passport, Mailjet's drag-and-drop builder. With Real-Time Collaboration, you can have multiple team members edit or comment on the same template simultaneously.
Fine-tune your messaging with personalization tags and A/B testing powered by Mailjet's servers. If you want to customize your message based on a segment, you can do so with dynamic content.
Key things you can do with Mailjet email marketing software:
Create beautiful emails without coding.
Integrate with your existing tools using the email API.
Send emails via Simple Mail Transfer Protocol (SMTP) Relay.
Optimize your performance with actionable insights.
Use audience management tools and segmentation.
Mailjet is the best email marketing tool for: Businesses with an in-house development team.
Pricing: Mailjet offers a free tier limited to 6,000 sends per month and 200 sends per day. Premium levels start at $9.65 per month and increase depending on the features you want and number of emails you send per month.
9. SendX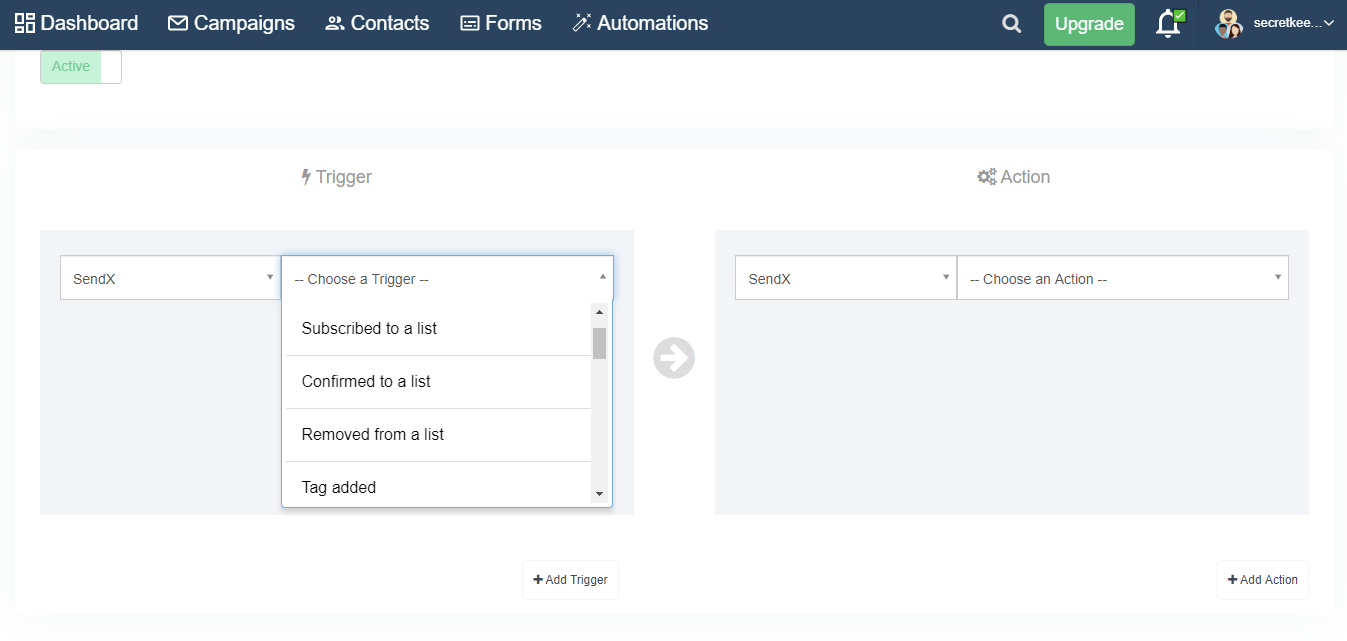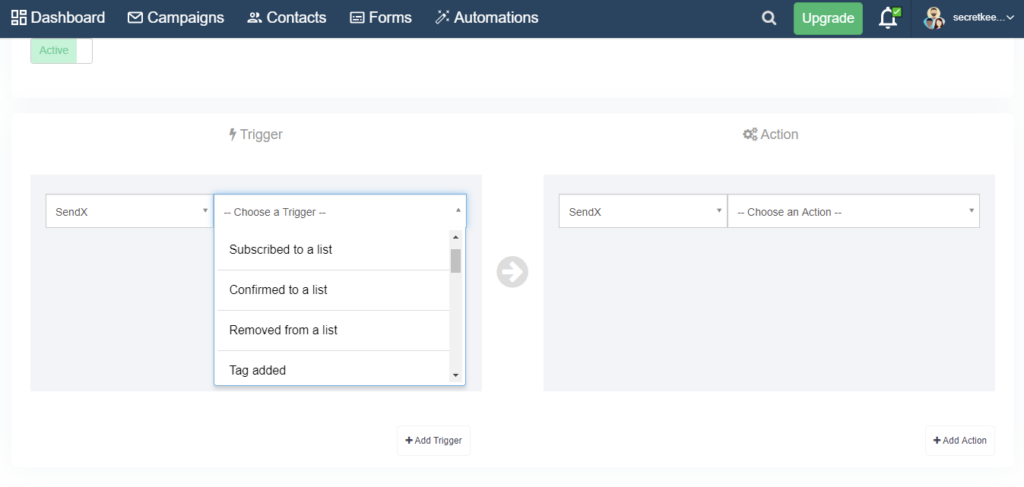 SendX offers email marketing software focused on helping businesses increase their bottom line through conversions and revenue generation.
Build captivating emails with the SendX drag-and-drop email design editor. You can access their library of templates and personalize your emails.
SendX also offers heatmap data for your emails to give you insight into which elements your readers engage with most. You also have access to a library of stock photos and more than 50 responsive email templates.
Key things you can do with SendX email marketing software:
Send unlimited emails.
Access a library of email templates.
Personalize emails.
Perform A/B testing.
Use list segmentation.
Create pop-up forms and landing pages.
SendX is the best email marketing tool for: Companies looking for affordable unlimited sending.
Pricing: SendX doesn't have a free plan, but you can get a 14-day free trial of their Business plan. After that, the plans start at $9.99 per month for up to 1,000 subscribers. Pricing increases based on subscriber count but includes all features and unlimited sending.
10. ActiveCampaign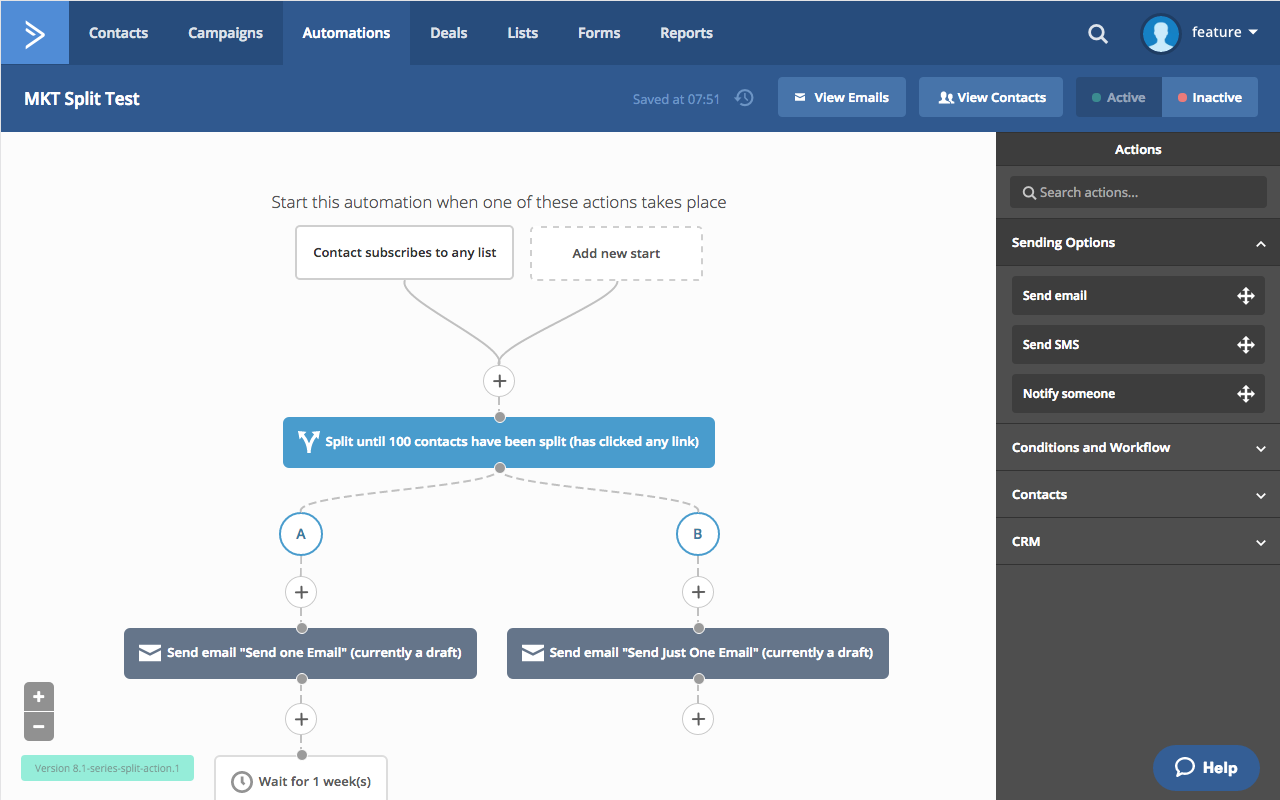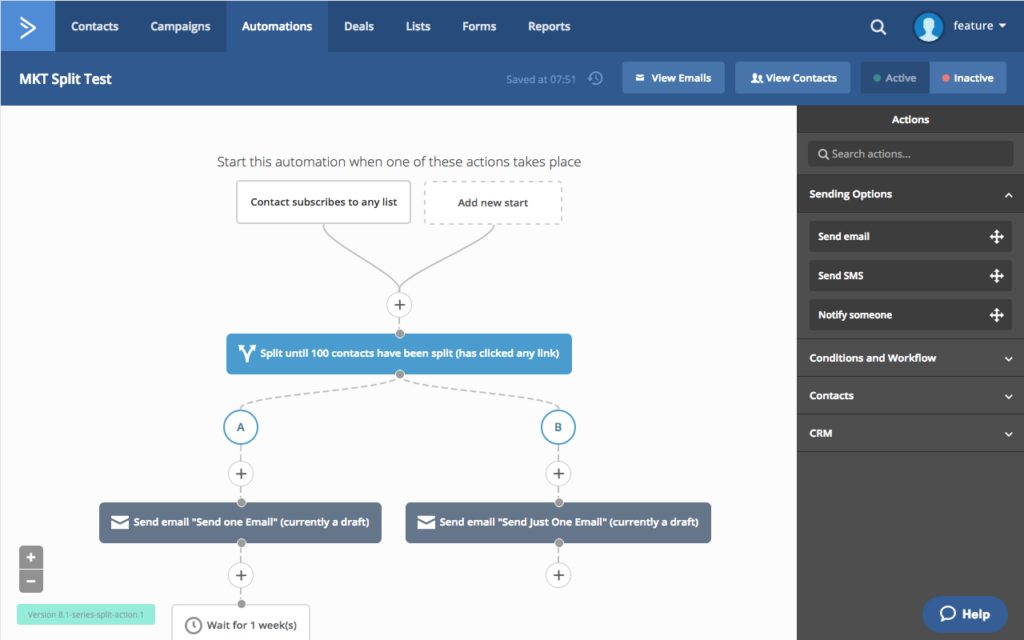 ActiveCampaign helps businesses of all sizes win customers by optimizing the customer experience throughout your emails, including broadcast, scheduled sends, and autoresponders.
With ActiveCampaign's drag-and-drop builder, you can create functional emails in minutes. Use their automation creator to follow along with your customer's journey and create that personal touch.
Increase your email engagement with split testing that can be done solo or inside an automation.
If you're already using several other marketing tools, ActiveCampaign integrates with over 350 applications.
Key things you can do with ActiveCampaign email marketing software:
Send unlimited emails.
Create list segmentation.
Automate marketing.
Set up autoresponders.
Use the ActiveCampaign CRM.
Monitor progress with campaign reports, website tracking, and event tracking.
ActiveCampaign is the best email marketing tool for: Customer success-based businesses.
Pricing: You can try ActiveCampaign free for 14 days. After that, premium tiers start at $9 per month.
Final thoughts: Best free email marketing tools for 2021
Email remains one of the most cost-effective marketing channels, but when you start adding advanced features and more subscribers, the cost begins to grow.
Finding the right email marketing tools for your business takes time. It all depends on which features generate growth and what your budget allows.
Increasingly, email marketing software is expanding to include website and social media management. If you're looking for an all-in-one option, there are several choices for you.
To learn more about customizing your marketing software to your needs, start exploring some of these free email marketing options today.
---
No matter which email marketing software you end up with, Litmus is platform agnostic and pairs well with any email service provider to take your email marketing program to the next level.
With Litmus, save even more time in your email marketing workflow so you can focus on innovative strategies that drive results. How?
Build on-brand, error-free emails without code.
Preview emails in over 90+ email clients and devices.
Gather email reviews and approvals in one place.
Go beyond opens and clicks with extra engagement insights.
…and so much more. Give it a spin—start your free trial now.