Open rates can be deceptive. One insightful metric you may not have thought of? Read rates. While there are many email metrics you can measure, this one packs a punch. Only 19% of marketers currently track read rate today, according to our latest State of Email Analytics report. Find out what 81% of marketers are missing out on—and how read rate can tell you a better story of email performance.
What is read rate?
Don't know what read rate is? Let's back up a little first. Read rate is how many people who opened your email actually spent time looking at it. But wait, isn't that the same as open rate? Not at all. The difference is time. An open is immediately counted while a read is only counted after a set period of time.
Here's the industry standard for defining varying "open" levels:
Glance: fewer than 2 seconds
Skim: 2-7 seconds
Read: 8 or more seconds
The open rate would count all of the above while the read rate would only count those who read.
Get more insights on email performance visibility


Interested in more email analytics insights? Check out our State of Email Analytics report to see how your email analytics stack up against your peers, learn where you have visibility gaps, and understand how to take your email performance tracking to the next level.
5 ways the read rate is useful
As you've hopefully realized by now, read rates are pretty darn powerful. Here are five ways you can put them into practice right away.
1. Ignore false opens
Shake off the posers, am I right? Sometimes emails are opened by default, like in a preview pane, so when people (like me) delete emails one by one, they're counted as an open. That doesn't sound right, does it? Read rate gives you a clearer picture of who actually opened your email. (But if you have a short-and-to-the-point email, you may want to keep an eye on those skims, too.)
2. Measure the impact of an open
Read rates give you more insight into your email openers. Are they opening to delete? Are they just scanning through your email quickly? Or are they so absorbed by your message, they take their time with it?
If you see high open rates but low read rates, this could mean your subject line triggers interest but your content isn't meeting people's expectations, so they're abandoning it. However, if you also see high click-to-open rates (CTOR), this might actually be a good thing. Your email delivers on its promise right away, so subscribers don't need to spend more time looking at it.
If you see both high open and read rates, this is a sign your email is truly engaging! But if your CTOR is low? Subscribers may have trouble finding your call-to-action (CTA) or might be interested in your message but not in what you're asking them to do.
If you see low open rates but most of those openers are reading, your message works—but only for a small set of subscribers. You might want to reconsider your segmentation strategy.
3. Gauge the success of emails without a CTA
Not every email has a CTA. That's where the read rate can help your email shine! Instead of measuring success by clicks (because that's expected to be low), measure it by reads. Here are a few examples of emails that could benefit from the read rate:
Editorial emails or newsletters
Privacy policy notifications
Internal communications
Transactional emails
Important updates
Maybe you need to make sure every employee reads the latest company memo. Check that read rate and re-send to the non-readers.
4. Determine A/B test winners
A lot of marketers A/B test subject lines and use open rate to find the winner. That's a mistake. Depending on your test's goal, read rate might be the better winning factor.
As mentioned earlier, a higher open rate doesn't necessarily mean those were engaged openers. A deceptive tactic like using RE: or FWD: might garner opens, but your subscribers will be angry, rushing to the delete button (or worse). Don't be fooled.
5. Stay out of the junk folder
While the exact details of spam filter algorithms remain a mystery, what we do know is that many inbox and internet service providers (ISPs) like Gmail heavily weigh subscriber engagement into their formula. Things like:
Messages deleted without being read
Messages read
Sounds like something read rates can help you keep track of. If you're seeing low read rates on top of other poor engagement metrics, act fast before the ISPs start rerouting your emails to junk. Keep your read rates high with a healthy opt-in list, smart segmentation, and personalized content.
How to get your email read rate
Some email service providers (ESPs) track read rates for you, and you should be able to find the data in your ESP's reporting. If you're not sure, ask your ESP account or support team. And make sure you confirm how many seconds they use to determine a "read."
Otherwise, look to a third-party email tool like Litmus Email Analytics.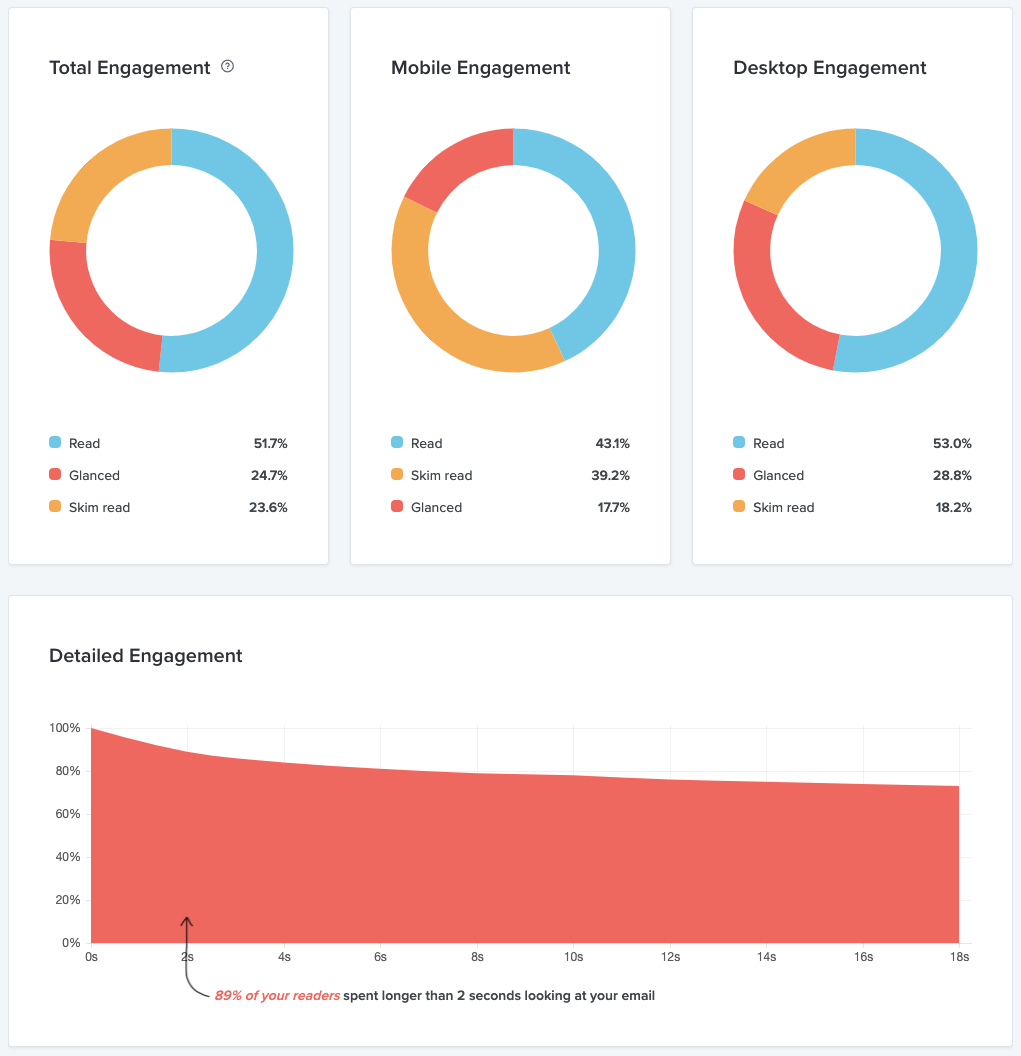 If you're already a Litmus Plus or Enterprise customer, you've got it! If not, get a 7-day free trial.
Here's how to start getting read rates with Litmus Email Analytics:
Create a Litmus Email Analytics tracking code and add it to your email.
Send your email and wait for the reads to roll in.
Go to your email's engagement report in Litmus Email Analytics for its read rate (you'll see something like the screenshot above).
You can even see read rates by email client and export subscriber-level data to dig deeper into who your most avid email readers really are.
For a more holistic view of email performance, check out our Integrated Insights Report, which combines analytics from both Litmus and select ESPs into one easy view (including read rate).
Look beyond the open rate
While the open rate has its purpose, the read rate captures the depth of those opens. When subscribers open your email, how long are they really looking? Add this insightful metric to your email reporting today to learn more about your subscribers—and what holds their attention.
See more of the email picture


Dig deeper than the data your email platform gives you, and better understand your audience and the performance of your email campaigns with Litmus Email Analytics.