March is here and spring is so close we can almost taste it! 🌼
With the January blues well and truly over, and spring on the horizon, marketers know that February is a great time to ramp up email marketing. Our inboxes were overflowing with some amazing emails from some amazing brands! We've seen marketers flex their creative muscles this month, including GIFs in emails with lots of engaging copy and content.
Read on to see the Litmus team's favorite emails of February 2022.
Jess Materna, Director of Product Marketing
Subject Line: Smiles you can bank on 💵
Preview Text: Happy Birthday Mr. President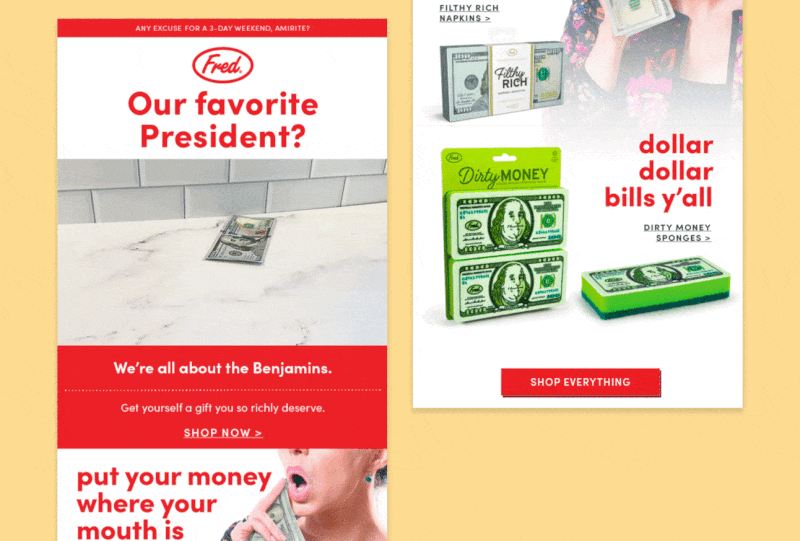 Jess says: First of all, I love the Genuine Fred brand/products. They're hilariously quirky and unique. I'm a huge fan. I love how this email incorporates the President's Day U.S. holiday in a fun way both in terms of copy and engaging GIFs and graphics. These fun elements pull you in initially, then present you with new and popular items to help pull you in even further. 
Nicole Swift,  Senior Customer Support Manager
Subject Line: New! Maple Soaked Pancakes ice cream
Preview Text: Ice cream for breakfast is served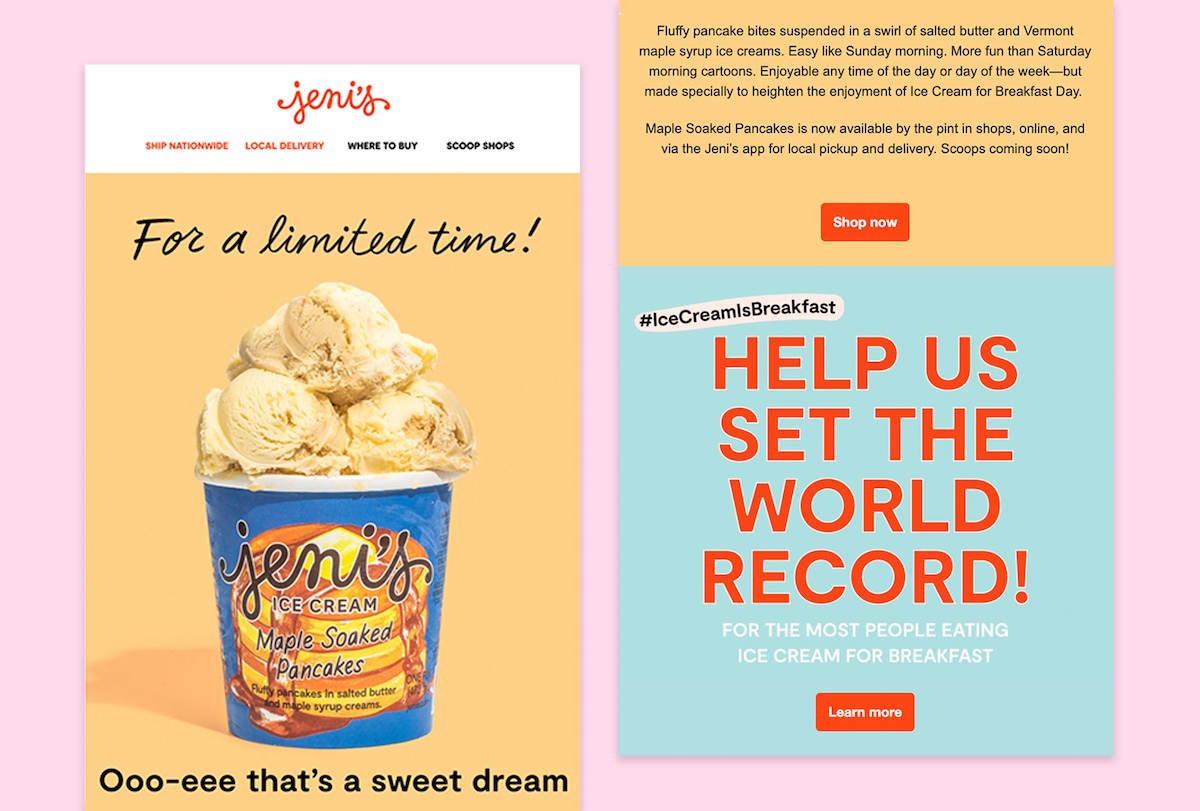 Nicole says: I love Jeni's emails because they use large, impactful images and bold, playful colors! This one has fun some fun copy to play on the ice cream for breakfast theme, but they still keep it short and punchy. I totally clicked to learn more about how to help them set the world record—and I participated later in the month (I can confirm the Maple Soaked Pancakes ice cream was delicious!). It would have been even better to include the address and picture of my local scoop shop so the email felt more personalized.
Create individualized email experiences at scale

Get powerful results with uniquely personalized, engaging email experiences that boost customer loyalty and drive revenue.
Subject Line: New Moon Manifesting 🌑 Your Cosmic Energy Report
Preview Text: New Moon in Aquarius Cosmic Energy Report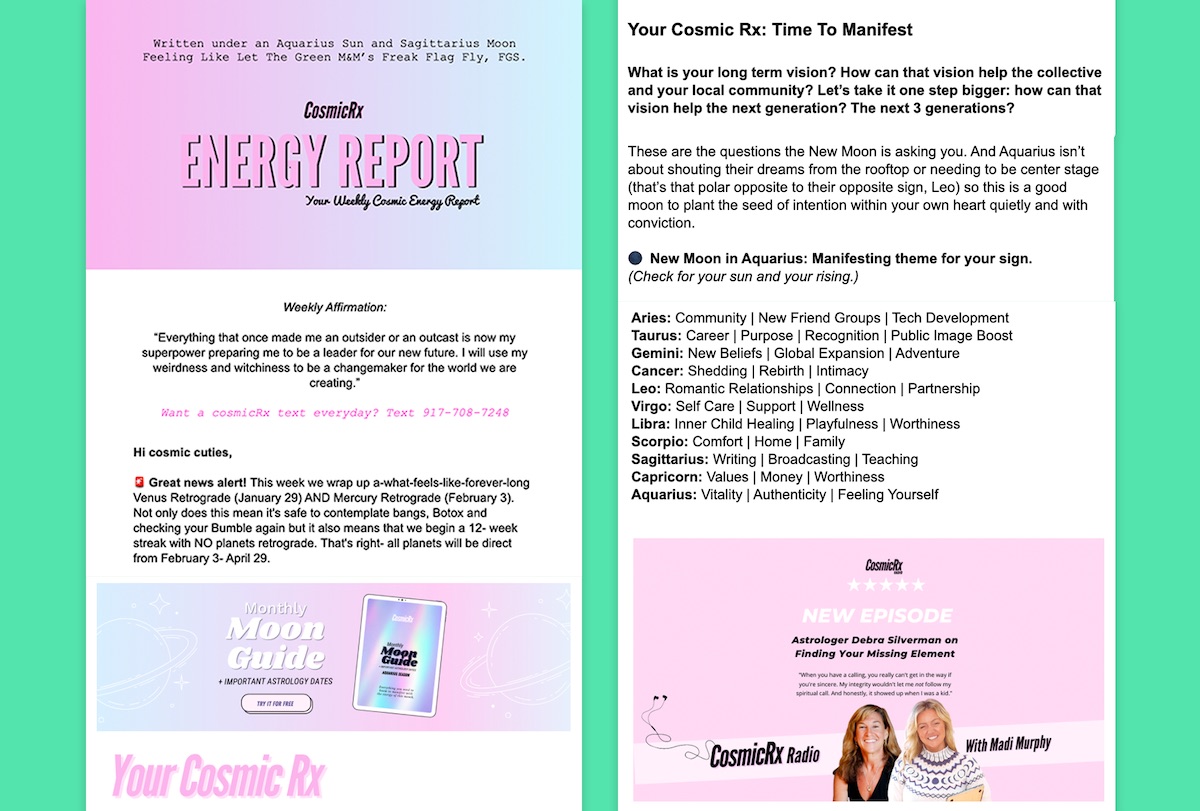 Nicole says: I had to include this one because I think the copy is so amazing. This is a weekly newsletter I look forward to every Friday. I especially loved this one's weekly affirmation because our motto in the support team at Litmus is "Keep Support Weird" (and yes, I did share the affirmation with the team!).
Overall, the copy is friendly and sounds like a note your best friend would send you (emojis and all), which makes for great relationship building with the audience. The copy is easy to scan with clear tips and funny sayings. I also like how the app, podcast, and community info are all at the bottom so it doesn't feel too in your face. This is how you do a long-form newsletter right!
Subject Line: Your great escape awaits…
Preview Text: New Year's Resol(hue)tions – Make space for self-care.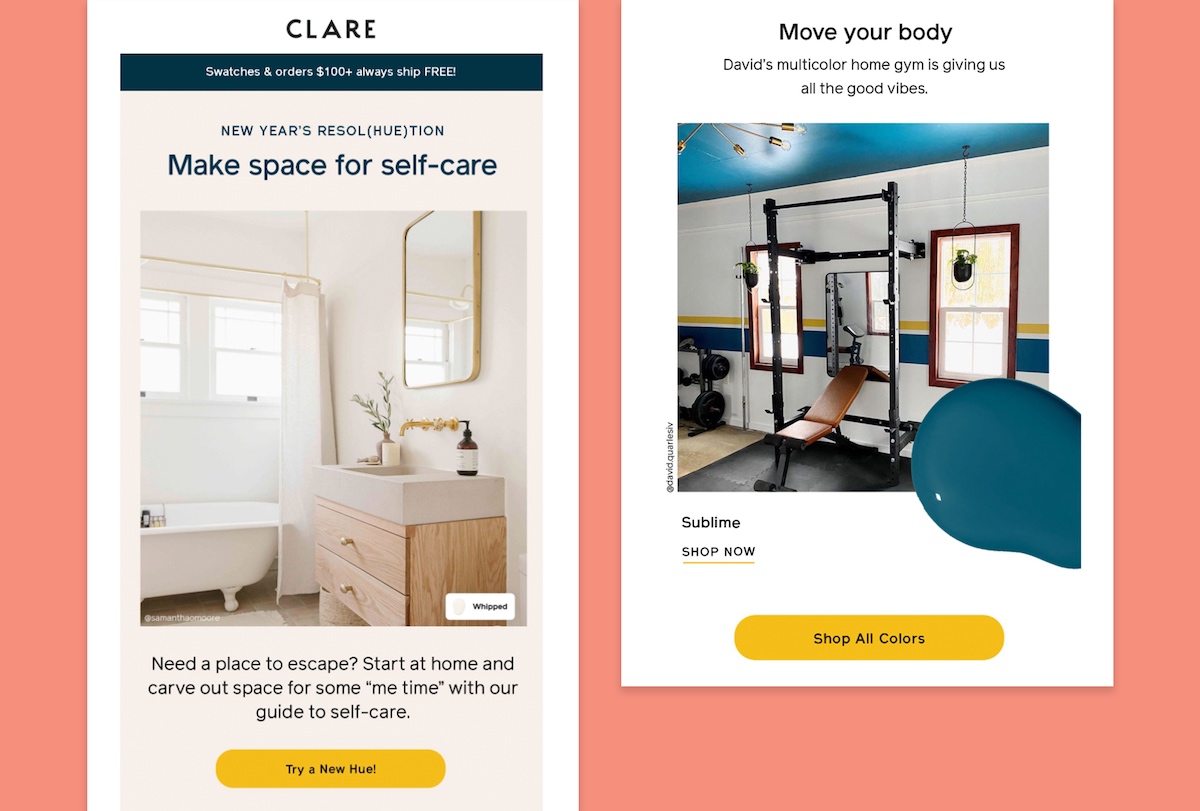 Nicole says: What a great way to combine some popular New Year's resolutions with their product! So many things I like here.
I love that they included real customers' rooms (and handles), reinforcing their direct-to-customer relationship. I think most people trying to pick paint colors appreciate seeing them used in a variety of rooms, walls, and lighting—and this accomplishes that well.
The variety of workout spaces and relaxing spaces are timely and inspiring for the new year. I also like the big blob of paint in the corner of each picture because it adds some organic shapes and interest to the email that otherwise would have been very square. 
Jordan Sawyer, Head of Account Management at Kickdynamic
Subject Line: Fresh finds you're going to ❤️
Preview Text: Shop this week's just-landed styles from £9.99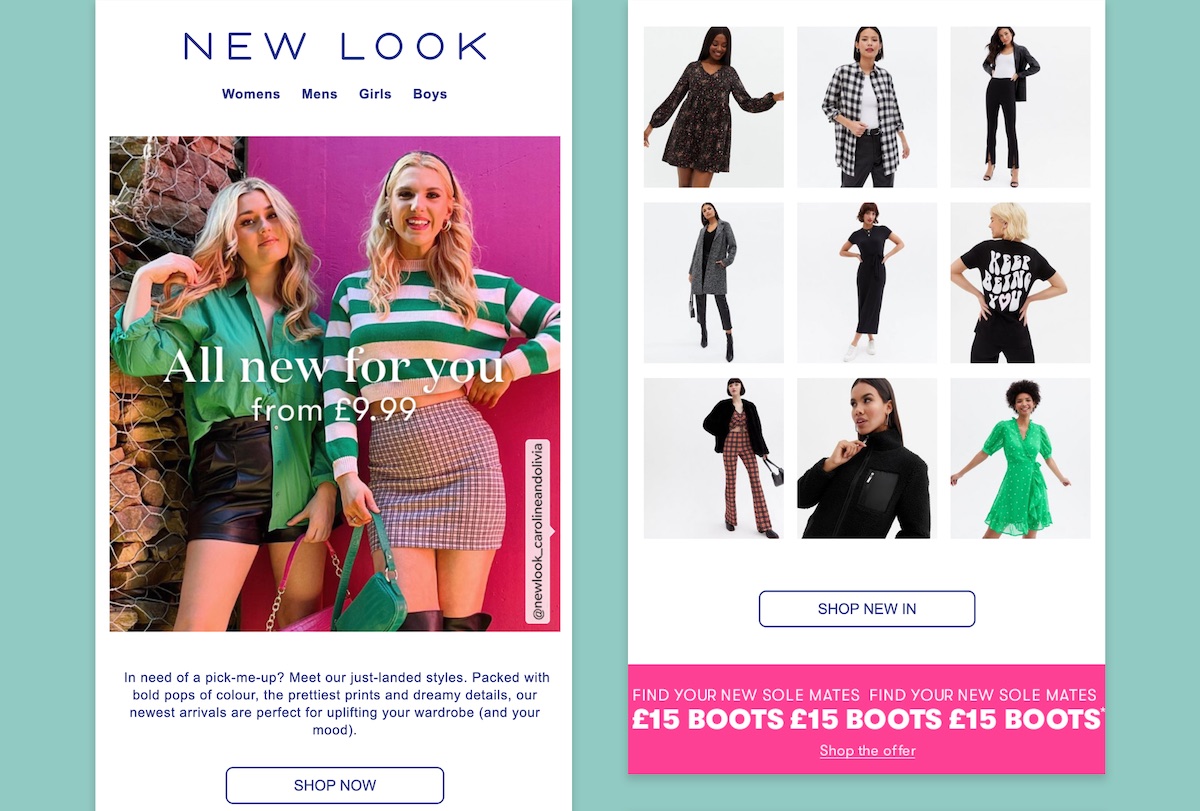 Jordan says: I love this email from New Look. It shows the latest products available on site and uses rules to suit the objectives of the business, like price, product category, stock levels, etc. It's a great way for the company to ensure that each email is fully up to date for each recipient.
Kimberly Huang, Content Marketing Specialist
Subject Line: 📌 We've Got Your Weekday Lineup
Preview Text: Including: Our *new* job search strategy Q&A!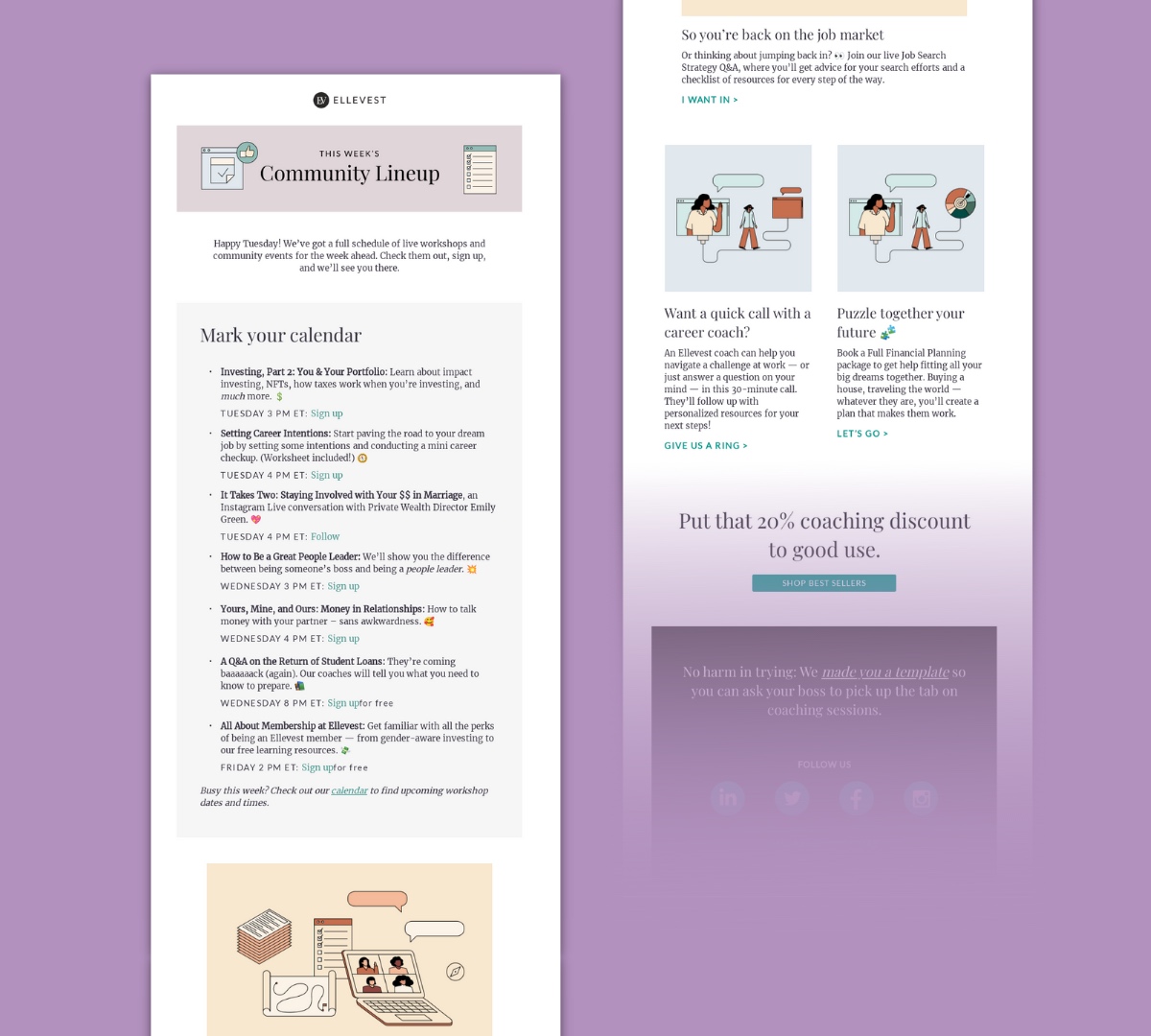 Kimberly says: As a newsletter, I loved the way Ellevest divided their content in a scannable yet engaging way. The use of color, emojis, font, link styling, and imagery helped keep things interesting. It allowed me to easily scan to pick my favorite pieces to dive into.
Lily Worth, Content Marketing Specialist
Subject Line: ⏰ Hi Lily Worth! Got 5 minutes? Time for a tiny Portuguese lesson.
Preview Text: Learning a language requires practice every day.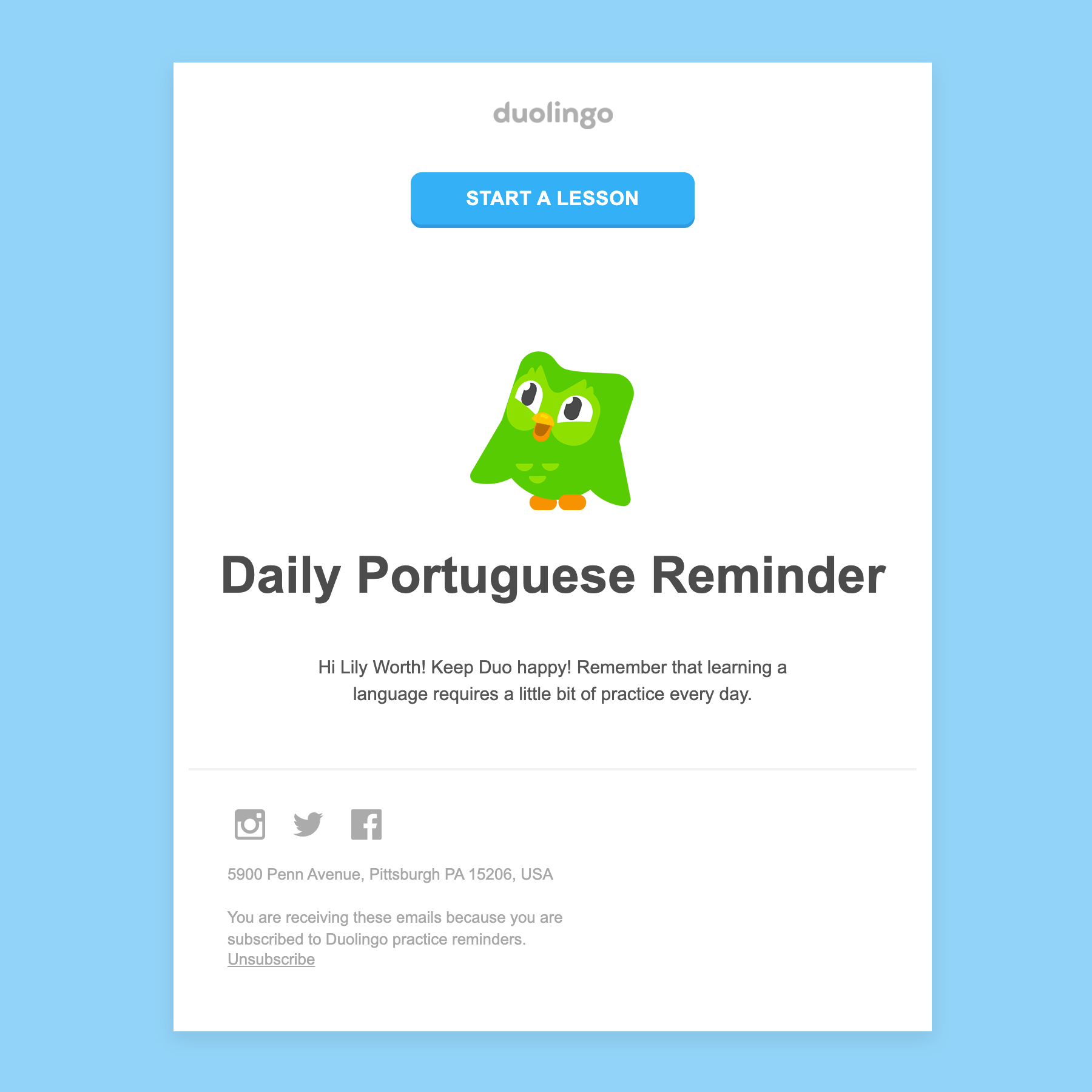 Lily says: This simple reminder email puts the call-to-action front and center, with the sweetest directional cue: an animated owl reaching up and trying to click. The purpose of this email is to drive to the app, so Duolingo have kept content light and hierarchy geared towards helping me to quickly take action.
Martyn Lee, Marketing Manager at Kickdynamic
Subject Line: Snow Report: February Freshies in Full Force
Preview Text: 6" over the last 48 hours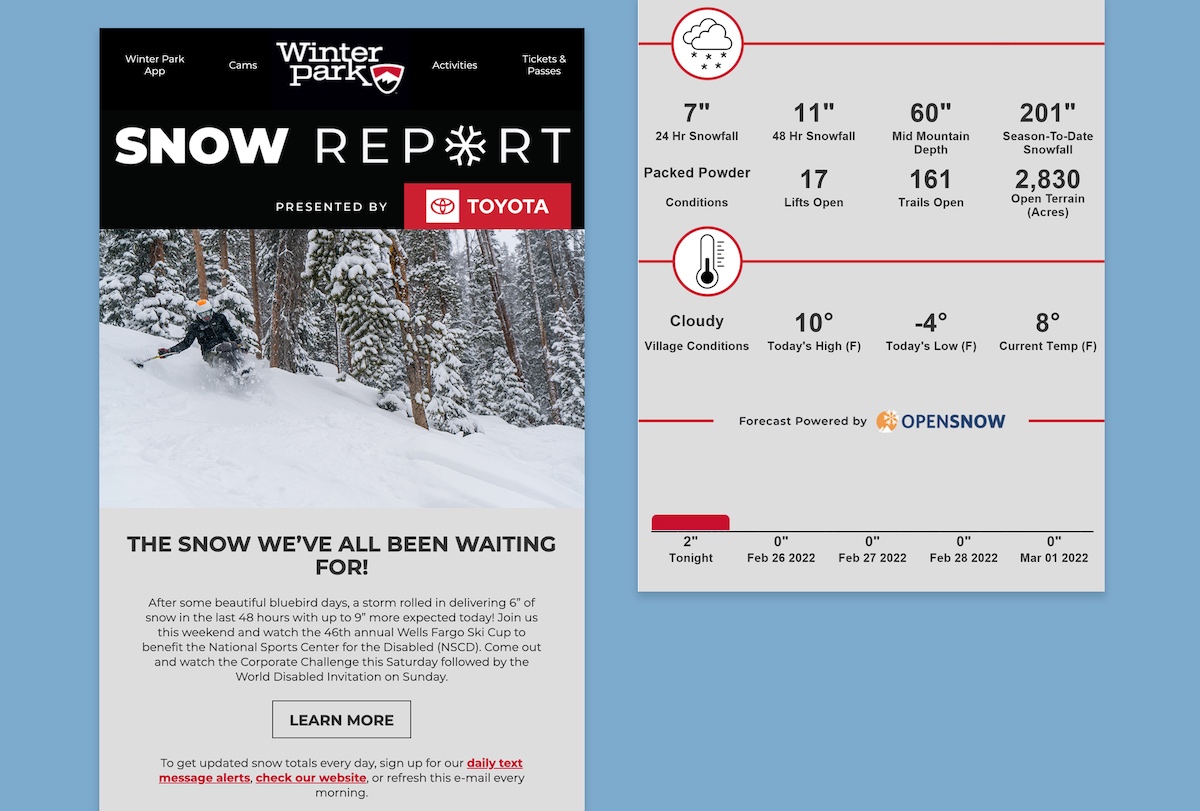 Martyn says: This email from Winter Park utilizes the weather report to its advantage. It gets sent out to subscribers to let them know of the conditions on the slopes. It's a great way to encourage people to go skiing, not only with the weather report but also with the fun and engaging copy.
Subject Line: Happy Galentine's Day
Preview Text: Enjoy 20% off when you share the love!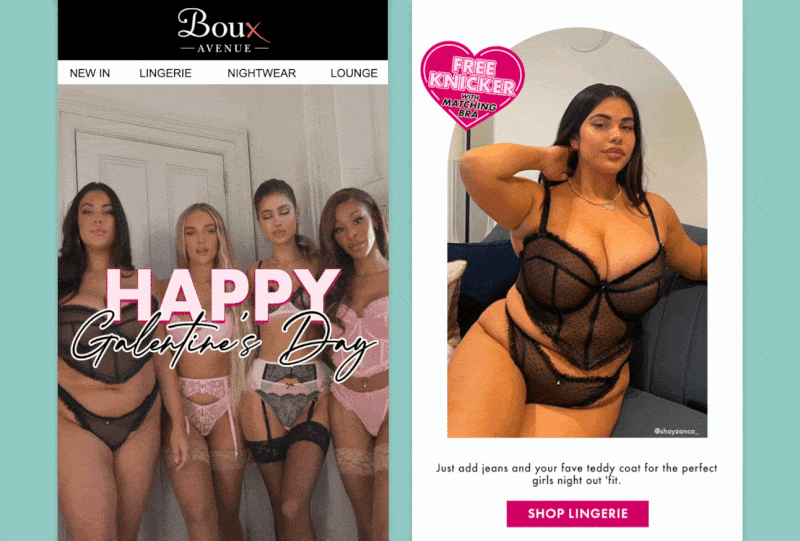 Martyn says: I love this email! It flips a traditional Valentine's Day email on its head and instead celebrates Galentine's Day. This brand is all about female empowerment and this email really shows that. I also love the name personalization in the header, it's a simple yet effective way to make the recipient feel that the email is just for them.