What I love most about July is that it's National Ice Cream Month—yum! 😋 Unfortunately, no ice cream-laden emails here in this blog post. But not to disappoint: We're drooling this month over a perfectly-timed replenishment email, bold & beautiful designs, long emails worth reading, a great use of data, and more.
Scroll on through to ooh and ahh with us.
Jaina Mistry, Senior Email Marketing Manager
If you couldn't tell by Jaina's title, she runs our email marketing program. What you may not know is she's a total foodie. One of her favorite places to get coffee is at a local coffee roaster called Press Coffee. She likes this email of theirs, too.
Press Coffee
Subject line: Jaina, running low?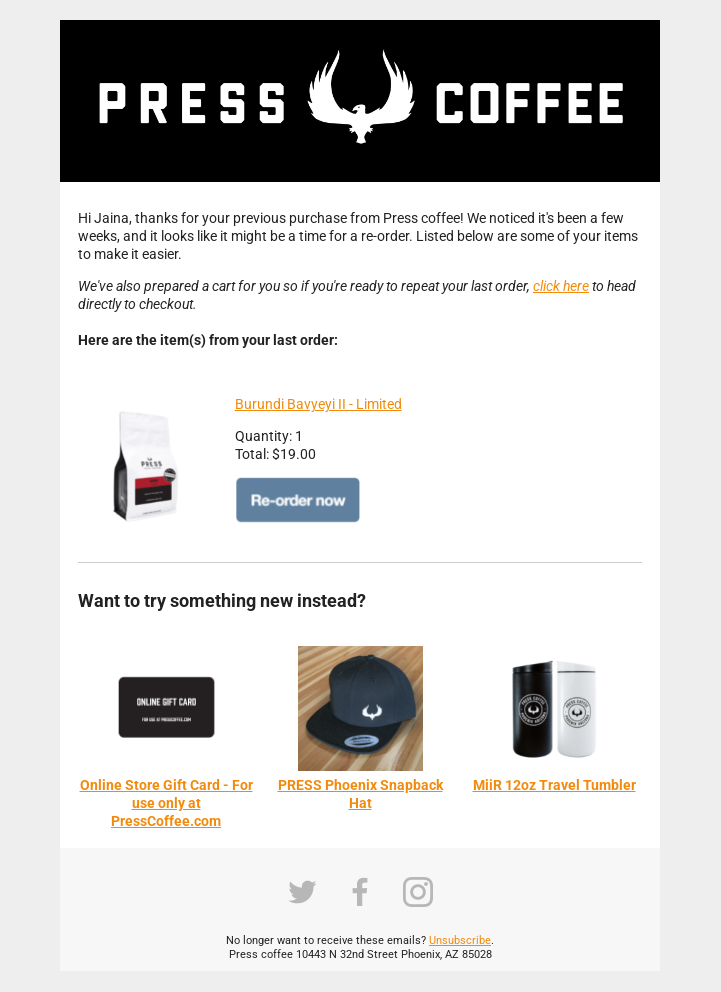 Jaina says: "I used to head to Press Coffee's stores to pick up coffee for home use, but since the pandemic, I've switched to buying online from their website. This timing and the personalisation stood out. They've calculated how long it takes on average for someone to finish this amount of coffee perfectly! I was very close to finishing the bag when I received this email. And the level of personalisation was *chef's kiss*, including the coffee I previously purchased and making it easy for me to purchase the same coffee again in one click."
Lily Worth, Email Design & Production Specialist
If you love how Litmus' emails look, give kudos to Lily. She's got an exceptional design eye, and I'm always blown away by her skills and knowledge. This month, she's bragging on two emails from Nike.
Nike email #1
Subject line: End of Season Sale
Preview text: Up to 50% off the season's best gear.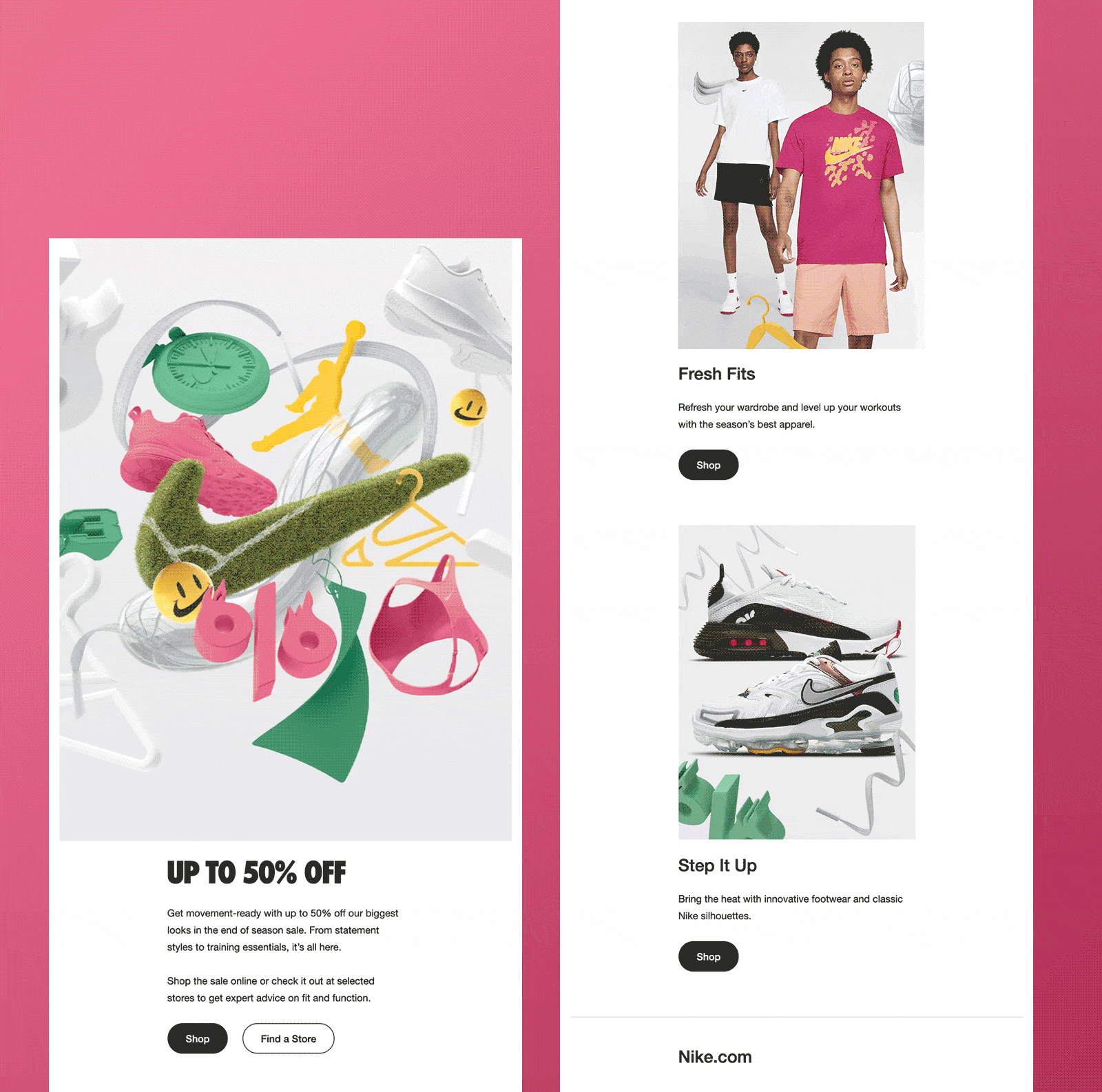 Lily said: "Nike has been sending some really exciting email compositions that lean into design trends, such as 3D imagery and subtle animation to showcase products and highlight promotions. Pushing the envelope with eye-catching design trends is a great way to stand out in busy inboxes."
Nike email #2
Subject line: The 2021 Be True Collection
Preview text: Made with Everyone in Mind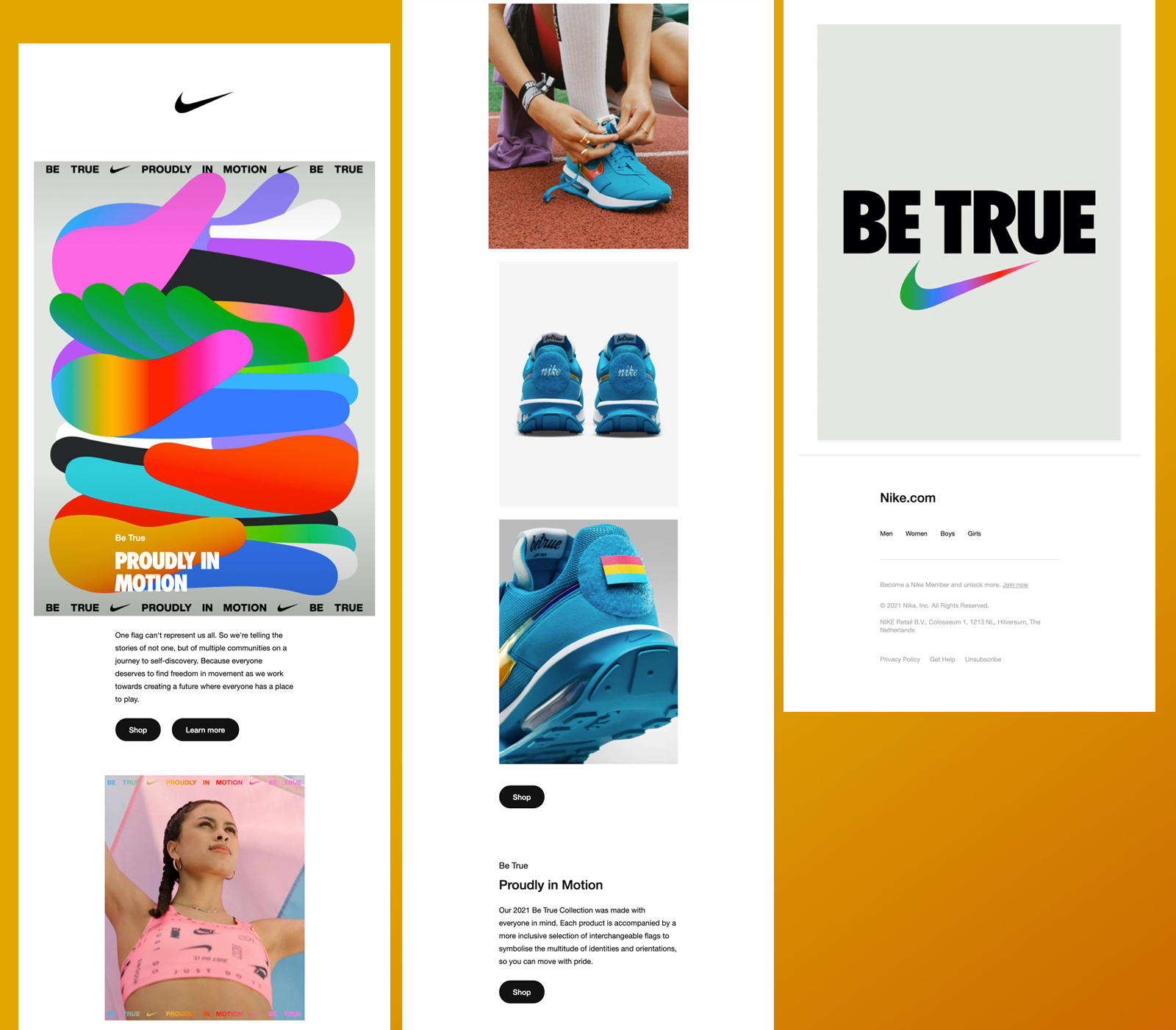 Lily said: "Their stance on diversity and inclusion is something that always impresses me. They are consistent with their representation in email design, from the people modelling their products to the products themselves. Released during this year's Pride Month, Nike's Be True collection is a celebration of human diversity with products that can be personalised with velcro flags, giving consumers the opportunity to display their gender identity or show support for gender equality. I was recently introduced to this exciting range with this color pop email."
Shannon Howard, Customer Marketing Manager
Shannon is passionate about the customer experience and driving loyalty, so it doesn't surprise me that she surfaced this gem from ProfitWell's Protect the Hustle.
Protect the Hustle
Subject line: lesson learned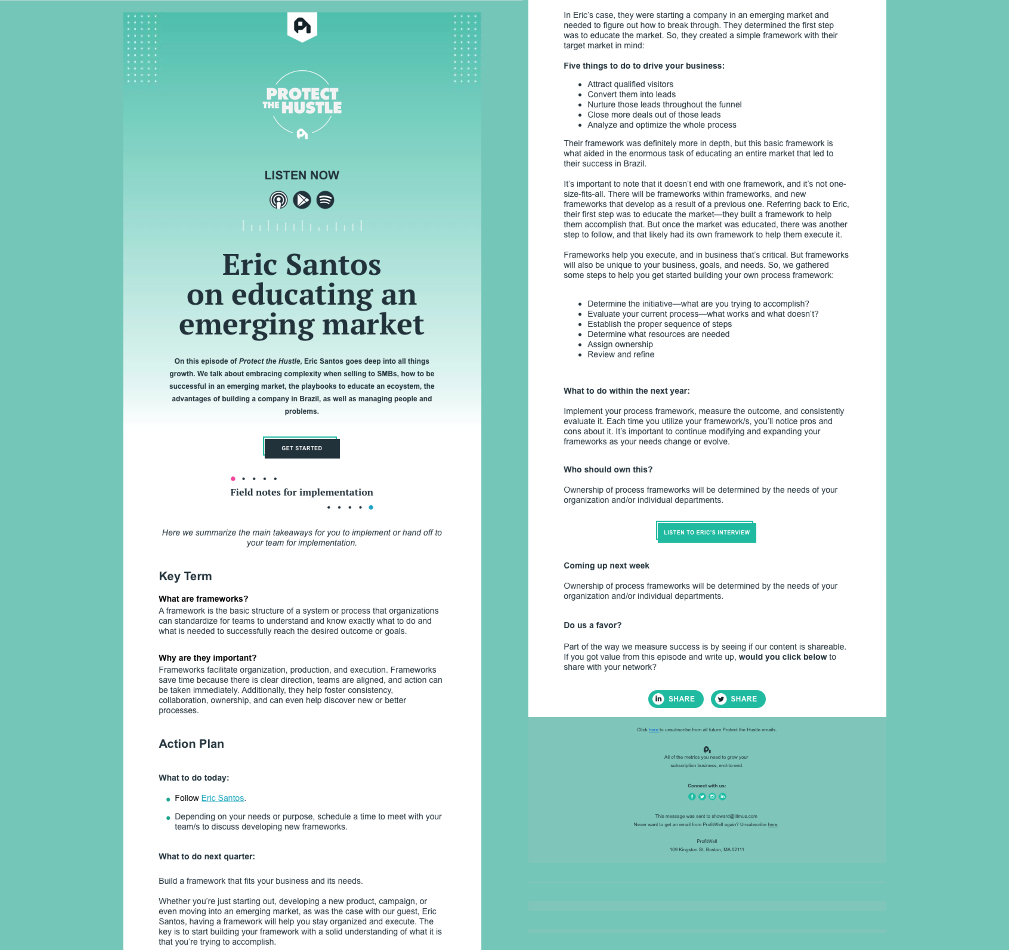 Shannon said: "It's jam-packed with great content and gives me a reason to click through to listen to the podcast. The bolded headers and sections make it really easy to scan and consume. I also really loved the 'coming next week' section to get me interested in what's next and encourage the reader to keep their eyes on their inbox."
And I've got to chime in here and say: While the email isn't optimized for mobile, I'm impressed by its use of a background image and creative bulletproof buttons—all with live text. I almost never see this in my own inbox, so bravo!
Magan Le, Content Marketing Manager
Okay, I may have gone a little overboard here picking out four emails from my inbox. But there are some important things here that I want to share with y'all.
Sephora
Subject line: Hi VIB, your summer Beauty Insider check-in is here ☀️
Preview text: Magan, get the deets on your Beauty Insider progress.‌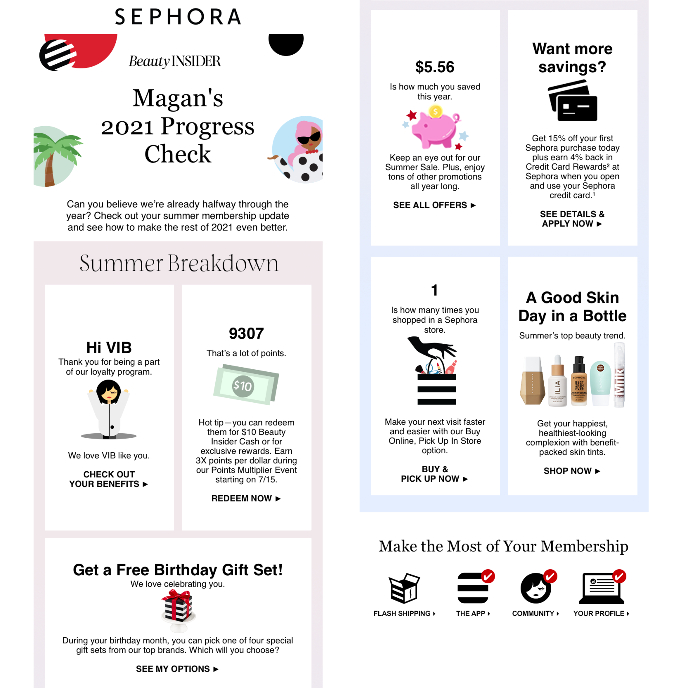 I love this mid-year check-in email. It gives me a quick view into my progress for the year so far with a clear call-to-action for each tidbit they share. Great use of data without overdoing it. And I like the bit toward the bottom that checks off what I've done with my membership so far (and what I haven't done). It adds an element of gamification for those who like to see 100% completion.
Venmo
Subject line: Split the bill, split the fun, skip the hassle.
Preview text: Plus, earn unlimited 2x rewards on purchases with the Venmo Credit Card until 12/31 Score unlimited double rewards on purchases until 12/31.¹ Apply by 7/31/21.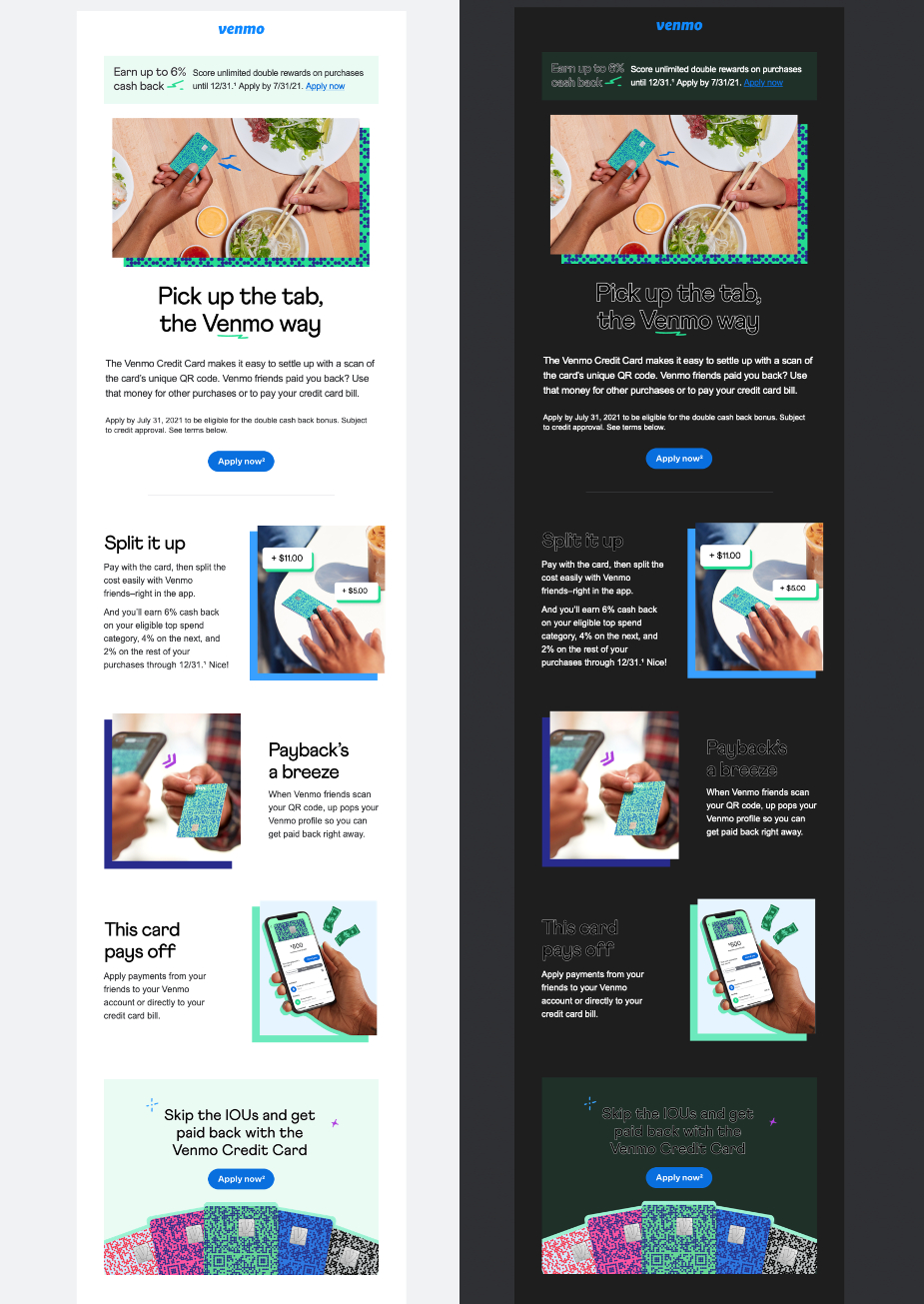 Okay, this one stood out to me because DARK MODE! I guess the brands I subscribe to don't optimize emails for Dark Mode, so when I saw this one while browsing emails at night, it definitely caught my eye. It's also easy to follow with the Z-pattern design, and the retro graphical elements make it fun. Everything is live text except for the headlines, which they probably kept as images to use their on-brand font (but they're a bit hard to read as just white outlines in Dark Mode). At least they have appropriate ALT text, though.
Solly Baby
Subject line: Magan 💛 Motherhood is hard work.
Preview text: (And you're doing an amazing job.)

This one caught me by surprise in the best way. It's unexpected and totally random. Just a thoughtful pick-me-up out of nowhere. I kept waiting for the pitch, like, "Oh, and for doing such a great job, here's such-and-such discount." But nope. And I love this email for that. A kind message, no strings attached. The only thing that breaks my heart is this email is all images, even the text, but the way it's laid out could've very easily been done with live text.
frank green
Subject line: It's Plastic Free July!
Preview text: We love Plastic Free July! Every month is about living single-use plastic free at frank green. We're here to support…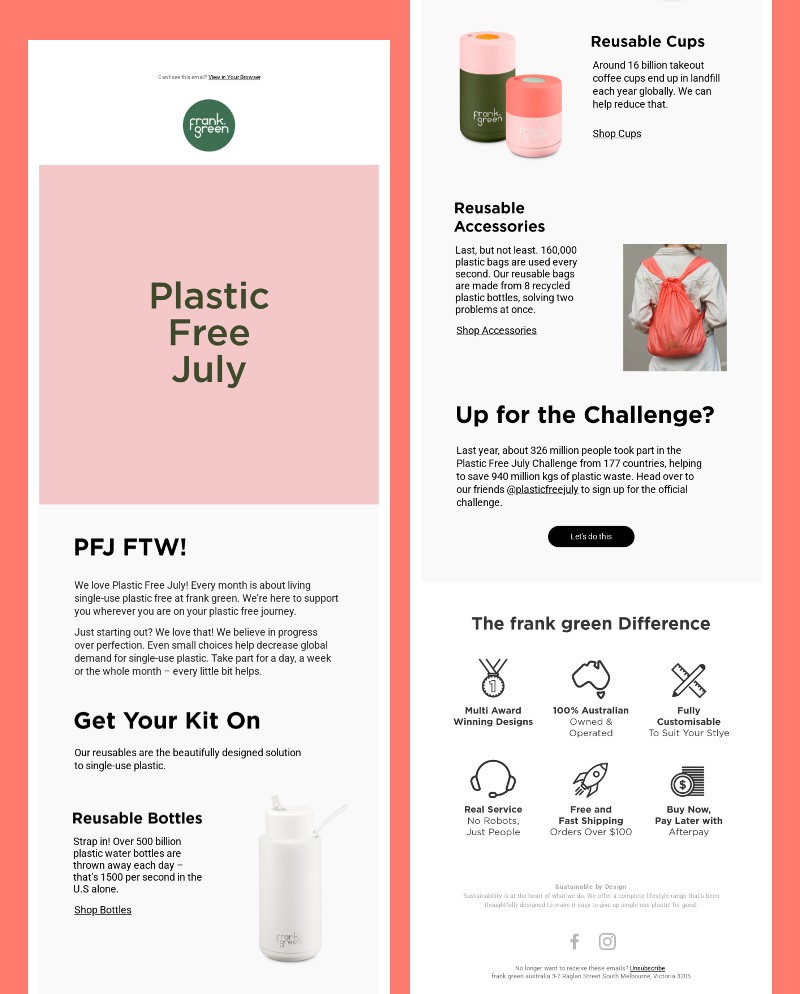 frank green pushes the message that every small step toward a more environmentally friendly lifestyle matters—my personal belief! So I enjoy the encouraging tone as well as the facts they share to reinforce why we should care about Plastic Free July (and beyond). A couple of things that would make this email even better than it already is: CTA links in a different color to stand out and making the animated GIF header more subtle (the fast flashing colors can feel disorienting).
We shared ours—so share yours!
What emails caught your attention in July? Let us know in the comments below. We love hearing from our email community and want to see the ones that stood out in your inbox.