We've been tracking email opens for nearly 5 years—and a lot has changed during that time. In the first half of 2015, we've seen email open data continue to favor mobile apps and providers that focus on new and innovative solutions.
Microsoft and Google continue to invest in cloud-based email solutions, and businesses seem to be following suit—moving away from installing Outlook on employee machines and using services like Office 365 and Google Apps instead. As a result, desktop opens have fallen 4% in the first half of 2015 now representing 22% of opens. Mobile opens have seized desktop's fallen share, growing 4% to capture 49% of market share. Conversely, opens in free webmail services like Gmail, Yahoo, and Outlook.com have decreased 4%; opens in these providers currently make up 29% of opens.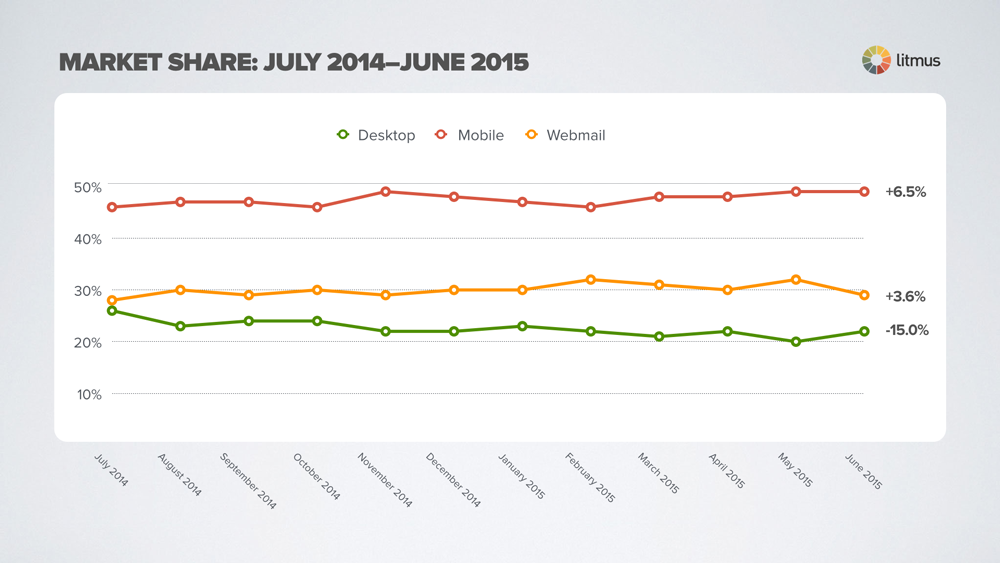 Top Ten Email Programs
After increasing more than 5% in the first half of 2015, iPhone opens now command 28% of market share. iPhone, like iPad, runs on iOS, and combined iPhone/iPad opens make up nearly 40% of the more than 1 billion opens we tracked in June. iOS has terrific support for HTML and CSS in email, meaning that emails opened in the email app on these platforms aren't likely to encounter many rendering problems. If you're feeling adventurous, you can go the extra mile to surprise and delight iOS openers by adding progressively enhanced elements to your emails.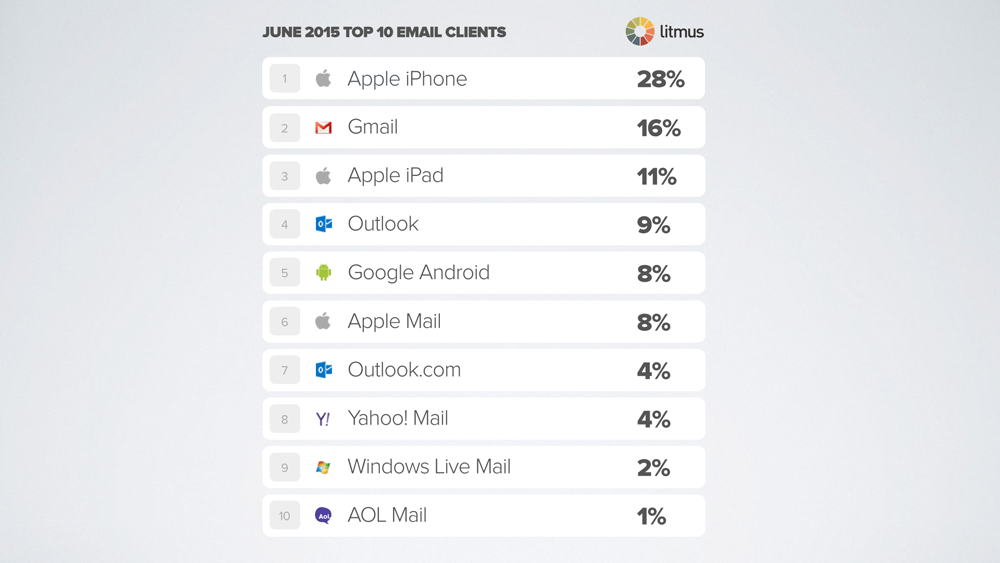 Opens made on Google's Android platform have gained a position, rising to #5 with 9% of opens. This represents a 19% increase in just six months. And while some Android apps have great support for responsive email, the Gmail app (for Android or iOS) doesn't support responsive design at all.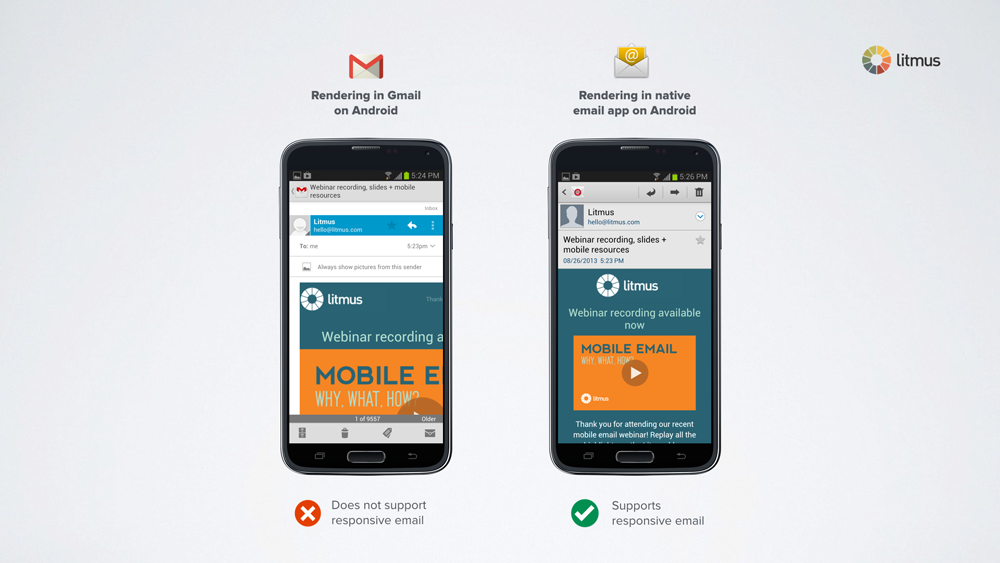 Maintaining a consistent subscriber experience across screen sizes, devices, and email apps can be difficult due to mixed support for responsive design. Although media queries aren't universally supported, it is possible to get your email looking great on both Android and iOS devices. We recommend using mobile friendly elements, like a one-column design, large fonts, and touch-friendly buttons.
iPad Opens Take a Dip
iPad opens have been on a continuous decline over the past year, dropping over 7% in 2015 alone. It's probably no coincidence that the iPad's slump to 11% of opens has accompanied a downturn in tablet sales. As of Q2 2014 Apple had sold 16.35 million iPads, while Q2 2015 figures report sales of 12.62 million—a 23% drop.
While lower-priced tablets from Microsoft and Google may have impacted iPad sales and open figures, it's possible that other Apple products may be cannibalizing sales. For example, the dimensions of the iPhone 6 Plus may serve as a suitable tablet replacement—providing users with the ultimate 'phablet'.
Gmail: Up from 2014, Down in 2015
Gmail opens have dropped 4.7% since the start of the year. But compared to a year ago, Gmail opens are up nearly 20%. Because Gmail caches images, it's impossible to pinpoint this change to web-based or mobile Gmail opens (both types of opens look the same). Despite this limitation, it is possible to take steps to optimize emails for every type of Gmail inbox.
Don't forget that media queries, which are required for responsive design, are not supported in Gmail. This includes mobile apps for Android and iOS, including Inbox by Gmail. If you suspect that many of your Gmail opens may be mobile users, consider using the hybrid coding approach.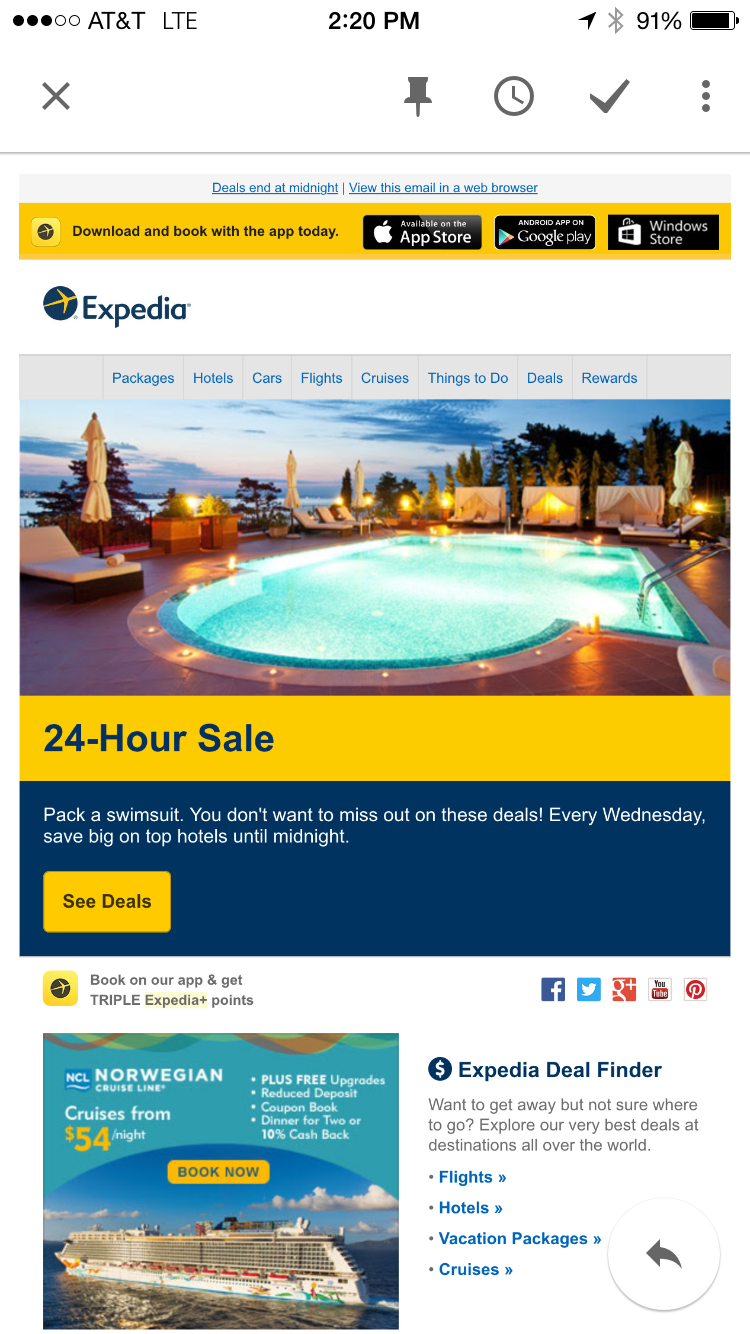 Inbox by Gmail (iOS)—No support for responsive email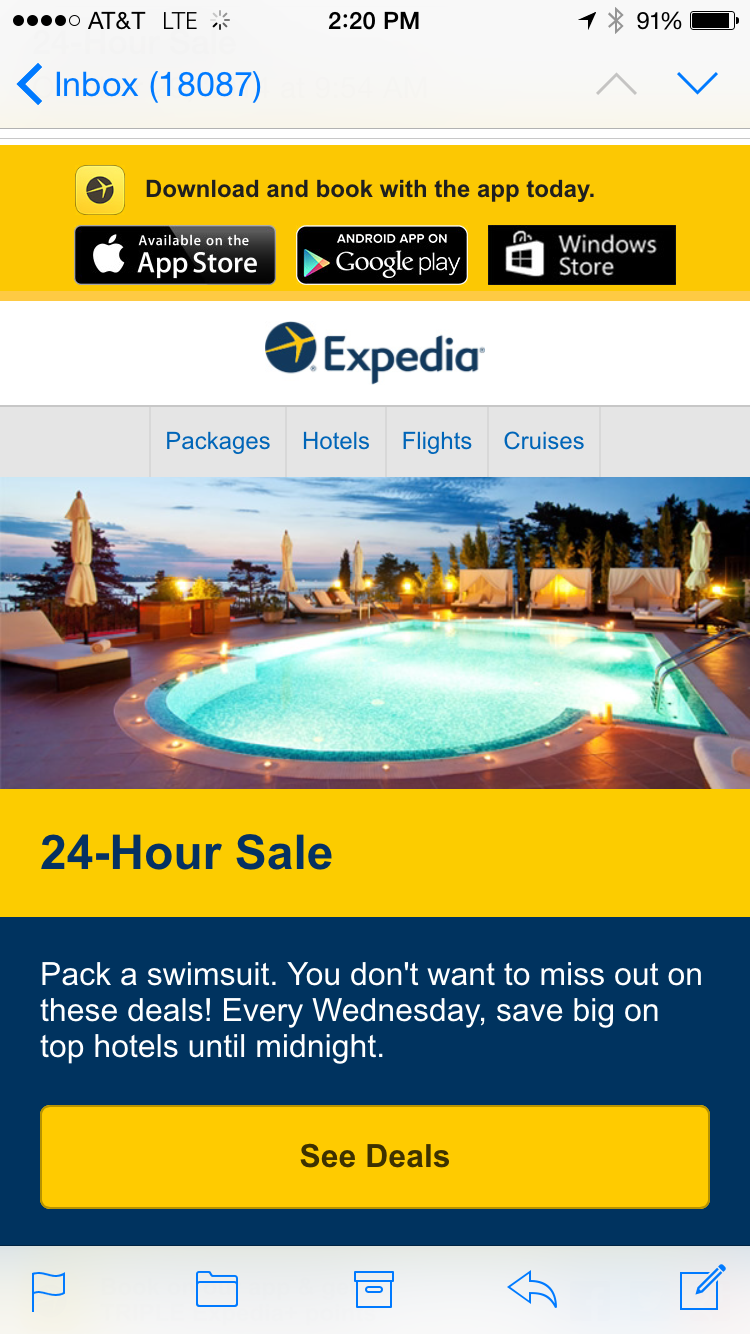 Mail (iOS)—Support for responsive email
Optimize preview text, which is supported in web-based and mobile Gmail apps. This copy is pulled from the body of your email and shown after the subject line in the inbox. It's a great way to reinforce the great content in your email and get subscribers to open.

Gmail for iOS will automatically enlarge fonts in some emails, sometimes by as much as 50%. While this change improves legibility for most messages, it can wreak havoc on others. If you find that your messages are adversely affected, there are a couple fixes you can try.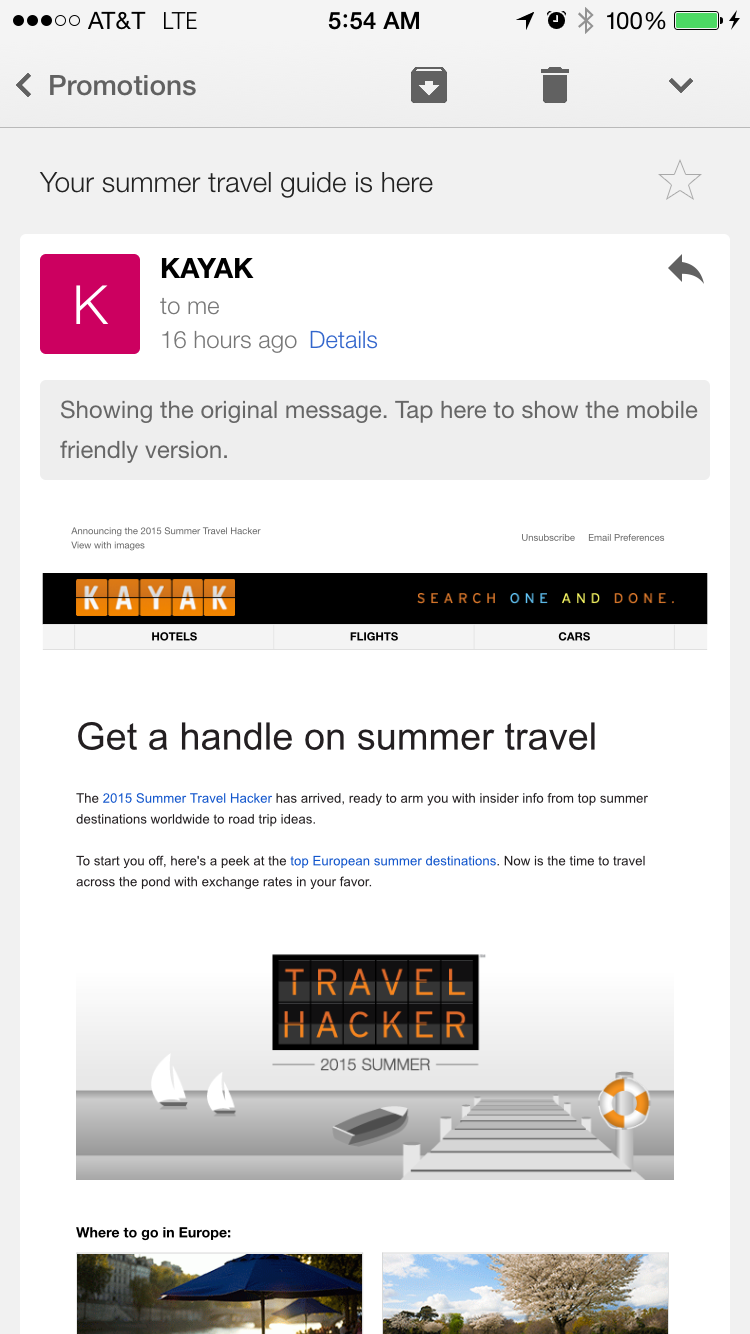 Gmail for iOS: Unmodified fonts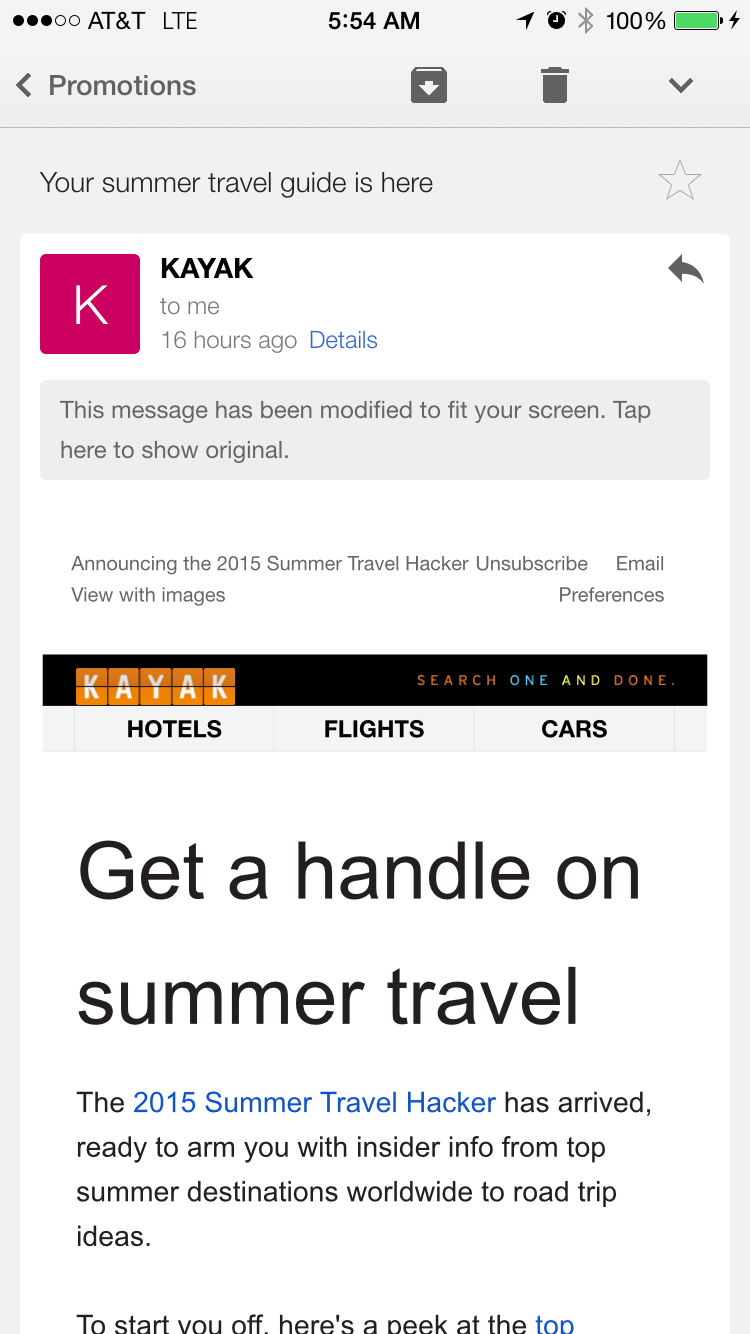 Gmail for iOS: Modified fonts
Outlook on the Decline
Opens in Outlook have shrunk considerably in the past year. There's been a 30% drop in the last 12 months, and a 5% decrease in the last six alone. In its heyday, Outlook topped the charts with 37% of opens, but today represents less than 9% of market share. You might attribute this decrease in Outlook opens to a shift in user preferences for web-based and mobile email solutions.
See your Gmail and Outlook open rates
Email Analytics tracks market share across your mailing lists so you can optimize email for your audience.
Data in this report is based on worldwide opens collected with Email Analytics. Some email clients may be over- or under-reported due to automatic enablement of images and/or image blocking. Tracking trends over time is the best way to monitor open data for email. Learn more how we report mobile app opens and how image caching and automatic downloads in Gmail affect open rates.
Many thanks to the folks at Wistia for the groovy tunes. This clip features the Davis Square Shuffle.
Most Popular
Don't Miss Litmus Live 2022 this Fall!

The Premier Email Event by Email Pros, for Email Pros.
From Anywhere–and Any Budget.

Learn More