Email is steady and reliable—but vastly under-appreciated. It's about time the world takes notice. Because of the ongoing COVID-19 pandemic, economic crisis, and social and political unrest, email has taken center stage in 2020, connecting companies and people like never before.
As we inch closer to the new year, let's look back to see three ways 2020 has affected email marketing (and make sure you're keeping up!).
Email volume is up… and so are engagement rates
There are many reasons why email volume has risen exponentially. Even the industries that scaled back their sending at the start of the pandemic are ramping things up again while those that increased volume are continuing to do so.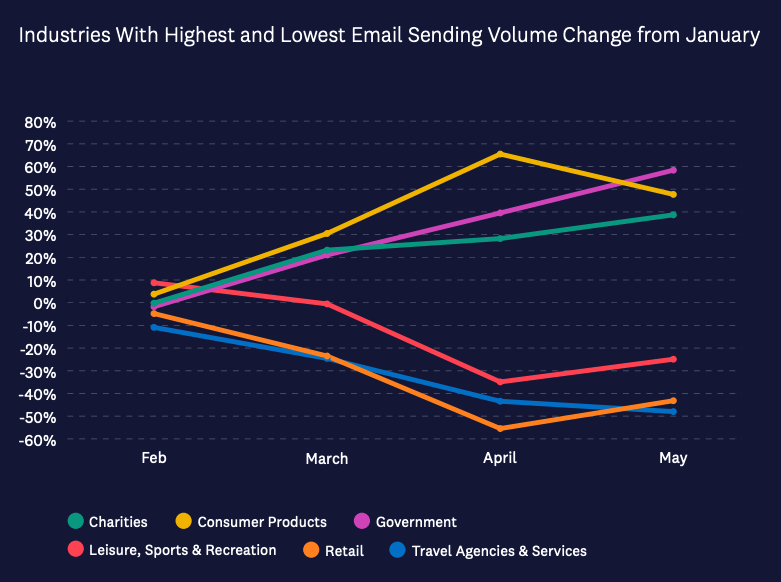 With these spikes in email volume, you'd think email performance has taken a hit. But what's actually happening is that email performance has also gone up.
After COVID-19 became a pandemic earlier in the year, open rates increased an average of 4.7 percentage points worldwide. Subscribers' top reason to unsubscribe is usually because they get too many emails, so why is this year different?
Stay-at-home orders around the world forced many businesses without a digital storefront to quickly create one. And people who've never shopped online before did so for the first time.
So email became the best way for companies to communicate with their customers. Whether that was about the precautions taken to ensure the health and safety of employees and customers or how to shop for the things people could no longer buy in person.
As a result, email revenue is up pretty significantly, especially in ecommerce.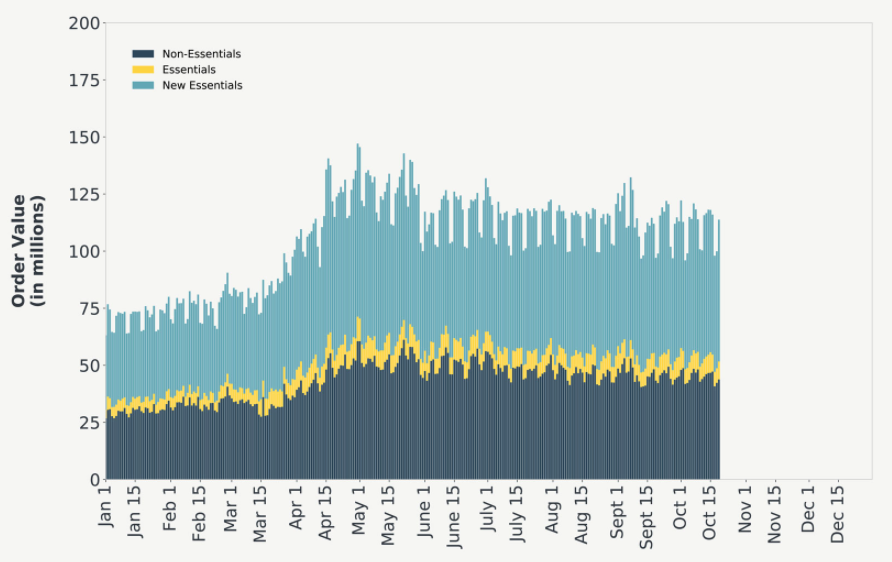 Email is clearly having its moment, so now is the time to invest more in email—not less.
Subscriber expectations have changed—forever
There is a longing for things to go back to normal. But the truth is, 2020 has made a lasting mark on the psychology of the customer. Things will never be the same again. Brands who've pivoted and embraced this new reality are the ones thriving.
New buying patterns have emerged
Old shopping habits don't exist anymore, and with the pandemic lasting much longer than expected, many new habits are here to stay.
According to McKinsey & Company, 75% of US consumers tried a new shopping behavior because of economic pressures, store closings, and changing priorities.
First-time online shoppers have increased significantly.
Many people have never shopped online before, so their expectations are vastly different than those who are digitally savvy. Brands must be receptive to the concerns that kept these people away from online shopping in the first place. Things like customer assistance, being able to see and feel a product, shipping, usability, accessibility, payment options, trust and security, etc.
So go back and rethink your welcome and nurture email series to make sure your new subscribers feel comfortable buying from you.
People are switching brands at alarming rates.
While there may be an increase in new customers, the ones you currently have may be leaving.
The pandemic has caused major issues with global supply chains. Combined with shrinking wallets and shifting priorities, people are trying new brands because of availability, convenience, and value.
Remind your email subscribers about what made them loyal in the first place, and don't be afraid to shift strategies with their changing priorities. One way to do this? Empathy.
Brands must show their humanity and empathize
Everyone's going through a rough time in some shape or form. And social distancing has increased the need for human connection. Purely pushing products is passé. Email messaging must show empathy and support subscribers in a considerate way.
To take it a step further, more and more people are demanding that brands not only take a stand on social, environmental, and political issues but also take action. Customers are putting their money where their values are.
According to 5W's 2020 Consumer Culture Report, 83% of consumers are influenced when a brand aligns with a cause they're passionate about.
However, authenticity is key.
There can be major backlash if people see messaging as mere virtue signaling. Seeing a cause as simply a trend to jump on and monetize is disrespectful to the cause itself, and people will see right through it. So take action and follow through on the values you're selling from top to bottom.
Personalization and segmentation are more important than ever
It's paramount to understand your subscribers' challenges in the context of their new normal. And personalization and segmentation will set you apart in a good way—especially since everyone seems to be jumping on the email bandwagon now. Consider it your competitive advantage.
According to eMarketer's Email Marketing 2020 report, "It seems that many companies get enough return out of email marketing that they don't bother to go the extra mile and personalize as much as they can. Companies investing in personalized email tend to receive a higher upside than if they spent those funds on ads."
There are many ways you can personalize emails to your subscribers. In our 2020 State of Email Report, Fall Edition, nearly 58% more marketers are using past purchases for personalization this year than last. This is great considering that 59.4% of US adults would most likely make a purchase from a suggestion based on purchase history rather than seeing a new product launch or random selection of products. In other words, relevancy trumps the shiny and new.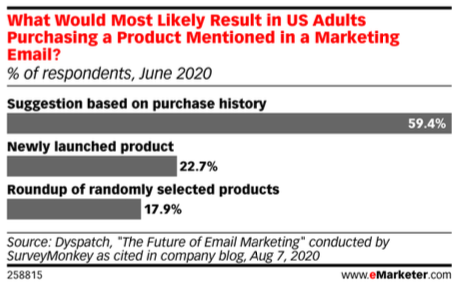 Other ways to personalize beyond profile data like first name are:
Customer status (e.g. prospect or seasonal)
Past interactions with your products or services
Past interactions with your emails
Expressed preferences
Geolocation
Past interactions with your website
The possibilities are as endless as the data you have!
Email agility and adaptability are key to survival
One thing 2020 has taught us? Nothing goes as planned. That's where agility and adaptability come into play. Those who can adapt quickly are either thriving or softening the blow to their business.
Something drastic can happen within a day, so that email you have scheduled for tomorrow? Maybe not hitting the right note anymore. Unfortunately, 52% of marketers take at least two weeks to send a single email. That's obviously not going to work in the new normal if you want to stay relevant.
To keep abreast of your subscribers'—and the world's— changing needs, you have to be agile. Or risk being out of touch.
---
How has 2020 personally affected your email marketing program? What have you done to keep your subscribers happy and engaged?