Using an unsubscribe survey to understand why your subscribers opt out can give you valuable insights to drive improvements in your email marketing program—but only if you ask the right questions.
Most of the unsubscribe surveys we've seen haven't kept up with the growing number of reasons that consumers unsubscribe, as we revealed in our Adapting to Consumers' New Definition of Spam ebook. That means that unsubscribe surveys have become increasingly less actionable over time.
However, these surveys can be easily fixed by reviewing the questions you're asking and how you intend to act if you reach a critical mass of a particular response.
Traditional Unsubscribe Survey Answer Choices
Let's start by looking at some of the long-standing causes of opt-outs typically accounted for on unsubscribe surveys, and the actions they should drive on the part of marketers:
"I never signed up."
The subscriber didn't give you permission to email them…or didn't realize they were giving you permission, which is really the same thing.
Action: If many people are indicating this, then you should review your permission practices, particularly for the acquisition sources that attracted those subscribers. You many need to strengthen your signup or confirmation method depending on the context of your signup.
Comic Bento's unsubscribe survey includes that factor, but also includes, "The emails are spam and should be reported," which is essentially the same reason, although clearly a more intense indicator. That said, most of the people who feel that way probably reported the comic book club's emails as spam instead of unsubscribing.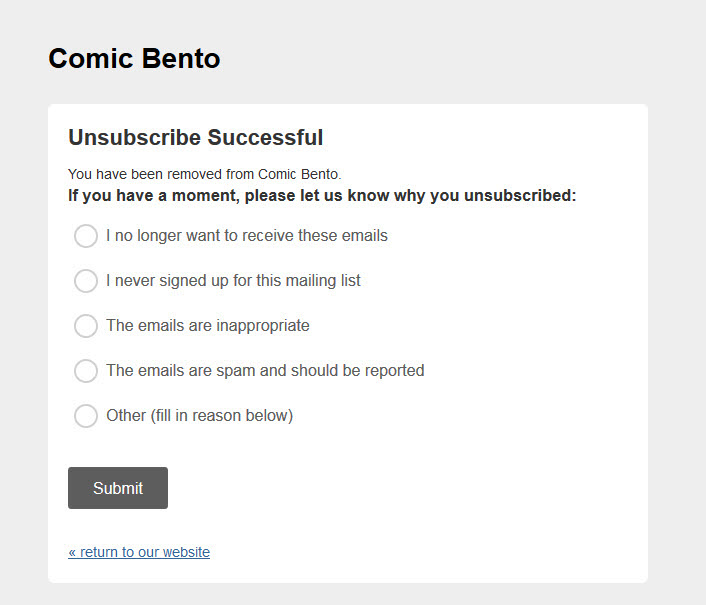 Comic Bento's unsubscribe survey also includes responses that are less actionable. For instance, "I don't want to receive these emails anymore" doesn't give us much insight into exactly what caused the disinterest.
"The emails aren't relevant to me."
The subscriber doesn't find the content of your emails to be valuable often enough.
Action: Consider adding more personalization and dynamic content to your broadcast emails, sending more segmented emails, and creating more triggered email campaigns. Subscribers generally consider targeted emails to be much more relevant, and reward the sender with higher engagement and conversion rates.
You might also consider giving subscribers the opportunity on your unsubscribe page or preference center to update their information. This can include topic preferences, local store selection, or any other major factors that you use to tailor your email content to individual subscribers. That might help you keep the subscriber and make your emails relevant to them again.
"I receive too many emails from you."
The frequency that you sent them emails was too high.
Action: You have a few solutions here.
Perhaps you aren't setting the right expectations around frequency during the signup process. Again, you may need to check different signup points, depending on which subscribers are giving you this response. Beyond the messaging at the point of signup, check the messaging on your signup confirmation page and in your welcome emails.
Your overall frequency might be too high. This may be the case if the majority of the responses to your unsubscribe survey fall into this category.
Consider giving your subscriber more control over frequency, either through a preference center or by giving them the option to opt down or pause their emails instead of opting out on your unsubscribe page.
Sometimes this is just another way of saying there's a relevancy problem. How often do people want to receive irrelevant emails? Not often.
Clarks' unsubscribe survey includes both of these reasons—"isn't relevant" and "too many emails." It also includes "I'm changing my email address," which is an issue that should be addressed on unsubscribe pages and in preference centers by giving subscribers a chance to update their address.
Making subscribers unsubscribe and then resubscribe with a different email address generally creates a new customer record, so you end up with activity for the same person in two different records. Letting them change their email address eliminates that issue.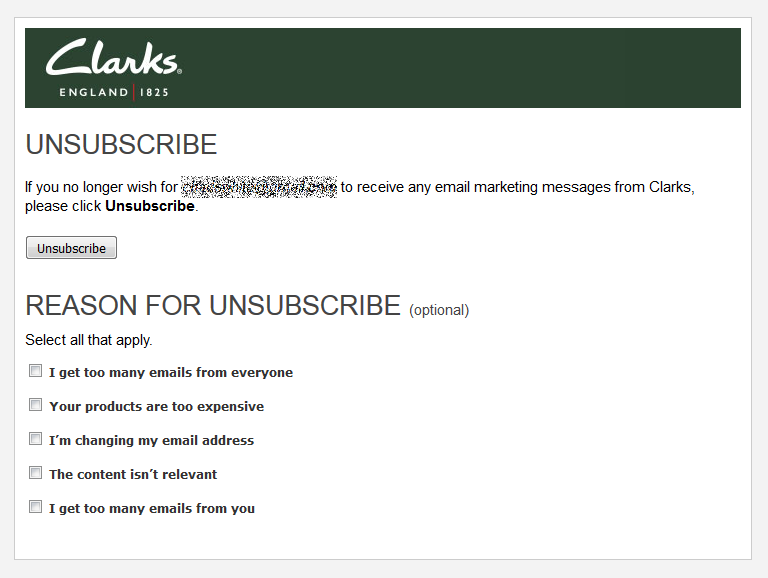 "The email deals weren't as good as I expected."
Discounts are one of the biggest reasons that people sign up to receive promotional emails. So under-delivering on those expectations of discounts can lead to unsubscribes.
Action: Consider changing up your promotion mix. The goal isn't to offer big deals all the time, but rather to offer significant discounts on the products and product categories that individual subscribers care about and to offer significant discounts at key times of the year. Segmentation and targeted content can also put the right deals in front of the right people.
Clark's unsubscribe survey above included "Your products are too expensive," but that's coming at the issue a little indirectly. It casts it as a company problem rather than an email problem that you can address through different discounts and messaging.
Duluth's unsubscribe survey comes at the issue directly, giving people the option to say, "There are not as many savings as I had expected." If that answer choice rises over time, then that's a sign that they'd need to take a serious look at the promotions they're offering and how often they're offering them.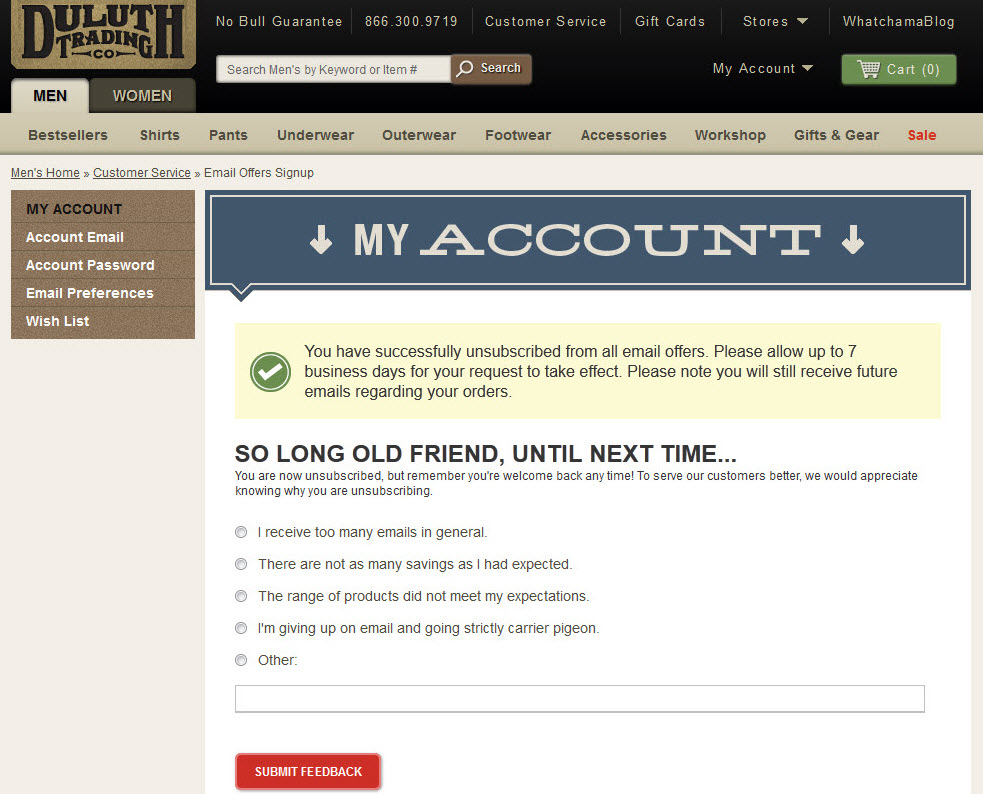 "The emails are too long." (And other content and design issues.)
Some of the content you're sending subscribers is valuable, but you're making them do too much work to sort through your content to find the stuff they're interested in.
Action: While subscribers will definitely read long emails, the trend is clearly toward shorter, more focused messages—even if it means sending emails more frequently. Shorter emails mean fewer distractions for subscribers and instills more messaging discipline in marketers, because you scrutinize the smaller amount of content more.
It also allows you to write a more pointed subject line, which allows the subscriber to better determine if they're going to be interested in the content of the email. That reduces "opener's remorse," which contributes to email fatigue.
Costco's unsubscribe survey includes this answer choice—which is warranted since the retailer has traditionally sent epic-length emails that include dozens and dozens and dozens of calls-to-action. If a lot of opt-outs are driven by this reason, then that might be evidence to change their messaging and design approach.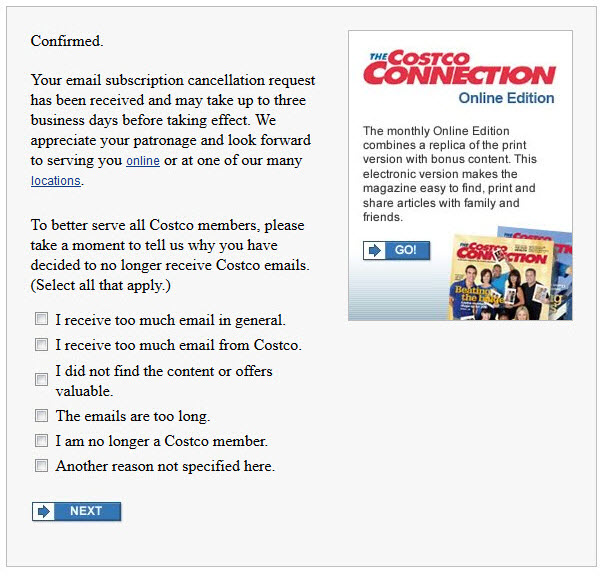 "Email is not mobile-friendly."
Desktop-centric email designs make mobile users work really hard—pinching and zooming, swiping, and more swiping—to read and interact with an email. Most subscribers will eventually give up, either ignoring the emails or opting out.
Action: Since the majority of brands have adopted mobile-friendly email designs, it's becoming increasingly dangerous to have a desktop-centric email design. If you're trying to build a case to move to mobile-aware or responsive-aware email design or a more sophisticated responsive or hybrid email design, then this answer choice can help supply evidence. But if you're not encountering institutional resistance, then you're better off just upgrading your design. The majority of emails are read on mobile devices and that trend shows no sign of reversing.
If you need help, check out Litmus Community Templates for free email templates to get you started.
The Direct Marketing Association's unsubscribe survey includes "Format is not User or Mobile-friendly" as an answer choice, in addition to ones about relevancy and frequency.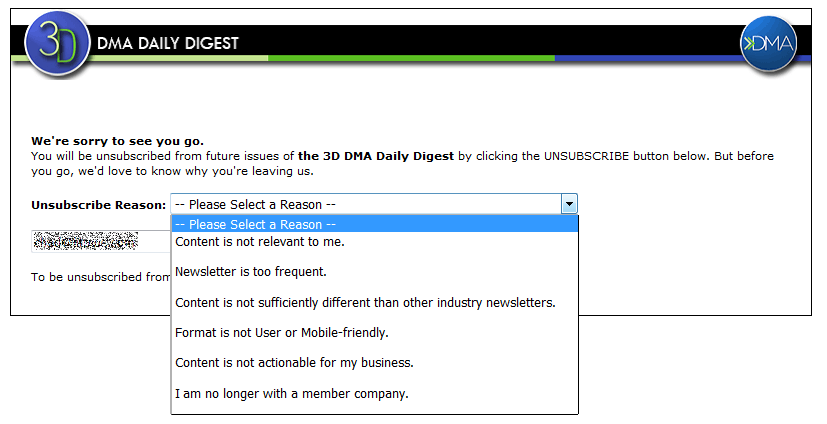 "I'm no longer a member/subscriber/user."
Getting updates, promotions, and other content from brands doesn't make sense if they have to be a member, subscriber, or user to take action on that content and they no longer qualify.
Action: You could have a win-back offer on the page that follows the submission of the unsubscribe survey, but most likely you'll want to take action via another channel or through a sales person, depending on the situation.
Costco and the DMA's unsubscribe surveys appropriately include this as an answer choice.
"Other: ________"
This answer choice gives your subscribers a space to list some other reason for unsubscribing, such as having had a bad customer experience, which our research found was a pretty common reason for opting out.
Given the charged political climate in the U.S. and elsewhere, having this open field may also capture any political sentiments driving unsubscribes. This has been the case during the #DeleteUber movement, where upset users were tweeting screenshots of the "details" field on the delete account page of the mobile app where they were expressing their displeasure with Uber.
Action: Collecting details on bad experiences can help you identify problems with employee training, corporate policies, partners, or other issues.
Adapting to Consumers' New Definition of Spam

Understand consumers' current definition of spam and why they end email relationships with brands with this ebook, which is based on a survey of 1,300+ American adults.
So those are some traditional unsubscribe survey answer choices. Next, let's look at some…
New Unsubscribe Survey Answer Choices
Our Adapting to Consumers' New Definition of Spam research found that subscribers are thinking more in terms of brand experiences and not just email experiences. That means that subscribers opt out and report brands' emails as spam for reason that extend beyond the inbox.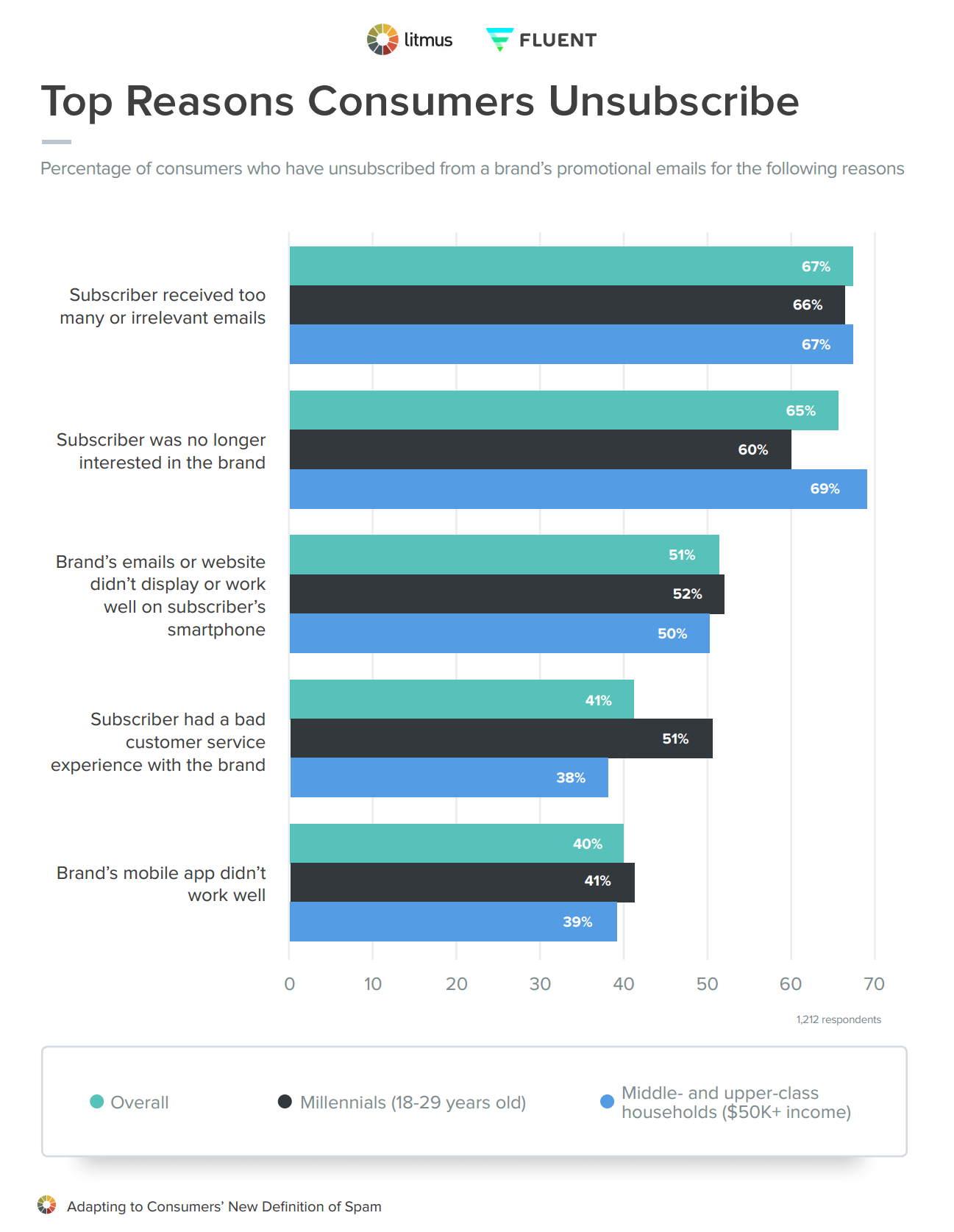 Unsubscribe surveys should reflect this, capturing that feedback to make improvements that often require action outside of the email marketing team. Here are some new answer choices to consider:
"Your website doesn't work well on my mobile device."
Having mobile-friendly emails isn't enough. The end-to-end conversion process has to work on mobile devices.
Action: If many subscribers are opting out because your website isn't mobile-friendly, this is helpful data to share with the folks that oversee your web operations. This evidence should be used to justify resources to make improvements.
"Your mobile app doesn't work well."
Again, having mobile-friendly emails isn't enough if it just leads to an app experience that's frustrating. Consumers demand a consistently good experience across all the channels they use.
Action: Share that subscriber feedback with those responsible for your mobile app so they can work on improvements.
All of Your Options for Your Unsubscribe Survey
Taken all together, here are 10 answer choices you should consider for your unsubscribe survey:
"I never signed up."
"Email is not mobile-friendly."
"Your website doesn't work well on my mobile device."
"Your mobile app doesn't work well."
"The emails are too long." (And other content and design issues.)
"I'm no longer a member/subscriber/user."
"The emails aren't relevant to me."
"The email deals weren't as good as I expected."
"I receive too many emails from you."
"Other: ________"
Depending on the unique circumstances of your brand or unique elements of your email marketing program, you may want to include other options as well. But those choices will help you identify whether you're failing to be respectful enough, to provide an acceptably functional cross-channel experience, to deliver enough value, and to avoid serious customer or brand experience issues.
Make it to the inbox, not the spam folder

Identify issues that might keep you from the inbox and get actionable help for how to fix them with Litmus Spam Testing.