Email is a 1:1 communication. Typical "batch-and-blast" emails don't cut it—your recipients are expecting personal emails that are relevant to them. As a result, targeted, segmented emails perform better. Case in point, we saw a 209% increase in open rates from segmenting our lists with geolocation data! Here's how to use email client open data to segment lists and make the most out of your next email campaign.
After creating an iPhone-compatible trade show app, Ferguson Enterprises, the largest wholesale distributor of plumbing supplies in the United States, wanted to ensure that only iPhone customers were receiving emails with a call-to-action (CTA) to download the app. After all, Android or BlackBerry users certainly wouldn't want to receive that email—how's that for irrelevant content? With their Litmus Email Analytics data in hand, Ferguson was able to appropriately target their iPhone users—and their efforts are paying off.
EMAIL OPEN DATA INSPIRES A MOBILE APP
Historically, Ferguson's customers have been known to be "technology averse" or late adopters of technology. But after discovering their email mobile audience was steadily increasing, Ferguson's interest in creating a customer-facing app was piqued. They wanted to start their mobile app investments wisely, so they took a look at their Email Analytics open data to determine which devices their first app should support.
Discover your top 10

When it comes to email marketing, it's all about your audience. Use Litmus Email Analytics to discover which email clients are most popular with your subscribers. Sign up free!
Their Litmus Email Analytics open data revealed that over 80% of their mobile audience was opening on iOS devices. With that knowledge, they opted to prioritize the creation of an iOS app over an Android app.
Ferguson hosts over 70 trade show and other events around the country every year. At the events, Ferguson customers demo products, network with vendors and associates, and receive trade show specials. With the help of Whereoware, Ferguson created the Ferguson Rewards App, enabling users to easily register and check-in at trade shows, receive coupons, and enter contests at events.
While the app was extremely useful, Ferguson also recognized an opportunity to utilize email as a way to highlight features and encourage usage of the app.
GETTING THEIR EMAIL PROGRAM IN-SYNC
In the past, Ferguson sent emails to small groups of customers, inviting them to attend a specific event. Registration for events took place in person—and pre-event registration was impossible.
At the event, the Ferguson team distributed registration cards that were manually filled out by attendees—including email address and other contact information. Once the team returned to the office, this data was manually entered into their Email Service Provider (ESP).
Needless to say, between poor handwriting, bottlenecking, and attendees omitting email address from their forms, Ferguson wasn't collecting many email addresses—and the ones they did collect didn't always come with other required information. In addition, historic data was not being stored for repeat attendees. As a result, follow-ups from trade shows were nearly impossible, too.
All these challenges meant that the Ferguson team was left with an incomplete and inaccurate email list after every event, and they knew they were missing out on major opportunities for post-event follow up and upsell messaging. Enter: the Ferguson Rewards trade show app.
Geo + app-targeted registration emails

With a zip-code radius table, Ferguson is able to email their customers located within a 20-mile radius of the event location. The email to the right is sent 14 days prior to the event.
The email includes details about the trade show, as well as a link to register for the event. In addition, if the recipient has previously opened an email on an iOS device (Ferguson found this information in their Email Analytics data), the email will include a secondary CTA to download their iOS app. Lots of segmentation!
This email was also part of an automated nurturing program. If subscribers hadn't registered for the event, they would receive another email seven days later informing them that spots were filling up fast; and then another email 48 hours prior to the event to encourage registration once again.
Event registrants were sent confirmation and reminder emails about the trade show leading up to the event.
These messages were tested in Email Previews to check for proper rendering and functionality across a wide array of email programs (including iOS devices!).
USING ATTENDANCE DATA FOR POST-EVENT FOLLOW UP
Long gone were the days of handwritten registration cards! Both pre-registered and on-site attendees were able to check in easily on a tablet. Thanks to this simplified registration and check-in process, Ferguson collected hundreds of new email addresses for current customers, and sent targeted follow up emails to attendees and no-shows.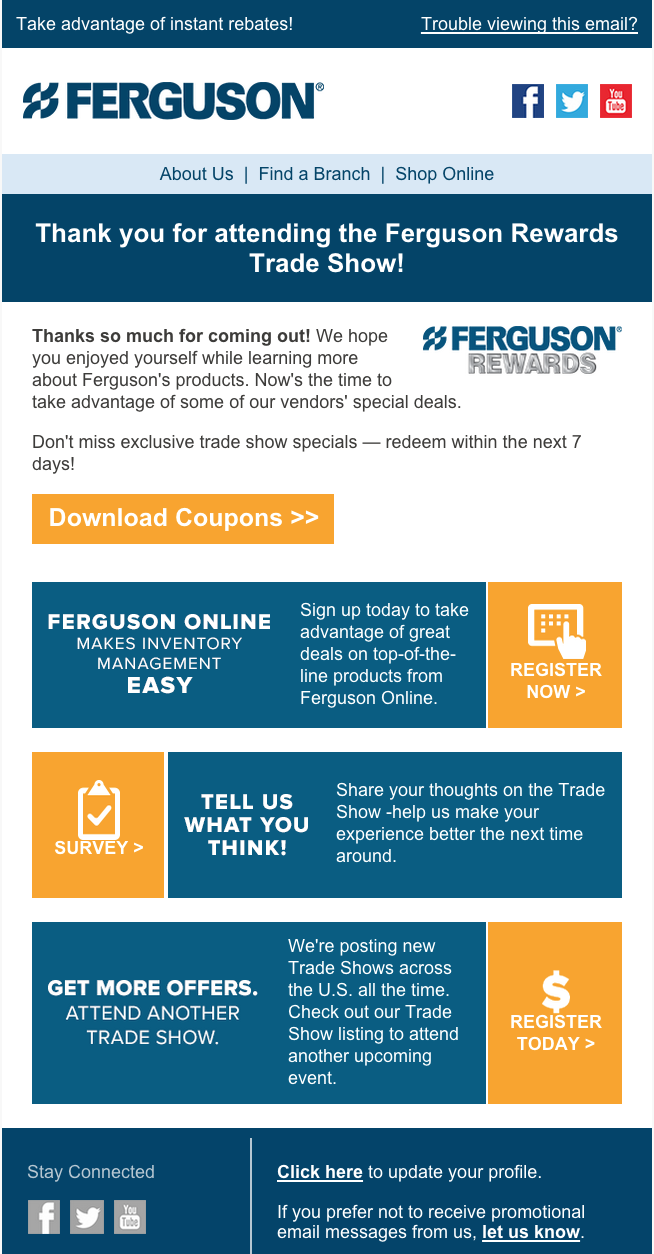 The previous years' problems with bottlenecks, skipped registration, and illegible information was solved with the adoption of digital check-in and registration. Not to mention, these streamlined processes allowed attendees to quickly check in with a swipe of their phone via the mobile app.
APP-SPECIFIC TRIGGERED EMAILS
In addition to segmenting their trade show emails based on email open data, Ferguson also created an email specifically for driving app downloads.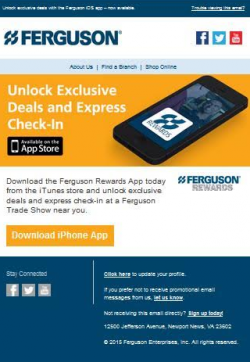 This triggered email is only sent to customers that have opened on an iOS device within the past 48 hours, and has performed better than any other trade show emails to date!
THE RESULTS
Ferguson and Whereoware set an initial goal of 100 app downloads—the return from 100 extremely engaged customers was enough to pay for the program. They've far surpassed that initial goal with 389 downloads—and more than half of the trade show calendar left!
The app-specific emails have seen great results, boasting a 61% open rate (a 135% increase from their average sends!) and around a 7.2% conversion rate. Relevant email content = happy customers!
The team at Ferguson is looking forward to continuing to segment their lists and trying new techniques to provide their customers with the best email experience possible!
TARGET + OPTIMIZE YOUR EMAILS
Segment your lists and optimize your emails with geolocation, engagement, and email client stats. Use our free trial to optimize your emails like never before.
Most Popular
Don't Miss Litmus Live 2022 this Fall!

The Premier Email Event by Email Pros, for Email Pros.
From Anywhere–and Any Budget.

Learn More