The Gmail promotions tab is a marketer's ally because context and setting matter.
Imagine how you'd feel if someone asked you to review a lengthy contract just as you open your eyes in the morning versus after getting into the rhythm of your work day. You'd process the information differently depending on the scenario, right?
Similarly, marketing emails make more sense in the promotions tab than the primary inbox. Seeing a memorial day sale promo in between messages from coworkers and family is, well. Jarring, to say the least.
How does the Gmail promotions tab really work, though? And how should marketers work with it? This guide reviews what the promotions tab is and why emails go there so you can work with one of the leading inbox clients, not against it.
What is the Gmail Promotions Tab?
The Gmail promotions tab is an inbox for marketing or sales deals, offers, and newsletters. In the promotional inbox, you'll find messages from businesses that aren't in your contacts, like retailers.
Gmail introduced tabbed inboxes in 2013 to help people focus and find information quickly. You're likely to miss important emails if every message, from your nephew's birthday party invitation to a meeting invite and an abandoned cart message from a dog food company, goes to the same inbox. 🙈
Currently, Gmail has inbox tabs for five categories:
Primary

personal emails from people you know

Social

updates from social networks

Promotions

emails from companies and organizations

Updates

like receipts, confirmations, and bills

Forum

messages for online groups and message boards
There are also 'top picks' or 'top deals' within the promotions tab that Gmail recommends based on subscriber activity. The Gmail promo tab also has paid ad spots, but this guide doesn't cover them.
What are the benefits of the promotions tab for email marketers?
Gmail created the promotions tab to organize the inbox, but the dedicated space helps teams who send promotional content. Here's how the Gmail promotions tab benefits email marketers:
Subscribers who visit the promotions tab are in a shopping mindset

Marketers can customize deal badges and images in the inbox

Improved email deliverability and inbox placement

More efficient use of email real estate

Better organization and segmentation of email campaigns
Understanding how Gmail's Promotions Tab works
Does an email fairy read every email once you go to sleep and sort it into the Gmail promo tab? Nope, it's machine learning.
Okay, you didn't assume it was a fairy in the first place, but understanding how Gmail's algorithms work does feel a bit abstract. The exact factors and formulas Gmail uses to identify promotional emails are a secret. Still, they tell us a little about how they sort messages.
Criteria for emails to appear in the Promotions tab
Gmail identifies promotional emails with machine learning that considers factors like:
Who the email comes from AKA the sender

Message content

How users interact with similar content
For example, a message from someone with the same email domain as you are probably a coworker, so Gmail puts the message into your primary tab. An email about a BOGO sale with an 'Explore the sale now' CTA button goes straight to the promo tab, though.
Since you want your promotional emails to end up in the promotional tab (and not the spam folder!), there are general best practices, like:
Technical requirements for designing emails to fit the tab format
Gmail automatically pulls information from your emails to build your promotions tab preview. However, annotations allow you to control how your Gmail promotions tab email appears. 
Some of the details you can annotate include:
Logo

Discount codes

Images 

Currency 
How to stop emails from going to the Promotions tab
Potentially controversial take: You shouldn't try to game the system and force your promotional emails into Gmail's primary inbox. The Gmail promo tab is NOT the spam folder. In addition to the promo tab priming subscribers for sales messages, trying to take control of your subscribers' inboxes isn't respectful. 
Part of making every send count is building trust and rapport with subscribers, which means respecting their settings. 
Gmail users can turn off default inbox sorting to revert to a single inbox tab. Some research suggests that only about a third of accounts maintain separate Gmail tabs, so trying to evade the promo tab may be fighting an imaginary battle.
Promotions Tab features and how to use them
The Gmail promotions tab is constantly evolving. Here's how to use the current promo tab features. 
Product Carousel
You shouldn't rely on open rates to track email performance, and Gmail's product carousel doubles your chances to increase clicks. In addition to linking to products within your email, you can display up to 10 product cards that link directly to the listing on your website. The cards also allow you to stand out in the inbox with eye-catching images, product names, and prices. 

Gmail automatically extracts details, but you can choose exactly how your product carousel appears by inserting annotation code. Check out some examples of code you can use to do this here.
Deal Annotation
Another way to catch subscriber attention in the inbox is with Gmail deal annotations. You can describe the offer (like 10% off), share a promo code, and include a sale end date below your subject line and preview text. Adding deal annotation effectively doubles the information you can use to entice someone into your main message.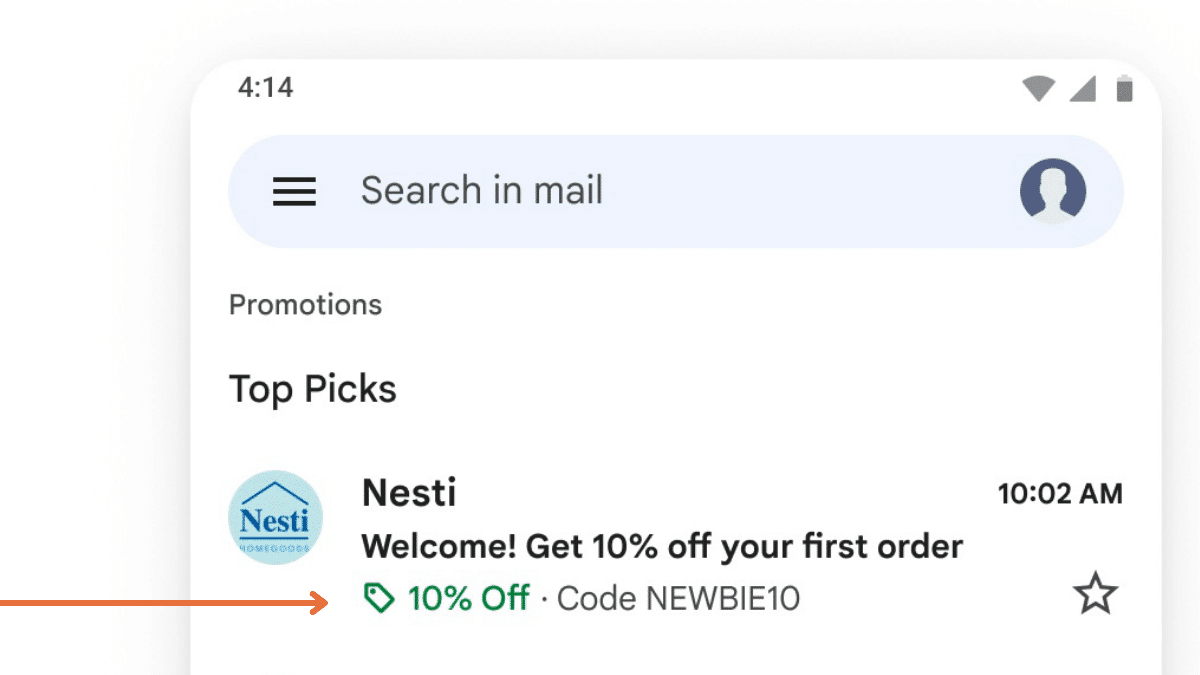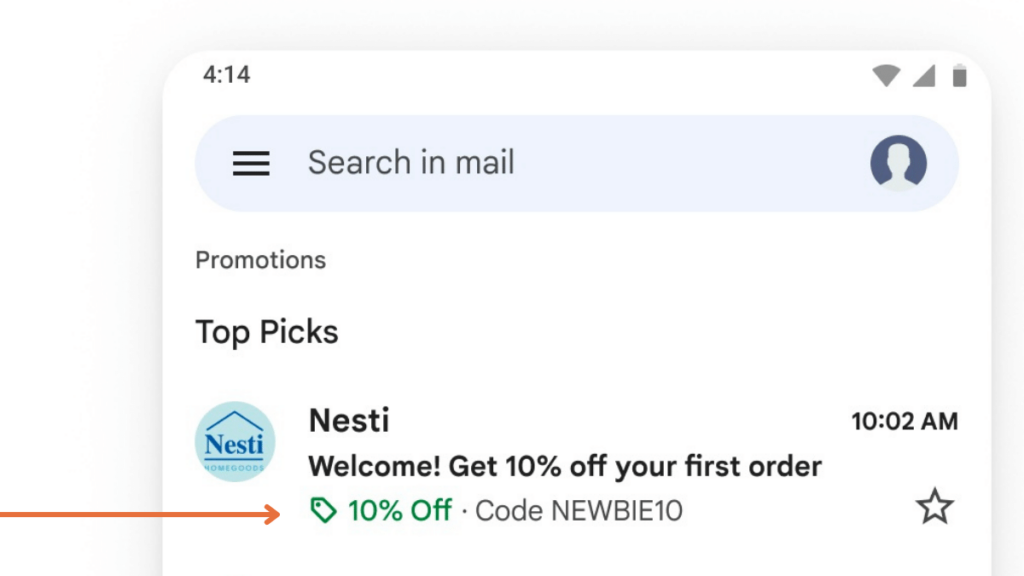 Similar to product carousels, you can customize deal annotations by inserting annotation code. Check out some examples of code you can use to do this here.
Optimizing emails for the promotions tab
Every email you send should consider email design best practices like:
Organized layouts

Clear imagery

Live text

Bulletproof CTA buttons

Accessible design
Psst… There are a few Gmail promo tab-specific tips to optimize your messages, too. 
Implement BIMI
BIMI is an email specification allowing you to display your logo next to your emails, which makes them quickly recognizable in the inbox. On top of grabbing subscriber attention, having your official logo next to your promo tab email preview builds trust that you are who you say you are. 
You can learn all about getting started with BIMI here.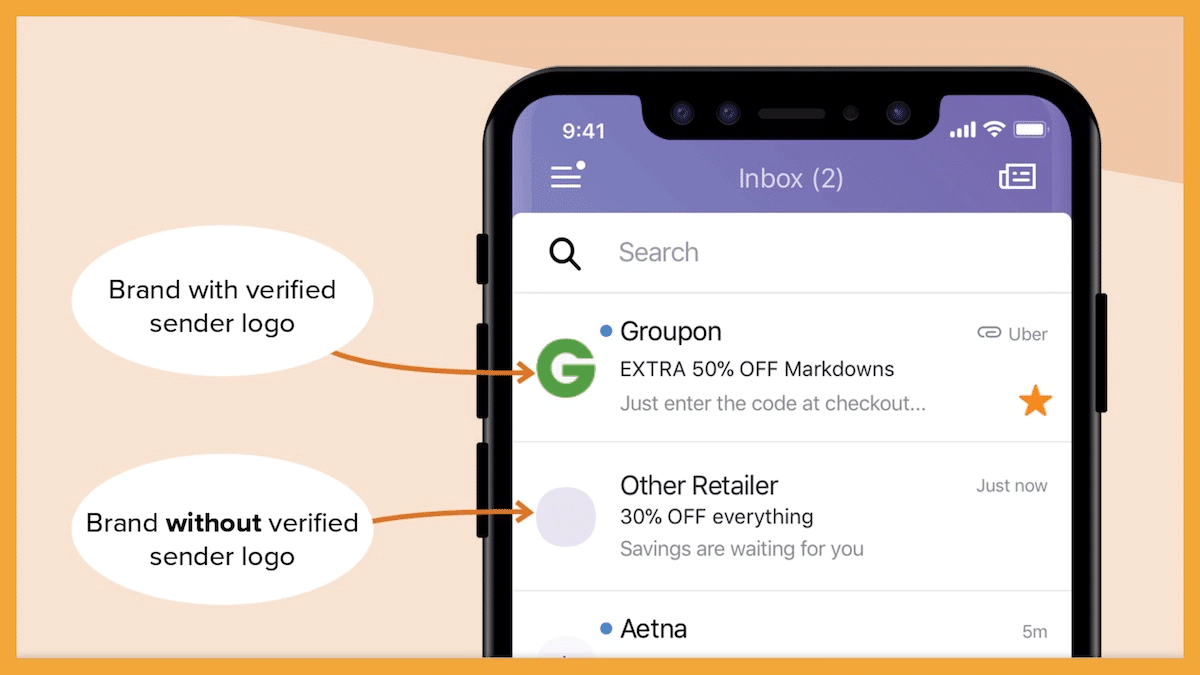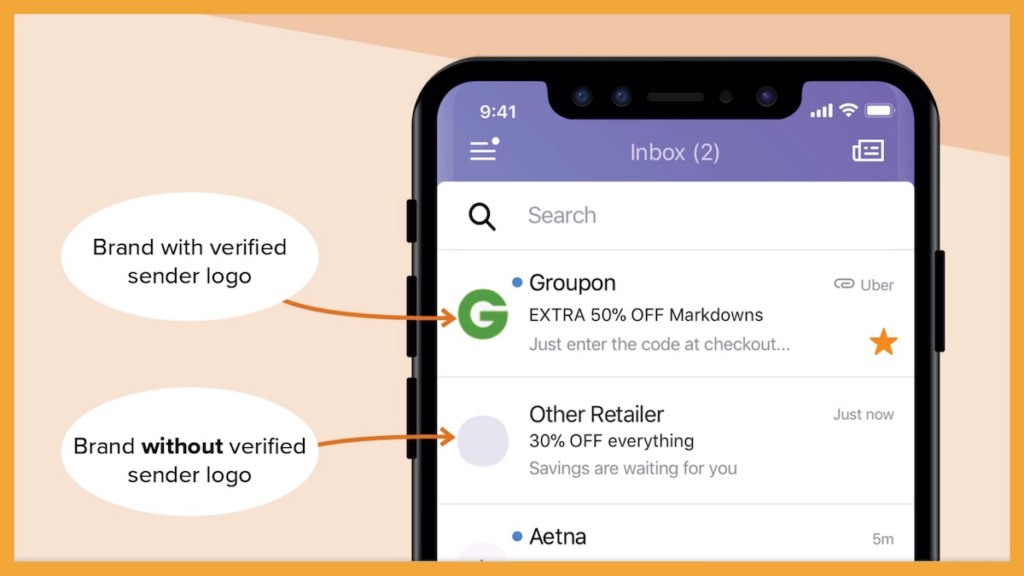 Source: Litmus' Getting Started with BIMI Guide
Write specific deal badges
The text in your deal badge needs to be clear and concise. Opt for something like "15% off everything" or "free shipping" instead of "Big discounts on all of our new arrivals."
Use the correct image format
Gmail has a few guidelines for choosing the best images for your product carousel:
Avoid text

Use a

4:5, 1:1, or 1.91:1 aspect ratio

Don't repeat images between emails

HTTPS (not HTTP) for image URLs
Leverage expiration dates
Including expiration dates in your promo tab email annotations gives you two opportunities to preview in the top picks section—when you send it and within three days of the expiration date. That means you should include a correctly formatted expiration date for limited-time deals for maximum reach. 
Litmus partners with Gmail to help email marketers get the most out of Gmail's Promotions tab
Don't just take it from us! Learn about the promotions tab straight from the experts at Google in this exclusive webinar. 👇
And that's all from us, folks. These are just a few of our favorite ways to utilize the power of the Gmail promotions tab. If you've got questions, comments, concerns, or spotted anything we missed, feel free to hit us up on Twitter or drop us a line at hello@litmus.com.
Originally published by Bettina Specht on December 5, 2018. Last updated April 21, 2023.