Hey, all! I'm Adnan—Litmus' newest Senior Designer. I'm thrilled to join the Litmus team and have already been enjoying creating beautiful experiences for our subscribers.
MY GROWING APPRECIATION FOR DESIGN
Among many things, I share a deep passion for simplistic and elegant user experiences. But, that didn't happen overnight. Ever since I was young, I had a strong passion for computers and technology—particularly word processors and an online gaming community called "EA Play." However, I didn't have an appreciation for design or art at all.
It wasn't until I joined another online community—this one focusing on creating forum signatures—that my interest in design was piqued. With my growing curiosity, I got a copy of Photoshop and dived headfirst into learning the art of design. Within 18 months, I had become one of the most respected members of the community.
Overtime, the signature experience felt limiting, so I broadened my scope to web design. I entered a few design contests on 99designs—and won 3 of them within a single month! It was a major personal accomplishment and it was an indescribable feeling to bring my original ideas to the table, have them appreciated, and get paid for it!
DESIGN: AN ART THAT CANNOT BE TAUGHT
I've always considered design a form of expression, rather than something that can be learned in a class. So despite my growing passion for design, I opted to pursue a degree in finance instead. While in school, I established myself as a part-time freelancer on ODesk and began contracting design projects on the side in an effort to get my name—and my designs—noticed.
Eventually, I was approached by a Boston-based real estate startup called Placester for a design position. It was incredible opportunity that allowed me to work on everything from critical product enhancements to promotional marketing materials and anything in between. Working with and influencing the various departments with my creative freedom was truly a thrill.
After taking a temporary hiatus from design to pursue my finance career and complete my CFA level 1 exam, I could no longer resist my passion for UI and UX design. With my spree of career indecisions behind me, I threw myself into design. I began doing contract design projects once again, as well as contributing on designer communities like Dribbble.
One of my first big projects after diving back into design, was working on a SaaS product called ProjectPulse, a status page application for client-side communication. It was an exciting venture because I was able to build the project from the ground up and see it become a functional product—it was an extremely rewarding experience. I also contributed on an ad-hoc basis to a business management SaaS product called Avaza. My contributions have involved improving the UI and creating a better experience for their users. Lastly, before starting at Litmus, I worked on a redesign of an Australian publishing giant, InStyle Australia. With such a large daily viewership, a proper balance of design and user friendliness was key for this project.
BRINGING MY DESIGN TALENTS TO LITMUS
Combining my love for the fast-paced startup culture and a strong appreciation for design, I was extremely excited to take a position at Litmus. Though I just started a short time ago, I've already been working on some exciting projects—and I'm looking forward to seeing what's to come.
My first project at Litmus was revamping our newsletter subscription page. The goal was to encourage viewers to subscribe to receive the latest email trends and news, as well as display a helpful history of past newsletters. With the freedom to design the page as I deemed best (which is heaven to any designer!), I'm pretty thrilled with the results!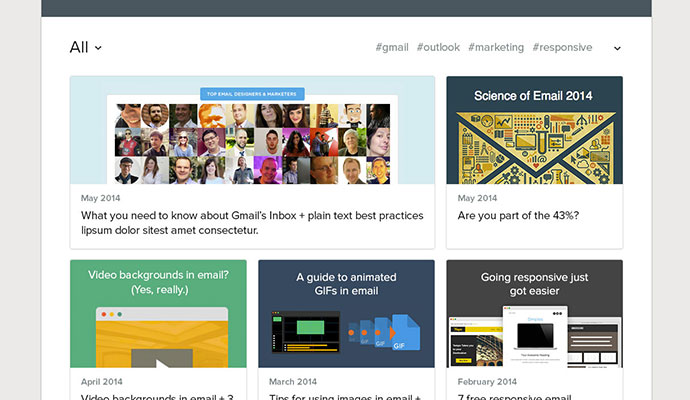 Springing to my next project, I began working on creating an additional section within the Litmus Community for code snippets. This was a particularly fun project to work on because I was faced with the challenge of building previews for code blocks, all while developing interactions that would integrate with Litmus Builder. It was a challenging yet rewarding project that involved expanding workflows, wireframing, and working with various stakeholders on the implementation.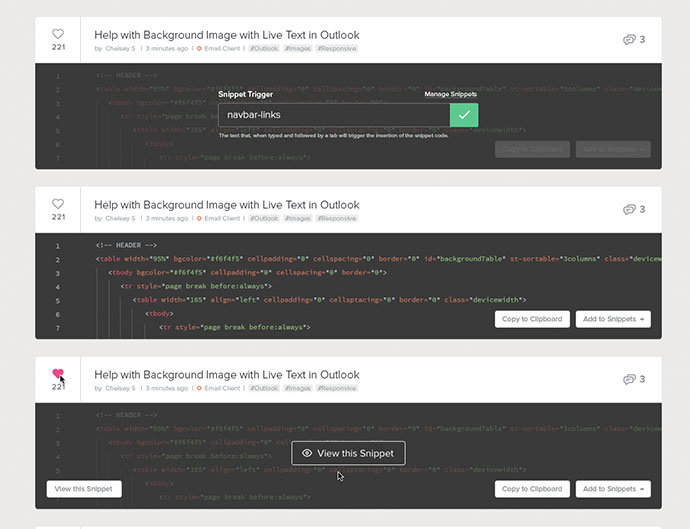 Some big projects in the works…
We're always on the lookout to find opportunities to strengthen our product offering and add value to our users—all while simplifying the user experience. One way of accomplishing this is through design—which is one of the reasons why I love being a designer. We've been hard at work exploring several design ideas in anticipation of bringing some exciting new advances to the product! We can't wait for you to see what we have in store.
JOIN ME ON THE LITMUS TEAM
Between catered lunches, top notch equipment, 28 vacation days, and so much more, Litmus is a great place to work. And, guess what? We're hiring!