Email inboxes get filled with any number of different types of communications. From transactional emails, personal conversations, business memos and promotions, inboxes are a mess of messages. So it's no surprise you might still hear the question, "Is email marketing dead?" Trying to stand out in the crowd can be overwhelming. How do you talk to your audience in a way that makes them pay attention?
Fortunately, it's just bad email marketing that's dead. Here are seven principles to follow to make sure your email is the one that gets opened.
1. Send emails at the right time of the day
If your email is received in the middle of the night when subscribers aren't actively checking their inbox, it's likely to end up getting ignored, pushed to the bottom of an already overflowing inbox. Over 20% of email opens occur within the first hour of sending, and 30% within the second hour. The takeaway? Determine when your audience is actively engaging with their email, and optimize your email marketing schedule around that.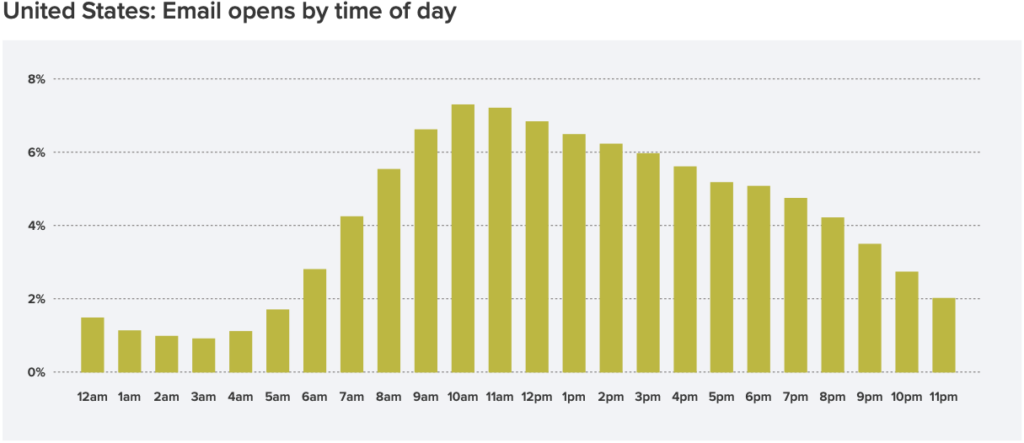 Litmus' analysis of email opens found that North American, Australian & New Zealand opens tend to happen in the morning, around 10am local time. European opens, however, seem to spread more consistently from 8am to 5pm, with a slight bump around 4-5pm as they head home for the day.
Use email marketing platforms to schedule emails for the best time of the day for your audience. Measure baseline open rates and test different timings to optimize open and click-through rates. If your customers are located in different time zones (and whose aren't these days?), find an email hosting provider, like HubSpot, with timezone support. What works for your customers in the UK, might not work for your American customers.
Find out when your subscribers open emails

Dive deeper into email engagement with Litmus Email Analytics. See where your subscribers open, when, and for how long. So you can see what's working and optimize your email program.
2. Personalize subject lines
Hey |F-Name|!
In 2021, personalization will need to be more than just calling a customer by their name to get their attention. We need to be smarter about how we tailor content to a customer's personal needs.
Customer actions, such as abandoned carts, page views, and contact engagement can show us exactly what the customer is looking for. Demographic information, such as their location, industry, and company name, can be used to further personalize subject lines and offers.
The meal-plan service below personalizes the email subject line to show this week's order has been skipped. This makes the content more relevant to the user than a generic message about the upcoming menu.

Customers want marketers to pay attention and personalize their offerings. In fact, 90% of Americans find personalized marketing content to be somewhat to very appealing, and 82% of marketers report an increase in open rates when email is personalized.
Use the data you're already collecting in your customer relationship management (CRM) tool to make emails hyper-relevant to your audience. While it takes additional time to go beyond the first name, that time pays off by grabbing your subscribers' attention.
3. Optimize emails for mobile viewing
Over 40% of all email opens are by mobile users. People love checking their email on their mobile devices, and they should hopefully love viewing your email on their mobile device.
But too often, emails are difficult to read and interact with on the small screen. Whether they are poorly formatted, contain images with too-small text, or are simply unreadable, 70% of people report deleting these unhelpful messages in under three seconds. That's not enough time to get your message across! Furthermore, 15% of people go even further and unsubscribe. No one wants junk in their overflowing inbox.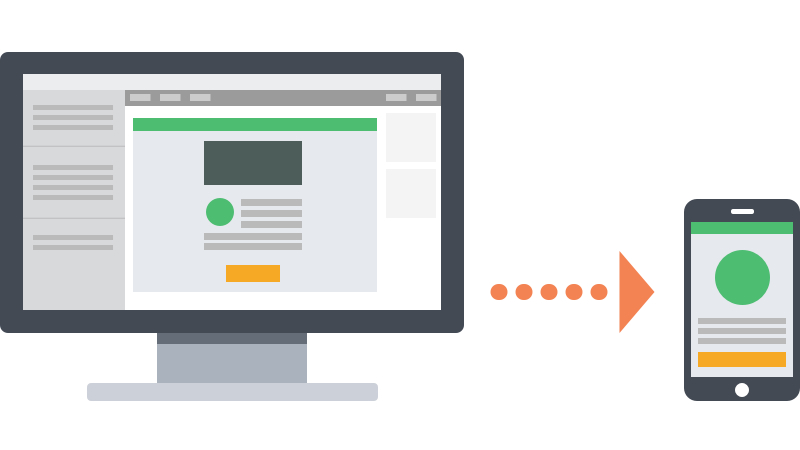 To make sure your emails look just as good (or better!) on mobile devices, follow these three principles:
Size is everything. While a hero image may look great on your desktop monitor, consider how it will look on a mobile screen. Are those details still going to pop? Consider having detailed images automatically swap out to simpler images when viewed on a smaller screen.
Fingers are not precise tools. Make buttons and links big enough so that readers can tap on them easily. Fingers cover approximately 45 pixels on a screen, and V12 suggests adding a 10 pixel padding to account for clumsy fingers.
Consider loading speeds. Big images and files won't load as nicely on a mobile network. Keep file sizes small so they load quickly.
4. Optimize your email preview text
Email preview text is the snippet of copy shown after the subject line in many email clients. Contrary to what you may believe, it's not just the first sentence in your email—you have control over what recipients see here. And it's important to many of your readers: 24% of your audience looks at this text first when deciding whether to open your email.

If you don't take the time to test and optimize your preview or preheader text, you might accidentally show recipients behind-the-scenes ALT text that you didn't intend to, such as "view this email in your browser" or "hero-image.jpg": not exactly the catchy copy you want to be known for.

Instead, use the preview text as a second subject line:
Add personalization.
Sum up the email.
Add a call-to-action.
Highlight an important message.
If you need assistance setting up your preview text to display correctly, Litmus has you covered with their Ultimate Guide to Preview Text Support.
Never send a broken email again

Create on-brand, error-free emails. Every time. Automate your QA testing with a guided check of your subject line, preview text, mobile rendering, links, and more.
5. Use micro-level segmentation to provide relevant content
Micro-marketing or microsegmentation is the process of narrowing your audience to the smallest niche possible, in order to deliver the most personalized, useful content. Think of it as the difference between putting up a billboard on a busy highway, and having a conversation at a local networking event that ends with exchanging business cards. While more people might see the billboard, making a personal connection is far more likely to result in a new customer.
And 51% of marketers agree that segmenting email lists is one of the best ways to personalize their marketing messages. These targeted emails result in 58% of revenue for the marketers surveyed.
To segment your email marketing lists, start by taking stock of your current audience. What do you know about them already? What data do you have stored in your CRM that you can use? Create a list based around a specific persona using attributes such as their position, location, and recent purchases. Then, create a marketing campaign designed just for them. While it may take more time to craft micro-level marketing compared to mass marketing, the return on investment is more than worth it.
6. Send personalized automated emails using behavioral triggers
Behavioral triggers are strong signs that your customer is interested in what you have to say. Whether it's visiting your website, interacting with other emails, or completing a form, these actions showcase your prospects' openness to hearing from you.
Automated emails are communications triggered by an event (such as a customers' birthday or a purchase), and they are some of the most valuable tools in the marketing toolbox. In fact, a third of brands generate over a quarter of their email-based revenue through triggered emails.
To effectively use behavioral targeting to catch your audience's attention:
Identify the high-value triggers that lead to conversions for your business, such as form completions, free trial sign-ups, and email opens.
Personalize the automated emails that are triggered using data from your CRM to ensure the content is relevant and targeted.
Experiment and optimize your triggered emails using different calls-to-action and next steps to see what results in the highest open and conversion rates.
7. Send fewer emails, whenever possible
Quality over quantity, my friend. Sending an email every day is not the way to win over your audience's hearts and minds. Instead, they're likely to get into the habit of automatically archiving the email as their eyes glaze over the same content you've sent every other day.
To stay novel and relevant, be mindful of people's overflowing inboxes and make sure to send only the most relevant information they need. New product? Absolutely. Big sale? For sure.
Secondly, having permission to send emails to someone is a gift. Take care of this gift by respecting their privacy (not selling or sharing their emails to partners or third parties), and following anti-spam or privacy regulations like GDPR.
Only sending customers the emails they've agreed to receive has a huge positive impact on your email deliverability as well. In reality, sending fewer emails will actually help you get more emails in front of your customers.
Email marketing still grabs your customers' attention in 2021
Email is still a direct line to your customer. Getting customers to open the email once they've received it is quickly becoming the hardest part. But fortunately, we have the tools to measure what's working, and target customers based on the indicators they give us.
Think about your own email habits. What emails do you immediately open and browse through? Which ones are you in the habit of deleting without reading? Personalized, hyper-relevant emails that are easy to read and interact with, regardless of which device you are using will always win.
Create emails that subscribers love

Break through the noise and improve the subscriber experience with Litmus. Ensure your emails look great and drive results with our all-in-one, easy-to-use set of solutions.
This blog post was written by Irina Nica. Irina is a marketer and international keynote speaker based in Dublin, Ireland. She's currently working at HubSpot, on a program called "Surround Sound", where she is focused on building awareness for the company's freemium products. Irina was also one of the Head Judges for the 2021 European Search Awards.