Everyone likes to feel special: your customers included. Segmentation and personalization in email make the message more relevant and, ultimately, more effective. Plus, personalization can make your brand stand out in a vast sea of competitors.
Imagine you have a conversation with two different new acquaintances, and one remembers a detail you mentioned in your first chat. Wouldn't your conversation (and relationship) with the person who made the interaction specific to you stand out more? The data and opinions of email marketers seem to think so. Litmus research shows that brands that use dynamic content to personalize their emails see an ROI that's 22% higher than the ROI of brands that rarely or never utilize dynamic content.
That's all great, but how do you actually put personalization into practice? We surveyed nearly 2,000 marketers about what data points they use to personalize their emails. Here's what they said.
What kind of personalization do marketers use?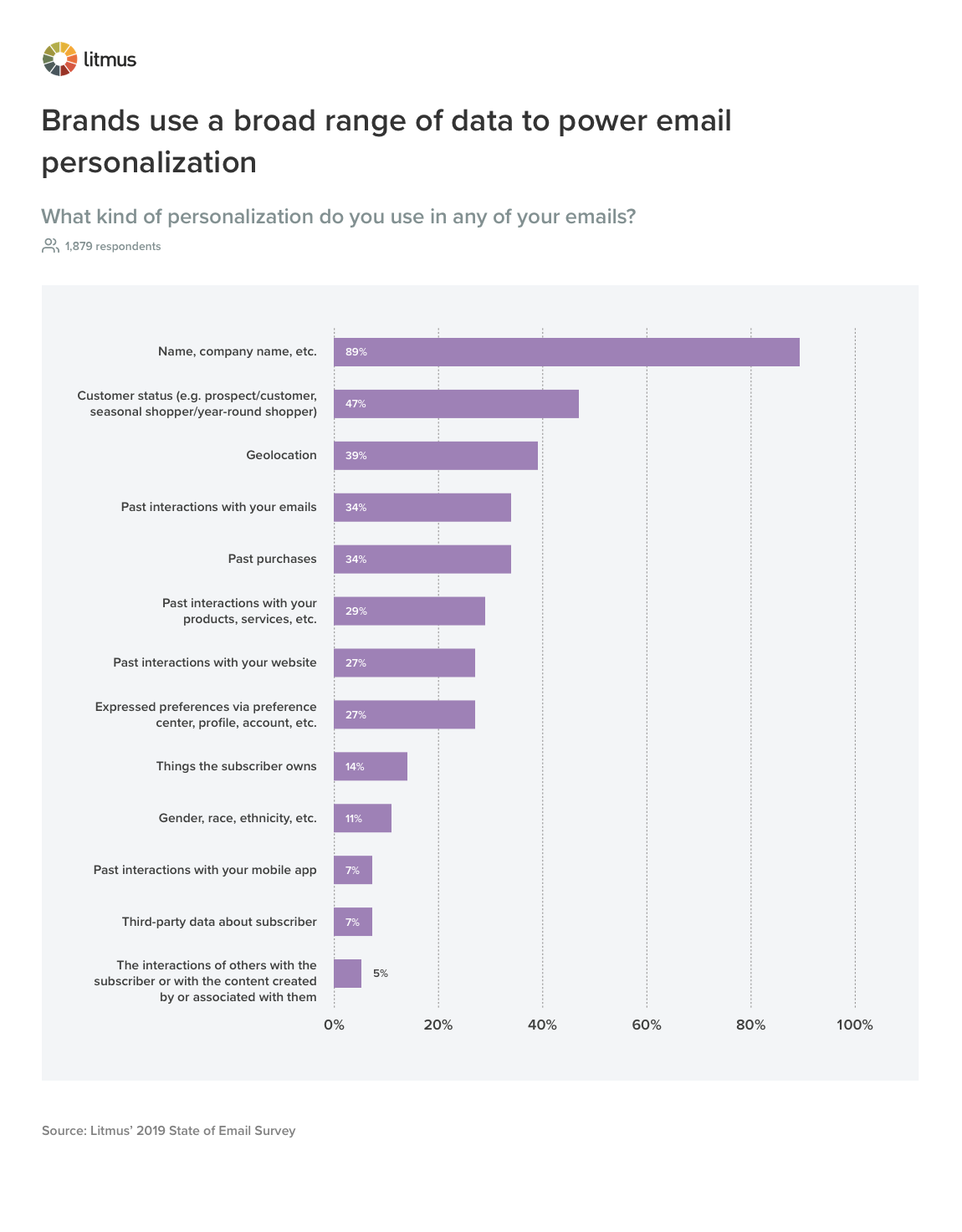 There are many ways to segment and personalize your emails, and marketers aren't afraid to use multiple tactics throughout the year. Based on the data in the chart above, it isn't uncommon for email marketers to have used nearly four different tactics.
Simpler personalization tactics, such as a user's name, are easy to include in all of your newsletters and transactional emails. Other tactics, like customer status and geolocation, could be particularly useful for specific campaigns or seasons.
Using the recipient's name is most popular
Let's start with the reigning champ in email personalization. A whopping 89% of email marketers stated that they use either a person's name or company name in their emails. This tactic is widely used for a few reasons. First, it's the easiest data to gather and implement. After all, even the shortest sign-up forms usually require a first name. Also, "first_name" is easy to slap onto any email.
There's no denying using a person's name in an email is easy and near-ubiquitous, but the question that remains is whether or not it's enough. These days, the answer is no. The fact that most companies do it means it's almost expected, and therefore shouldn't be the extent of your personalization strategy.
Takeaway: Include the first name in your email? Yes. Have the first name as your core personalization strategy? No.
Segmentation based on behavior
If relevancy is the reason personalized emails work, then it makes sense that so many email marketers segment their list and customize emails based on customer behavior.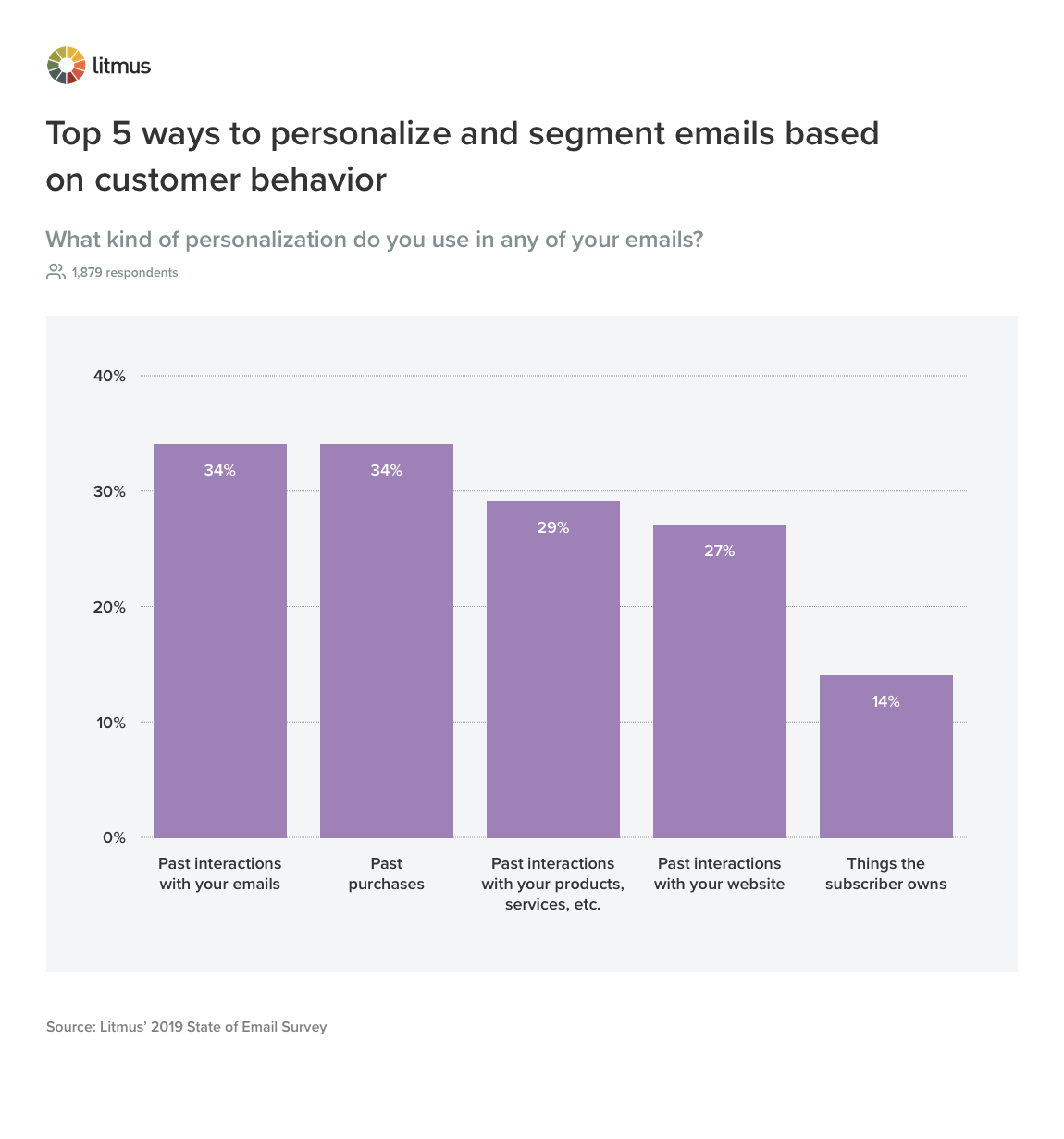 Tied for the most popular behavior-based personalization technique is a subscriber's past interactions with emails, used by 34% of email marketers. This data is handy for personalizing newsletters, onboarding, or engagement emails.
34% of email marketers also use data about past purchases to personalize emails. Knowing what a customer has bought in the past empowers you to suggest related items or upsells. Additionally, 14% of email marketers use data about what the subscriber owns, which can also be used for targeted sales emails.
A perfect example of using a customer's past shopping behavior email is the message below from Chewy. The email knows exactly what the subscriber purchased in the past and makes it easy to order it again. Plus, Chewy recommends associated items.

Following close behind in popularity is subscribers' past interactions with your company's products or services, with 29% of marketers using this data. Additionally, 27% of marketers personalize emails based on past interactions with the company's website. Someone visited your pricing page, checked out specific product deals, or left an item in their shopping cart? Those are great insights to power targeted, personalized follow-up emails. Mobile app interactions, on the other hand, are only used as a data source by 7% of marketers. All of these tactics are prime examples of how to boost the performance of your abandoned cart or re-engagement campaigns.
Takeaway: Tracking past purchases and interactions helps you send the most appropriate information or products.
Customer info (along with third-party data) makes emails unique
The other category of email personalization that our data uncovered is using customer information and preferences.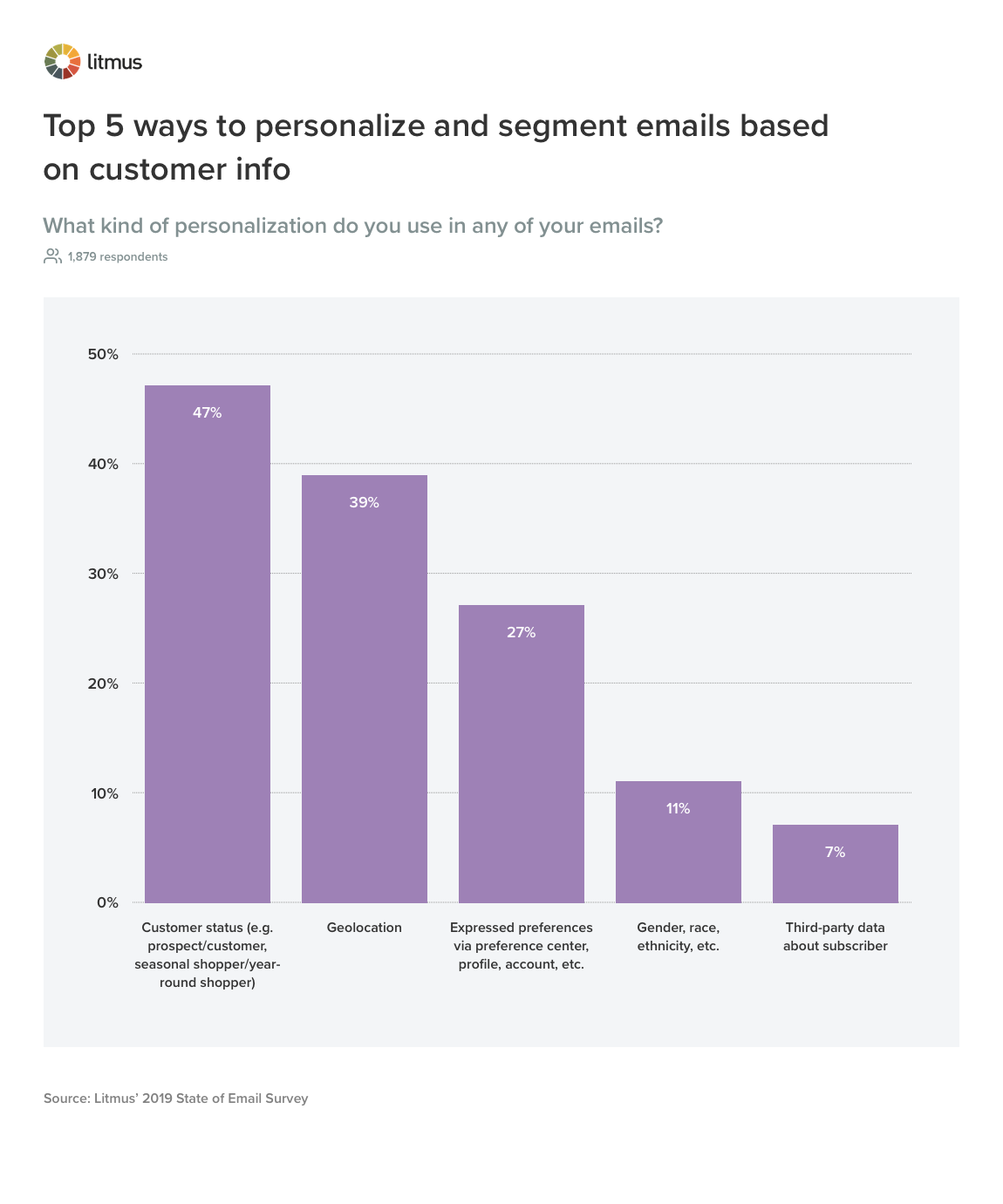 Nearly half of email marketers use customer status to personalize emails. Each company can have different customer status designations, but examples include prospect vs. customer or seasonal shopper vs. year-round shopper.
In fact, here at Litmus we personalize emails based on customer segments. The example emails below introduce the new, redesigned Litmus. Can you spot the differences? For one, this first email for prospects has the CTA "Start your trial":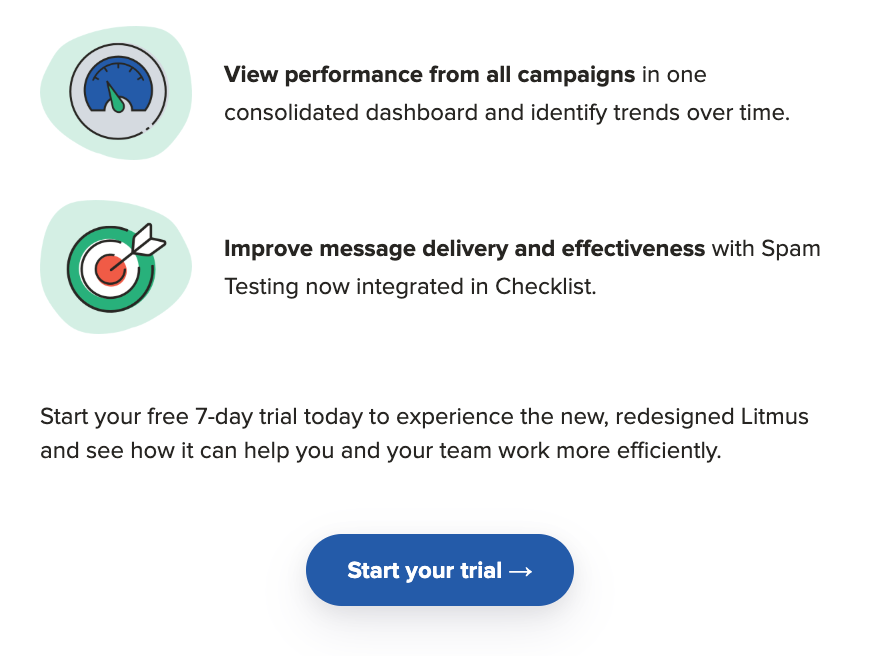 Plus and Pro Plan customers, on the other hand, received this email with the CTA "Try the new Litmus":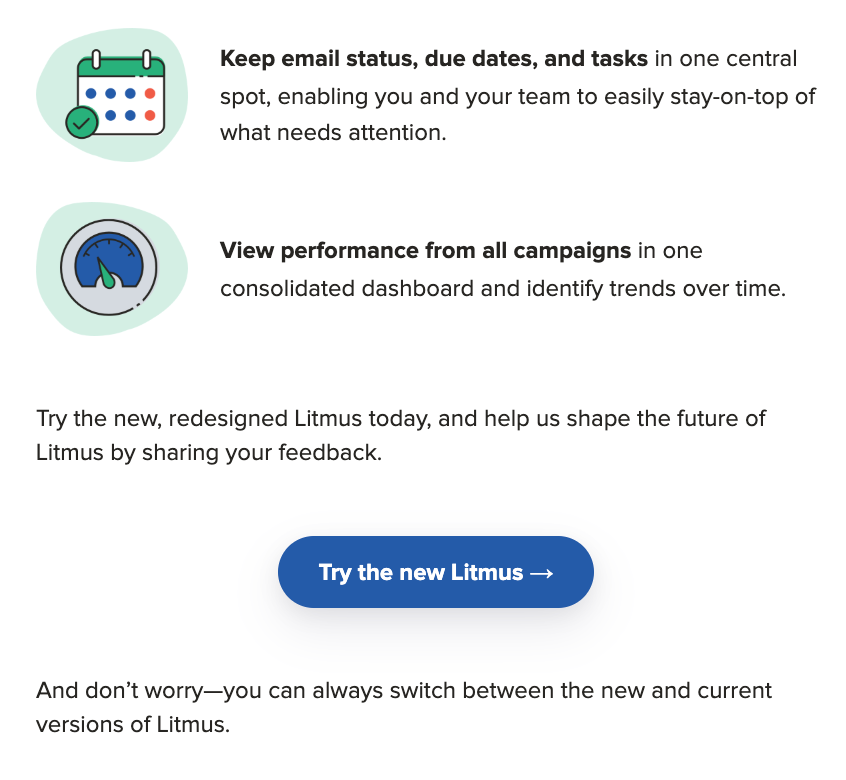 39% of marketers consider geolocation in their emails, which can mean changes in language, copy, and offerings. Tools like Litmus Email Analytics that track geolocation help you send emails at the best time for a recipient's timezone. An additional 11% of marketers use gender, race, or ethnicity to make emails more customized, and 7% use third-party data about a subscriber.
You can also learn about users the old-fashioned way by simply asking their preferences. Just over a quarter of email marketers use expressed preferences via a preference center, profile, or account. If you need inspiration for how to ask user preferences, look no further than the email from Bespoke Post below.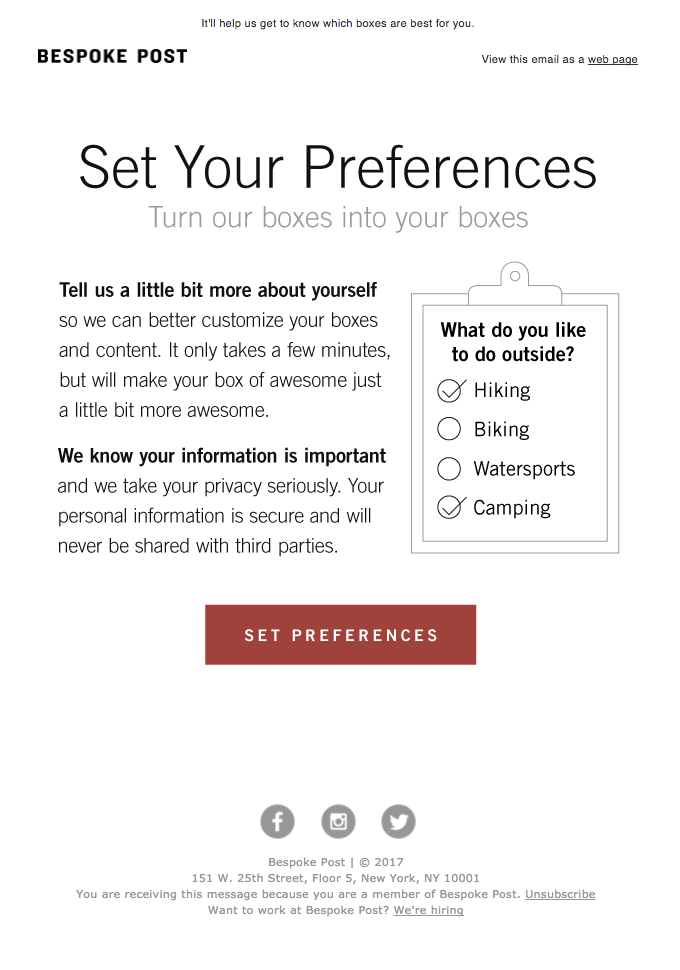 Takeaway: Information about a customer's location and what preferences they've selected help you send a user what they need at the right time of day.
Email segmentation and personalization take messages that could be generic and turn them into ultra-targeted sales machines. The simplest place to start is by adding subscribers' names, but don't let that be the end of your strategy. Ask subscribers for their preferences and take advantage of customer behavior and insights to make their email experience as bespoke as possible.
If you're ready to level-up your personalization, you'll want to check out our webinar with Really Good Emails, The Secrets to Really Good Email Personalization.
Want to learn more about how fellow email marketers work and the trends shaping email marketing today? Download the 2019 State of Email report here.