You made a sale—hooray! Now, how do we make it happen again?
Managing the customer relationship post-purchase means the difference between a one-hit-wonder and retention rockstar status. If you want to scale your sales, though, you need the right email automations to boost revenue on autopilot.
Unfortunately, there's no single email we can recommend that transforms your business. Instead, a post-purchase email series that leverages automation, personalization, and segmentation is the way to go.
What are post-purchase emails?
A post-purchase email is a message you send to new or existing customers to increase sales and engagement. While welcome emails and sales funnels help you build a relationship and make a sale, post-purchase messages manage everything after the sale.
Post-purchase messages are more of a category than a single type of email, however. The most common post-purchase emails are:
Cross-sell
Upsell
Nurturing
Replenishment
Review
Referrals
The order you send these messages, and whether you send every type or not, varies by company. Some exclusions are obvious, like skipping a referral email if you don't have a program yet. Other decisions about which post-purchase emails to use could depend on your available data and integrations. For example, you can't promote an upsell product if your email program doesn't track past purchases. Email automation paired with personalization are a post-purchase dream team.
The 6 automated post-purchase emails your sales funnel needs
Since post-purchase emails cover an entire category, best practices for the contents vary. There is one constant you can apply to all of these emails—automate them. Setting up triggers to run your email marketing on autopilot while personalizing or segmenting messages makes your workload much easier.
To get you started with post-purchase emails (or give you fresh ideas!), we'll review the six types to use, how to do them right, and how a B2B and B2C company approaches them.
1. Rating and review email
Post-purchase reviews help you customize a customer's email journey. If they have a positive review, you can leverage it in future marketing materials. If they're unhappy, you can follow up to make it right.
Keep these best practices in mind:
Let readers know how long a survey or rating request will take them.
Explain how you'll use their response.
Share any benefits for the customer (like a chance to win a monthly sweepstake).
It's nice to keep the rating prompt short and sweet in an email like Athena Club does. They promise the review process will take "10 seconds" and let the reader know they appreciate it. When customers click on a star rating, they're directed to a page to leave a written review.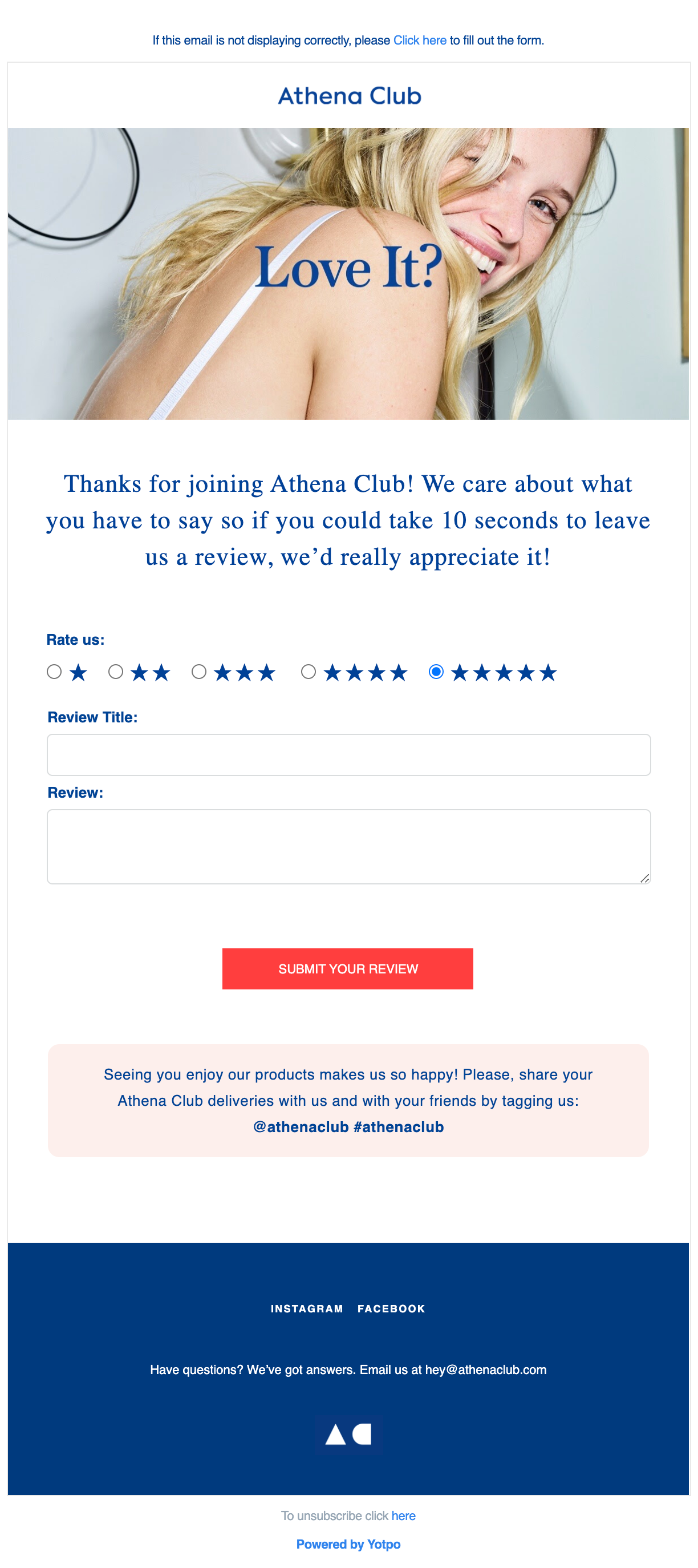 Instead of a starred ranking, Squarespace leverages a Net Promoter Score (NPS) scale in their post-purchase email. The message starts by thanking the person for being a customer and asking them to answer one question. Then, the prompt asks how likely the person would be to recommend Squarespace. If you use an NPS score system for your review email, you could set up separate response automations depending on how the customer responds.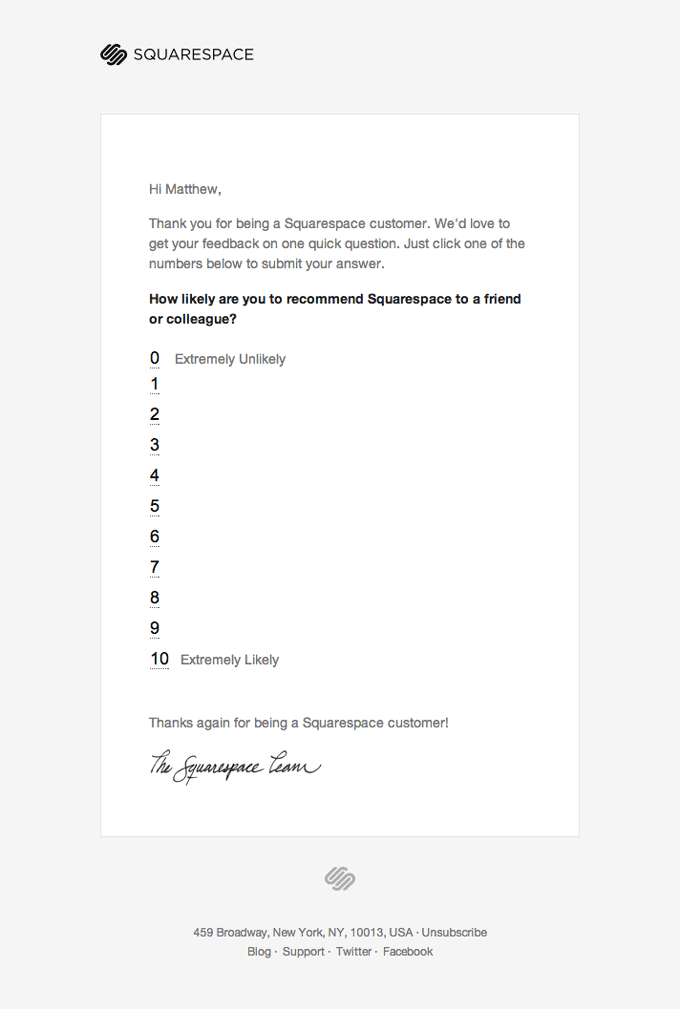 2. Replenishment
Replenishment emails let customers know when to reorder or when a recurring shipment is coming up. These messages help customers manage their purchases, and companies encourage repeat orders.
Keep these ideas in mind when creating a replenishment email:
Be transparent about an upcoming order; customers don't like feeling tricked.
Make it easy to modify an order or let customers know what steps to take.
Provide shipping date and item details.
When an Athena Club customer has an upcoming order, they receive a message with the order number, items and total, tracking link, and shipping information. The company also keeps the support email at the bottom of emails in case people have concerns.

Athena Club also sends a confirmation message if a customer skips a shipment. The email gives customers peace of mind that the order cancellation went through while also allowing them to reactivate the order in case of a mistake.
Squarespace chooses to give users a heads up about renewal before the purchase is complete. The automated message includes the customer's website, renewal date, and amount. The customer care manager penning the letter also acknowledges the ability to reply to the email with feedback.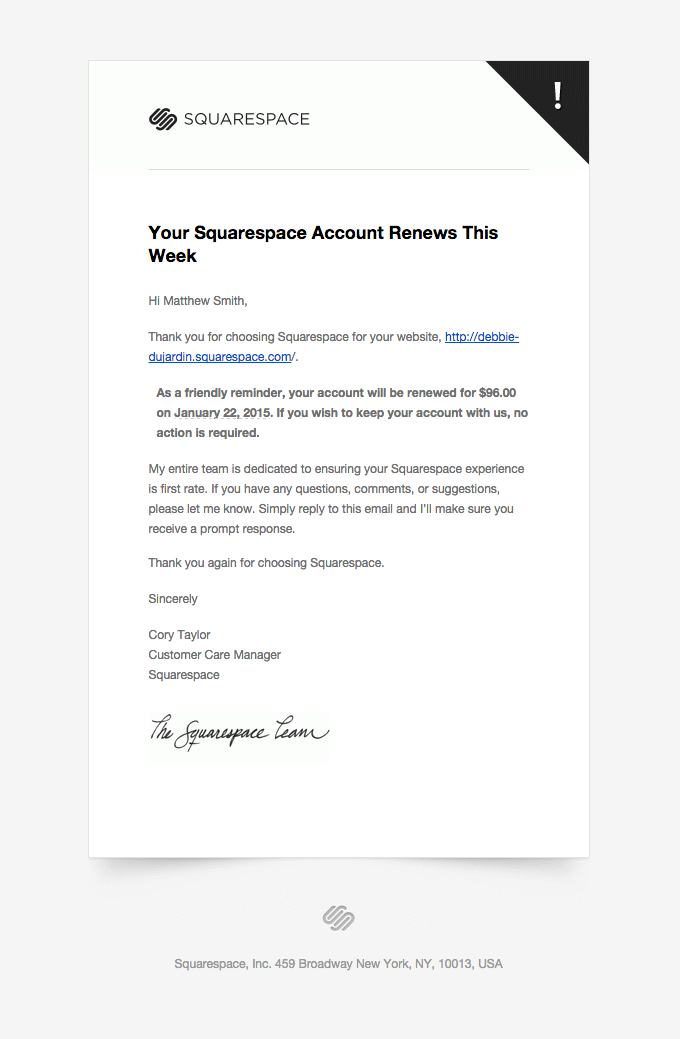 3. Cross-sell
You can step up your post-purchase email game with a cross-sell offer if all has gone well with previous purchases. Promoting related products based on prior orders gives customers a personalized glimpse into what else your company has to offer.
Just be sure to follow these best practices:
Personalize or segment emails whenever possible.
Show how to use items together (preferably including one they own and one they don't).
Use social proof.
Athena Club works previous purchases into the email copy by mentioning the existing subscription. Then, they use both product images and a checklist animation to paint the scene of an entire routine using additional products.

If you're introducing a new product or service to customers, consider using a mix of tactics to spark customer interest. When Squarespace promoted a companion app to customers, the email had a summary, list of use cases, product image, and customer review.

4. Upsell
When you'd like a customer to make a bigger purchase or upgrade their subscription, use an upsell email.
Best practices to keep in mind include:
Reserve upsell emails for customers you know are happy (like those who have left a positive review or made multiple purchases).
Remind customers of their progress with your brand.
Promote value in bundling or using products together.
When Athena Club wants customers to add more items to their recurring purchase, they sweeten the deal with a discount. Rather than promoting a product for a one-time purchase, Athena Club encourages customers to spend more every month.

When Squarespace wants customers to add an extra service to their subscription, they use a long list of benefits to promote the upsell. Since the email introduces the option, the company also uses social proof to encourage people to learn more and explore pricing.

5. Nurturing
Not every post-purchase email has a singular goal, and there are plenty of nurturing messages to keep your brand top of mind. Nurturing emails include launches, promotions, customer appreciation, and more.
To make the most of these emails, we recommend:
Referencing past purchases
Reintroducing features based on activity or inactivity
Athena Club built anticipation for a launch with a secretive email to break up the monotony of product-forward emails. The message teased when the new items would drop so people could be on the lookout, but they didn't elaborate on what was coming. Priming people before an announcement might make them more likely to open on the launch message.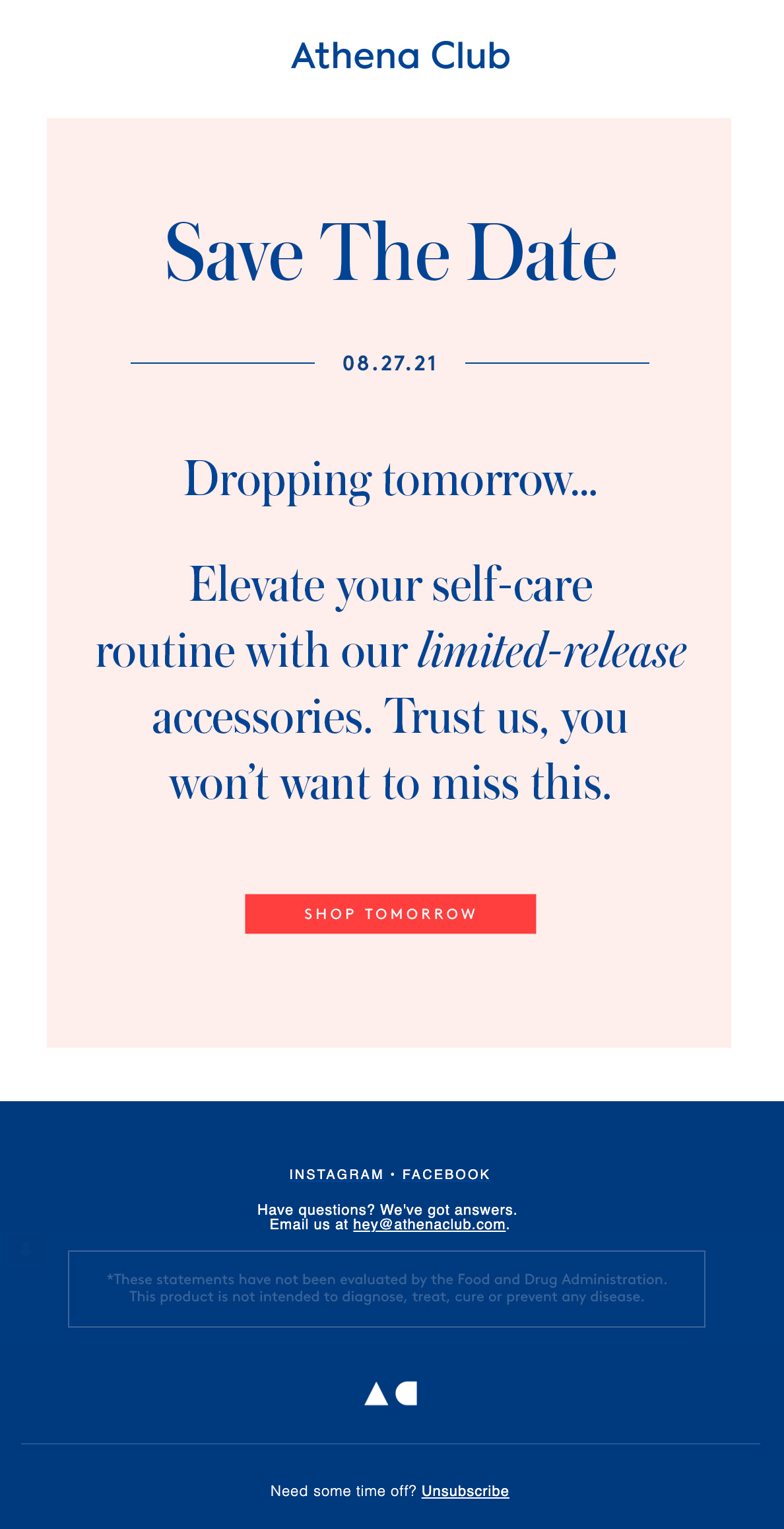 Whenever your company makes updates or pivots into a new space, send a message like Squarespace did. The subject line "We're working on something big" sparks curiosity, and then the email gives an overview that drives traffic to a special landing page.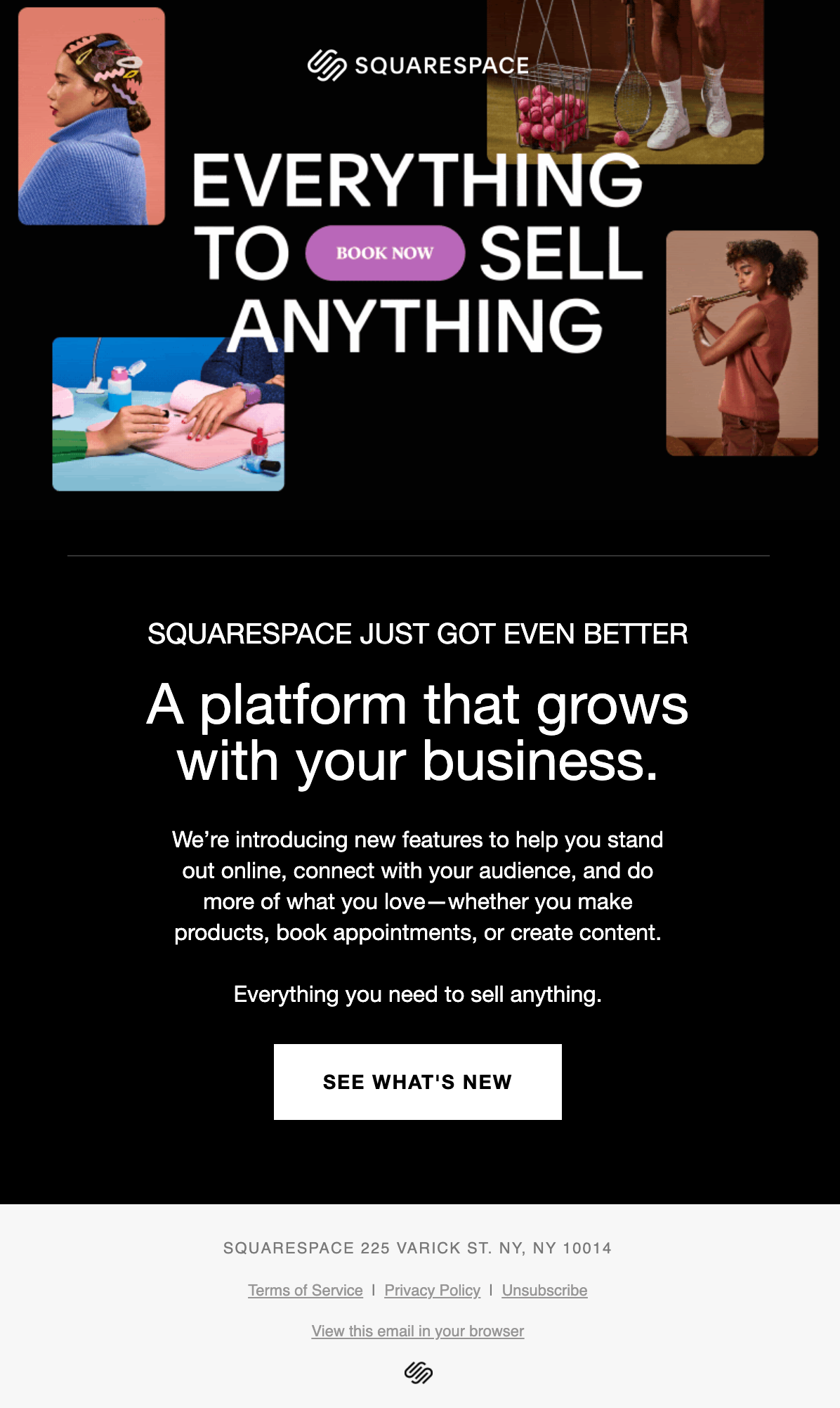 6. Referral emails
Chances are, your customers know at least one other person like them who might enjoy your company. So, referral emails that incentivize them to spread the word are helpful growth tools.
Make sure your referral emails:
Explain how to refer to a friend.
Introduce the incentives.
Explain what's in it for the friend, too.
Athena Club opts for a simple referral email that customers can forward to friends. The message has the promo code, info about the discount, and a link to shop.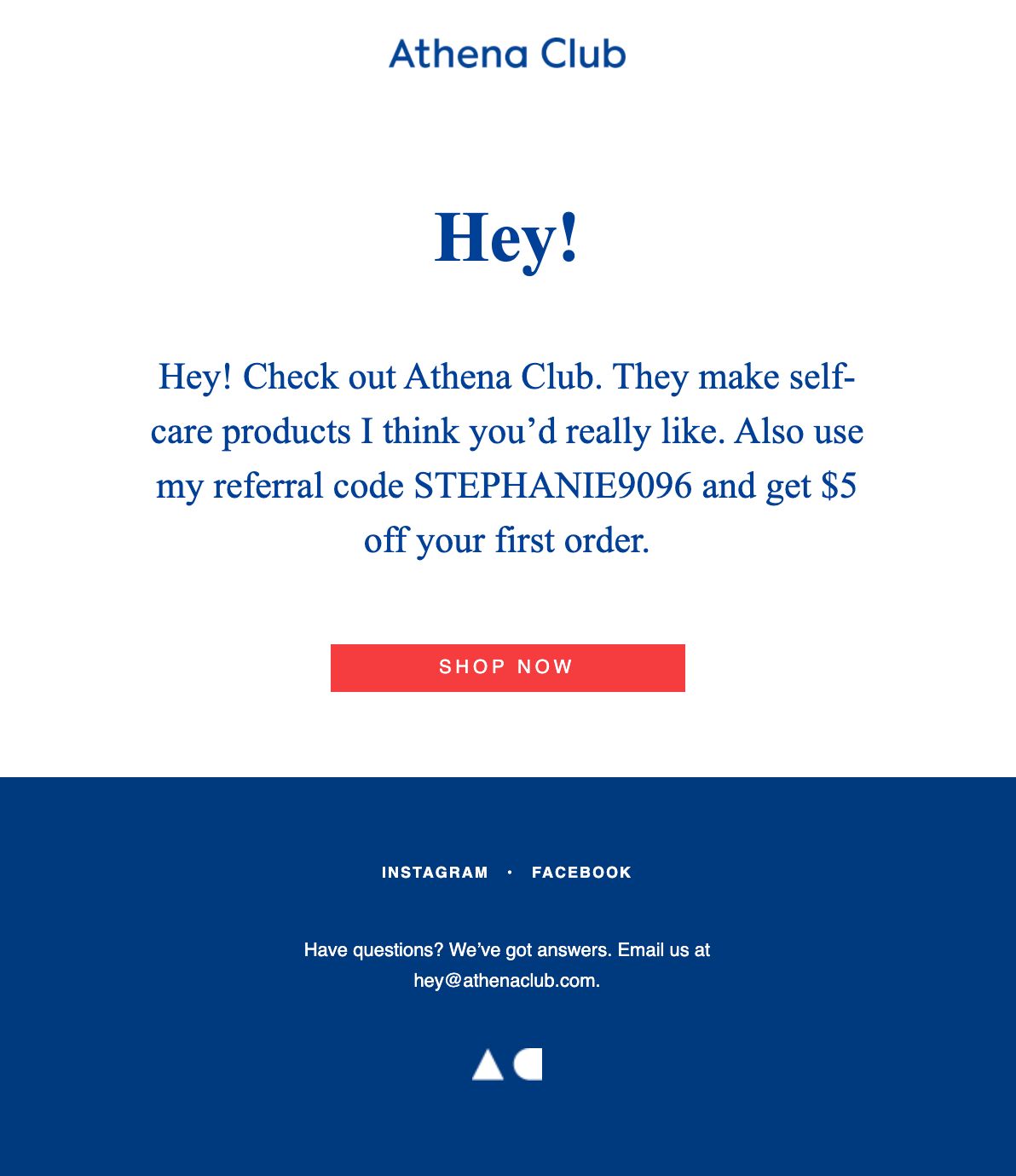 Instead of offering a referral discount, Squarespace lets users earn access to new features in exchange for sharing with a friend. The referral email mainly focuses on explaining the exclusive product the person can access and provides a link to learn about the referral process.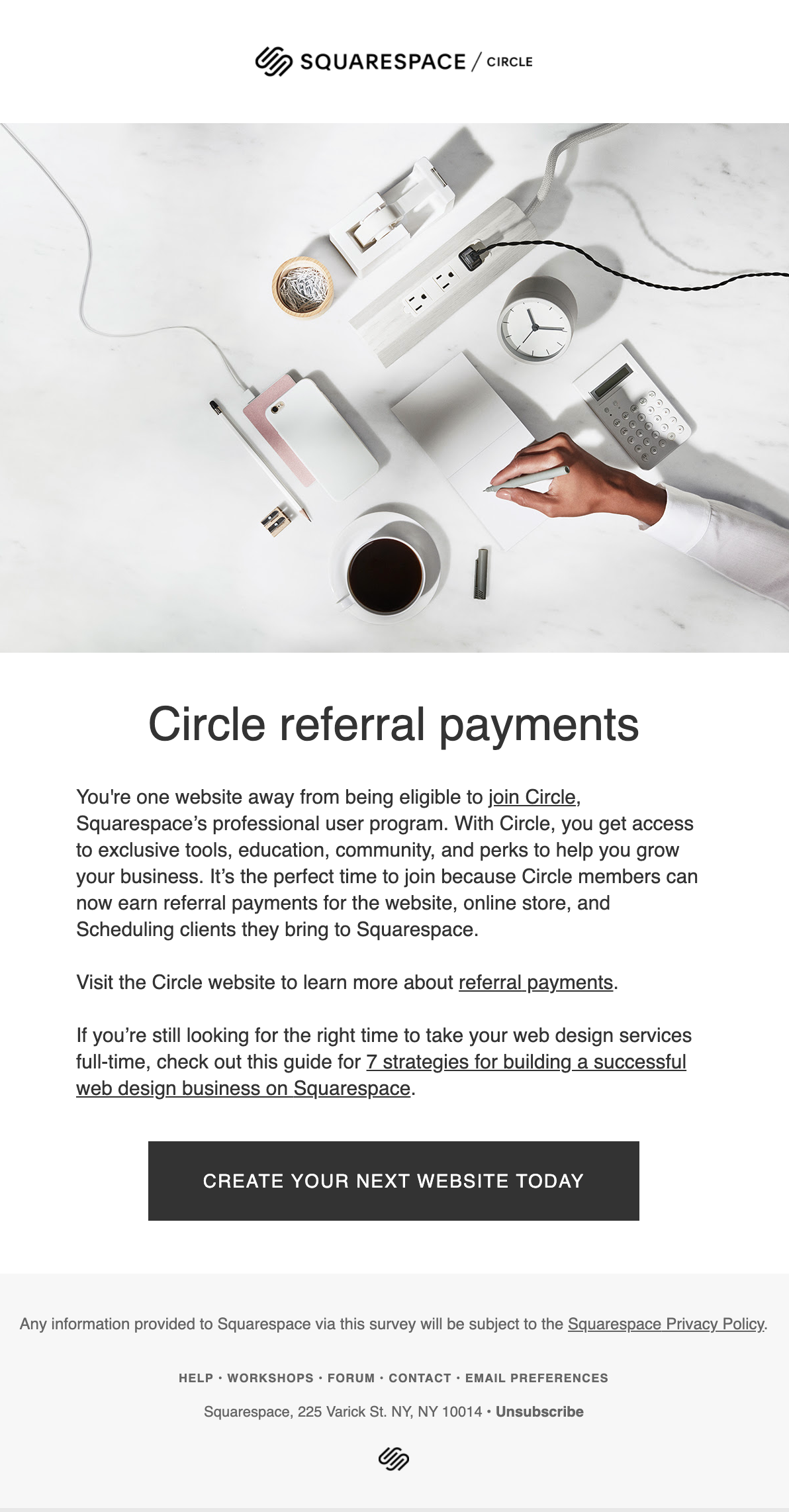 Test, automate, learn, repeat
Imagine the impact in a week, month, and year if you can improve your email performance by even just 1% each time you hit send. Every campaign is an opportunity to learn, but you need the right tools and process to work efficiently.
Litmus can help your team streamline development, make testing a breeze, and perfect your automations by analyzing engagement metrics.