Overwhelmed by data overload?
Litmus cuts through the clutter. We'll help you extract the right insights so you can understand, at a glance, what's most likely to move the needle. You can see how long someone spends with your message—and even if they printed or forwarded it—and easily share these insights with your team to make more informed decisions. From segmentation to personalization, it's never been easier to determine what will make your emails more effective.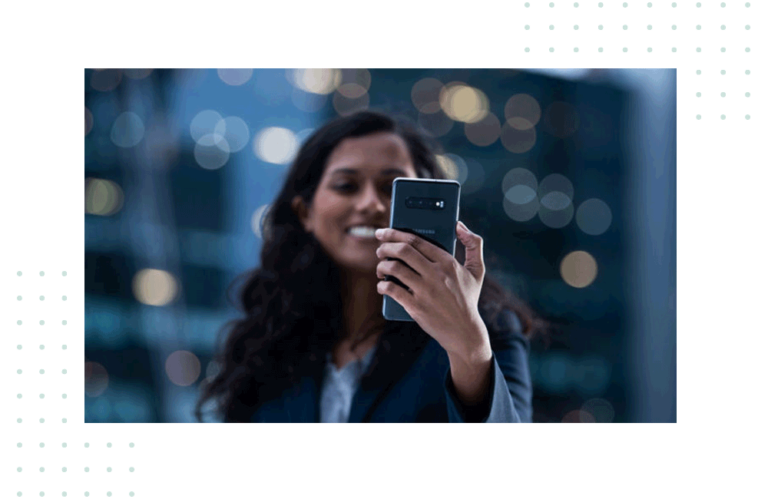 "Litmus gives us the ability to use email meta-data for deeper insights on behavior, and enables Samsung to do targeted follow-up directly."

Coen Van der Ven, CRM & Loyalty Specialist at Samsung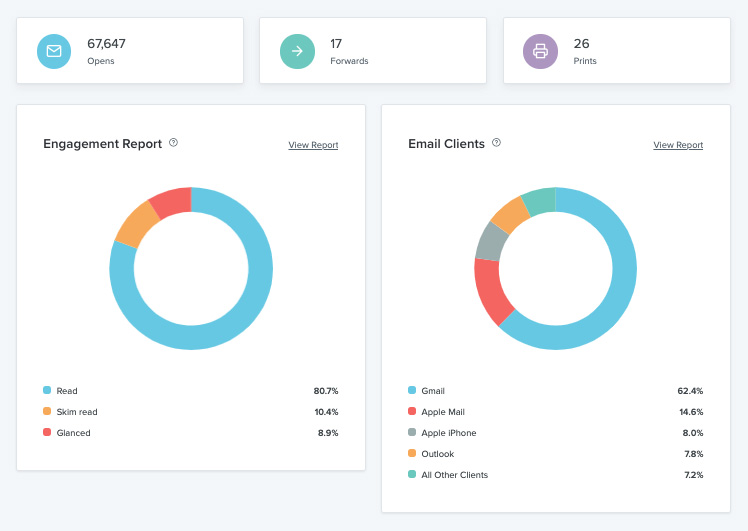 Go beyond opens and clicks
Brands that use Litmus Email Analytics see 16% higher ROI than those that rely on data from their email service providers alone. The reason is simple: Our powerful solution helps you pinpoint important nuances to improve segmentation, and to ensure each email is error-free.
You'll learn which devices and apps your subscribers use most, so you'll know which clients to prioritize as you test. And by drilling down to specific countries, states, regions, and cities, you can get even more granular with send times and copywriting components.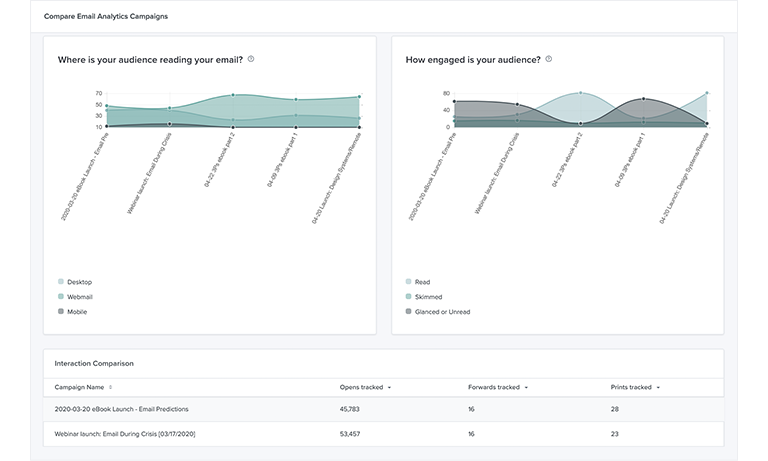 Drill down to reveal what resonates
Litmus analytics make it easy to improve personalization with every email you send. Quickly identify your best campaigns to inform content and design decisions, and then put those insights to work as you build even better strategies.
You'll have detailed data that can be used to enrich customer profiles, right down to the individual level. Whether you want to enhance account-based marketing or simply fine-tune your message, Litmus provides the email insights you need to identify and replicate your most successful campaigns.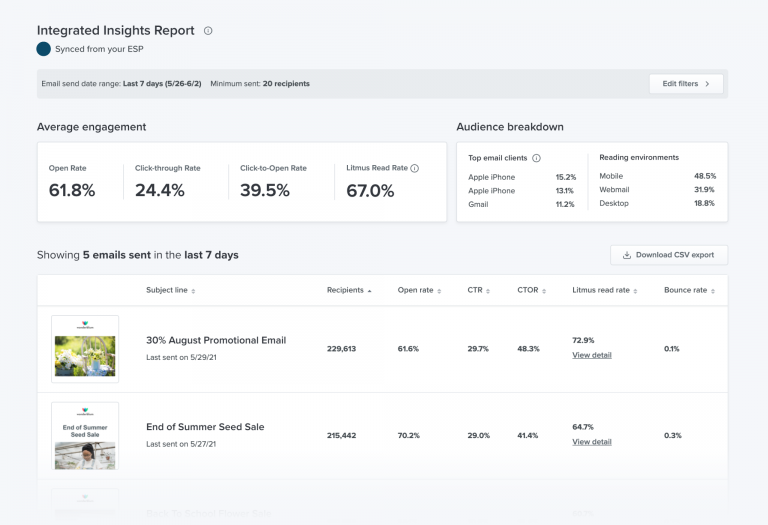 Get an integrated view of performance
Break down data silos that get in the way of email optimization. Automatically sync data from Salesforce Marketing Cloud or Oracle Eloqua to quickly identify opportunities to innovate and improve your email program based on actual subscriber behavior—directly inside Litmus Email Analytics.
Discover the top subject lines that broke through the noise and identify your most engaging content, so you can build on what's resonating with your audiences. Plus, see highlights of how your email program is performing, all without manually sifting through data.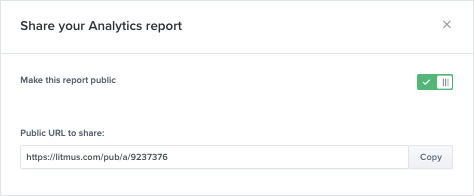 Share insights across marketing
Litmus doesn't just equip you with insights to send better email. It helps you easily share reports so you can empower your team to make agile, data-driven decisions across your entire marketing mix. Quickly identify the topics and content that resonate best, and then use that data to prioritize blog posts, social media schedules, search campaigns, and more.
Plus, with Integrated Insights for Salesforce Marketing Cloud and Oracle Eloqua, there's no need to scour different data sources or hunt down hidden trends. Invite your marketing teammates to get subscriber engagement insights delivered right to their inbox every week.

Note trends in email sharing and evangelist behaviors to squeeze even more ROI from high-performing content

See how long subscribers spend reading your email, then compare read rates by device to identify areas for improvement

Stay ahead with ongoing updates from the Litmus Community and Litmus Live
Real Customers. Real Results.
Altos
"Litmus gives us the strategic insight, accountability, and level of perfection we need to drive success for our clients."
Read Their Story