That's a wrap, folks! Litmus Live Week 2020 is officially over. See our day 5 highlights below from me, Jason Rodriguez, and Lily Worth. Today's live sessions covered email deliverability, marketing in 2020's "New Normal," AMPscript, and our first-ever Email First Awards and Litmus Certifications.
And while Litmus Live Week may be done, its spirit lives on. We still have monthly Litmus Live Day sessions for the rest of the year, so be sure to check those out when registration opens. And we'll be releasing all recordings from Litmus Live Week on Monday, so keep an eye out for that.
When you look at your #litmuslive schedule that you thought you watched but totally missed and now you are planning your evenings and weekends for the next two weeks to rewatch everything 🤣

New rule: take a vacation week.

— Radha Tailor (@radhatailor) September 18, 2020
If you haven't already, catch up on highlights from the previous days:
Now on to our top takeaways from Litmus Live Week day 5…
The Factors That Affect Email Deliverability | Chad S. White @ Oracle
Great email deliverability kind of feels like a closely guarded secret—and it makes sense. After all, we don't want spammers taking advantage of inbox providers' filtering algorithms. But there are still things email marketers can do to ensure inbox placement. Chad S. White from Oracle shares the seven factors that affect sender reputations, debunks some deliverability myths, and details the steps we can take to reach the inbox more consistently.
Holy master class on email deliverability from @chadswhite this morning!! More gems than I can fit into a tweet, so check out the recording as soon as you can. #LitmusLiveWeek #LitmusLive

— Emaily Benson (@ebenson_emily) September 18, 2020
I won't spoil everything here, but here's a taste with my key takeaways:
Be better than CAN-SPAM
If your audience is in the United States, you have to follow CAN-SPAM. The thing is, it's an extremely low bar and damaging to email marketing programs that follow the bare minimum. Globally, anti-spam and privacy laws are getting tougher, and it's only a matter of time before the U.S. catches up. We're starting to see this already with CCPA in California. So how can you be better?
Be more strategic to increase deliverability
There used to be a lot of focus on keywords to avoid (which are now totally a myth, by the way), but inbox providers have since shifted to looking more closely at email engagement to determine inbox placement. Are people opening, clicking, replying, forwarding, starring, foldering, etc.?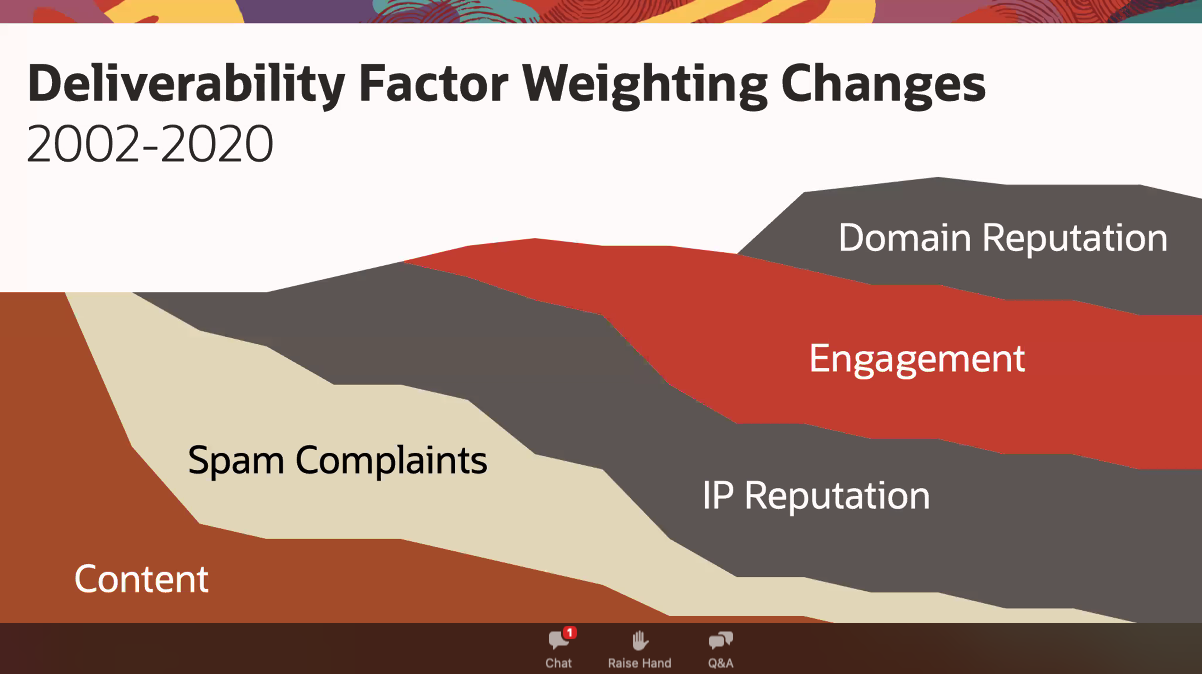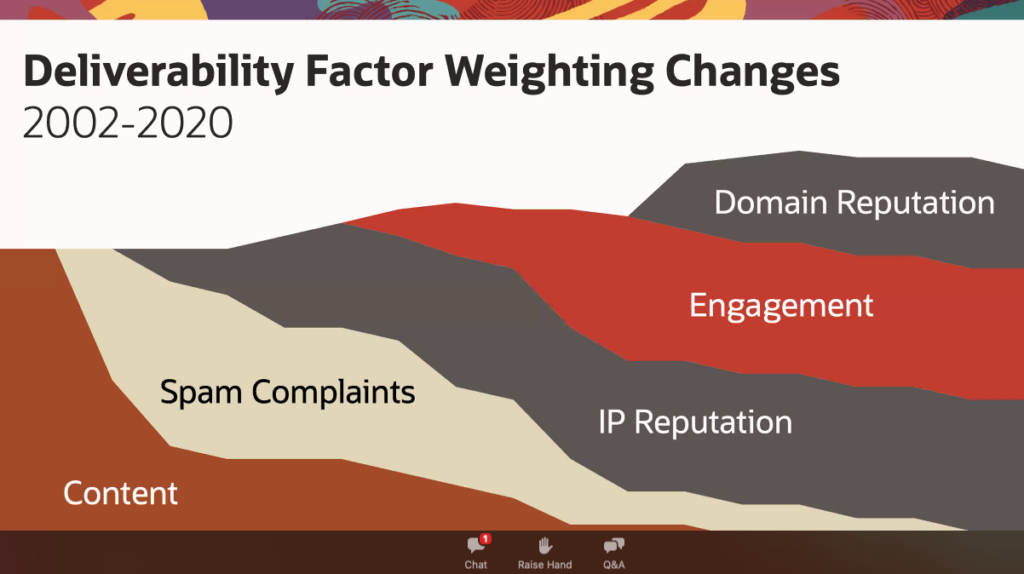 So your email marketing strategy is more important than ever. Sending relevant content increases email engagement, meaning your subscribers are less likely to opt out or, worse, mark you as spam. You want those spam complaints to be less than 0.2%, by the way.
A few of my coworkers & I have been saying this for years. It's great to hear @litmus support it so loudly. We can't just not make people mad. We have to actually engage with them. #LitmusLiveWeek pic.twitter.com/ycbgfWuYRv

— Daniel Ramirez (@neftalirr) September 18, 2020
Pay attention during this holiday season
It's especially important to closely monitor email engagement levels in the next few months. About 7% of consumers have never purchased online, and half of those folks just made their first online purchase this year. Because people have been forced to do more online shopping due to the pandemic, there has been a lot of brand switching and brand trialing. There's just a bunch of really new people who are different than what you've had in the past. So pay attention and adjust your strategy as needed so that your email engagement—and thus, your inbox placement—doesn't suffer.
Creating Opportunity in the Face of a New Normal: A Fireside Chat | Heike Neumann @ Oracle, Cynthia Price @ Litmus
Email marketers are facing more challenges than ever before. As the "New Normal" continues its takeover, how can marketers create opportunities and continue to deliver value for their customers and business? In this fireside chat, Litmus' Cynthia Price talks to Heike Neumann from Oracle about what marketers should focus on at the end of 2020 and beyond.
Here are the key takeaways:
Marketing's role has shifted
Over the years, marketing's role has shifted. That's been increasingly apparent over the last year or so as more teams move from a largely content marketing-driven perspective to one that's focused on working closely with sales teams to close deals. It's not uncommon for marketers' goals to be associated with actual pipeline and MQLs created as opposed to just the number of leads generated at the top of the funnel.
This can pose challenges in 2020 as sales are harder to come by, but the expectation is still there. Marketers—and email marketers in particular—need to work more closely with their sales teams to figure out what actually works when closing deals or generating sales, and work that into campaigns.
Heike is quick to add that there's no one solution for how to go about doing that, but more frequent and honest communication between marketing and sales is key. For example, instead of planning another webinar about a trend you see in the industry, talk with sales about what challenges prospects are actually facing. See what's holding up deals and speak to that.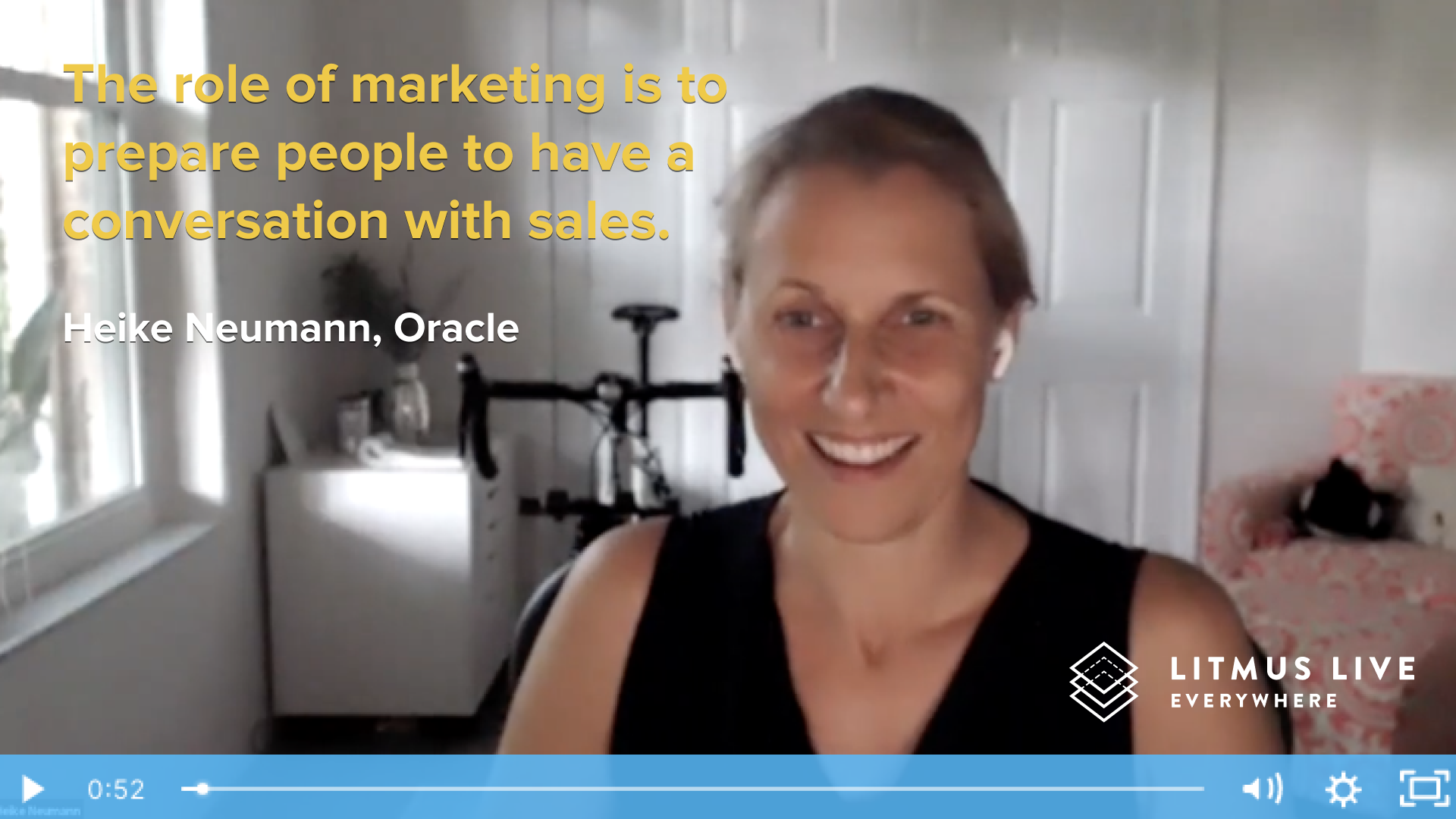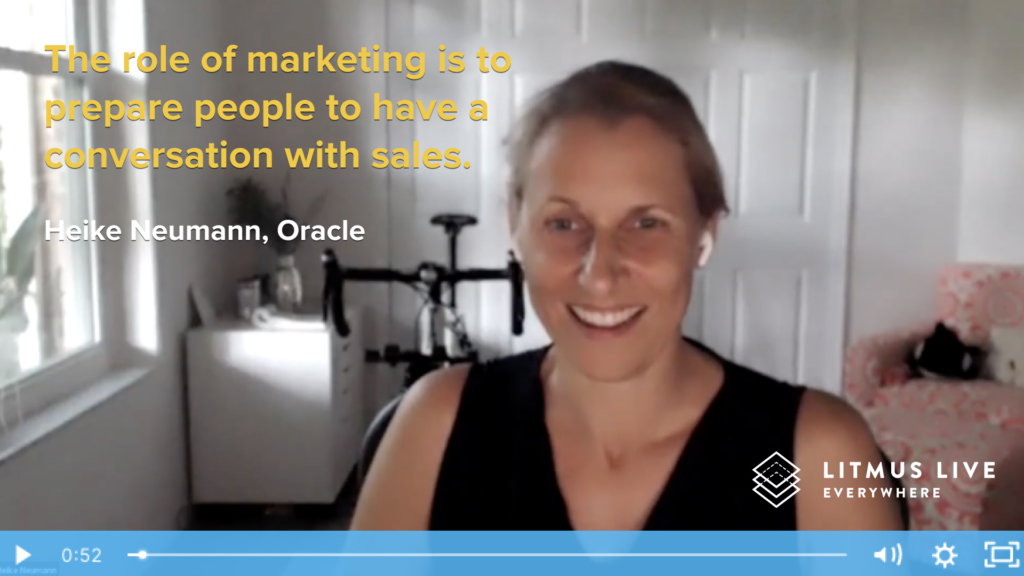 Reliable, repeatable, scalable
One of Heike's life principles is that things should be "reliable, repeatable, and scalable." Far too often, marketers focus on doing more as quickly as possible without focusing on creating a reliable process for creating value.
Case in point: 2020's focus on digital events and the massive influx of webinars across pretty much every industry. In response to lockdowns around the world, marketers were quick to add webinars to their content calendars without thinking about how to host them effectively, what a good cadence looks like, and how they're going to scale their production. As a result, teams are struggling to keep up with aggressive content calendars while customers are suffering "Zoom fatigue" day in and day out.
A better approach is to think through your events strategy, find out how to create a reliable webinar program that drives leads and provides tangible value for customers, and work out the kinks early on before scaling that program. It's harder to do and takes more time, but the long-term benefits outweigh the short-term challenges.
Strategy hasn't changed, tactics have
Most marketing teams shouldn't be completely rethinking their marketing strategy in the face of the New Normal. Instead, they should focus on their tactics.
Your strategy is still (and always will be) communicating with your customers and potential customers, educating them about your products, priming them for sales, and focusing on the growth and health of your company. Not much will change that overarching strategy, but the everyday tactics are shifting based on your customer's circumstances and current challenges.
2020 and the New Normal have affected what we email to subscribers, our events and content marketing initiatives, and more. But despite those changes, the business and marketing goals have remained constant. Focus less on blowing up your entire strategy, and put more effort into tweaking smaller, tactical aspects of that strategy in reaction to outside events that are shaping our world.
Becoming an Email Personalization Hero With AMPscript | Najee Bartley @ US Bank
If you are a Salesforce Marketing Cloud (SFMC) developer and you find yourself tasked with building multiple email campaigns or numerous variations of a single campaign, you can find there just aren't enough hours in the day to get everything you need to do, done! Enter Najee Bartley from US Bank and her time-saving AMPscript technique that can take away the pain of multi-campaign creation.
Loving this session by @mrs_najee about #AMPscript at #LitmusLive today! She is an email development QUEEN! 👑 pic.twitter.com/WxTAHtAIQX

— Jackie Mennie (@JackieMennie) September 18, 2020
Here are the key takeaways:
Create a content matrix (or task a marketer)
For the content that you wish to feature in each of your emails, create a single spreadsheet. This needs to identify each email, and the different content elements that need to be pulled in.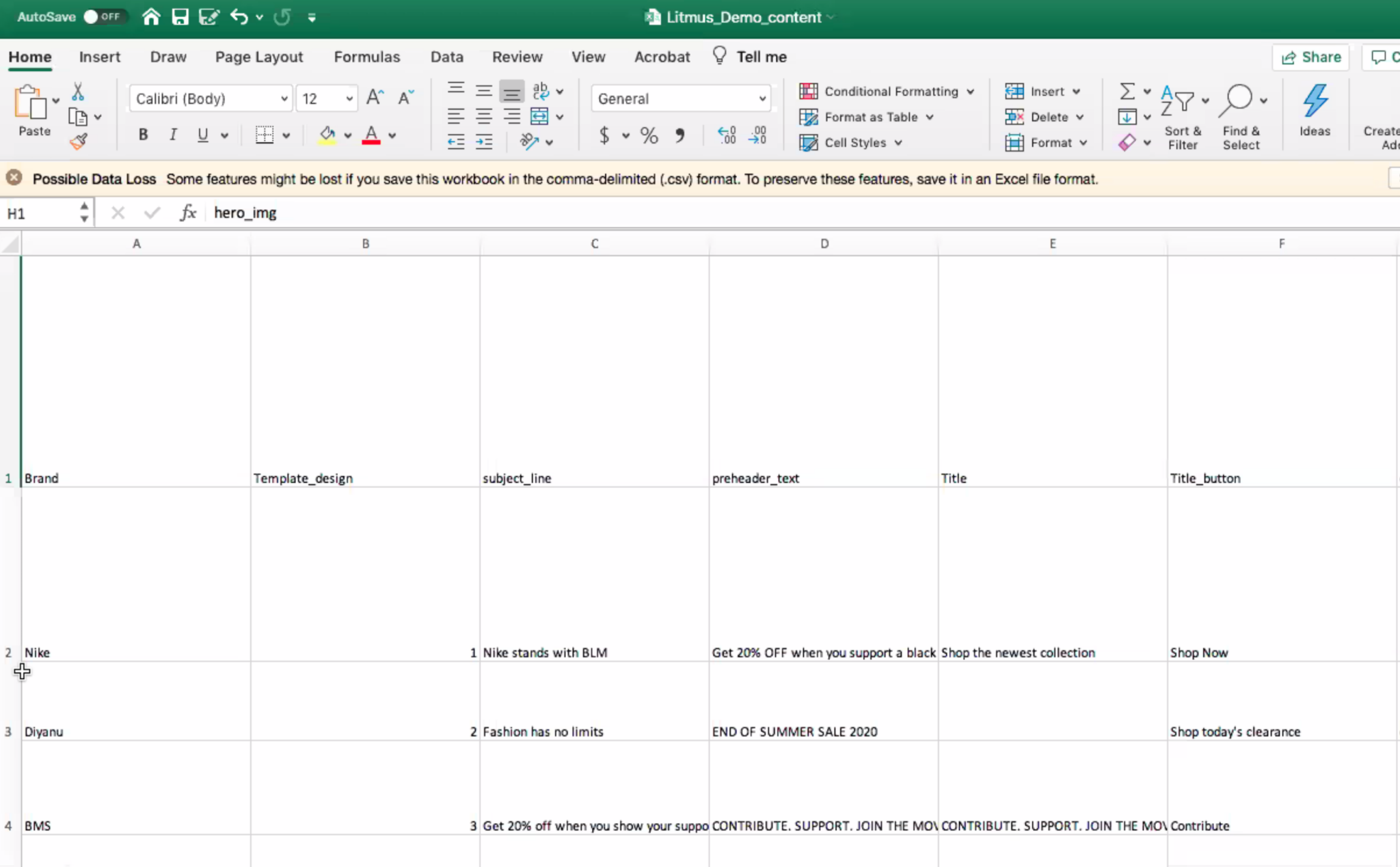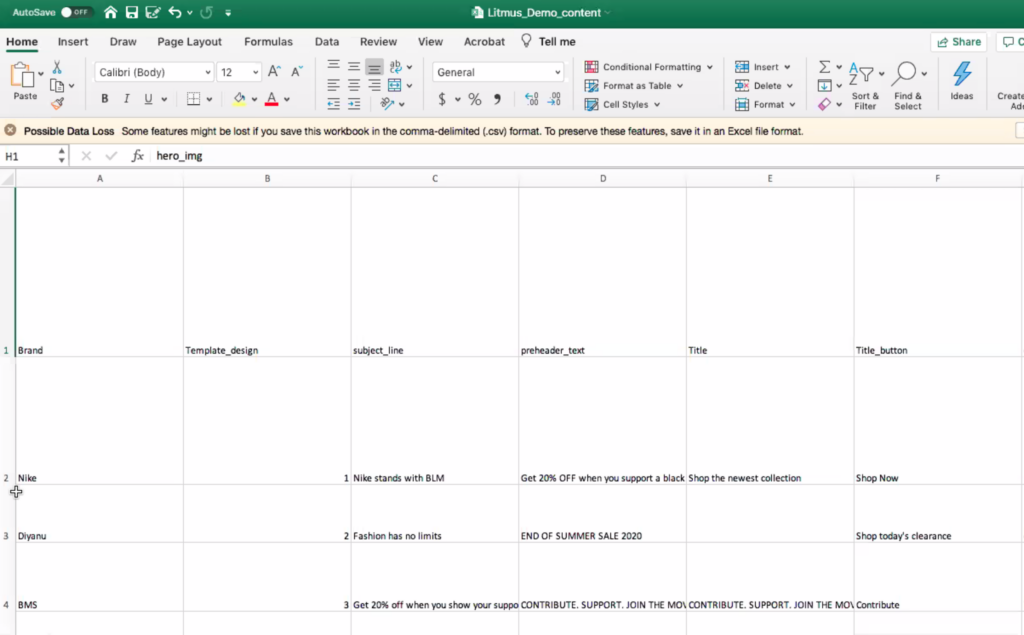 Build a template design using free form
Set up a free form object in SFMC, and add the email template code you wish to use. Then, add AMPscript variables to your code where you want content to be pulled in. Repeat this process for each email you need to create.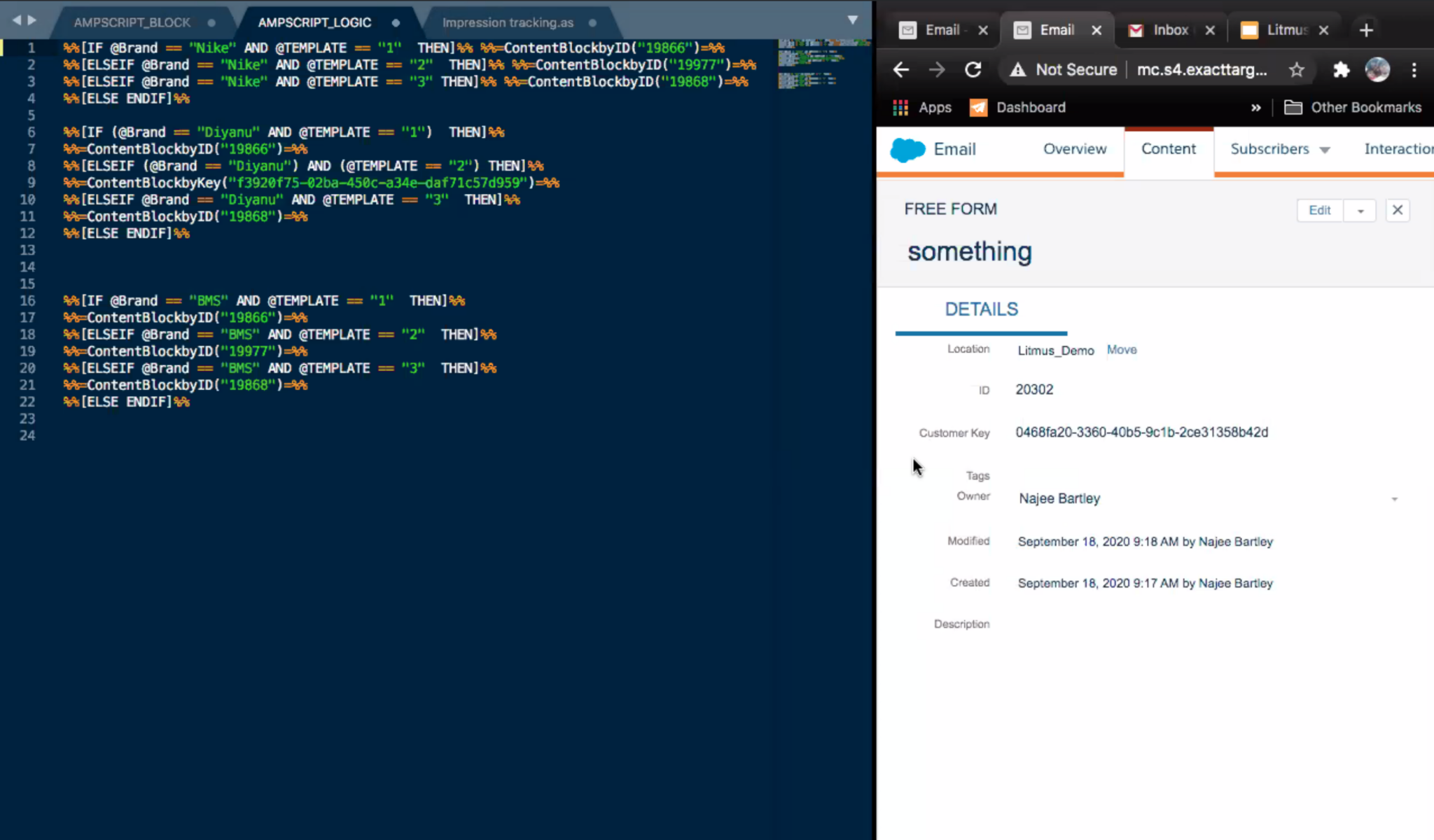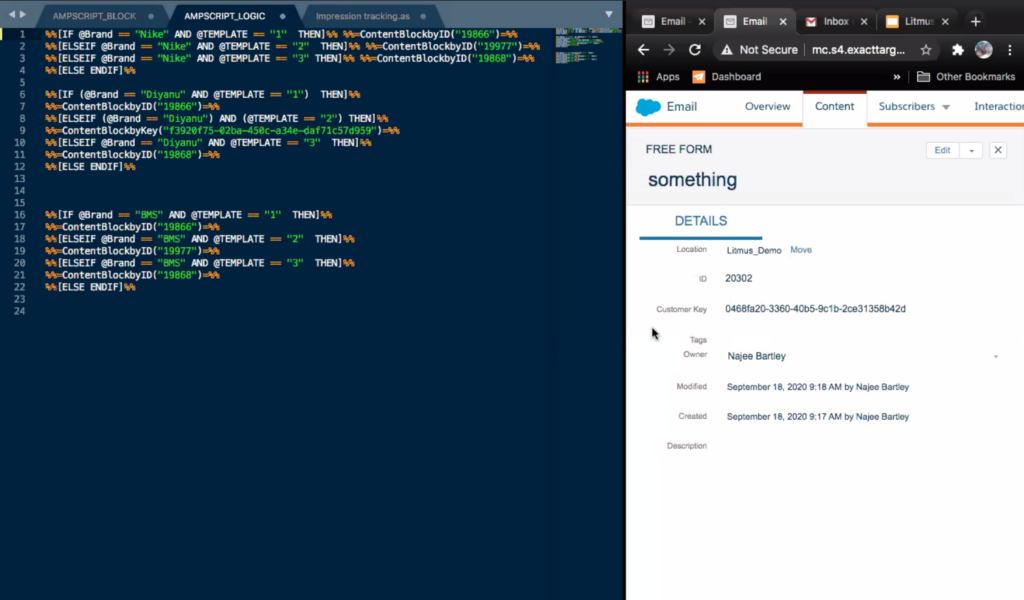 Each free form object gives you a unique identifier which you will use along with AMPscript lookup functions to hook up your content matrix. Now you can kick back and let AMPscript populate all of your email content.
Test the success with Impression Region Tracking
By setting up Impression Region Tracking, you can see how each of your emails performed, or split-test between multiple templates to see what works best for customers.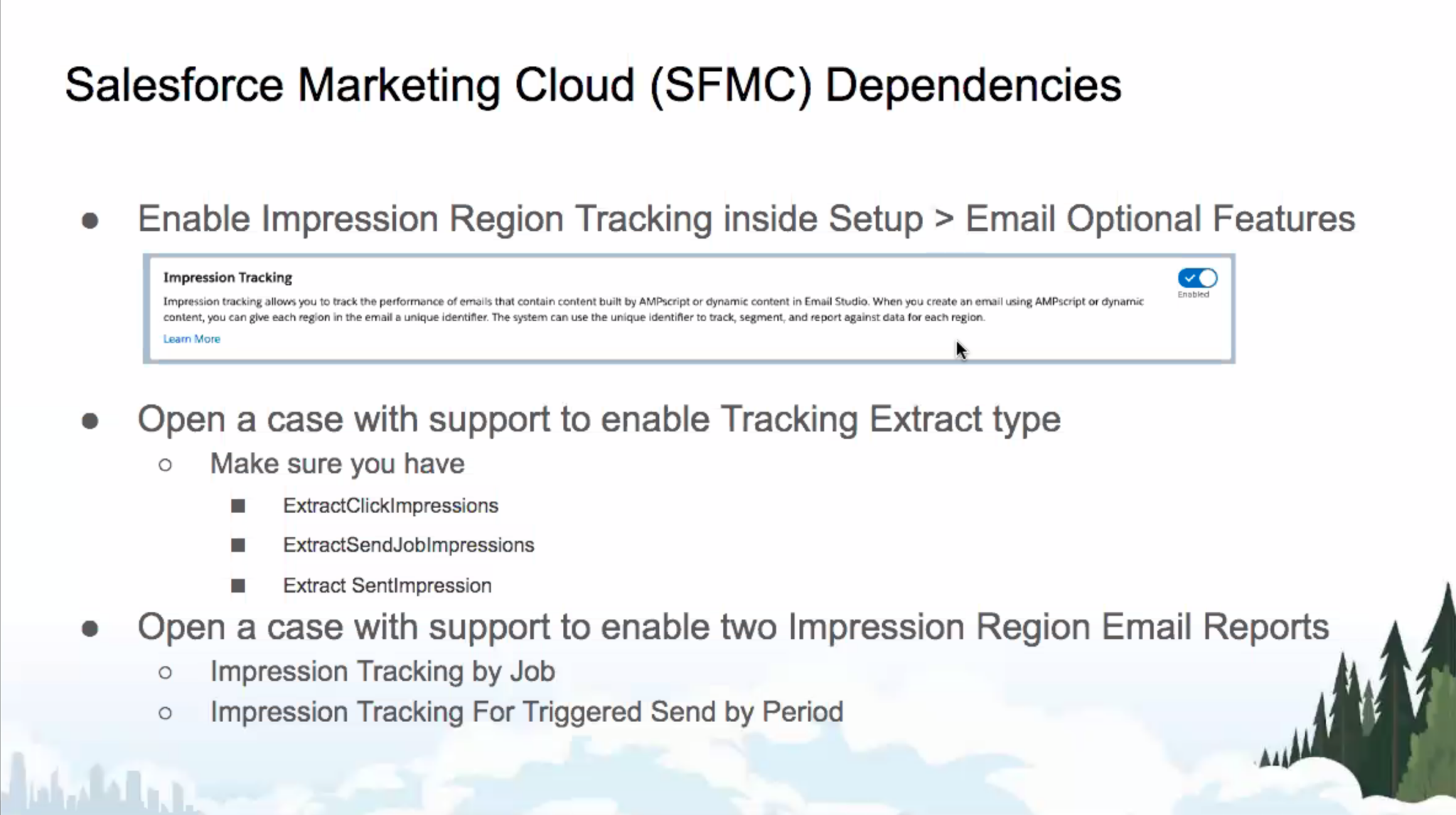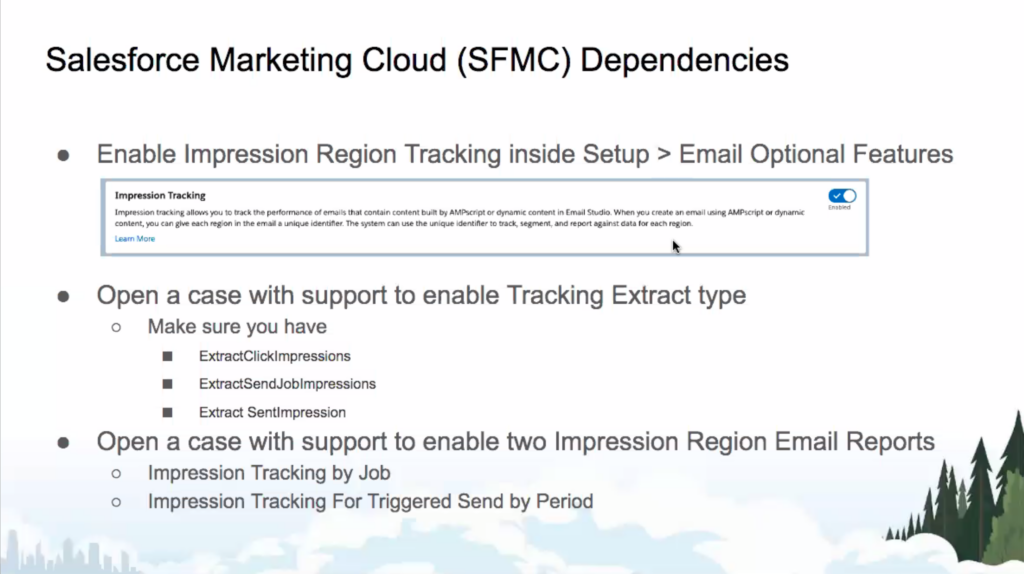 This should help you save your company money while reducing employee time and resources. Time to ask for a raise! 😉
Email First Award Winners & Litmus Certified Celebration
We closed out Litmus Live Week 2020 by honoring our first-ever Email First Award winners and Litmus Certified email marketers & designers. Cue the confetti!
A huge congratulations to ALL Litmus Certified Email Designers and Marketers!! Almost 130 #EmailGeeks! #LitmusCertified #LitmusLiveWeek 👏👏👏

— Litmus (@litmusapp) September 18, 2020
Now for our #EmailFirst Awards winners! Thread to celebrate 👇 #LitmusLiveWeek

— Litmus (@litmusapp) September 18, 2020
We'll be highlighting these Email First Award winners as well as Litmus Certifications in more detail in later blog posts—because each one of them deserves it! For now…
And that's a wrap on live sessions for #LitmusLiveWeek! Thank you so much to everyone who attended in the comfort of your own homes this week, across the globe. We love you all, #EmailGeeks! 💌

— Litmus (@litmusapp) September 18, 2020