Every month, we track opens from more than 1 billion emails sent using Litmus' Email Analytics and share the trends we observe in various email clients and environments for email client market share. In July, mobile opens jumped back up to 56%, desktop opens decreased to 17%, and webmail opens held at 27%.
A REFRESHER ON MARKET SHARE TERMS + EMAIL OPENS
"Mobile" refers to mobile-specific email clients, like iPhone or Android, but also where users are opening their email. If they're using the Yahoo Mail app on their iPhone, for example, that counts as a mobile open for iPhone. This also includes tablets like the iPad.
"Desktop" shows any email client opened on a desktop application. That means any email client that required you to install software. If you're using a Mac, for instance, that could mean Apple Mail. On a PC, that might be Outlook.
"Webmail," by contrast, means you're using an email client within a browser. Logging onto your Gmail account or using Outlook.com fall under the "webmail" category.
How do we track opens? Open tracking in Litmus Email Analytics is based on 1×1 invisible pixel image tracking, which is the same technique that your email service provider uses to report your
open rate. When a customer opens your email, the image is loaded. This counts as an open. (Don't worry—the tracking pixel doesn't alter your carefully planned designs!).
Let's dig into the data:
Top 10 Email Clients
This order holds steady from what we saw at the end of the first half of the year, with mobile overwhelmingly dominating the top ten list.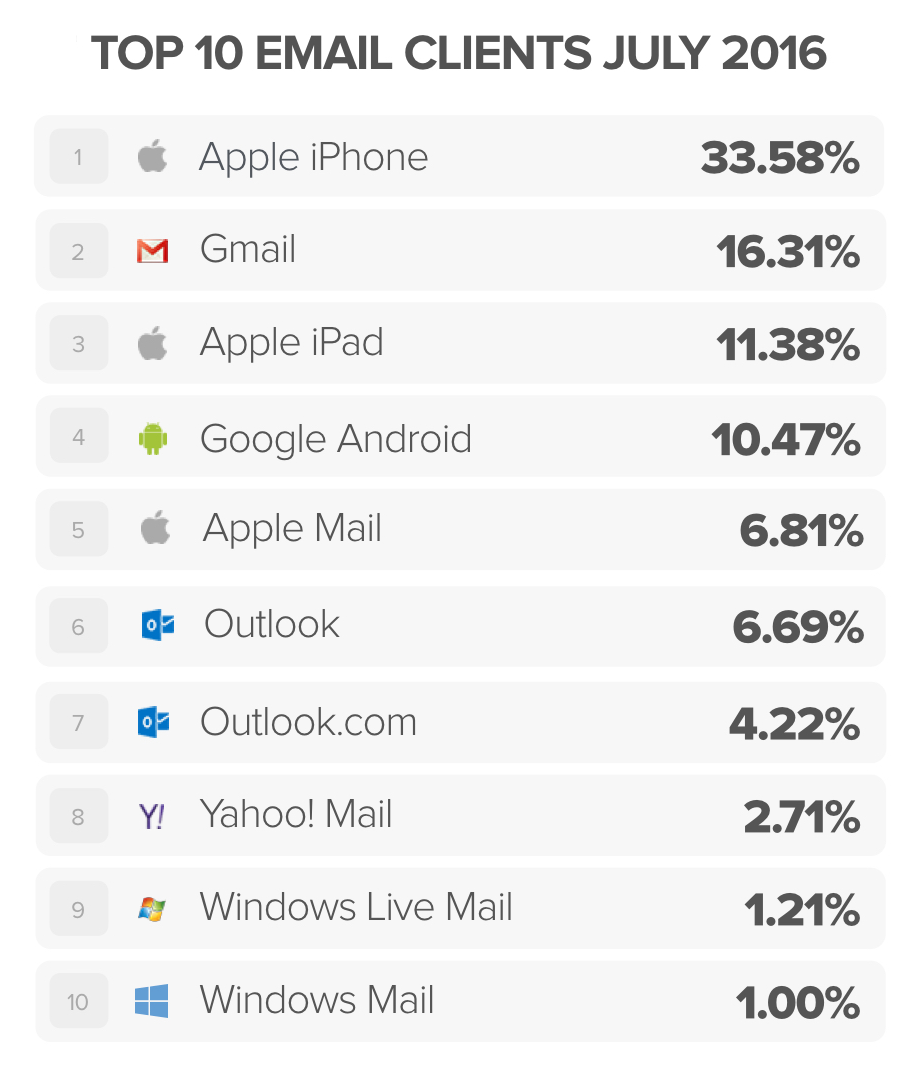 Discover your top 10

When it comes to email marketing, it's all about your audience. Use Litmus Email Analytics to discover which email clients are most popular with your subscribers. Sign up free!
Mobile Jumps Up To 56%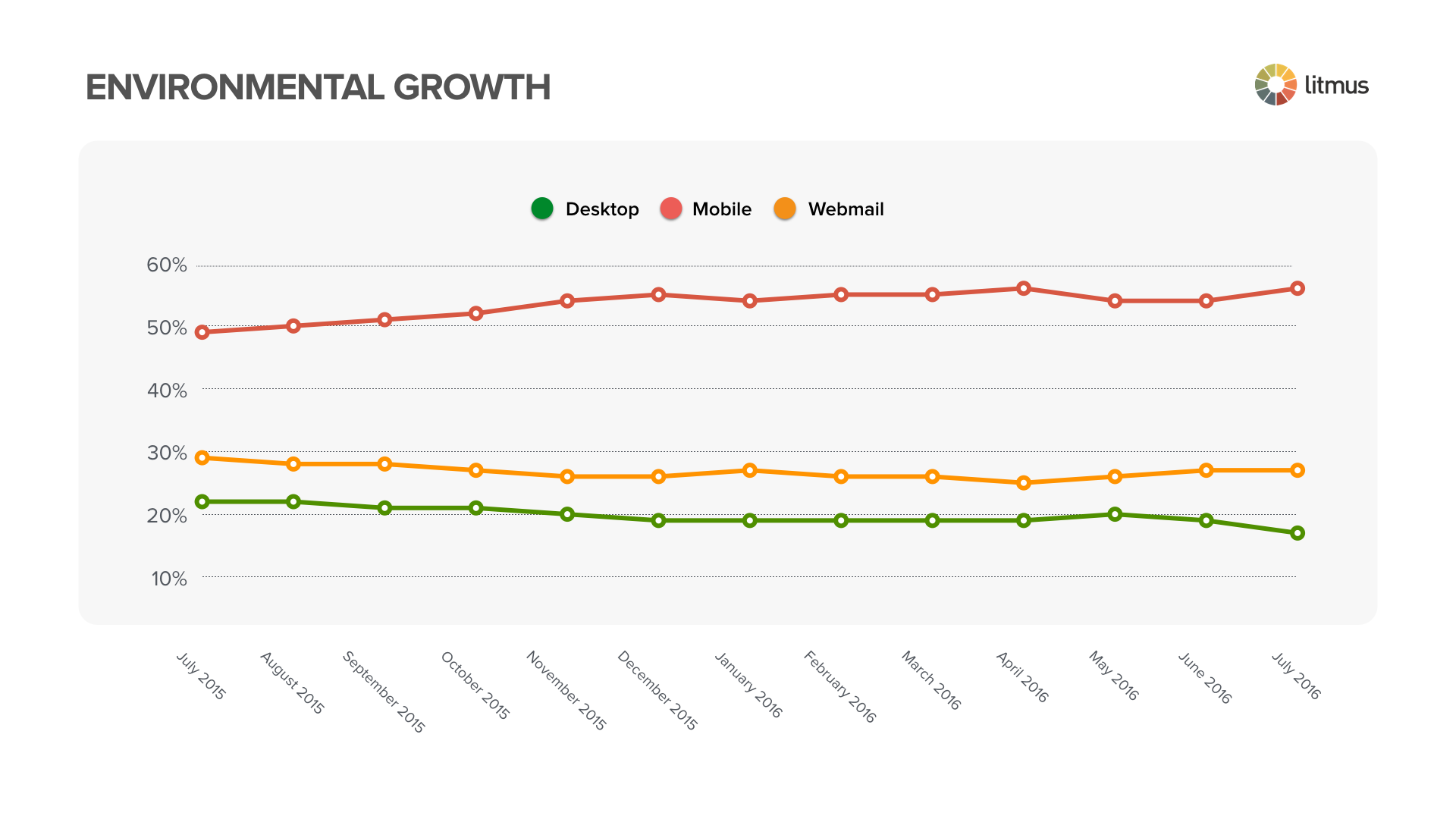 This month, mobile jumped back up to 56%, confirming our hypothesis that the dip in mobile opens was just that—a small dip in an overall upward trend line. 56% is the highest we've seen for mobile all year, previously peaking in April.
With that jump, desktop dropped down to 17% as subscribers increasingly trade their bigger screens for smaller ones. This continues an overall downward trend for desktop, which at this time last year was as high as 22%.
Webmail held at 27% as mobile and desktop continue to battle it out.
Android Increases to 10%, Hot On iPad's Heels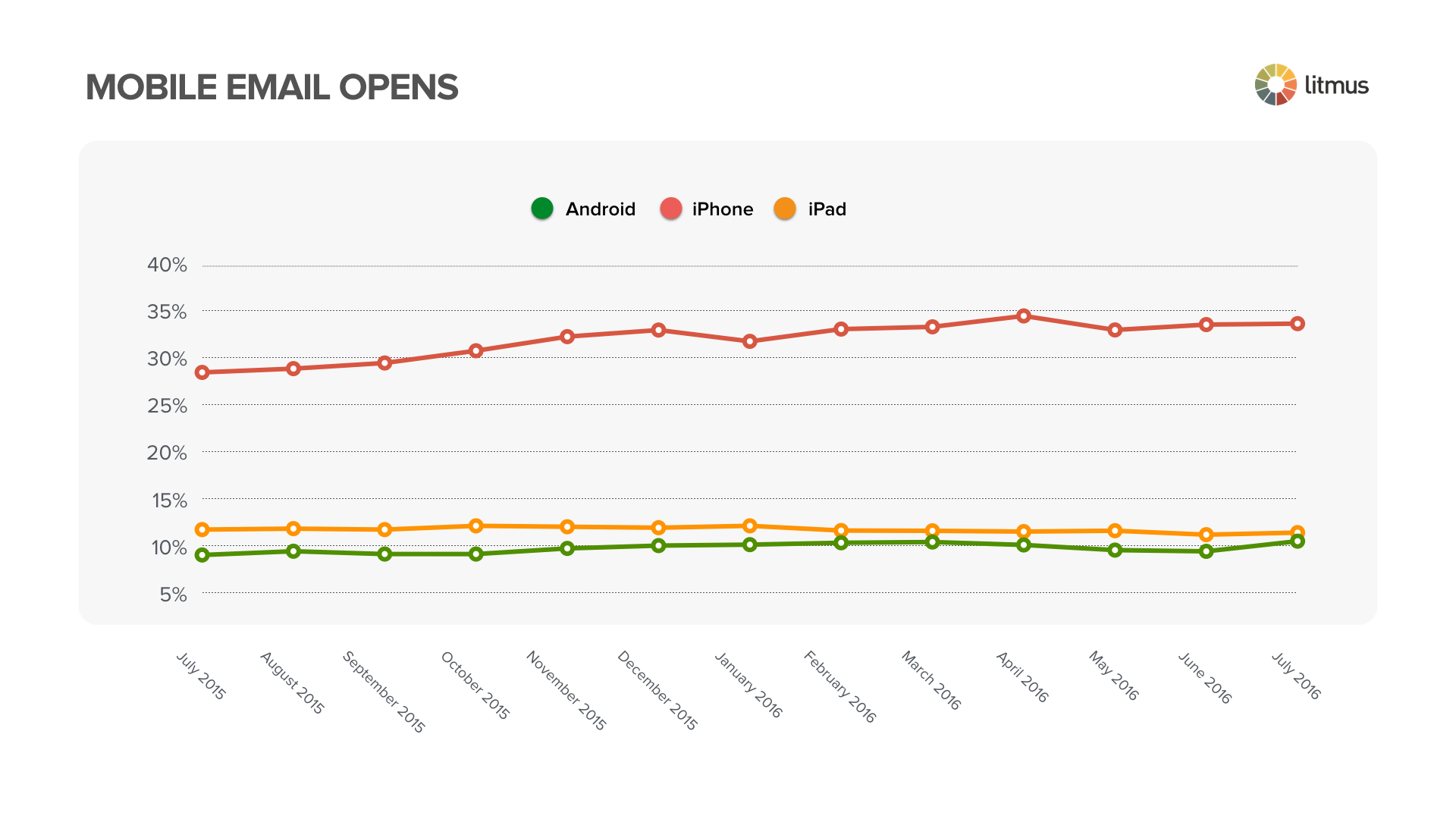 Within mobile, we've seen the most movement this month from Android, which increased a whole percentage point up from 9.3% to 10.4% in total market share. That's hot on the heels of the iPad at 11.38%, which is starting to tick back up after decreasing for the first half of 2016 (most likely due to dropping iPad sales.)
iPhone remains the top dog, continuing to increase market share slowly but surely each month since dropping in May down to 32.9%. We'll see if that trend continues and 33.5% this month is just the start.
The good news about all this? Marketers are taking the hint that it's time to optimize for mobile. The percentage of B2C brands with mobile-friendly email designs has grown 88% in the last two years, according to joint research between Litmus, Salesforce, and Fluent. And the penalties for not doing so have become harsher in the past year as well, with nearly 45% of consumers reporting that they have unsubscribed specifically because their email didn't display well on their smartphone.
That's a lot.
If your subscriber numbers match the high mobile usage we're seeing overall (a whopping 56%!) then you have a few resources at your disposal:
Mobile-aware: Mobile-aware design uses coding techniques that help display emails better on mobile, such as bulletproof buttons, white space, and designing in a single-column format.
Responsive design: Using fluid tables, fluid images, and media queries to control the layout of an email across different device sizes, responsive design adds more precision to making your email mobile-friendly.
Hybrid, or spongy coding: Hybrid coding still uses fluid tables and images but those tables and images are fluid by default, in contrast to responsive design.
Want to try responsive, mobile-aware emails but not sure where to start? Look no further than our free Community Templates.
Desktop Continues to Decline Down to 17%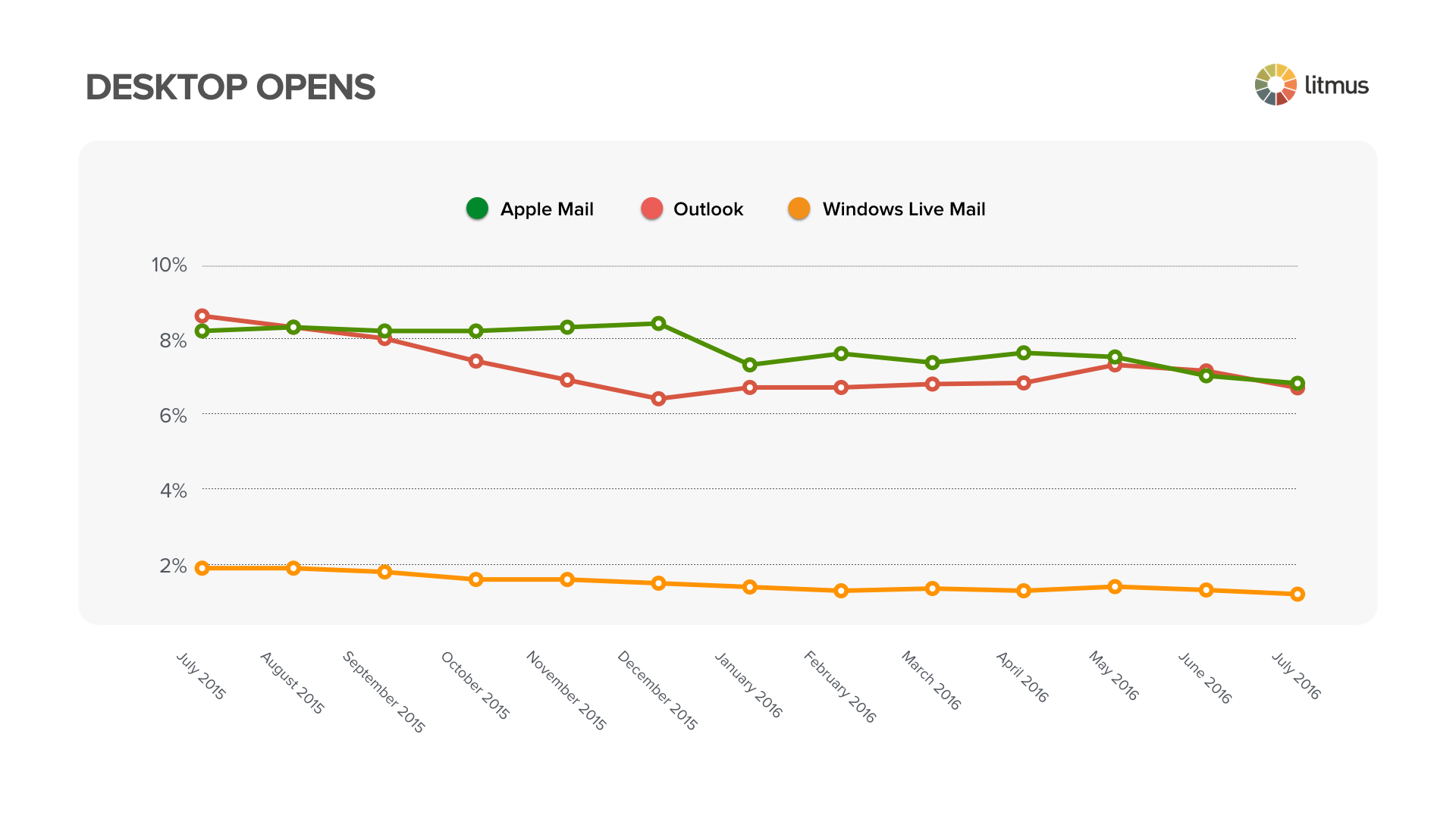 Desktop opens have continued to decline. Since July 2015, we've seen a 5% drop in desktop opens overall, down from 22%. That's a huge drop, most of which have been picked up by the rapid rise in mobile opens.
Within desktop, across the board market share decreased, most notably in Apple Mail, which dropped from 7% down to 6.8%, and in Outlook, which dropped from 7.1% down to 6.7%.
That doesn't mean desktop isn't important. What's key to remember with these market share metrics is they represent overall opens, but might not represent your audience. Be sure to take a look at your own analytics and optimize accordingly. Take the agency Shovi, for instance, who found that optimizing one client's emails for desktop, not mobile, showed more potential for higher performance.
Webmail Holds at 27%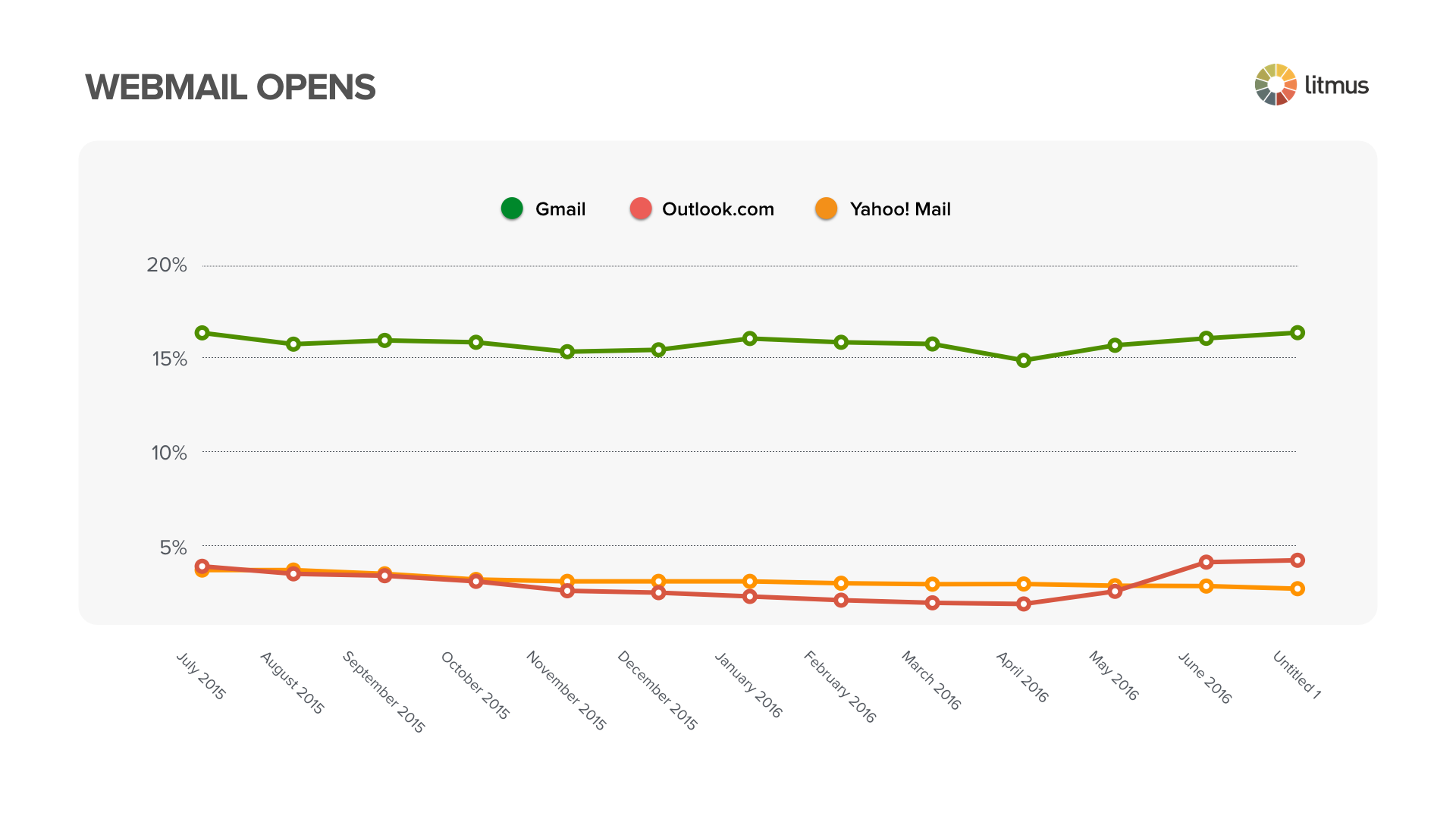 Webmail held this month at 27%. Gmail continues to be a force here, with opens at 16.31% and taking the #2 spot in the top 10 email clients list.
Gmail can be particularly tricky to deal with because of its lack of support for media queries, which are required for responsive design. Hybrid coding may be the way to go if the majority of your users are opening in Gmail.
This past May, Gmail recently unrolled new functionality for Inbox by Gmail called glanceable newsletters, which may affect open rates in the future. Glanceable newsletters show a preview of the links in the newsletter without having to click into it.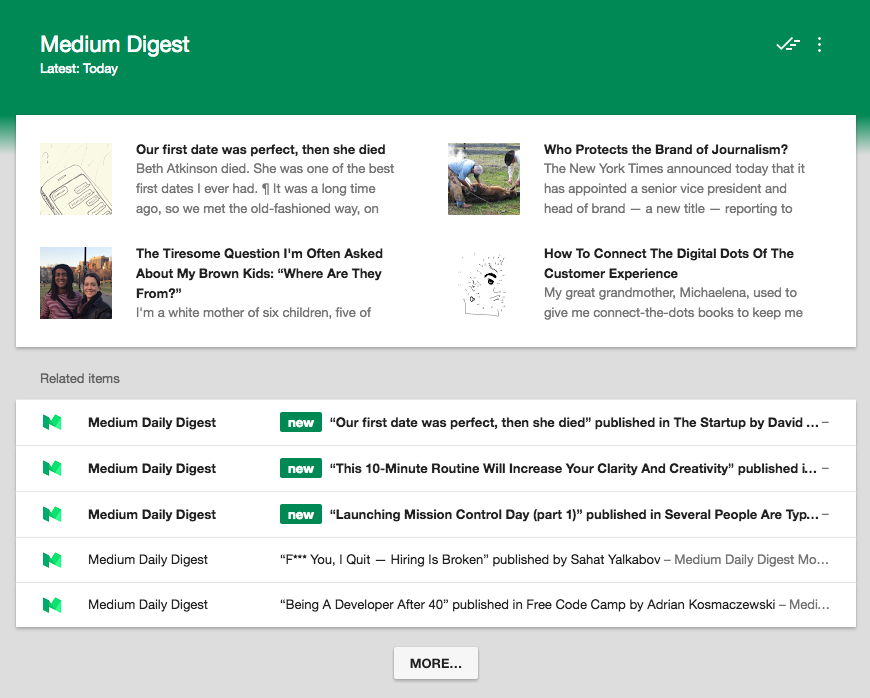 At the moment, however, it's unclear how marketers can enable (or disable) this functionality in their own newsletters. This new functionality makes optimizing your envelope fields such as your from name and preview text more important than ever.
WHERE DID WE GET ALL THIS DATA?
This data is derived from over 1 billion opens collected worldwide with Litmus Email Analytics between July 1, 2016 and July 31, 2016. It highlights worldwide trends across all industries and verticals. Some email clients may be over- or under-represented due to image blocking. Tracking trends over time is the best way to monitor open data for email!
WHICH EMAIL CLIENTS ARE MOST POPULAR WITH YOUR AUDIENCE?
While general email client open data is great for looking at trends, it's your audience that matters. With the addition of a small tracking code to your campaigns, Litmus Email Analytics generates a report of where your subscribers open your emails. Use that data to focus your testing efforts—and ensure your campaigns look great in inboxes where your subscribers are opening.