Every month, we track opens from more than 1 billion emails sent using Litmus' Email Analytics and share the trends we observe in various email clients and environments for email client market share. In September, mobile opens increased to 56%, desktop opens decreased to 17%, and webmail opens decreased to 27%.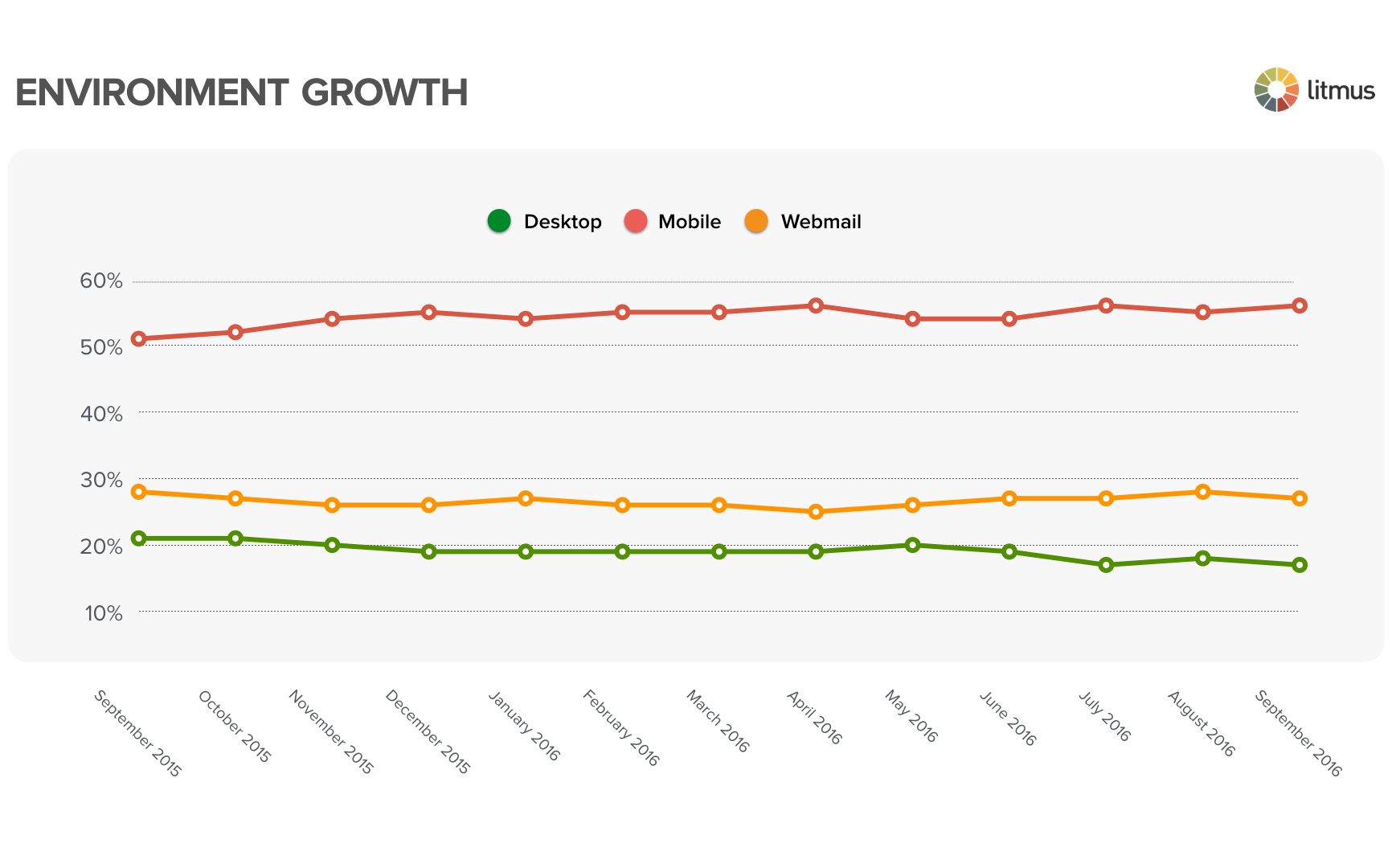 A REFRESHER ON MARKET SHARE TERMS + EMAIL OPENS
"Mobile" refers to mobile-specific email clients, like iPhone or Android, but also where users are opening their email. If they're using the Yahoo Mail app on their iPhone, for example, that counts as a mobile open for iPhone. This also includes tablets like the iPad.
"Desktop" shows any email client opened on a desktop application. That means any email client that required you to install software. If you're using a Mac, for instance, that could mean Apple Mail. On a PC, that might be Outlook.
"Webmail," by contrast, means you're using an email client within a browser. Logging onto your Gmail account or using Outlook.com fall under the "webmail" category.
How do we track opens? Open tracking in Litmus Email Analytics is based on 1×1 invisible pixel image tracking, which is the same technique that your email service provider uses to report your open rate. When a customer opens your email, the image is loaded. This counts as an open. (Don't worry—the tracking pixel doesn't alter your carefully planned designs!).
Let's dig into the data:
Top 10 Email Clients
This order holds steady from what we saw at the end of the first half of the year, with mobile overwhelmingly dominating the top ten list. Windows Mail overtook Windows Live Mail for the #9 spot, likely the result of Microsoft retiring Windows Live Mail.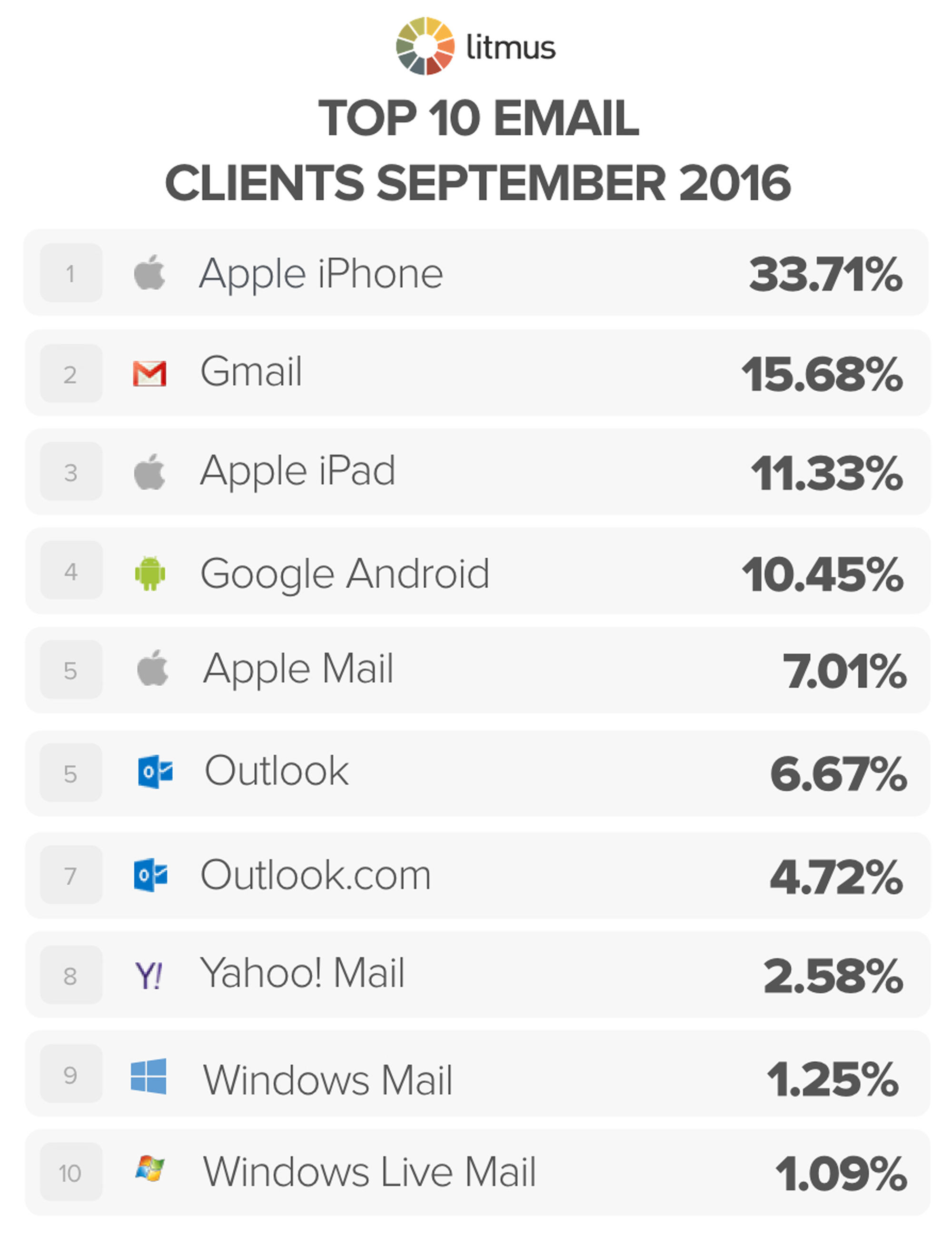 Discover your top 10

When it comes to email marketing, it's all about your audience. Use Litmus Email Analytics to discover which email clients are most popular with your subscribers. Sign up free!
Mobile Opens Back Up To 56%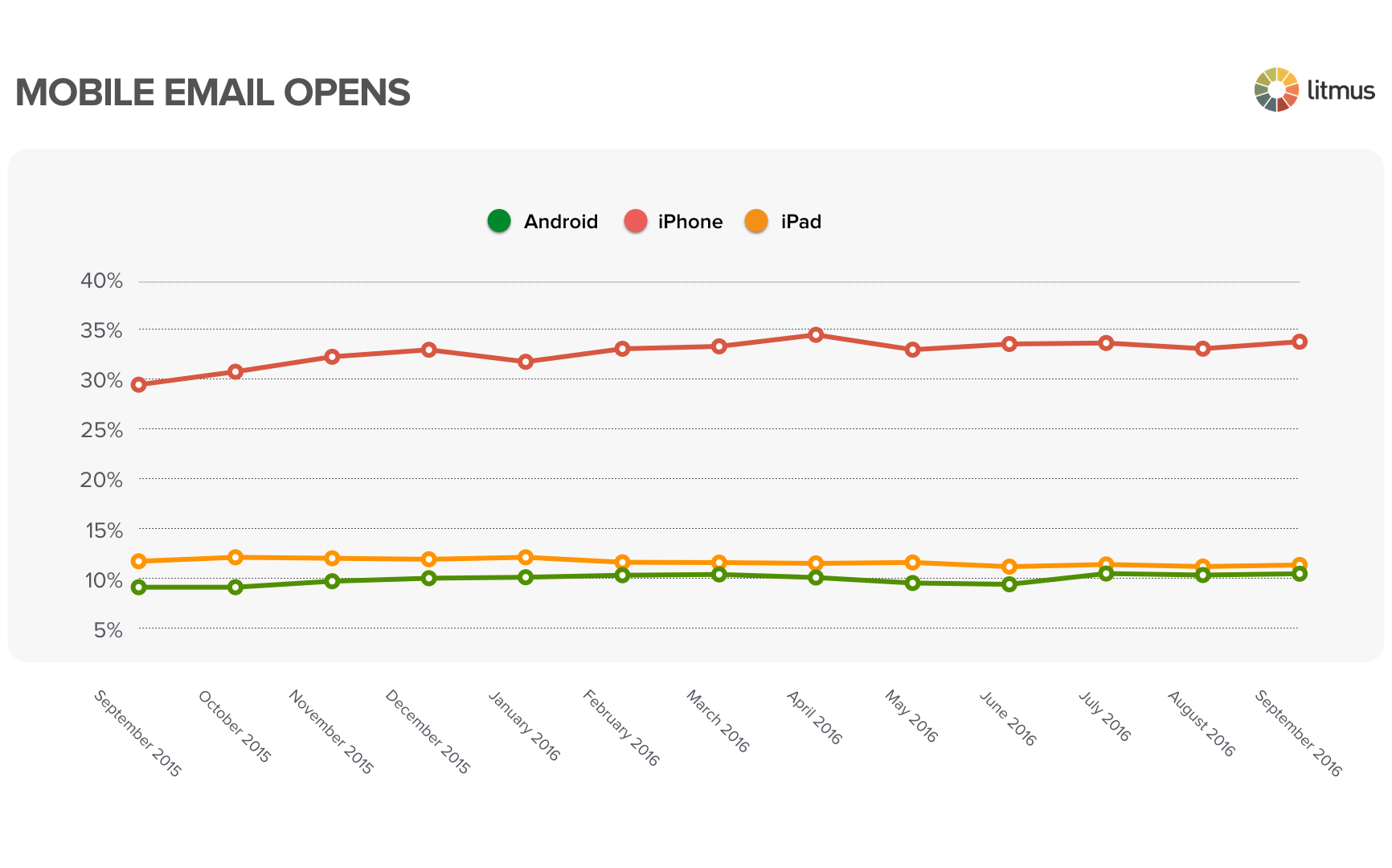 As we predicted last month, mobile rose back up to 56%. This continues the pattern of fluctuating between 54% and 56% email market share since last November, a trend that will likely continue through the end of the year.
Mobile's continued dominance in opens indicates the importance of mobile-friendly design. In The State of Email Design Report, we found that for broadcast and segmented emails, respondents overwhelmingly favored responsive design at 72.4%. So while it's the most popular method for those creating mobile emails, it's not the only one. 20% of that same survey reported using mobile-aware design instead.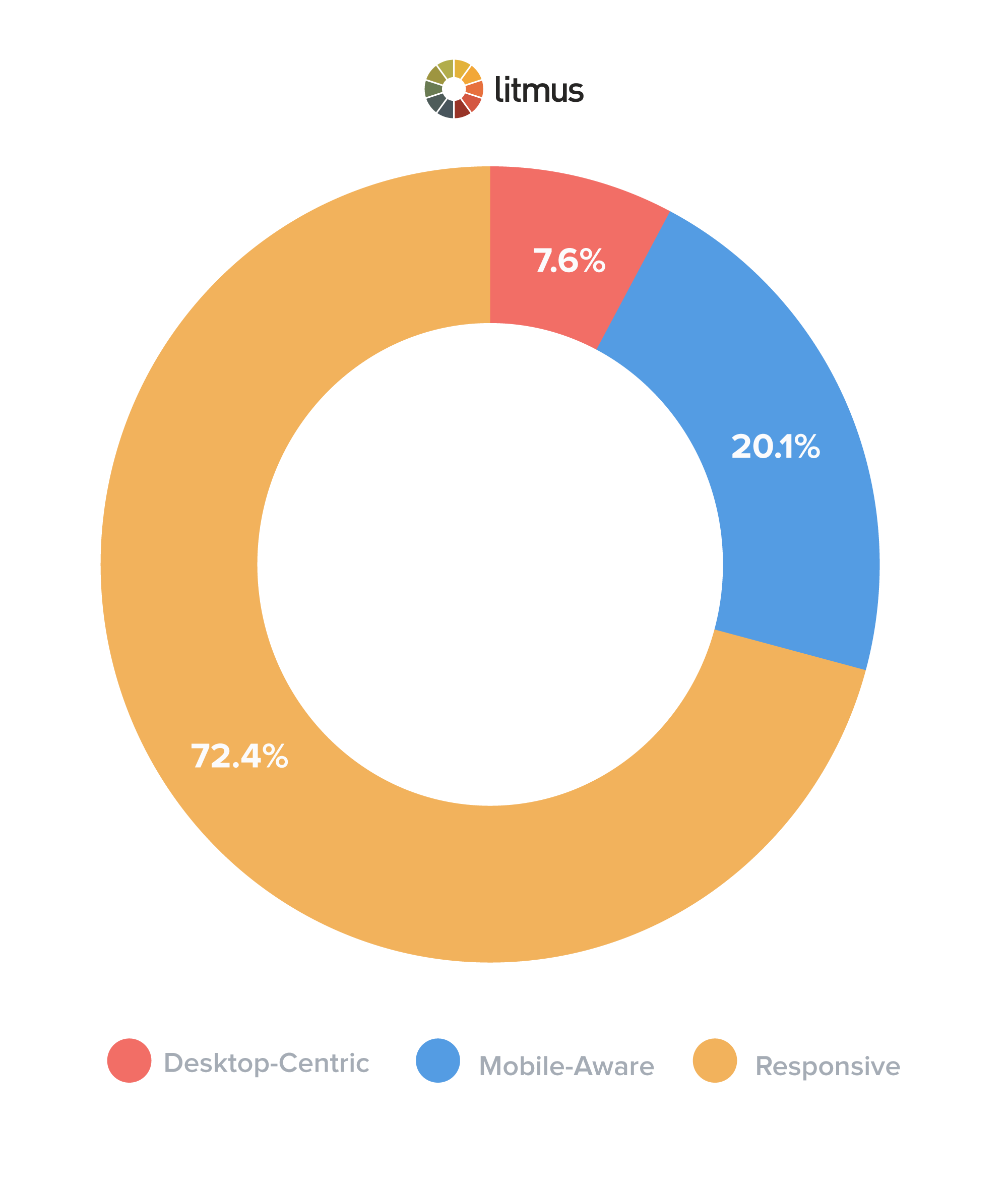 This approach has risen in popularity in the last year, according to data from Litmus and Salesforce.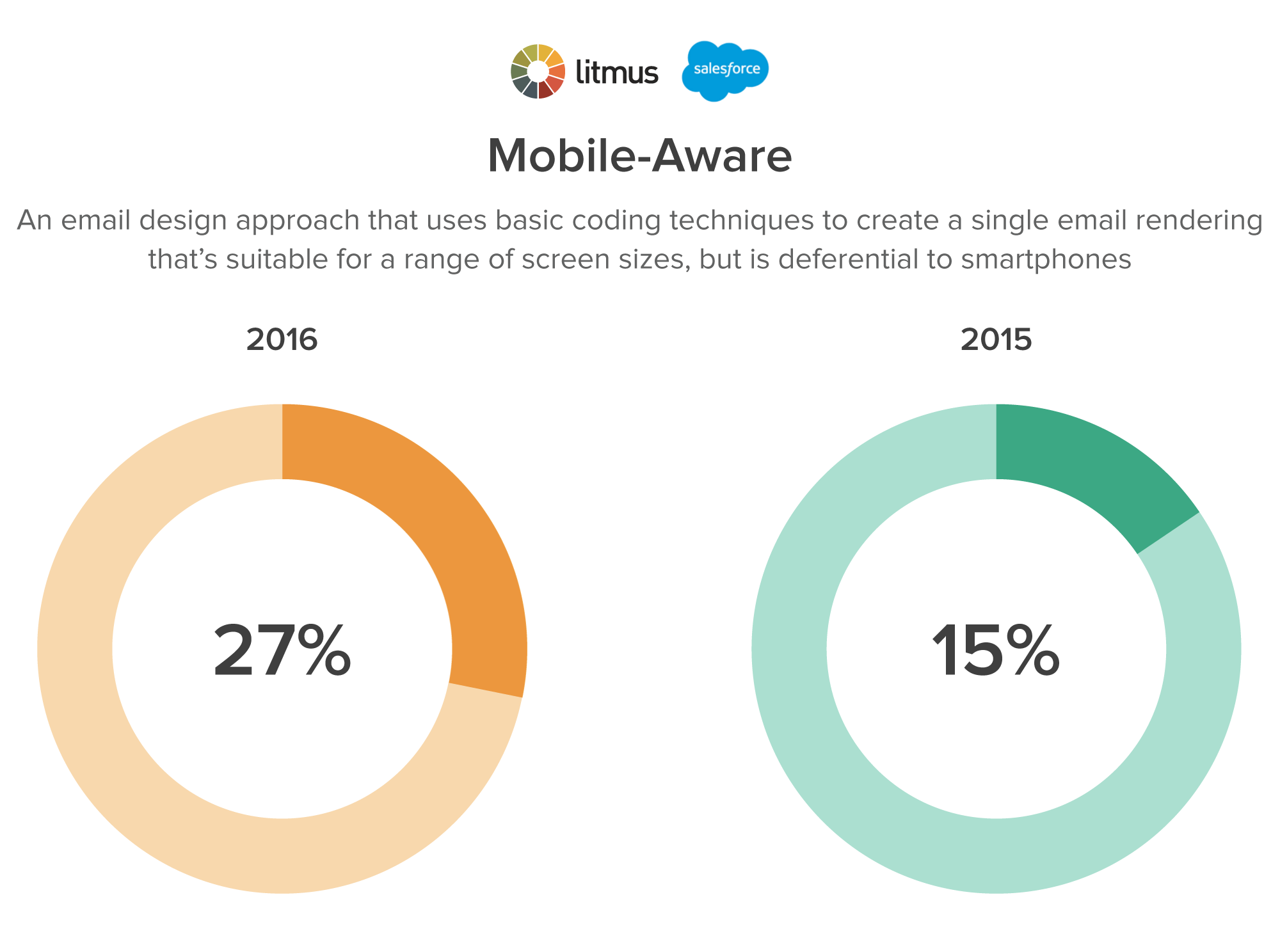 There's plenty you can do to help your mobile subscribers take action on your email through mobile-aware design:
Think of "tapping" rather than clicking. Are your buttons big enough for a subscriber to touch? They should be at least 44 px square.
Structure your email in single-column design to make things clear for mobile openers. Use a grid system for alignment and proportion.
Use large text so that anyone can read it, even from a smaller device. We recommend at least 14 px for body copy.
iPhone, iPad, and Android continue to hold the top three spots, with iPhone and iPad increasing to 33.71% and 11.33%, respectively, with iPad Android close on iPad's tail at 10.45%. With Apple releasing iOS 10, here's what you need to know.
Breaking it down further into iOS versions, iOS 9 is the overwhelming favorite with 83%, followed closely by iOS 10 at 11%. This makes sense as people begin to upgrade and make the switch over to iOS 10. There's still a few holdouts with iOS 8 at 4% and iOS 7 at 2%, but overall, if you're not sure which iOS versions to optimize for, you should focus on iOS 9 and iOS 10.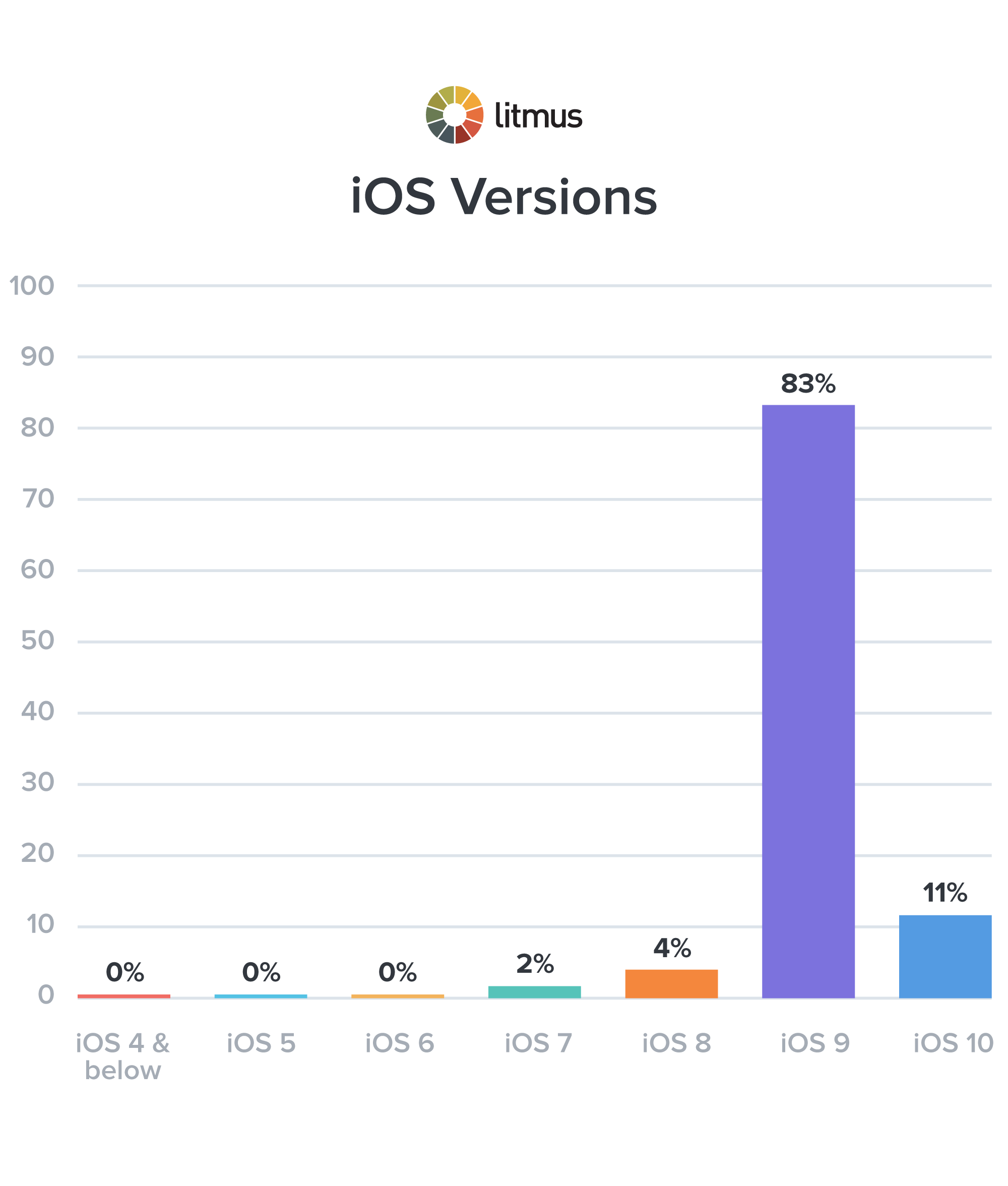 Keep in mind these metrics are general, and may not match your subscriber base. While our mobile opens may be 56% of all opens that we're tracking, you may have a different subscriber makeup. It's important to track your own subscribers (it's easy with Litmus Email Analytics) so you can focus your design efforts.
Desktop Opens Decrease to 17%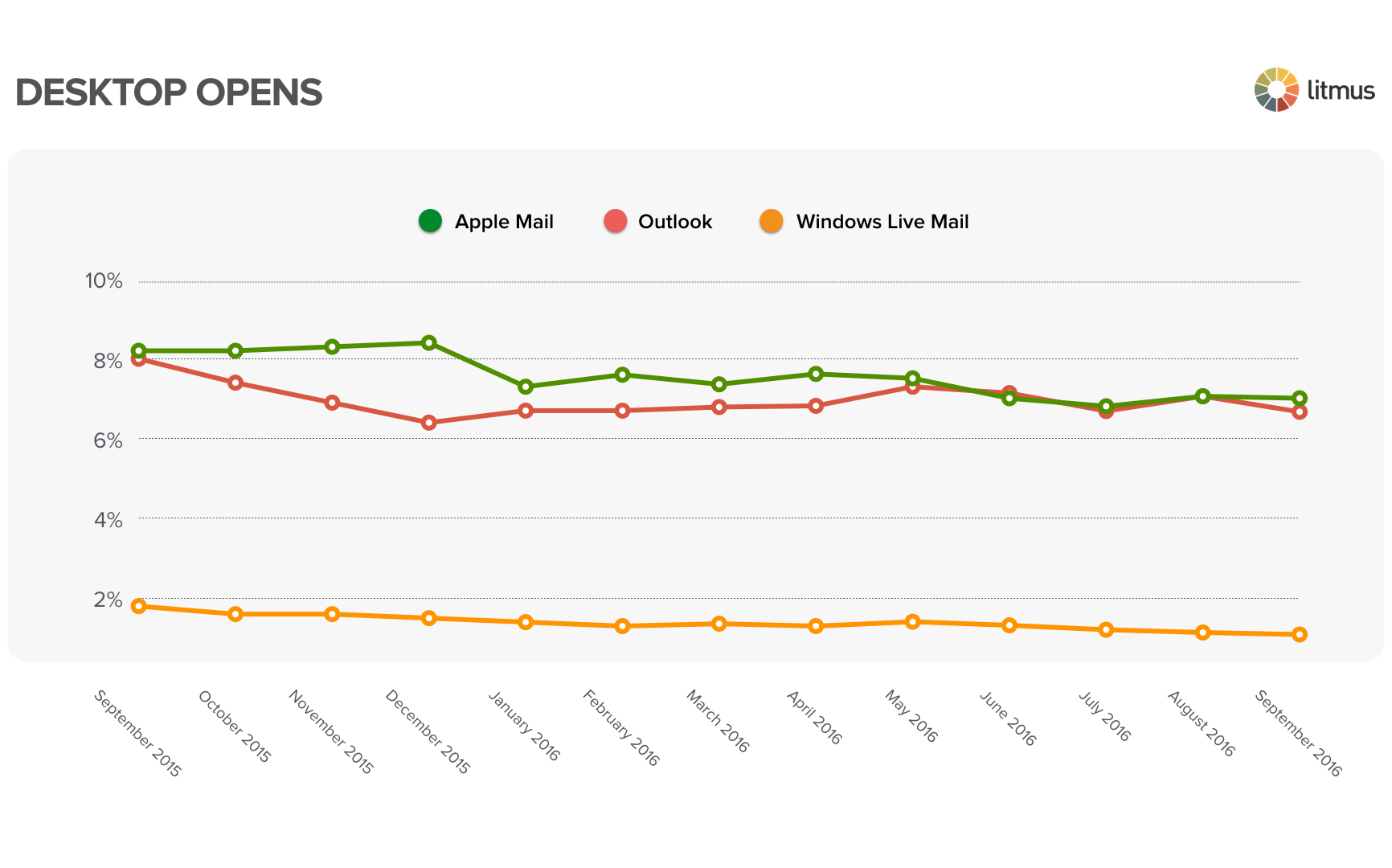 Desktop decreased to 17% after popping up to 18% in August. This continues an overall downward trend in the past year—desktop in 2015 averaged above 20% of email opens. Apple Mail decreased slightly this month to 7.01%, but overall, while we've seen desktop decreasing, we've seen huge growth in email client opens for Apple Mail since last December, when opens were around 4%. It still leads the category, edging out Outlook at 6.67%.
Outlook can give designers headaches, but there's hope. We've compiled a list of Outlook's common rendering issues as we work together with Microsoft to begin to fix newer versions of Outlook, Office365, Outlook.com, and Windows 10 Mail—and make email better.
Gmail Rolls Out Responsive Design Support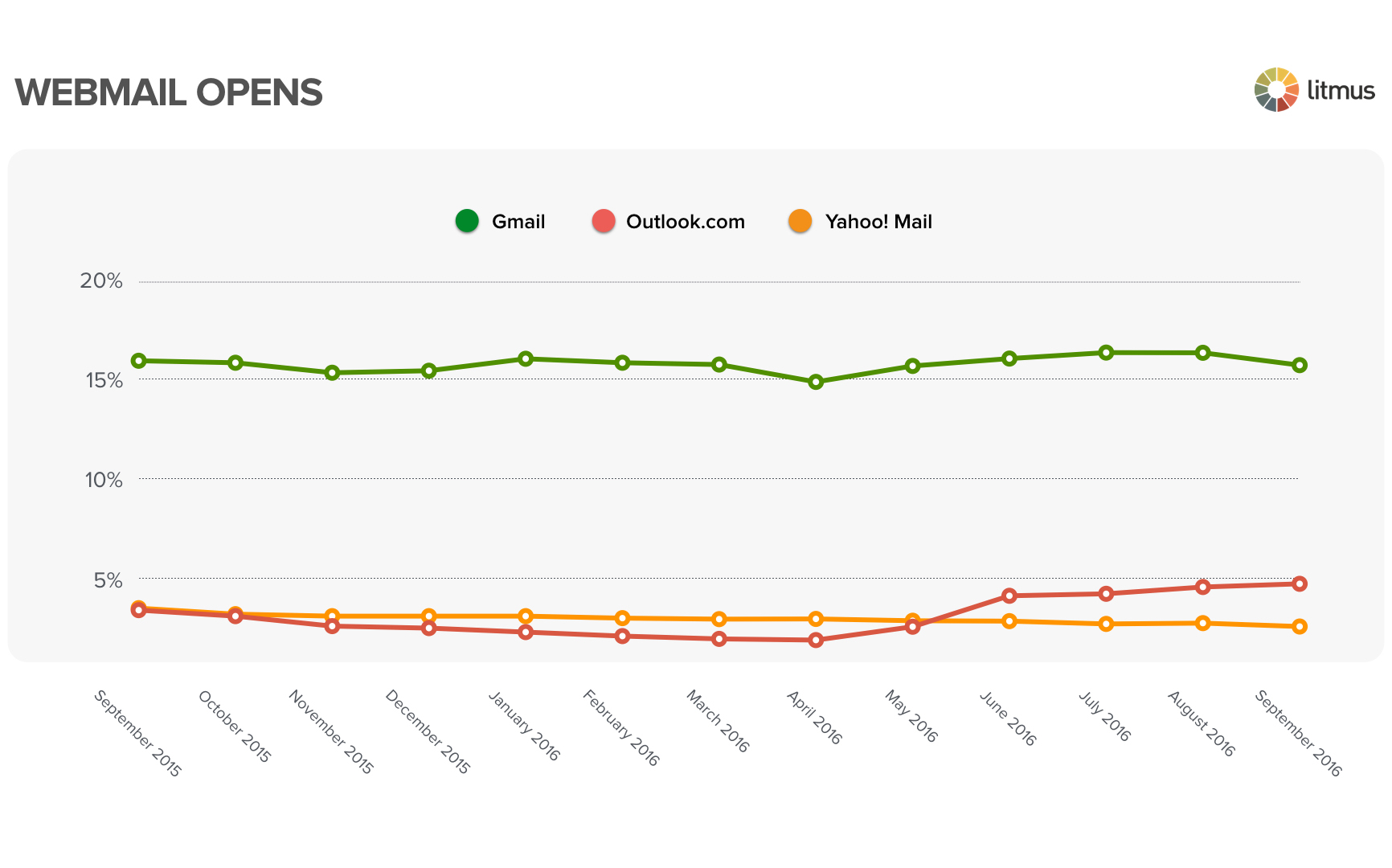 Gmail continues to dominate webmail opens at 16%. It's a major player for webmail, and consistently one of the top overall email clients. However, it has historically given email headaches with lack of support in the <style> tag in the <head> of an email and media queries.
That all changed when Gmail began rolling out changes this month which means they will now support responsive design, improved font styling, and CSS for accessibility.
This is a total industry game-changer.
What this means for email:
With Gmail on board, over 75% of email clients now support responsive design.
Reduced need for hacky layout structures (though in Outlook, you'll still need tables.)
No need to use CSS inlining for Gmail rendering
As Gmail continues to roll out changes, it's more important than ever to test and re-test your designs. Things will continue to shift, but we're keeping an eye on updates as they occur. Follow along with our Gmail live ticker.
WHERE DID WE GET ALL THIS DATA?
This data is derived from over 1 billion opens collected worldwide with Litmus Email Analytics between September 1, 2016 and September 30, 2016. It highlights worldwide trends across all industries and verticals. Some email clients may be over- or under-represented due to image blocking. Tracking trends over time is the best way to monitor open data for email!
WHICH EMAIL CLIENTS ARE MOST POPULAR WITH YOUR AUDIENCE?
While general email client open data is great for looking at trends, it's your audience that matters. With the addition of a small tracking code to your campaigns, Litmus Email Analytics generates a report of where your subscribers open your emails. Use that data to focus your testing efforts—and ensure your campaigns look great in inboxes where your subscribers are opening.