Every month, we track opens from more than 1 billion emails sent using Litmus' Email Analytics and share the trends we observe in various email clients and environments for email client market share. In May, desktop opens increased to 20%, webmail opens increased to 26%, and mobile opens dropped for the first time since January, to 54%.
A Refresher On Market Share Terms + Email Opens
"Mobile" refers to mobile-specific email clients, like iPhone or Android, but also where users are opening their email. If they're using the Yahoo Mail app on their iPhone, for example, that counts as a mobile open for iPhone. This also includes tablets like the iPad.
"Desktop" shows any email client opened on a desktop application. That means any email client that required you to install software. If you're using a Mac, for instance, that could mean Apple Mail. On a PC, that might be Outlook.
"Webmail," by contrast, means you're using an email client within a browser. Logging onto your Gmail account or using Outlook.com fall under the "webmail" category.
How do we track opens? Open tracking in Litmus Email Analytics is based on 1×1 invisible pixel image tracking, which is the same technique that your email service provider uses to report your open rate. When a customer opens your email, the image is loaded. This counts as an open.
Let's dig into the data:
Top 10 Email Clients
The positions of the top 10 email clients have remained relatively unchanged since December 2015, with Windows Mail and Windows Live Mail trading the #9 and #10 spots this month. Apple iPhone, Gmail, and Apple iPad continue to dominate the top three spots.
Apple iPhone 32.91%
Gmail 15.64%
Apple iPad 11.58%
Android 9.52%
Apple Mail 7.51%
Outlook 7.3%
Yahoo! Mail 2.87%
Outlook.com 2.57%
Windows Mail 1.41%
Windows Live Mail 1.04%
Discover your top 10

When it comes to email marketing, it's all about your audience. Use Litmus Email Analytics to discover which email clients are most popular with your subscribers. Sign up free!
Mobile Drops For The First Time Since January, But Remains >50%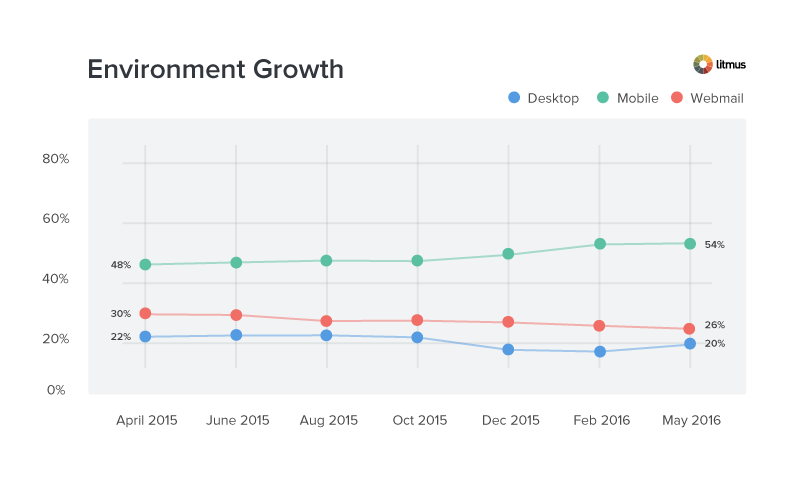 Mobile dropped for the first time since January, back down to 54% since last month's growth to 56%. Though this represents a small dip, mobile opens have remained above 50% since August last year, and are unlikely to drop below that mark anytime soon. Optimizing email for mobile remains important, however. It is still where the majority of subscribers turn to read their emails.
Because of this, it's increasingly important to know your audience and think deeply about the context of your email before you send. Imagine a scenario where your flight is delayed or changed and you're stuck in the airport on a mobile device. Scenarios triggered when a user is away from their desktop computer means that this critical information can get lost in a sea of blue links and tiny text.
Techniques such as responsive or hybrid email play an important role in optimizing emails for mobile devices, but it's important to think creatively about how subscribers interact with your email, too. You can make your email more mobile-friendly by:
Being as concise as possible.
Using a single, clear call-to-action, ideally with a bulletproof button
Utilizing white space to give your text some breathing room
Using a minimum font size of 13px
Designing in a single-column format
Looking for a starting point, no coding required? We've built a set of pre-tested, responsive templates that can jump-start your mobile-friendly campaign from onboarding new users to advertising your next event.
Grab a template and get going →
Apple Remains Dominant In Mobile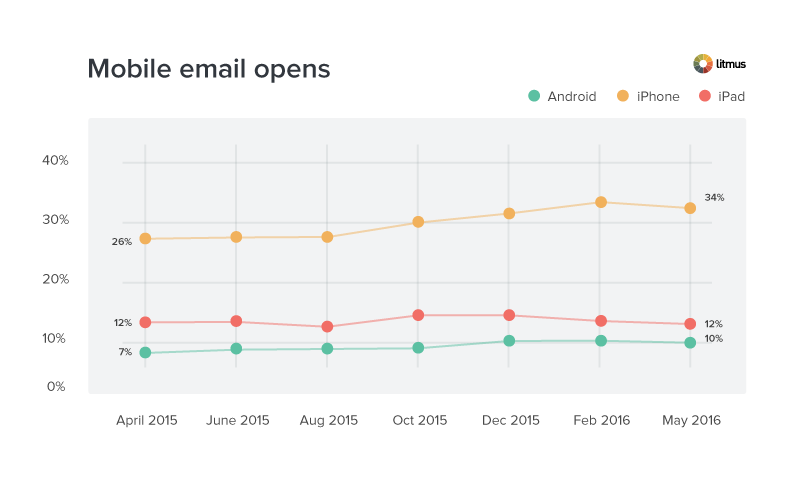 In the battle of Apple vs. Android, Apple continues to dominate email client market share with the iPad and iPhone totaling nearly 50% of all opens this month. Android continued to drop down to 9.52%, it's lowest mark since last November.
Email client market share may be catching up to Q1 sales reports from Apple, which saw the first drop in iPhone sales in almost a decade. Opens dropped this month two percentage points, from 34.4% down to 32.9%. It's unclear if this trend will continue throughout the rest of the year, but Apple compensated with a slight increase in iPad opens, and combined beat Android by 34%.
The good news about iOS is that it has great support for HTML and CSS.Try using CSS3 animation to see if it increases engagement if you find a lot of your subscribers are using these clients.
Outlook Catching Up To Apple On Desktop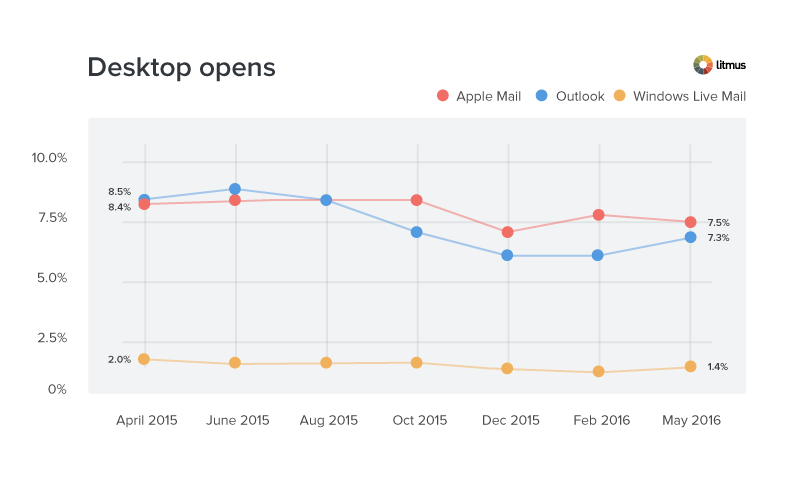 Desktop opens rose for the first time since last November, back up to 20%, which corresponded with a jump in Outlook opens from 6.82% up to 7.3%, it's highest market share since last October. Apple Mail remains at the top of the desktop list, but we did see a slight drop this month, from 7.62% to 7.51%.
Though we're constantly frustrated by Outlook, there's a few tricks you can try to make sure your emails look good in this client. Using table-based designs and conditional CSS can help combat some of Outlook's quirks. If you're still stumped, check out this rendering guide to Outlook, or post a question on our Community.
Gmail Ahead Of The Pack For Webmail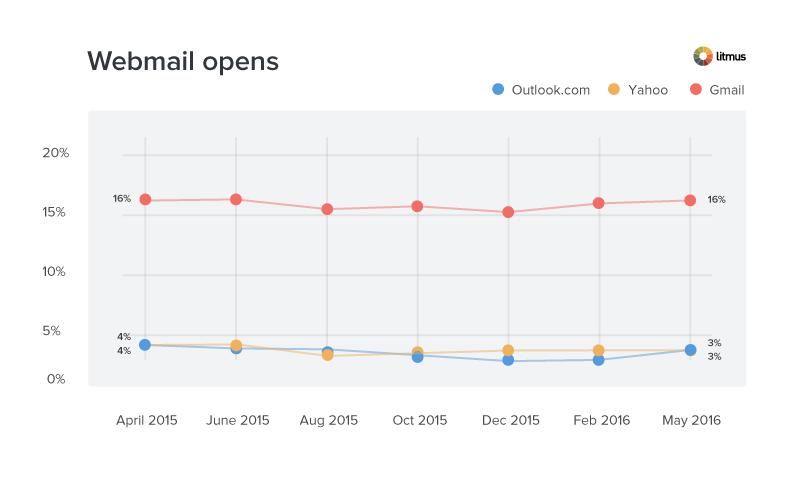 Gmail remains the most popular webmail client with 60% of all webmail opens and a 5.7% increase from April, to 15.64% of total opens. This explains the jump in webmail opens from 25% to 26%.
Yahoo! Mail continues to drop steadily, and is now down to 2.87% of opens. It's continually dropped since 2013 and is currently up for auction: Verizon recently bid $3B for the company's web assets, which would presumably include Yahoo! Mail. Verizon also owns AOL, so if the deal does go through, there's potential for some shakeups there.
GMX and Web.de continue to increase steadily in opens, up this month from 0.12% to 0.13% and 0.22% to 0.24%, respectively. Though that might not seem like a lot, these clients are popular in Germany, Austria, and Switzerland, so this increase is something to watch in the future. If you have subscribers based in those countries, it's important to make sure you know exactly how emails will render.
Why Did Mobile Opens Drop? Let's Speculate!
There's several possibilities as to why these numbers shifted this month (El Niño, mysterious lights in the sky, and other apocalyptic portents notwithstanding.)
iPhone Sales Drop
iPhone's opens dropped two percentage points this month, which may correspond to decreased iPhone sales—as consumers hit their smartphone capacity and numbers drop, we might see mobile opens drop, too, since iPhone takes up the majority of mobile email client market share.
Changes With Gmail
Second, the dip in iPhone opens and the corresponding increase in Gmail opens may mean that more people are using the Gmail app on their iPhones instead of the Mail app. This comes in conjunction with recent press around Inbox by Gmail and the new glanceable newsletters feature.
Glanceable newsletters show a preview of the links in a particular newsletter, as well as links to previous editions, without having to click on the email, posing a new challenge for tracking emails. As this gets rolled out to additional users, we may see some additional shifts happening.
Seasonality
Third, it might have to do with seasonality. Just as we often see mobile opens increase leading up to the holidays each year, it might be that we see a lull each summer. We'll have to keep tracking to find out for sure!
WHERE DID WE GET ALL THIS DATA?
This data is derived from over 1 billion opens collected worldwide with Litmus Email Analytics between May 1, 2016 and May 31, 2016. It highlights worldwide trends across all industries and verticals. Some email clients may be over- or under-represented due to image blocking. Tracking trends over time is the best way to monitor open data for email!
WHICH EMAIL CLIENTS ARE MOST POPULAR WITH YOUR AUDIENCE?
While general email client open data is great for looking at trends, it's your audience that matters. With the addition of a small tracking code to your campaigns, Litmus Email Analytics generates a report of where your subscribers open your emails. Use that data to focus your testing efforts—and ensure your campaigns look great in inboxes where your subscribers are opening.
Try Litmus free!