Imagine seeing your core email metrics from your email service provider (ESP) plus your subscriber behavior and engagement ones from Litmus all in spot. No switching between various technologies. No sifting manually through exported data.
Then take that dream up a notch. That data is automatically updated, so you're always seeing the latest information.
Sounds impossible, right? Not anymore.
Introducing: Litmus Integrated Insights
Get powerful, holistic insights to optimize email campaigns
Now more than ever, it's a struggle to break through the noise and reach your audiences in a meaningful way. In fact, Forrester Research predicts that marketing message volume will increase by 40% in 2021 from B2C companies alone.
With so much competition in the inbox, it's critical to understand what's resonating in your email program—and what's not, so you can be agile and effective with your email strategy. Add to that, increases in privacy protections that make the insights you gather even more important to building quality relationships with your subscribers and creating an exceptional email experience.
The new Integrated Insights Report in Litmus combines email performance data from your ESP with subscriber engagement data from Litmus into a single view. Meaning—it's easier to create more personalized experiences, optimize design and development, and improve results.
Break down data silos that get in the way of email optimization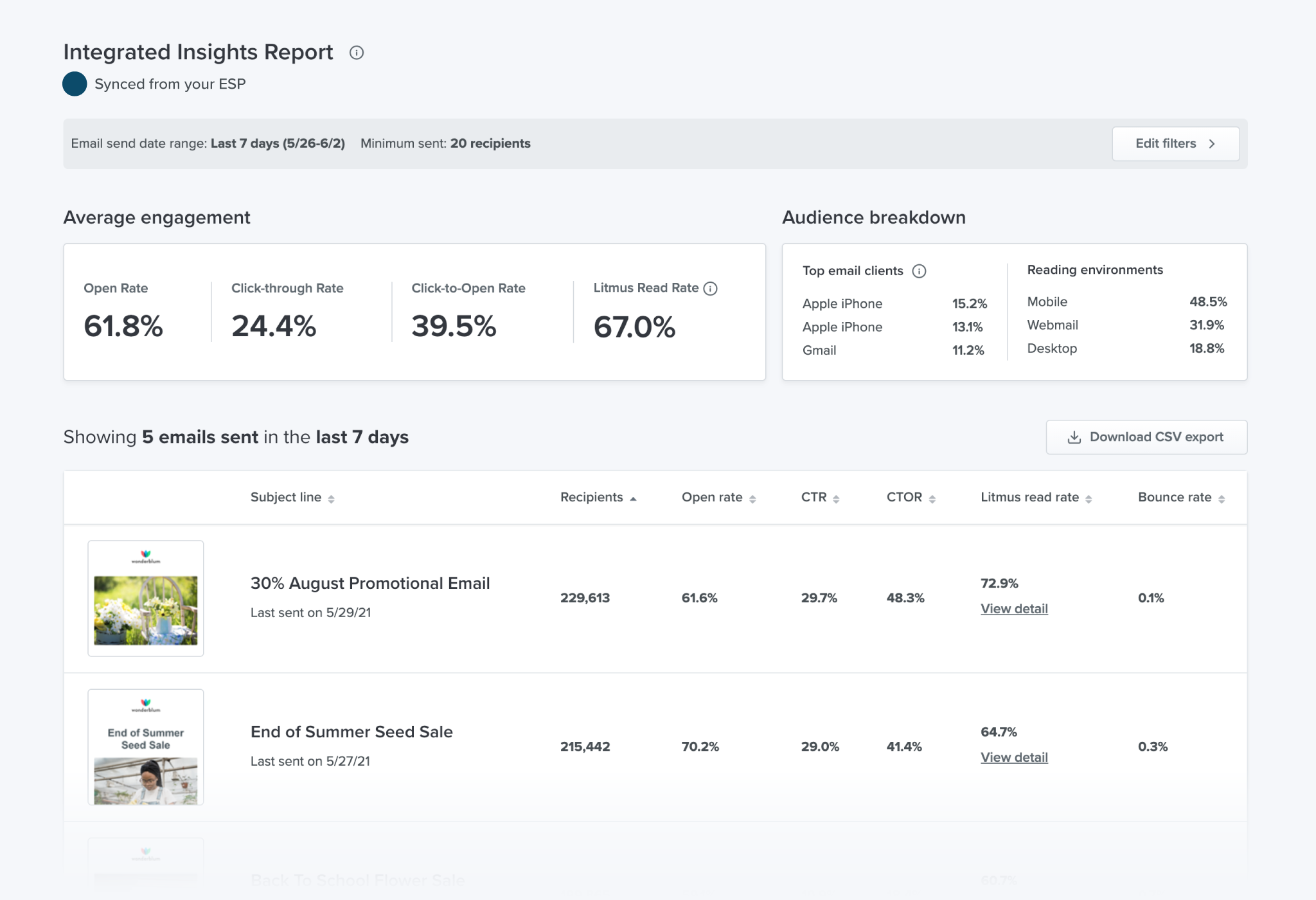 We've heard time and time again from marketers that accessing data from "all the places" is painful, time-consuming, and sometimes just downright seemingly impossible. And we've not only heard that cry, we've lived it too. Say goodbye to spending valuable time connecting the dots between data trapped in multiple technologies with our new Integrated Insights Report. It automatically syncs campaign results such as open rate and click-through rate from your ESP into Litmus Email Analytics, so you can see all of those metrics and subscriber engagement details like read rate, top email clients, and more. By combining these, you can quickly identify opportunities to improve results without manual effort or analysis.
Are your click-through rates being impacted by your audiences' reading environments? Are the majority of your subscribers engaging with your emails in certain email clients that could be impacting their experience? How do your campaigns compare to each other, not only in terms of opens and clicks, but also when it comes to engagement?
You get an aggregated view of your overall email program performance, as well as the metrics for each of your recent emails, accompanied by a thumbnail image for easy reference. And, the data is automatically updated every few hours, so you know you're looking at the most up-to-date and relevant information. Plus, you can rest assured the privacy of your subscribers is fully protected (Litmus doesn't store any personally identifiable information).
*Now available for Litmus Enterprise customers who use Eloqua and Salesforce Marketing Cloud.
Get actionable subscriber insights delivered right to your inbox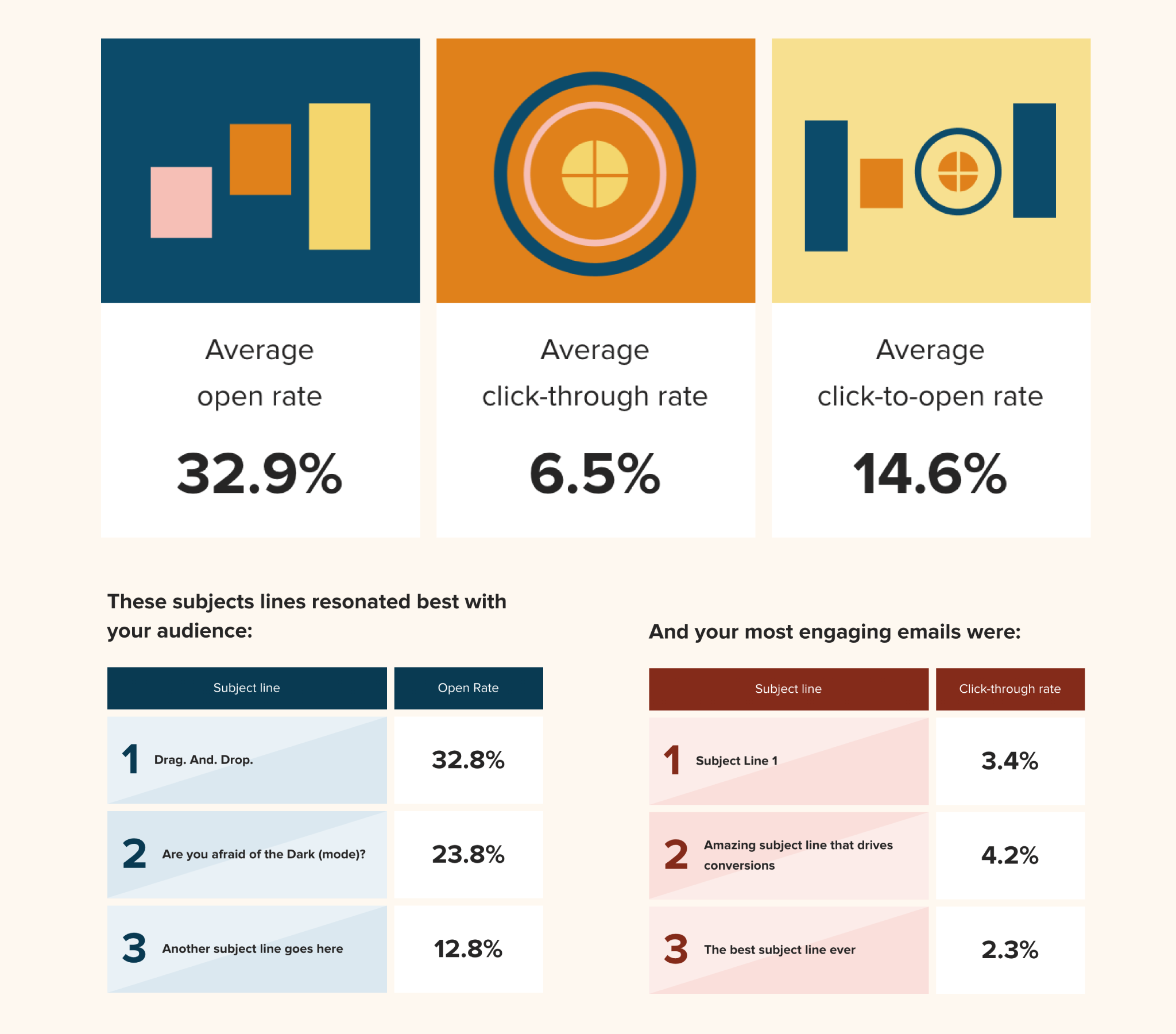 The Litmus Insights Digest, a weekly summary of email engagement, makes it even easier to stay on top of subscriber trends and behaviors with no extra effort. Every Monday, you'll discover your top subject lines and the most engaging content from your email campaigns in the past week right in your inbox. Plus, get a snapshot of key email performance highlights that help keep your finger on the pulse of your email program.
Time is of the essence when it comes to agile email marketing and there's no better way to give your team the ability to build on what's resonating—or uncover an issue that's impacting results—while it still matters to your subscribers.
Share insights across the marketing team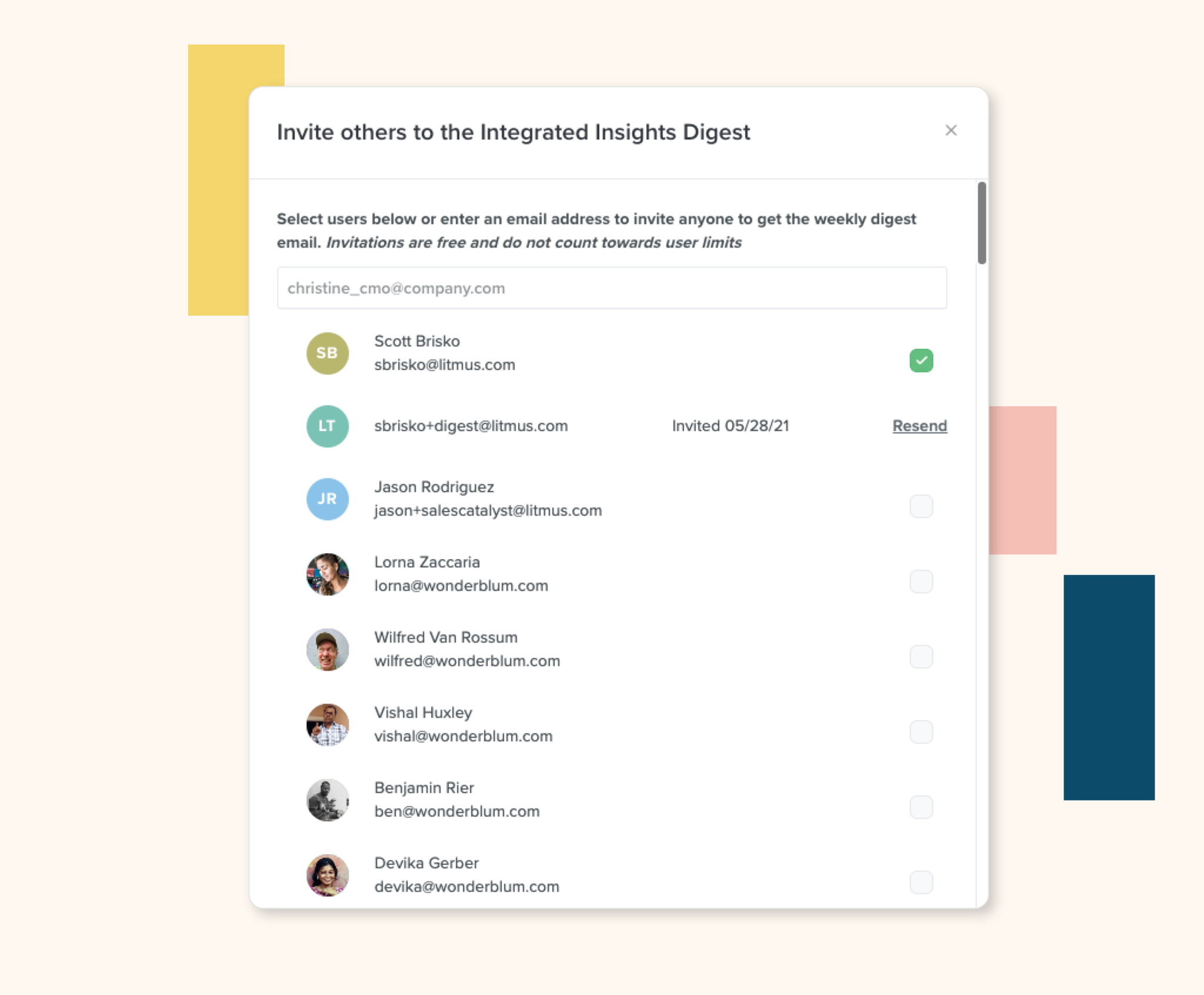 Email insights have the potential to impact even more than just email strategy. Your subscribers are a representation of your broader market and it's likely that what's resonating with your email audience will be engaging to your prospects as well.
Forget about third-party cookies. Now, you can empower your colleagues with first-party data to inform strategies across channels and improve marketing results, because anyone on your marketing team, or in your company, can subscribe to the Insights Digest—even if they're not a Litmus user.
Dive into Litmus Integrated Insights
Litmus Integrated Insights is available with a Litmus Enterprise plan and currently supports data connections to Salesforce Marketing Cloud and Oracle Eloqua, with more to come. Get started with your new, holistic view of subscriber insights today.
Litmus Enterprise customer with Eloqua or Salesforce Marketing Cloud? See it now. Don't use either of these ESPs, but want to learn more? Check it out.