Read Time: 11 min
How to Make Powerful Non-Profit Stewardship Email Journeys that Capture Attention
Let's get this out of the way—there is no single stewardship plan that's going to apply to all nonprofits. However, my aim is to raise considerations that you may not have had to think about when working in the public or private sectors, outside of the third sector.
But wait, what's a stewardship journey?
In the nonprofit world, a stewardship journey is the set of communications you send to supporters to nurture a relationship through print, email, SMS, and other channels. Or what we would normally call a nurture journey.
Okay, so who are these supporters?
Supporters are anyone who gives support to a nonprofit in any way, ranging from donors to corporate partners, and even celebrity ambassadors. You've probably noticed right away in that sentence that this can cover a large group of people.
This can be the biggest difference between a nonprofit stewardship journey and a general nurture journey from the private sector. Where an ecommerce business may only deal with customers, the likelihood is that a nonprofit's stewardship journey will need to steward:
Volunteers who are gearing up for a big event to collect donations from the public
Fundraisers who are training for a marathon to raise as much money as possible
Supporters who may need to be more invested in the cause before they donate
Corporate partners who need information and media packs to raise awareness internally and externally
These cover just some of the audiences stewardship journeys need to cater to.
With all that in mind, this article will specifically focus on best practices for creating an email stewardship journey.
6 steps to get started
When done right, email marketing is highly effective with a return on investment (ROI) of 36:1 according to Litmus' State of Email report. There are many ways nonprofits can improve their email process. One of them? Using the power of automated emails with your stewardship journey. Here's how to get started.
1. Have a clear objective
A good stewardship journey should be objective-driven, so the most important question to ask is, "What is the purpose of this journey?"
Is it to nurture potential supporters into becoming regular donors? Is it to support fundraisers to raise as much money as possible for their event? Is it to onboard a first-time volunteer?
Whatever end result you're looking for in your stewardship journey, it should align with a clear, singular purpose.
Keep your team on track

Email briefs ensure an email's goal, messaging, audience, and timing are clear—from inception to execution. Prevent your emails from getting lost in translation, and stay on track with your initial purpose and strategy.
2. Ensure first-party data is squeaky clean
Naturally, the data you have on hand should be as clean as possible. This comes into play to ensure you can create a relevant stewardship journey for your supporters.
Always start with the basics: first name and email address. You can then ask for further information along their journey with progressive profiling.
Depending on the stewardship journey, you may already have more information. For example, for volunteers, you may already be aware of:
Past volunteering history
Preferred areas to volunteer in
Other information relevant to their relationship with your charity
You should be mindful to only use the most necessary data that will give subscribers the best user experience.
With this in mind, your email service provider (ESP) should have a robust connection to your customer relationship management (CRM) tool. This way, your automated emails will always have up-to-date information about your supporters—especially when it comes to their consent.
You should also meticulously uphold the standards of your policies when it comes to your data in accordance with your local data protection laws.
3. Segment your supporters
Depending on your nonprofit, you may have many types of supporters which can include donors, fundraisers, and corporate partners just to name a few. Since the needs of each of these audiences are so varied, they should have separate stewardship journeys. However, this can begin to get complicated very quickly, especially if supporters can be more than one type of audience.
Therefore, be sure to have detailed documentation on what campaigns are live and to what audiences they go. Visualising these journeys with the help of software is a great way to better wrap your head around how these journeys may cross with each other, so you can plan better pathways.
4. Differentiate between transactional and direct marketing
It's vital to make the distinction between transactional and marketing messaging for the purposes of email consent, data, and privacy. Under both the European Union's and United Kingdom's General Data Protection Regulation (GDPR), direct marketing includes "any material which promotes the aims and objectives of the organisation." This is important for CAN-SPAM in the United States and CASL in Canada, too.
As you can imagine, this can stretch to quite a lot of content included in email marketing. Have this at the top of your mind when planning your email journeys, and ensure there are markers in your data that state whether someone has opted in to hear about marketing messaging right up top so you can make the correct exclusions.
5. Start with the non-negotiable journeys
Now that you have your foundation, the first journeys to start with should be your Welcome and Thank You ones. It's common courtesy to do this in our everyday lives, and it's especially important within the context of nurturing a relationship through an email stewardship journey.
Welcome
A welcome email should come immediately after a subscriber has signed up to receive emails or has been enrolled in an automated program.
Make a great first impression


Quickly check how your emails appear and function in 100+ popular email clients worldwide to ensure they'll look great in every inbox.
The content should set the tone. There should be a blurb on the nonprofit's mission and a reminder of what the subscriber has signed up for. It's also good to manage expectations of what emails the subscribers can expect to receive moving forward.
This example from Help for Heroes was created to welcome new supporters to the charity shop.

Not only does it have friendly copy to set the tone, it also includes handy links to different areas of the site and reinforces the charity branding.
Thank You
After a supporter has converted or taken action of some kind, it's important to thank them. Be sure to include wording that also reminds them of who they've helped. If you have worked in e-commerce, this is the counterpart of the lifecycle you would recognise as post-purchase.
You could also include an image that can be shareable on social media so supporters can share their achievements! After all, loyal subscribers can be the best advocates for your brand, so it makes sense to provide them with the tools to do so.
This example from the American Red Cross highlights how much in total was donated from supporters overall during their Giving Tuesday campaign.


Notice that messaging like "Thanks to supporters like you" and addressing the reader with words "Your generosity and compassion make all the difference" adds a more intimate and personal touch to the copy.
6. Add other lifecycle checkpoints
Once you've nailed the above, it's time to add extra checkpoints in the stewardship journey to provide a seamless and relevant experience for supporters.
Reminders
If the stewardship journey is meant to nurture supporters toward a specific event, it will add value to have reminders with times and dates. If you have basic information on which area or state your supporters are in, you could include helpful guides on how to get to the event location and the contact information of staff members who are on hand to help.
This example from the Lung Cancer Research Foundation has all of the salient information reminding supporters when and where they can take part in their event. Additionally, they've included information on how people can take part if they can't make it that day, ensuring that all supporters are included in this special occasion.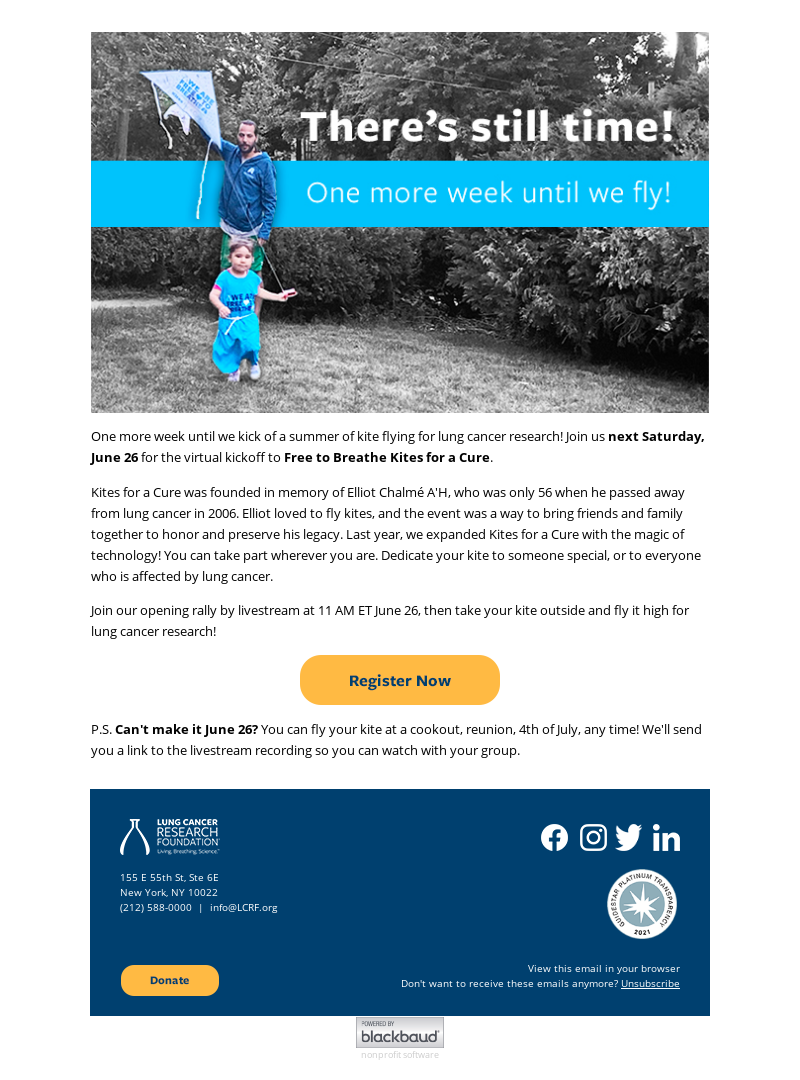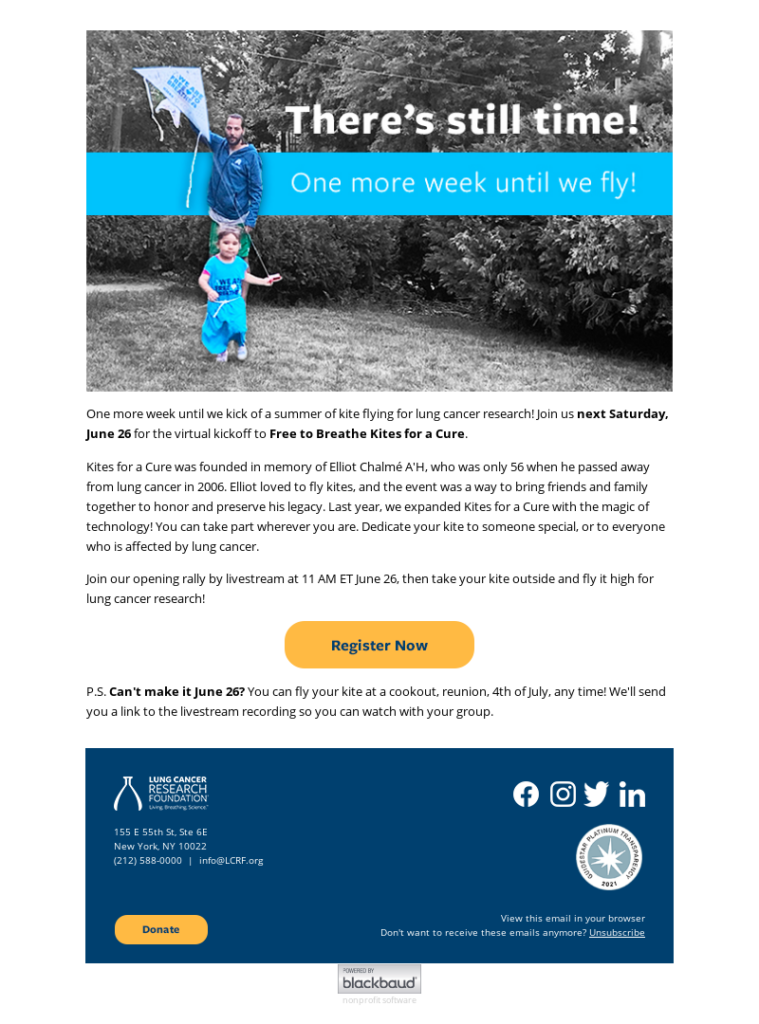 Bonus: Notice the donate button in the footer. Be sure to include donate buttons in your header or footer for a frictionless experience!
Congratulations
For fundraising stewardship journeys, it's a great idea to congratulate supporters when they've reached certain milestones and encourage them to keep going. Video content can be incredibly powerful and can say so much more than a load of copy can. This faux video technique is a great way to show off your video in email.
Nonprofit New York sent an email with the subject line, "We are nearly halfway there!" to share the progress they made toward their goal and motivate supporters to continue donations.
They even spell out how the donations will be used as a way to connect their audience to the wider community they're supporting.
Surveys
After a set amount of time after an event, or perhaps at regular intervals, you can include a short survey that supporters can fill out. You can anonymise the results and let supporters know, so they can feel confident about giving their honest opinion, and you'll have better data to further improve your charity's products and services. Additionally, be sure to state how long the survey will take.
Women of Email does a wonderful job of this and keeps it short and sweet: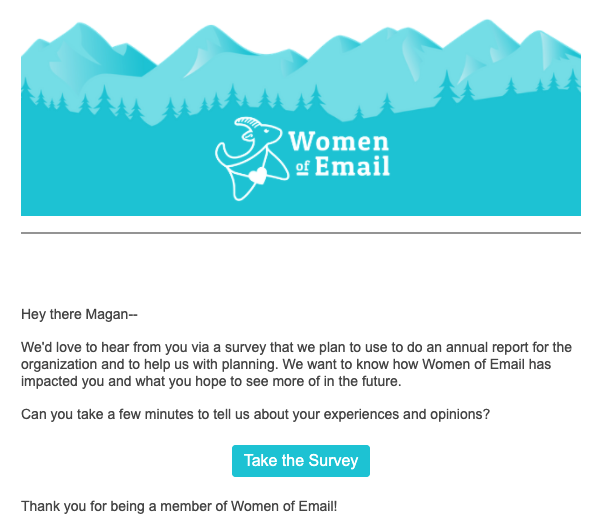 Tips to optimize your journeys
Here are some helpful tips to consider as you work through your stewardship journeys.
Consider shorter workflows vs. longer journeys
Depending on your ESP, it may be possible to create a stewardship journey that encompasses several audiences. However, it's best to stick to creating a single journey for each audience for several reasons:
Easier to modify
It's best practice to pause any marketing automation should you need to make changes to the workflow. With a long and complicated stewardship journey, it's more likely you will affect a larger segment of people. By opting for singular, focused journeys, you'll also only be affecting smaller pockets of people at a time.
Simpler to unpick
If things go wrong in the journey, it's much easier to work backwards in a shorter workflow to troubleshoot the issue. And the easier it is to do that, the quicker you can fix the problem and kickstart the journey again.
Better testing opportunities
When your stewardship journey is geared toward a single objective, you'll be better placed to do qualified and more focused email A/B testing. Less variables mean more reliable results, and that's great for improving your email journeys.
Don't set and forget
"Set it and forget it" should not be the case when it comes to automated emails. This is even more important when featuring beneficiaries or supporters in the content. Should they rescind their permissions to be featured in marketing, it's vital to keep track of which emails to change immediately and to have some fallback content.
Your supporters deserve the best subscriber experience
No two stewardship journeys are the same, but with the considerations above, you'll be able to plan journeys that will not only fulfill your nonprofit's objectives but also give your supporters the best subscriber experience possible. Happy supporters are helpful supporters, and that's gold in the nonprofit world.
Create on-brand, error-free emails with Litmus


Make sure your non-profit emails are flawless and stand out in the best way possible. Quickly build and QA test emails with Litmus.
Najmah Salam is a self-professed email geek who has worked in a variety of industries including e-commerce, travel, non-profit and SaaS. She also designs email swag in her free time, plays the ukulele, and loves RPG games. She's currently the Email Marketing Manager at Filtered.