Triggered emails have a reputation for being "set it and forget it" programs. We've even heard people laud that as one of principal reasons to use triggered emails—that once you set them up, they just quietly mint money and you never have to touch them again.
Unfortunately, that's just not true, and it's becoming less and less true every day. As I argue in Email Marketing Rules, triggered emails are actually "review and renew" programs. Marketers should "Keep an inventory of your triggered email programs and regularly schedule time to update and fine-tune them." You should review all your triggered emails at least quarterly to make sure images, links, rendering, and other functionality remains intact.
As we discuss in our recent "Designed for Success" webinar, there are two compelling reasons to regularly update your triggered emails: (1) quality assurance and (2) optimization. Let's look at QA first.
Everything Is Changing around Your Emails
Your emails connect to your website, are an expression of your brand, tie into your various product and customer strategies, and exist in a complex environment of email clients, browsers, and devices. Each of those elements changes fairly routinely, which can lead to:
Broken links/redirects and old navigation links
Out-of-date logo and branding
Out-of-date messaging (benefits, options, etc.)
Faulty trigger logic
Broken rendering and functionality because of code support changes at ISPs
For instance, this email subscription confirmation request was sent in 2013, and had an outdated logo. According to the copyright notice at the bottom of the message, the last time the email was reviewed was in 2007: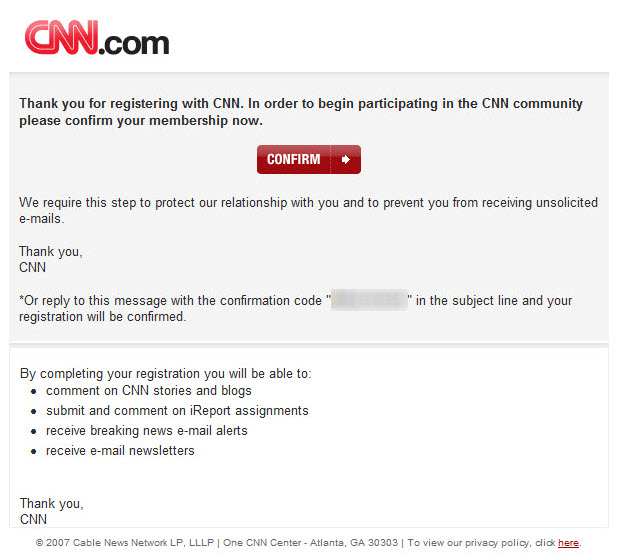 Looking at copyright notices is an easy way to see just how old the content of an email is. While some ESPs will let you program these to automatically update, we recommend updating them manually, as it forces you to at least eyeball these emails once a year. It's surprising how often even that doesn't happen.
This welcome email hadn't been updated in four years when it was sent in 2013. As a consequence, the navigation bar was out of date and some of the design elements like the orange carets were as well.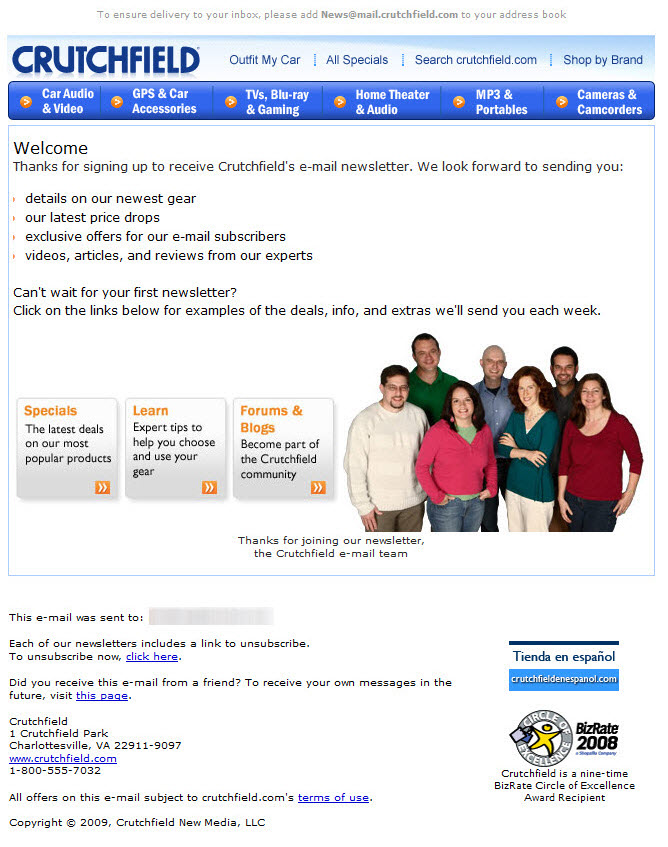 Subscribers missed the primary message in this cart abandonment email because data about the abandoned product wasn't pulled into the email. It's unclear if this was a temporary issue or one that affected thousands or more subscribers.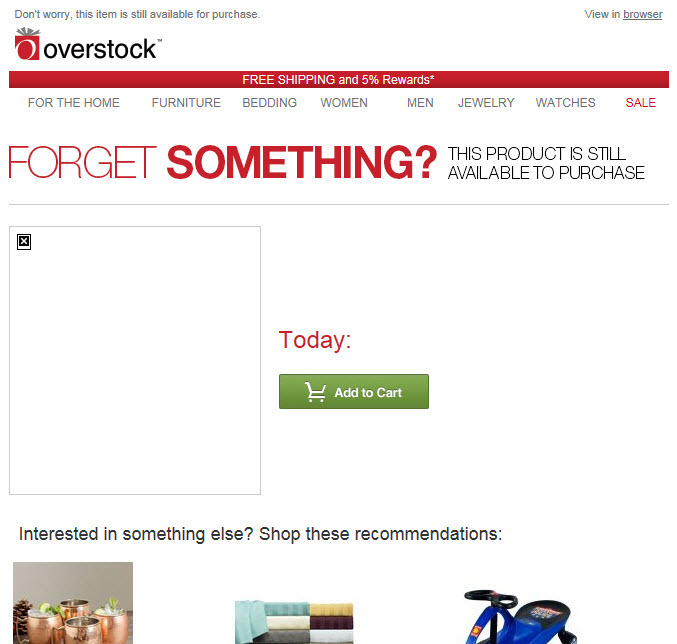 This browse abandonment email suffered from faulty trigger logic, as I had converted the previous day. Considering not only the growth of triggered email series but also the incredible emphasis being rightfully placed on customer journeys, trigger logic and trigger hierarchies is increasing in importance rather dramatically. There are now many more chances for these types of messages to become out of date or to break.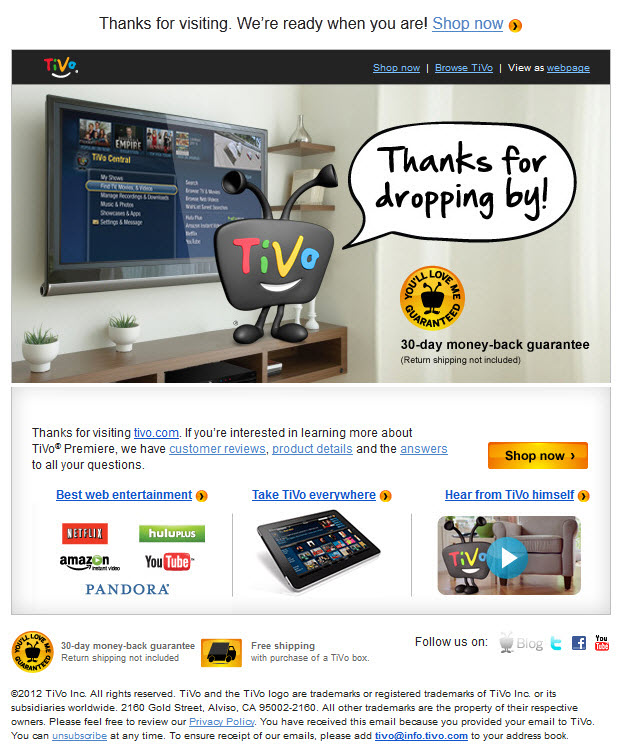 Rendering is also a constant concern because support for HTML and CSS is always changing at ISPs and there are no standards of support. This triggered birthday email was likely a victim of one of these changes. The result is the misalignment of the image around the HTML "HAPPY BIRTHDAY" text.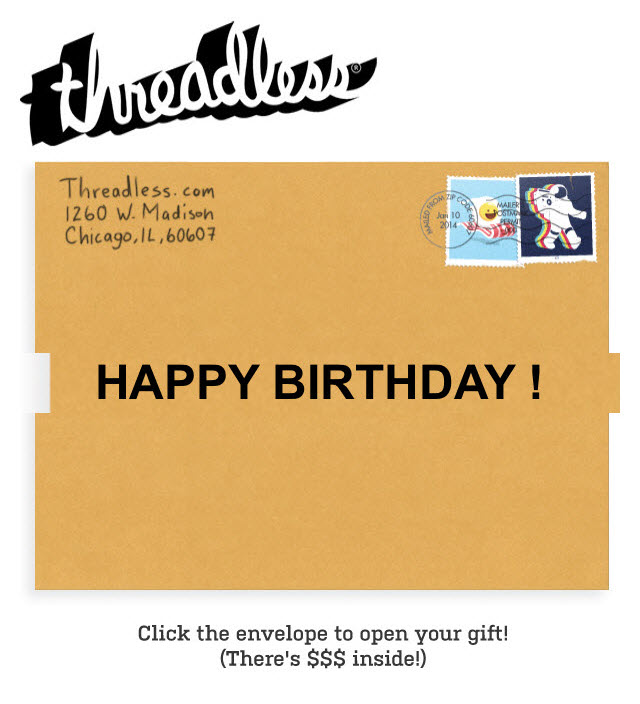 Fast-Moving Trends around Triggered Emails
The second reason why marketers need to regularly review their triggered emails is become of optimization opportunities. Even though adoption of most triggered emails is still around 25%, triggered messaging is a hotbed of experimentation and innovation right now.
The trends around cart abandonment emails demonstrate this well. For instance, according to research I did with Salesforce.com, 50% of B2C marketers responded to abandoned carts with a series of emails rather than a single email during December 2014. The previous year only 19% did so. The inclusion of alternative product suggestions and of seasonally relevant content similarly jumped in adoption.
In particular, the explosion of email series—which we see in welcome emails and other triggered emails as well—means that there's now much more to test, optimize, and update, such as…
The number of emails in the series
The conditions in which the next email in the series is sent (or not sent)
The timing of not only the first email in the series, but of all the subsequent ones
The messaging in each email in the series and how they interact with each other
All of this is critical because triggered emails are incredibly powerful. In fact, the new litmus test for email marketing greatness is whether the majority of your email marketing revenue and engagement come from triggered emails.
There are already some very large companies that are accomplishing this, but it's impossible to achieve without robust testing and re-testing on a regular basis. If you don't have an inventory of all your triggered emails or haven't reviewed them all recently, put that on your to-do list and work toward ensuring that your triggered emails deliver a great on-brand experience and are optimized for maximum performance.
Webinar: Designed for Success—Optimizing the Email Experience
For more on this, check out the webinar that Justine Jordan and I did as part of Cloud.IQ's eCommerce Summit. In it, we discuss:
Best practices and principles for mobile email design
How to optimize the six stages of the inbox experience
Cart abandonment email trends and tips for optimizing them