Everyone is juggling their own lives, challenges, goals, and to-do lists. That means that sometimes things fall through the cracks, purchases go unfinished, and subscribers drift away. Instead of taking it personally, you can use abandonment and re-engagement emails to kickstart the customer relationship again.
There's more than one way to win a subscriber back
When a potential customer or subscriber begins to stray and become inactive, you can use automated email marketing to bring them back into the fold and close the sale. Since there are plenty of reasons why a subscriber goes quiet, there's a variety of email campaigns you can use to turn the situation around:
Since each automated campaign has a unique use case, let's explore the best practices and our favorite examples individually.
Browse abandonment emails
If you gain permission to email someone while they browse your site, you can follow up with a browse abandonment message. These emails are perfect for people who checked out a few products but never added any to their cart. The best browse abandonment emails will:
Include specific item references for a personalized experience
Trigger within a few days of the person's visit (if you send it immediately, it looks a bit clingy)
Share more company info or social proof in case the person is unsure about you
Lending Tree uses a browse abandonment email to guide the subscriber experience and gather valuable data. The message acknowledges that the person left without exploring rates and presents six options for exploring loan products. The subscriber can click on the one they need to find information faster, and Lending Tree can categorize a subscriber by interest.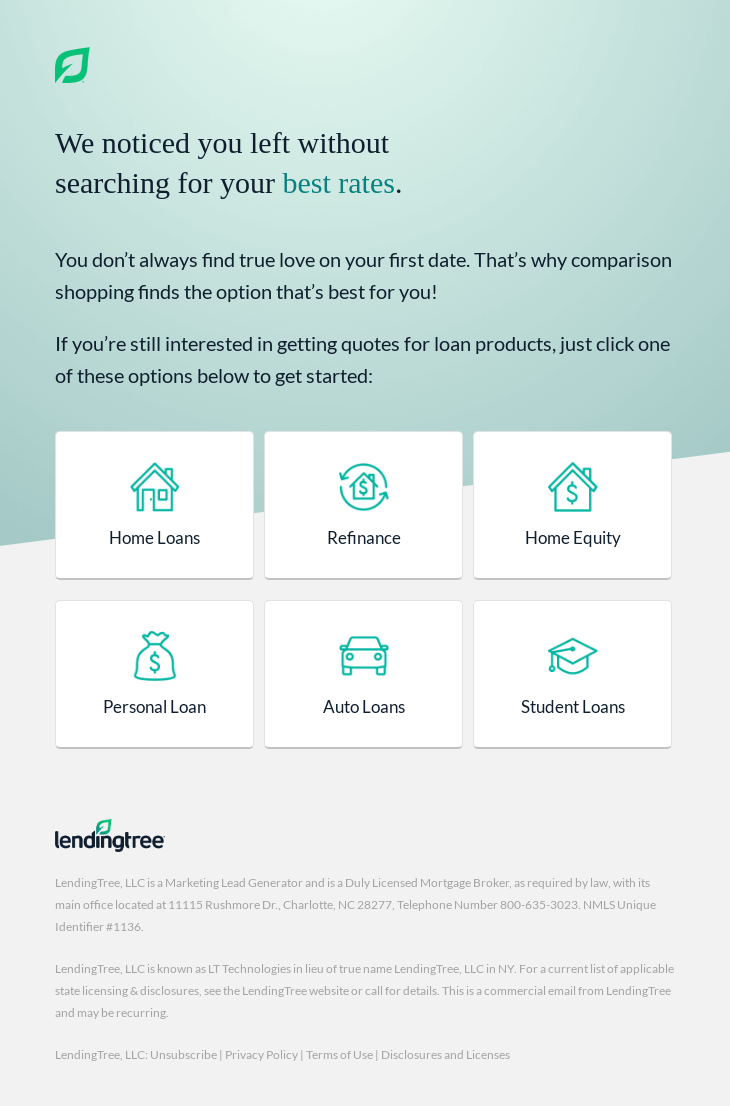 Since Cole Haan can track what items people look at, they use an email to prompt users to "bag it before it's gone." The prompt adds a bit of time scarcity, and the company shares related products to entice luring a subscriber back to the website

Cart abandonment emails
A cart abandonment email is in order if a person makes it into the shopping or checkout process and then leaves. Cart abandonment emails are a bit more common than browse abandonment since you may not capture an email address until someone initiates the checkout process. Cart abandonment email should:
Make it easy to go right back to the purchase process
Reassure people they're looking at a great product
Use an offer or discount if previous browse or cart abandonment messages haven't worked
Whiskey Loot uses a cart abandonment message to answer common questions and concerns. The message has serious and lighthearted reasons to buy the item with an FAQ section at the bottom. Extra reassurance and information could be helpful if you're selling a high-ticket or subscription-based product that people may have price apprehension about.

Homage's cart abandonment email lets people know how long the company will save their cart. The message shows the item to help jog a person's memory and links back to their cart to complete the process.

Customer winback emails
If a customer hasn't repurchased on their usual cadence, you can send them a huge with a customer winback email. If you offer products as a subscription, winback messages are useful after someone cancels. Companies without subscriptions can leverage these messages by sending a reminder once they have passed their usual reorder cadence. Since you want to encourage people to repurchase, these messages should:
Incorporate a clear "come back" or "reorder" CTA
Remind people about what they ordered before or the benefits they previously enjoyed
Be helpful without being pushy
Busuu uses a discount on higher-tiered plans to encourage canceled customers to come back to the service. The message wraps up with a reminder about the time limit and an "upgrade now" CTA. You can experiment with different offers and messaging to find which works best for your audience.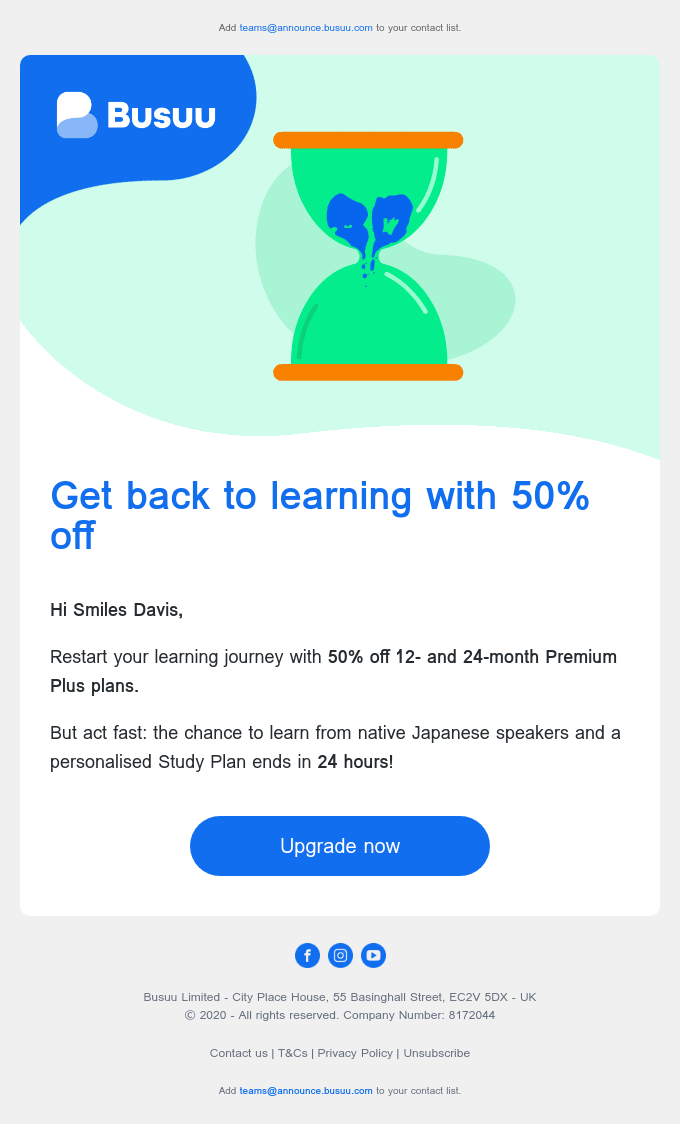 If Chewy's email automation notices that more time has passed than usual between orders for a customer, they send a winback message. The casual "running low?" reminder may be a welcome reminder to busy pet owners who have been meaning to place an order. The email even pulls in the same food an account typically buys.

Subscriber re-engagement emails
While winback emails focus on securing a sale, subscriber re-engagement emails aim to reignite participation in the inbox. Re-engagement emails are best suited for subscribers who have gone a while without opening or clicking on an email. To make the most of these campaigns, aim to:
Experiment with timing and triggers
Update subscribers in what's new
Recommend content, products, or features based on the subscriber's past activity
Thread recognizes that their subscribers are dynamic, so they use a re-engagement message to update preferences. If you think a person has drifted because their tastes or needs have changed, giving them a voice on what content and products they see can help boost engagement.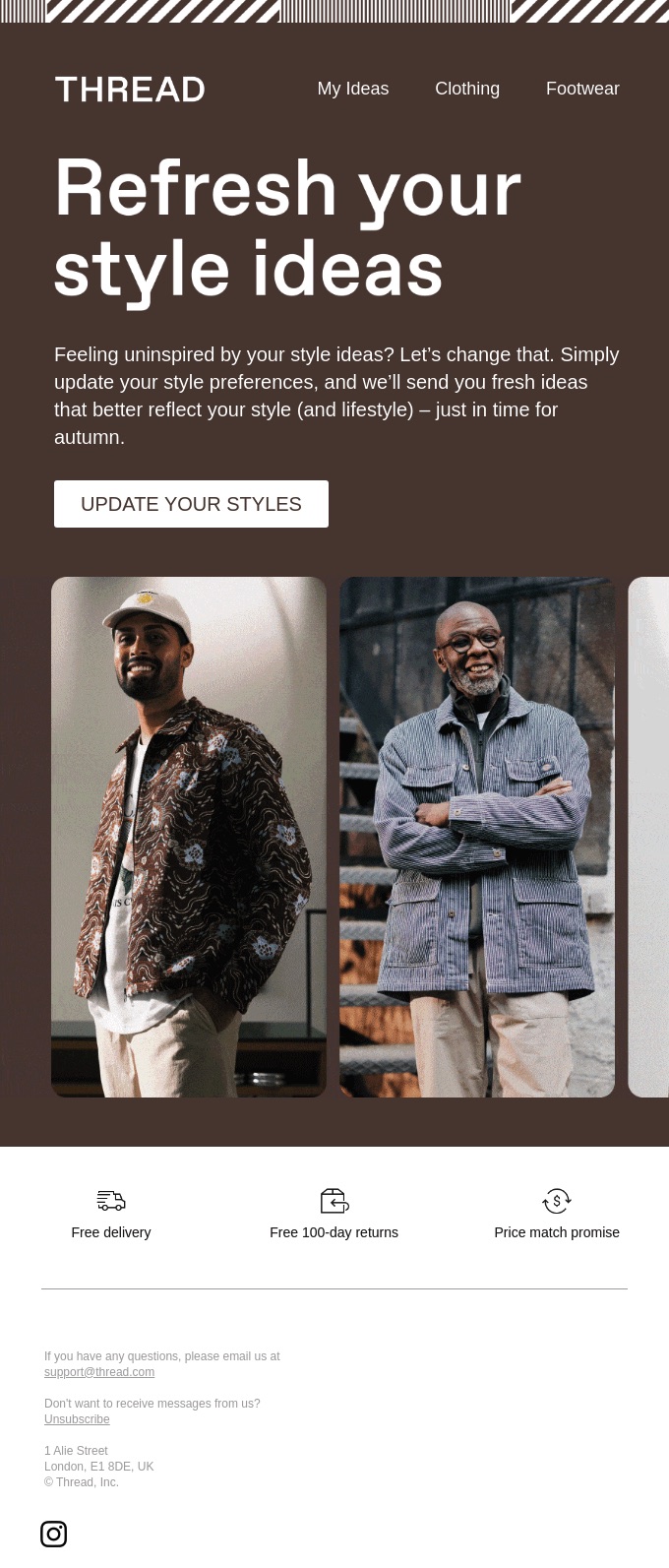 If a subscriber has been cold for more than a few months, it may pay to do an updated roundup like Venmo. Their message highlighted a few changes and encouraged people to re-explore the app.

Restock alert
Product outages are frustrating for everyone involved, but automated emails can help you follow up with subscribers once the stats of an item changes. Restock alert messages are automated emails that subscribers can opt into. Giving people the option to sign up for restock alerts lets you track who wanted to purchase but ultimately left because the item wasn't available. Restock alert messages are most productive when they:
Specifically mention the product, price, and steps to buy the item
Link directly to the item the subscriber wanted
Show related items in case the person's needs (or the season) has changed
Uniqlo puts the restocked item at the very top of the restock alert with a fun "gimme" CTA. Below the primary CTA are options to browse other newly restocked items by category if the subscriber doesn't care about the initial piece anymore.

You can also use automated email alerts if a person abandoned their cart a while ago and the item has a new price. Columbia used this strategy to promote an item someone had looked at but not purchased. Personalizing a Black Friday alert with abandoned cart data makes promotions more relevant.

Re-permission
If it's been a while since you've heard from a subscriber or your privacy rules have changed, you might need to get permission again to email them. Re-permission campaigns need to:
Make it easy for subscribers to update their preferences and permissions
Give subscribers multiple touchpoints or reminders across channels
ASOS packs many options into a simple re-permissions email. The message tells people why they're receiving the email, their current preferences, and where to go to change what content they receive. There are also quick action CTAs at the bottom to remain as is or opt-out entirely.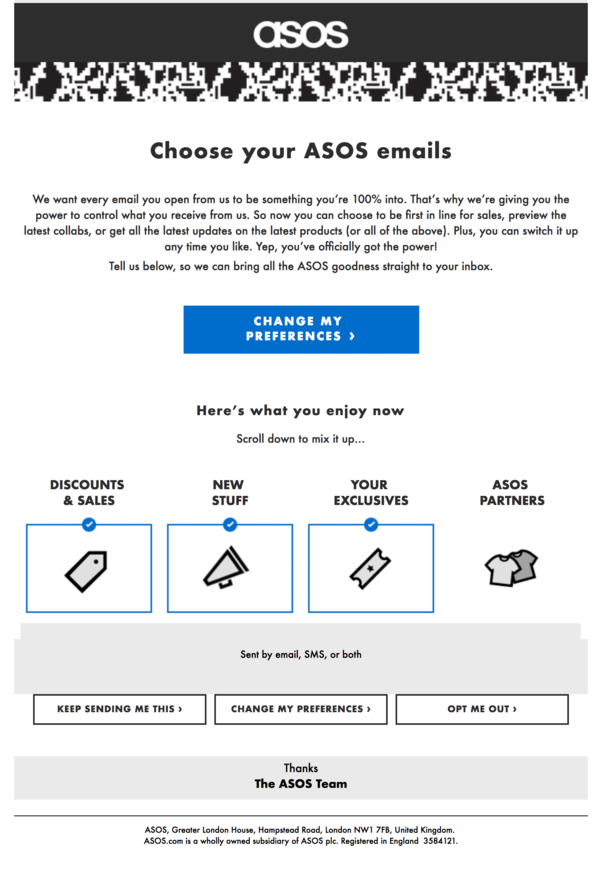 Optimizely waited to send a re-permission message until spring, when people were ready to clear out the clutter. The simple message gives the subscribers a heads up that the company is cleaning up their email list and offers steps to remain on the list.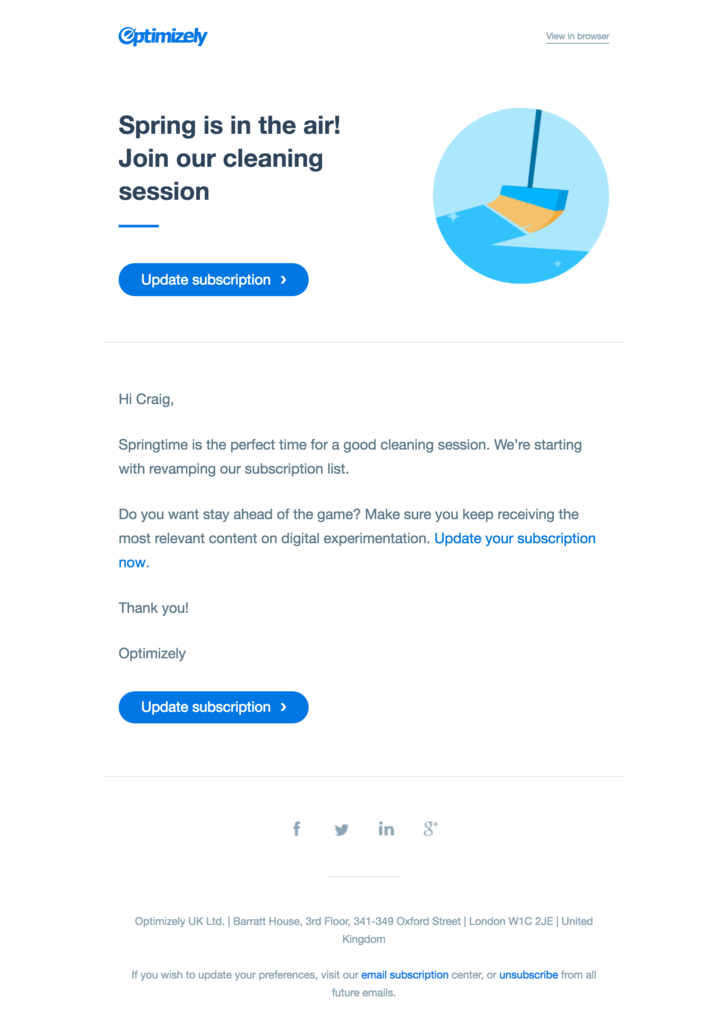 The recipe for email efficiency
If you want to tackle all of your email ideas while learning and iterating, you need the right systems in place. Automation + a streamlined workflow = an efficient email program.
Since automation lets you nurture customer relationships on autopilot, you can spend more time learning and improving campaigns and less on manually sending them. It also pays to have a streamlined email creation and testing workflow to quickly get emails out the door.
If you want to create new customer emails, use our Subscriber Love Email Template Pack to get a head start.