Day and night. Summer and Winter. Valentine's Day and Singles' Day. Opposites give each other meaning and provide email marketers with opportunities to experiment and have fun. While Black Friday tends to dominate the end-of-year email sales spotlight in some countries, there's another holiday to try on for size—Singles' Day.
What is Singles' Day?
Singles' Day is a shopping holiday for single people to treat themselves—sort of like an "anti-Valentine's Day." Depending on where you live, you're either well aware of Singles' Day or scratching your head right about now.
For many, Singles' Day is a new frontier. For China, though, it's the biggest shopping holiday of the year. In 2020, Alibaba sold $74 billion worth of merchandise on Singles' Day, up from an already impressive $38 billion in 2019.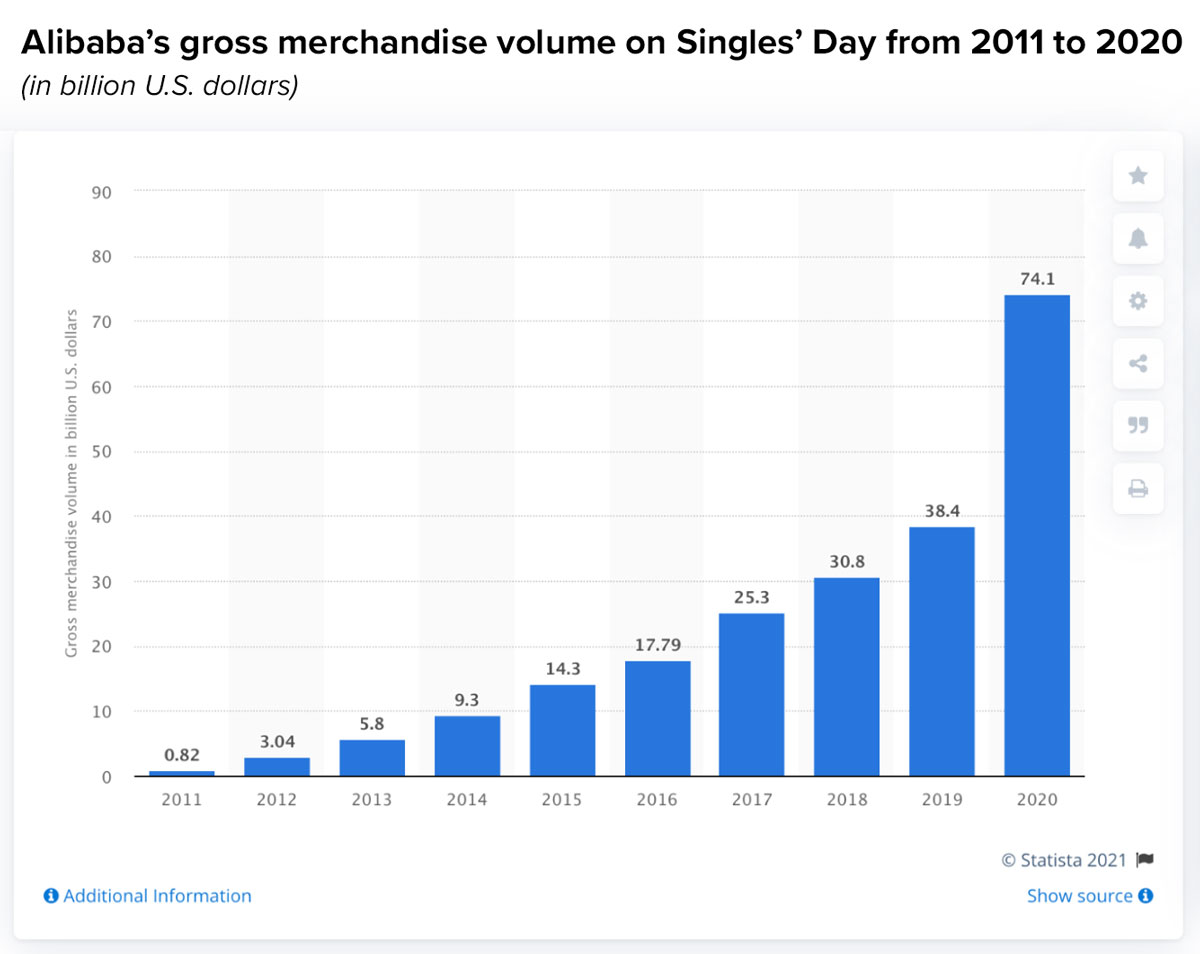 Singles' Day was created in the 1990s by some Chinese university students, and it always falls on November 11th. The 11/11 date is fittingly full of 1s to represent all the solo fliers out there. Interestingly, the UK celebrates Singles' Day on March 11th.
8 Singles' Day email examples
If you're new to 11.11 email marketing, you may be a little unsure about how to mix sales campaigns with relationship status. Luckily, there are plenty of places to look for inspiration. Here are eight of our favorite examples.
1. Uniqlo embraces cozy time at home
Since November 11th falls just as the northern hemisphere is heading into Winter, it's a great time to appreciate cozy time at home. Uniqlo used their 2020 Singles' Day campaign to promote all of their cold-weather essentials, from sweaters to thermals and more. If you look closely, you'll notice all of the lifestyle photos feature single people.


2. Bootay Bag wants everyone to treat themselves
If we had to pick one phrase to sum up Singles' Day marketing campaigns, it would be "treat yourself." Bootay Bag encourages everyone—single or not—to take the day to indulge. The company also chose to promote a subscription, not just a one-time sale, to hopefully use the Singles' Day momentum to increase retention for the rest of the year.


3. Basso leans into friendship
Basso uses Singles' Day to focus on the other important relationships in our lives—friendships. Their Singles' Day shoe sale campaign focuses on embracing your individuality and "texts from your bestie." To lean further into the "texts from your friend" angle, Basso includes reviews alongside the on-sale styles.

4. First Aid empowers customers
Just because Singles' Day is an "anti-Valentine's Day" doesn't mean brands can't use hearts and love. First Aid starts their email off with a bold "Happy Singles' Day, Fabulous" and then prompts customers to use the code "SELF LOVE" to save $11 on an order of $50 or more. The theme of using the number 11/11 or 11.11 pops up time and time again in Singles' Day emails.

5. Herbivore runs a limited-time sale
If you want to make your 11/11 campaign succinct, lean into a one day only event like Herbivore did in 2020. The beauty brand offered 20% off their entire site for one day of "much-needed self-care," To further add to the urgency, Herbivore included "today only" in the subject line.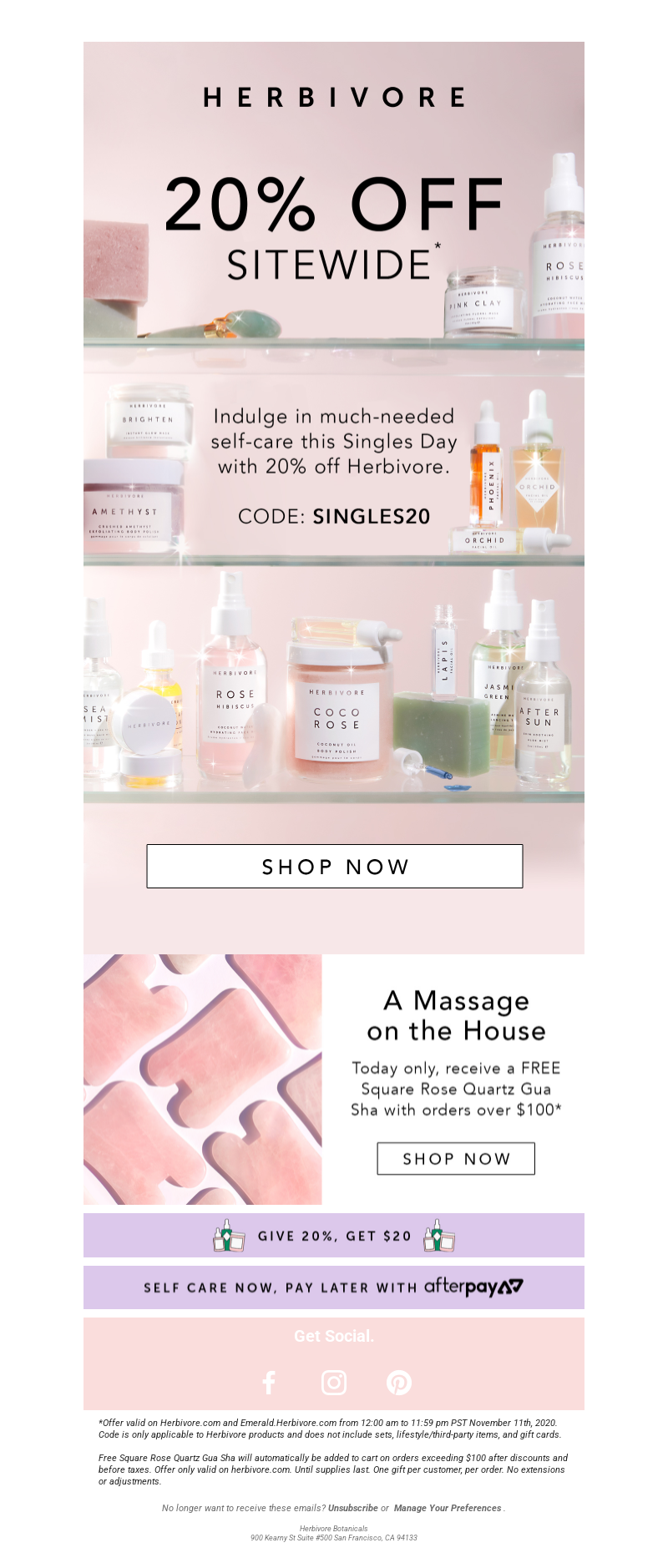 6. Bite Beauty uses dating humor
In 2020, Bite Beauty went beyond slapping a discount on their products for Singles' Day. They reimagined product bundles as speed dating candidates. Using humor to relate to single people's experiences makes the email feel more relevant and memorable.

7. Quiksilver appreciates not having to share the single life
Quiksilver thinks being single has its perks. Namely—not having to share your favorite tee shirts. The company's Singles' Day marketing campaign offered up two shirts for $25, which means you get one for you and another one for… you.

8. Greetabl reminds subscribers to "send love"
If you aren't sure how much the "single life" will resonate with your audience, you can also do what Greetabl did and use the day as a way to prompt people to reach out to those they care about. There are plenty of important relationships in a person's life that you can call attention to on Singles' Day.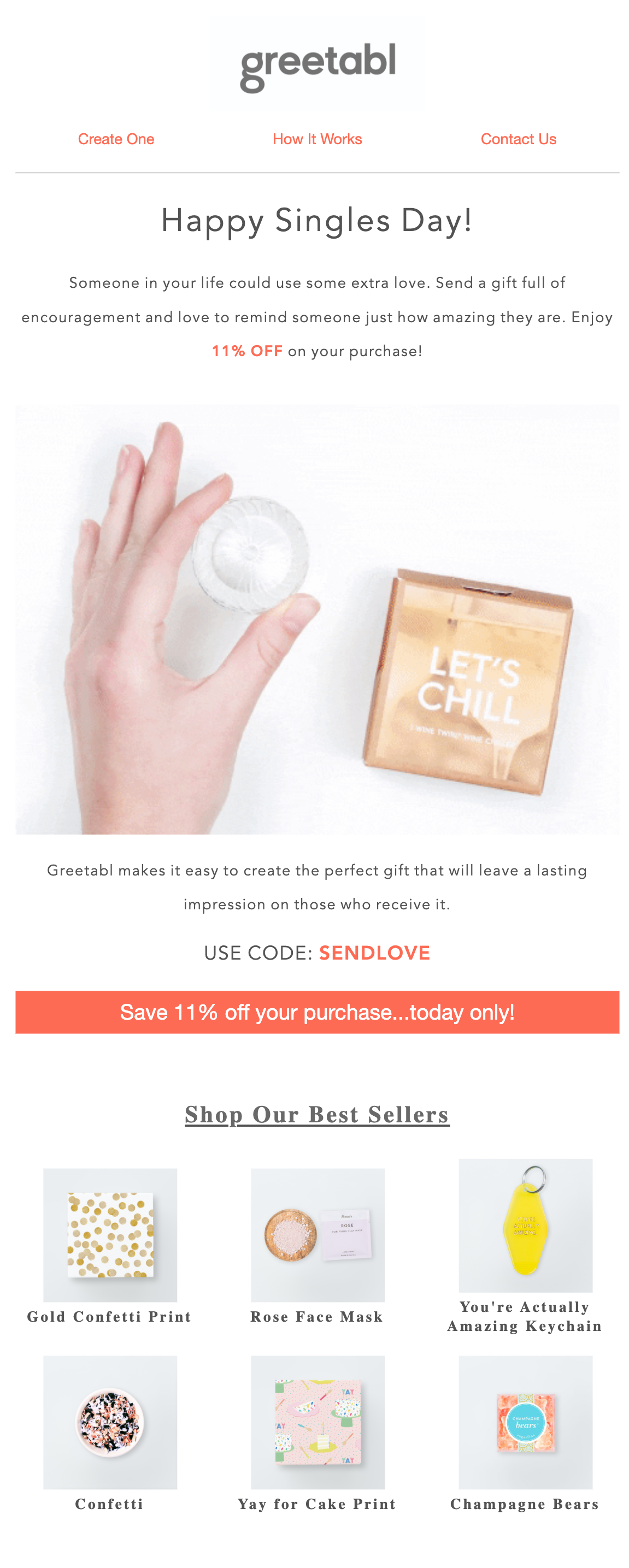 How to plan your 11.11 campaign
An opportunity to use Singles' Day to drive sales could be enough to pique the interest of your leaders. But you want to ensure you think strategically before adding more work to your team's plate (and more messages in your customers' inboxes). Here's how to make the most of your 11.11 email marketing campaigns.
Make sure it's a fit for your brand and audience
You'll notice as you browse Singles' Day email examples that consumer products dominate the scene. Promotions focused on self-love, self-care, and by-yourself-time make more sense for some products than others. You'll need to assess if it makes sense for your brand to acknowledge 11/11. For example, a Singles' Day email from a team management tool doesn't make much sense.
Your email has to strike a balance that feels relevant to a broader audience. It's also essential to make sure the campaign (and messaging) is appropriate for everyone.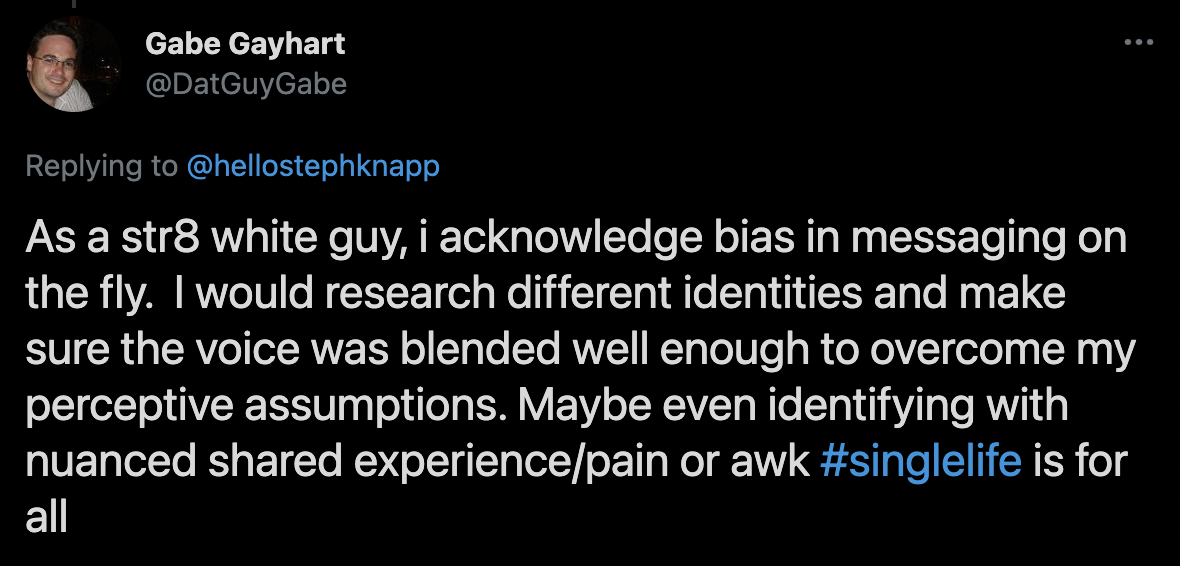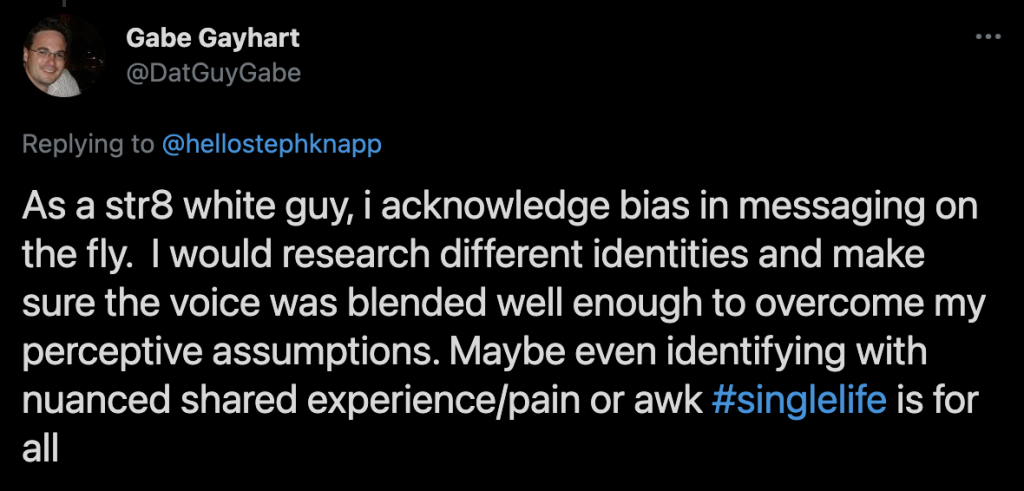 Getting diverse opinions is always useful, but making sure the tone is right is especially impactful on a topic as potentially sensitive as relationships.
Choose your promotion carefully
Once you think your brand or audience as a whole is a good fit for Singles' Day, you need to pick your promotion. Think about items that embody the "treat yourself" mood or can be positioned as perfect for time spent alone. Clothes, wellness, and beauty products are obvious choices, but you aren't limited. You can also offer discounts on items or experiences that are typically for two or more people.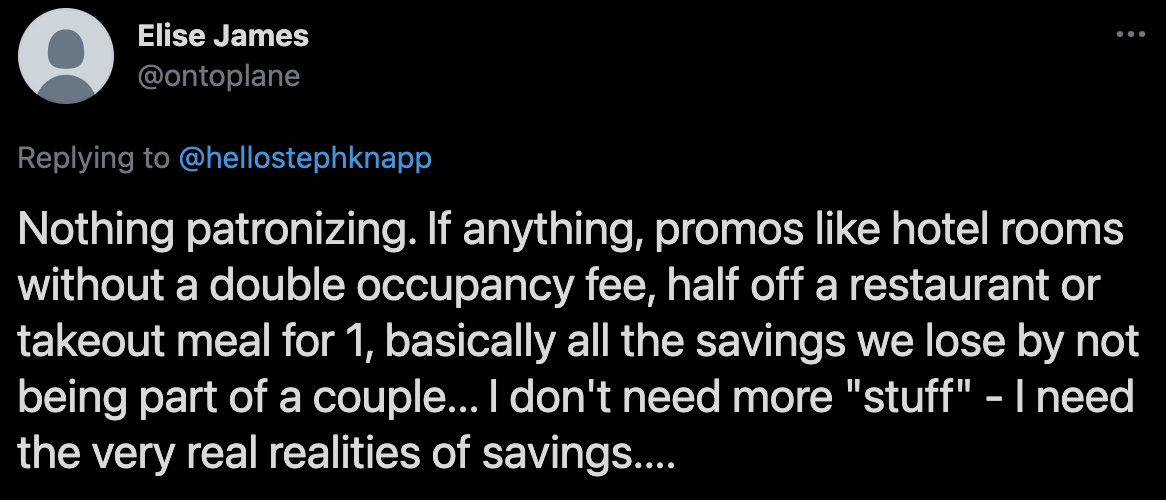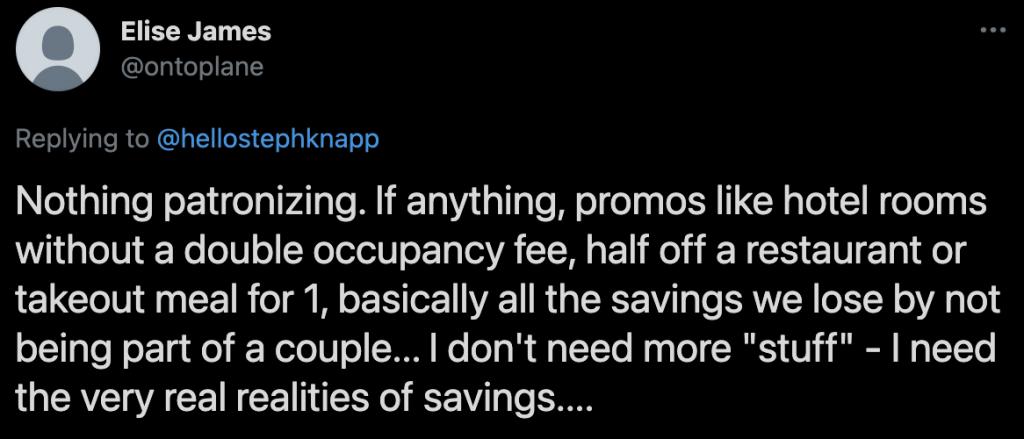 If you have pricing or discounts that typically benefit couples, you can offer the savings up to solo customers.
Be kind in your messaging—or empowering
Whenever you want to bring up your subscribers' personal lives, tread lightly. Use your Singles' Day messaging to empower and uplift, not "boohoo, I'm lonely." Consider how you can acknowledge everyone's individuality and journey.


Being single isn't a person's sole identity—how can you celebrate people as individuals on November 11th?
Consider your other seasonal campaigns
If you've seen our guide about when to start planning your holiday email campaigns, you'll realize just how many end-of-year events you can recognize. Before you get too enthusiastic about Singles' Day, look at what other campaigns you want to do to make sure you aren't swamping subscribers with promotions back to back.
It's important to note that November 11th is also Veterans Day in the United States. Your company will have to decide which of these holidays to reference in their email depending on your audience.
Get a head start on planning and testing your Singles' Day emails
If you want to get your Singles' Day email campaign just right, it's time to start your work now.
If you're outside of China, you have an opportunity to reach your customers this year before 11/11 messaging becomes mainstream globally.
We also recommend starting your holiday email planning a few months in advance, and July is the perfect time to kick off Singles' Day planning. If this holiday isn't a fit for your brand, we have guides to other end-of-year email campaigns in the works.
For more holiday email inspiration and best practices, go to the next article in our blog series.
Up next: Black Friday / Cyber Monday emails →
Or check out all of our holiday-related blog posts:
Optimize your Singles' Day emails with Litmus

Spread the holiday cheer—not fear. Preview your emails in 100+ email clients, apps, and devices to ensure a delightfully on-brand, error-free subscriber experience. Every time.