Anyone's inbox overflowing this past week? Ours, too. Naturally, it was a result of the busiest time of the year for most email marketers: the Black Friday and Cyber Monday (BFCM) double whammy. In fact, 72% more emails were sent over the Cyber Weekend this year than in 2019.
While a lot of retailers default to run-of-the-mill deals and predictable subject lines to drive sales, a few savvy brands are rethinking their BFCM strategy in the hopes of getting a better response from subscribers.
Below, you'll find a few of the Litmus team's favorite Black Friday and Cyber Monday emails. Hopefully you'll pick up a few tips and some inspiration for your own campaigns next year.
Carin Slater, Email Marketing Specialist
Thighber Monday at Chubbies
Subject line: THE DAY IS HERE…
Preview Text: FREE GIFTS. HOT DEALS. OH MY.

The email that most stood out to me this season was from Chubbies. Honestly, I really just liked the 'from' name. It got me to open the email. Apparently it's a thing that Chubbies has been doing for awhile, but I only subscribed to their emails this year so I just saw it for the first time. Everyone loves a good pun, right?
Jason Rodriguez, Community and Product Evangelist
Hinoki
Subject line: 10% off at Hinoki, this Black Friday.
Preview text: A once in a year event, November 27th.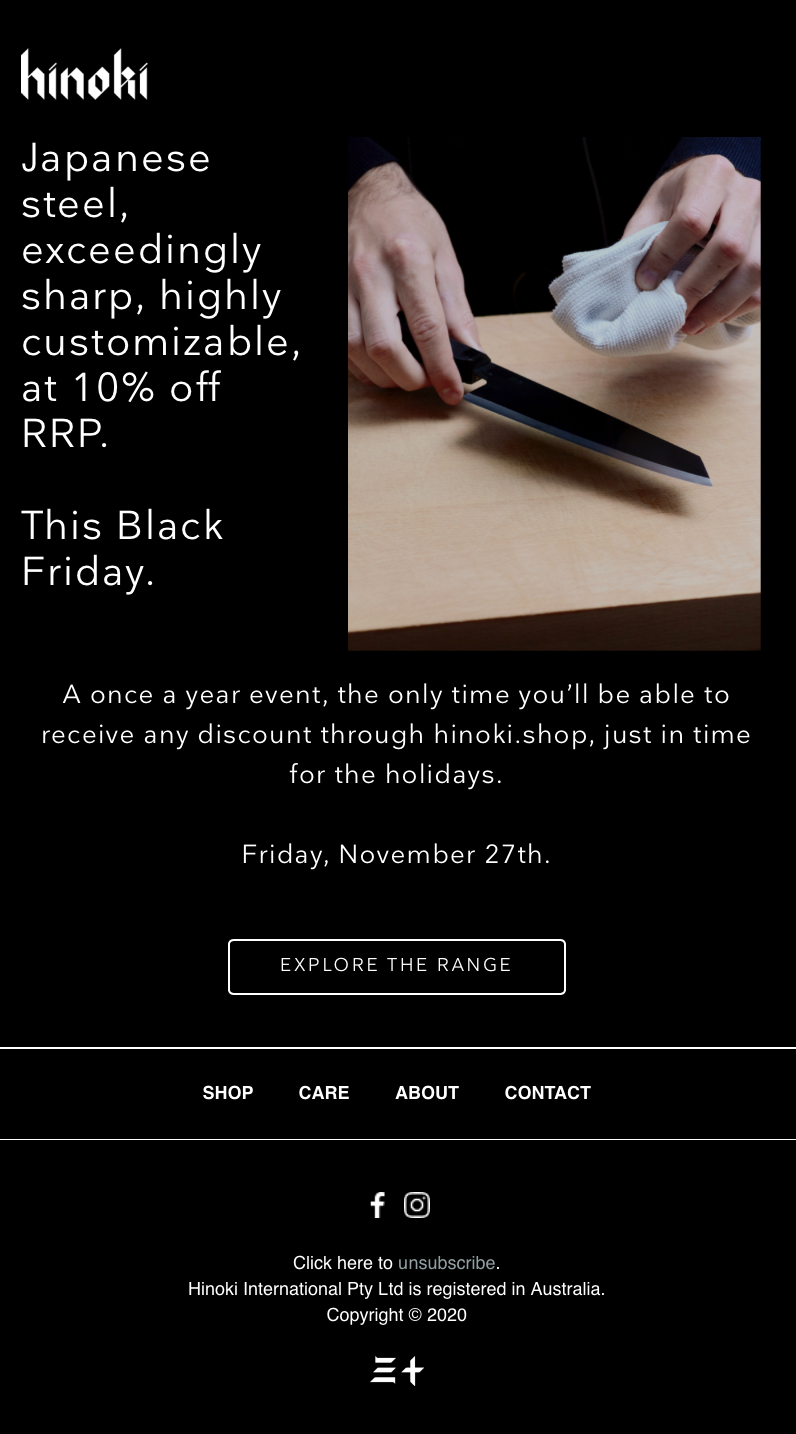 Although I'm not a huge fan of the cramped-looking text on the left of the email, I think the messaging is very effective. Unlike most brands that offer frequent discounts for their products, Hinoki makes it very clear that Black Friday is the only chance to get their world-class knives for less. Just like their blades, this email is ruthlessly cut down to the essentials. Love it.
charity:water
Subject Line: It's almost #GivingTuesday… but we're not asking you to donate.
Preview text: Join us for a day of generosity instead?

OK, so this one isn't for Black Friday or Cyber Monday, but I had to include it. charity:water has long been one of my favorite email senders, and this is a great example of why. Their Giving Tuesday email bucks the trend of nonprofits asking for money and gives people recommendations for how to give back to their friends, family, and community instead. Literally everyone but charity:water. I especially love how practical most of the suggestions are. They take into account the ongoing pandemic and economic crunch that people are experiencing, but still encourage people to do what they can where they are, no matter how small. Things like this are what the world needs more of, in 2020 and beyond.
Magan Le, Content Marketing Manager
Solly Baby
Subject Line: All the Deets on Our Black Friday Sale
Preview text: No, seriously. We're spilling everything.

Two of the emails I'm mentioning here share one common theme: They set my expectations and therefore reduce the anxiety that usually comes with the rush of Black Friday and Cyber Monday. The bonus? They avoid getting lost in the sea of BFCM emails I still have yet to open.
I hate shopping and wondering if I'm going to be missing out on a better deal later. What I love about Solly Baby's email is they give a day-by-day breakdown of what to expect during their sale week, so you can plan to shop on the day of the extra perk you like best.
They also encourage word of mouth to increase their reach for the sale by hosting a giveaway. Great move for email acquisition.
Piper & Scoot
Subject Line: Whatever you do, don't check out!!
Preview text: BLACK FRIDAY STARTS 11/22 @ 6pm MST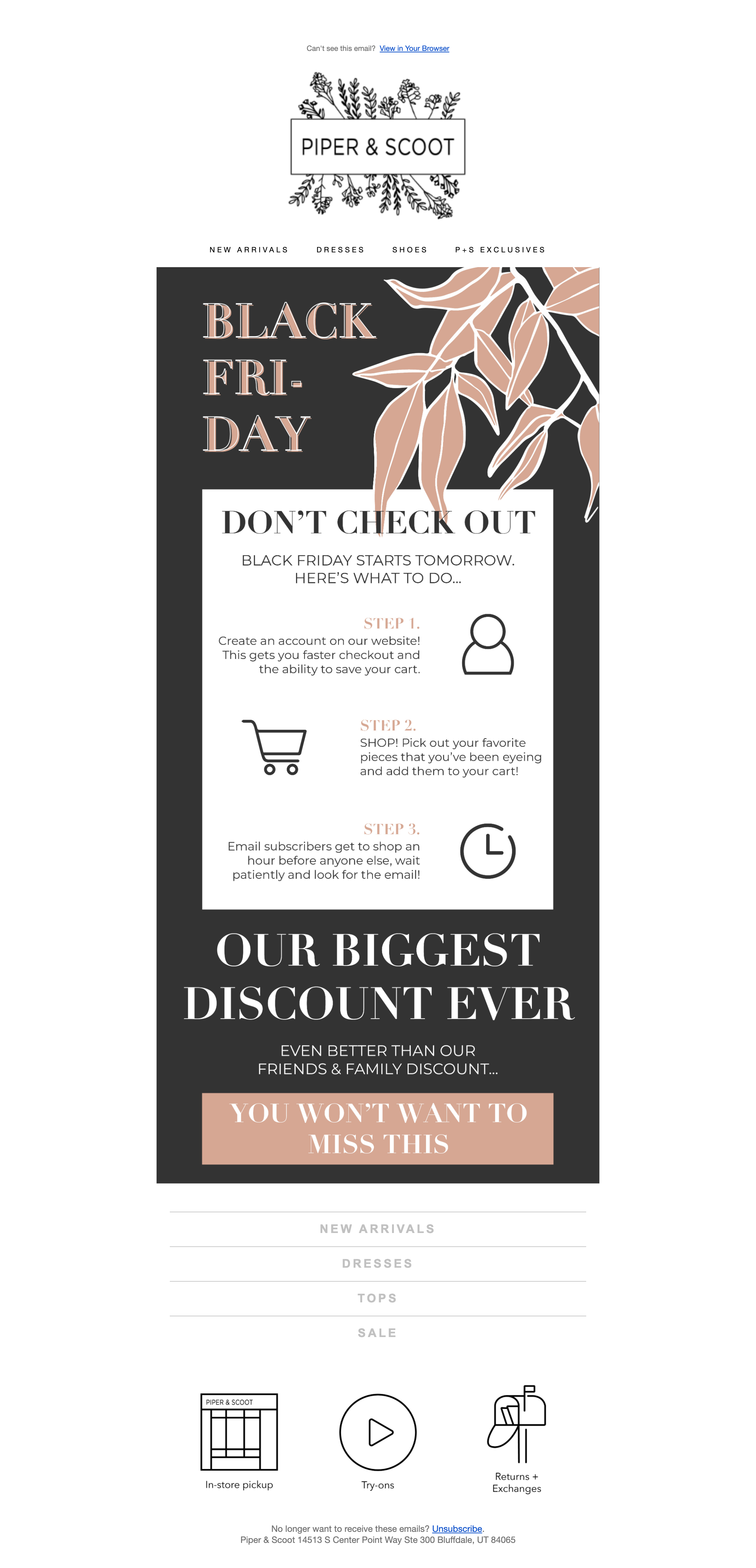 Piper & Scoot does a bold thing by telling people not to check out before their Black Friday sale starts. Oh, the profit margins! But honestly, it's a great way to more deeply foster the relationship Piper & Scoot has with their subscribers. No one likes to feel duped. Plus, it saves them from the flood of emails and phone calls they'd likely get from angry customers complaining and asking for a price adjustment. Win win!
Huckberry
Subject Line: Whoaaaaa Excellent!
Preview text: Hey Magan, Our Cyber Monday sale ends in just 8 hours, and the steals of the year are selling out fast. So we're adding a few new bestsellers to the mix that rar…

Okay, I just got this email from Huckberry, and I love it for a couple reasons:
The subject line has a "Bill and Ted's Excellent Adventure" vibe, and they carry this nostalgic 1980s theme throughout the rest of the email both in the copy and the imagery. It's out of the norm for them, but it's not totally off brand and definitely makes them stand out in the sea of otherwise bland retail emails.
This email is positioned as an email being personally forwarded by their VP of Merchandising. (And yes, I noticed that he's Asian. Representation matters.) They do this without the tricky "FWD" in the subject line. And I checked my inbox: I did get the actual forwarded email earlier in the day, so it feels more authentic. I wonder if they only sent me this email because I didn't open the first one.
What are your favorite emails?
Receive any Black Friday or Cyber Monday emails worth showcasing? We'd love to hear about them in the comments below. Tell us why you loved a particular campaign and share a screenshot or "view in browser" link and let the community know who's doing this holiday season right.
And if you're looking for more holiday email ideas, you might like some of our other blog posts, too:
Optimize your BFCM emails with Litmus

Spread the holiday cheer—not fear. Preview your emails in 100+ email clients, apps, and devices to ensure a delightfully on-brand, error-free subscriber experience. Every time.
Most Popular
Don't Miss Litmus Live 2022 this Fall!

The Premier Email Event by Email Pros, for Email Pros.
From Anywhere–and Any Budget.

Learn More