The holiday email marketing season is here. It's the most wonderful time of the year…but it feels more like a super hectic, stressful sprint to the finish line. It's your last push to meet your annual goals, so stress levels—and email volume—are at an all-time high. 
While your colleagues in other departments might be already sipping eggnog and swapping secret snowflake gifts, you're in charge of making sure the team hits their revenue numbers and that the most high-stakes email campaigns of the year go off without a hitch. You and every other email marketer in your industry—making subscriber inboxes more crowded than ever. 
No wonder email marketers sometimes get a little Grinch-y this time of year!
Don't worry—we've done some digging into the data to make sure you have a great holiday season (and can actually celebrate this year.) Here at Litmus, we analyzed  2.5 billion email opens from Thanksgiving to New Year's Day 2021 and we found some really interesting results around email engagement during the holiday season. 
Here's what you need to know to break through the jingle-jangle:
How does email engagement change during the holiday season?
For the holidays, email timing is everything. It's the one time of year you know your subscribers are looking to buy—so here's how to make the most of it:
1. Shoppers increasingly make their purchases on mobile devices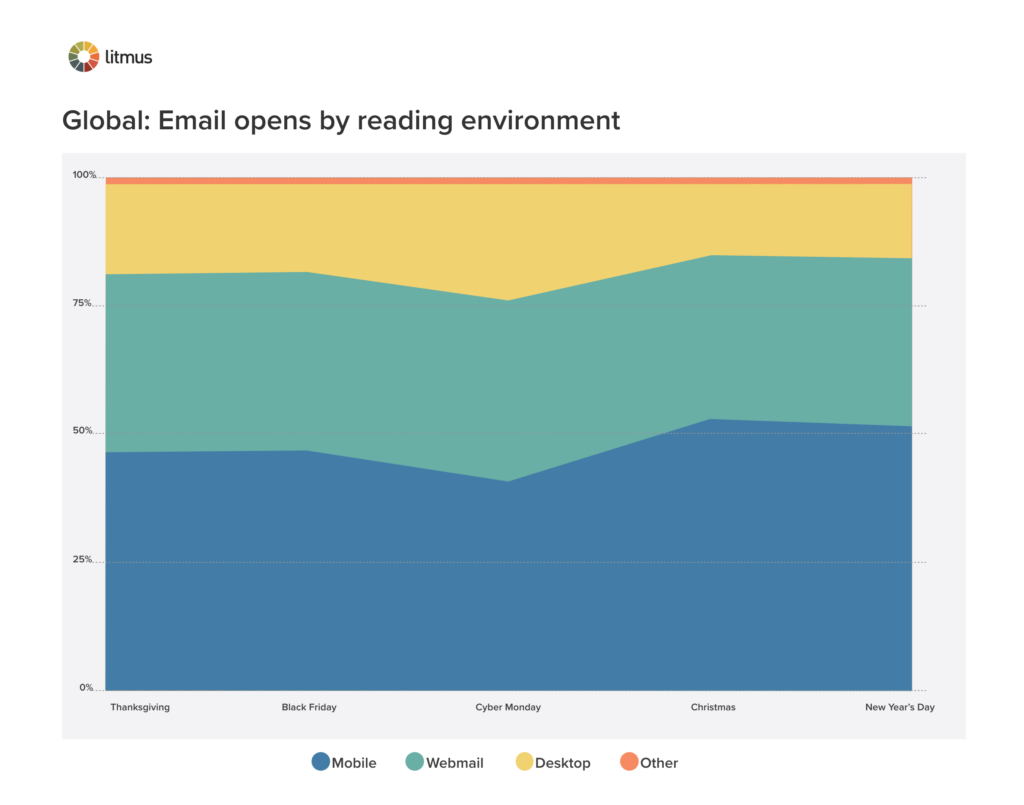 Okay, mobile supremacy isn't something new. But you might remember an interesting pandemic blip—in the 2020 State of Email Engagement, we saw an increase in webmail opens. That's right, webmail overthrew mobile as the favorite place for subscribers to open emails.
Now, mobile is back, especially for the holiday season. From Thanksgiving to New Year's Day, about 44.2% of people opened emails on a mobile device, 34.6% via webmail, and 19.8% within a desktop application. Saturdays in particular see a bigger bump in mobile email opens. And though we typically see a slight dip in mobile email opens during the workweek, it was fairly level between Christmas and New Year's Day.
And they're not just opening emails on mobile—shoppers are buying, too. In 2022, 47% of online sales came through via mobile devices, and this was even bigger during Cyber Week at 51%. That's why it's so important to make sure your emails are mobile-friendly. It's a good time to check up on your triggered emails, too, especially that abandoned cart:
Source: Really Good Emails
Source: Really Good Emails
Source: Really Good Emails
Mobile has been a "thing" for email optimization since the early 2010s, but it's a critical piece of your holiday email marketing strategy—don't ignore it for your seasonal and triggered campaigns, especially if you're sending weekend emails this season. 
2. Experiment with evening email timing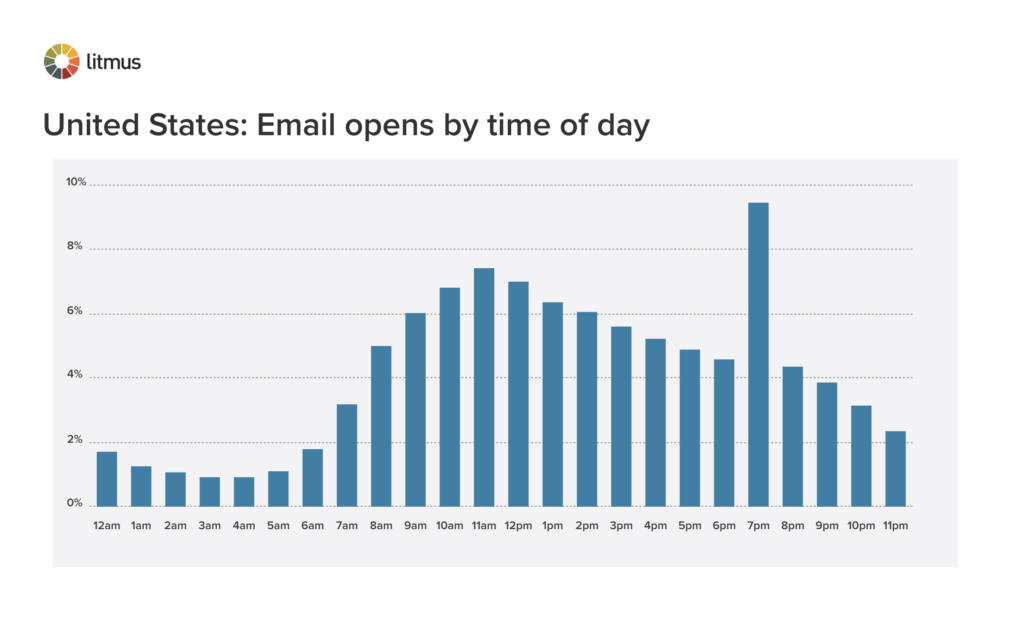 Almost 22% of all email campaigns are opened in the very first hour after they're sent. And as each hour passes, the likelihood of a subscriber opening your email decreases (or worse, opting out altogether.) So when is the best time to send an email? Well, if you asked any other time of year, we'd say 10 AM. But when we zeroed in on when people were most likely to open emails during the holiday season, it's actually in the evenings. 7 PM took the top spot with 9.45% of email opens on average.
It seems like people are less engaged with emails throughout the day during the holidays compared to before them. Instead, they preferred to open during more narrow times of the day like 7pm or mid-morning. This is especially true during that liminal, magical time between Christmas and New Year's. 
This kind of surprising data is exactly why it's so important to experiment with your email campaigns, even during a high-stakes time of year like the holiday season. If you're planning on sending a few final email campaigns to grab shoppers during their out-of-office lull, consider going big on engagement with a year in review style email, like these:
Source: Really Good Emails
Source: Really Good Emails
Source: Really Good Emails
Try mixing up your email send times this season and see what happens!
3. There's no such thing as a free lunch (or is there?)
We did notice a few significant exceptions to 7pm being the most popular time to open emails during the holidays in the United States: Sundays, Christmas, and the biggest shopping days of the year. Instead of the most popular time of year falling in the evening, it was smack in the middle of the day. 
On closer inspection, these are the top three most popular email open times for shopping the biggest sales:
Black Friday: 11am (9.17%), 10am (8.41%), 12pm (8.28%)

Cyber Monday: 11am (8.16%), 12pm (8.08%), 10am (7.63%)

Green Monday: 12pm (9.14%), 1pm (7.83%), 7pm (7.67%)
Lunchtime is most likely ideal since Black Friday, Cyber Monday, and Green Monday fall on workdays. Shopping a sale requires more focused time that people get during their break as opposed to stealing glances at their phone when they're supposed to be working. That way they can actually pay attention to sale emails you've worked so hard designing and building, like these:
Source: Really Good Emails
Source: Really Good Emails
Source: Really Good Emails
If you've got a big sale coming up, it might be worth testing to see if your audience also prefers shopping between 11am and 1pm local time. 
There's no one-size-fits-all holiday email strategy
While the insights we shared here can help serve as a baseline for your next holiday email marketing strategy, there is no one-size-fits-all approach. Every audience is different, so it's a good idea to take a look at your own open data from your ESP (or through a tool like Litmus Email Analytics!) to gain a better understanding of how your audience reacts to your campaigns during the holiday season.
The holiday season is a critical time for many companies, and it might be your last chance to hit or exceed your goals. This time of year isn't always the most joyful for email marketers, but it doesn't have to make you go dead-eyed like those cursed Elf on a Shelf dolls. Take a look at our free email marketing templates to get started, or read through our complete holiday marketing guide if you're scrambling at the last minute. 
And if you're sending about a billion emails and aren't sure how to keep track of them all? We've got your back. With Litmus, you can streamline your entire email design process so you can spend less time building emails and more time enjoying the season.