Let's talk about your triggered emails. When's the last time you reviewed them, or gave them a refresh? Triggered emails have a reputation for being "set-it-and-forget-it" programs, but that shouldn't be the case. In fact, you should review your triggered emails on a regular basis. This couldn't be more true as we approach the holiday shopping season.
We're big advocates for planning ahead, and with the last quarter of the year just around the corner, it's the perfect time to evaluate your triggered emails and tailor them for the holidays.
First, take inventory of your active triggered email campaigns. Then, keep reading for seven opportunities to make your triggered emails even more effective this holiday season.
1. Speed up your cart abandonment triggers
With the sense of urgency caused by limited-time and limited-assortment sales, the amount of time buyers spend considering a purchase is much shorter during the holiday season—especially during Black Friday and Cyber Monday as well as Singles' Day.
To stay top of mind, your cart abandonment emails should be sent much sooner after abandonment.
There are many discussions on what the best timing is, and in general, faster is better. However, you should analyze the behavior of your own customers and identify the natural rate of return first.
How long does it take for the majority of cart abandoners to return to their cart on their own (without prompting)? However long that is for you, send your cart abandonment email a little after that time, so you're nudging buyers along but not interrupting their normal buying behavior.
Don't have that data? Go back and determine the natural rate of return for your customers during Black Friday and other key holiday shopping days last year. Or, if you're unable to, look at your shoppers' behavior during your other sales. Use those behaviors to determine your ideal delay for your cart abandonment emails.
2. Highlight seasonal promotions and discounts—everywhere and anywhere
After you get an idea of what your seasonal promotional strategy looks like, think about all the places your current promotions and discounts sit. Perhaps you have an offer in your welcome series or abandoned cart series. How can you optimize them?
Let's take a welcome series, for example. Can you replace the current discount with the seasonal discount? Or can both discounts be combined to offer an even larger discount and further incentivize your new subscribers?
Next, think about all the places your seasonal promotions and discounts could sit. What triggered emails do you have, that you typically don't offer savings on? Is there an opportunity to add a seasonal promotion code to your back-in-stock, browse abandonments, product replenishments, and other triggered emails? If not, perhaps you could highlight the seasonal sale instead.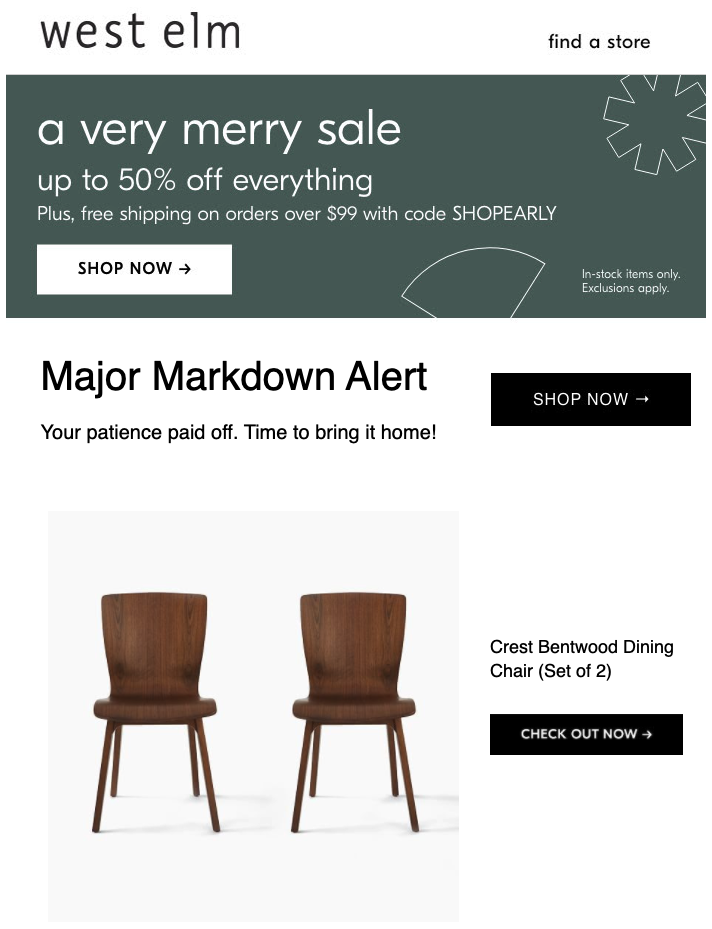 Highlighting your seasonal promotions in place of—or in addition to your current promotions—can help you get the most out of your holiday season sales.
3. Refresh your welcome emails with seasonal branding and messaging
With the holiday shopping season, many retailers will see an influx of new, seasonal subscribers. That means, you'll be making a lot of first impressions! Make the most out of your first impression by curating your welcome email experience and personalizing your emails to the holiday season.
Here are some ways you can implement seasonal branding and messaging to your welcome emails:
Use seasonal imagery (or animated GIFs).
Link to gift guides and holiday discounts.
Share upcoming order-by deadlines.
For example, Peet's Coffee honed in on the holiday season with a themed hero image in this welcome email: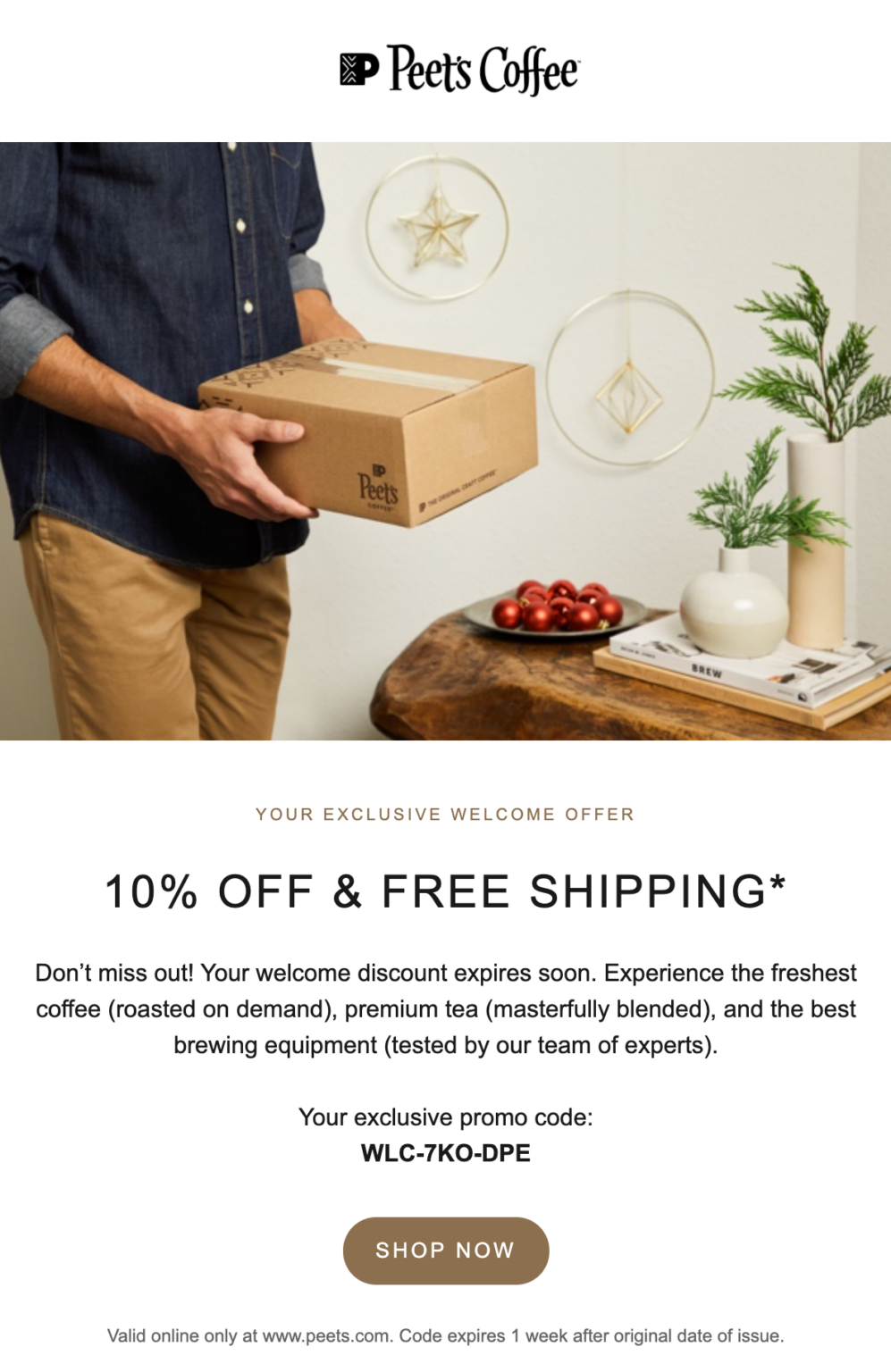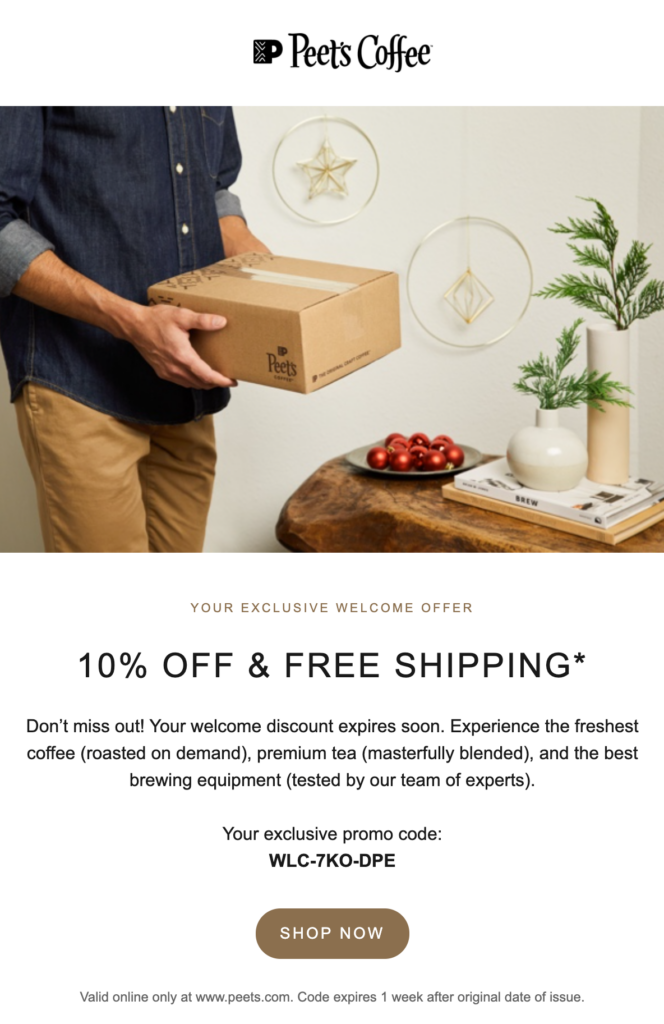 Or, perhaps instead of a welcome email, you have a welcome series. Consider the following:
Update any existing promotional codes to seasonal codes.
Add a seasonally focused email into the series that highlights special holiday merchandise or a holiday free shipping offer.
4. Dress up your emails with holiday headers and CTAs
Similar to how retailers decorate their stores for the holidays, you can mimic the same strategy to get your shoppers in the holiday shopping mood. A visual signal—like a holiday-branded version of your logo or header—acts as a subtle reminder to shoppers.
Here is what Food52 did to dress up their header for the holiday:
Normal header

Holiday header

In the below example from last holiday season, Sephora added a little seasonal imagery around their logo and replaced where the "Sale" call-to-action (CTA) usually sits in the navigation bar with a "Gifts" CTA.
Normal header


Holiday header


Or you can add a module after your header or navigation bar, like Crate & Barrel did here: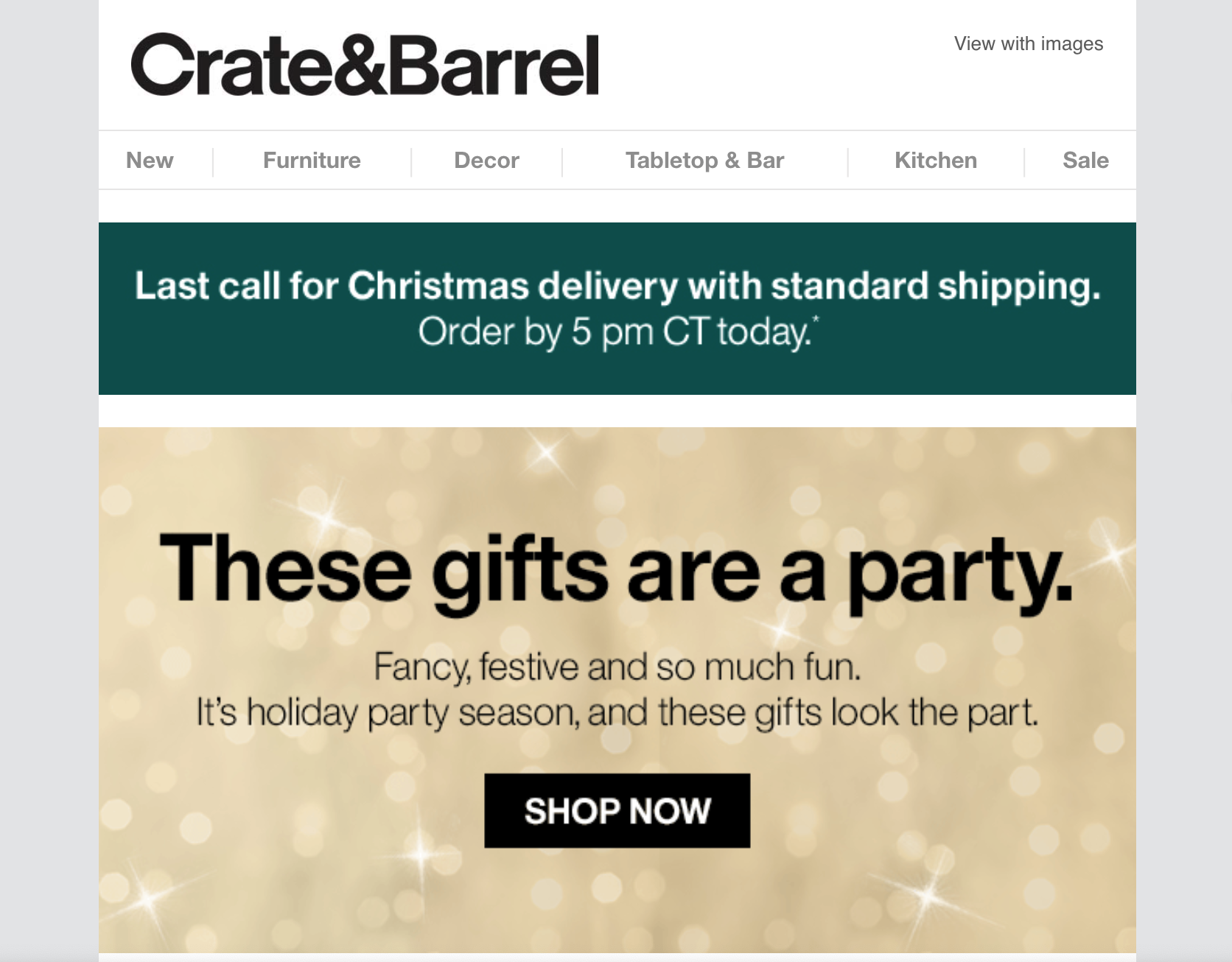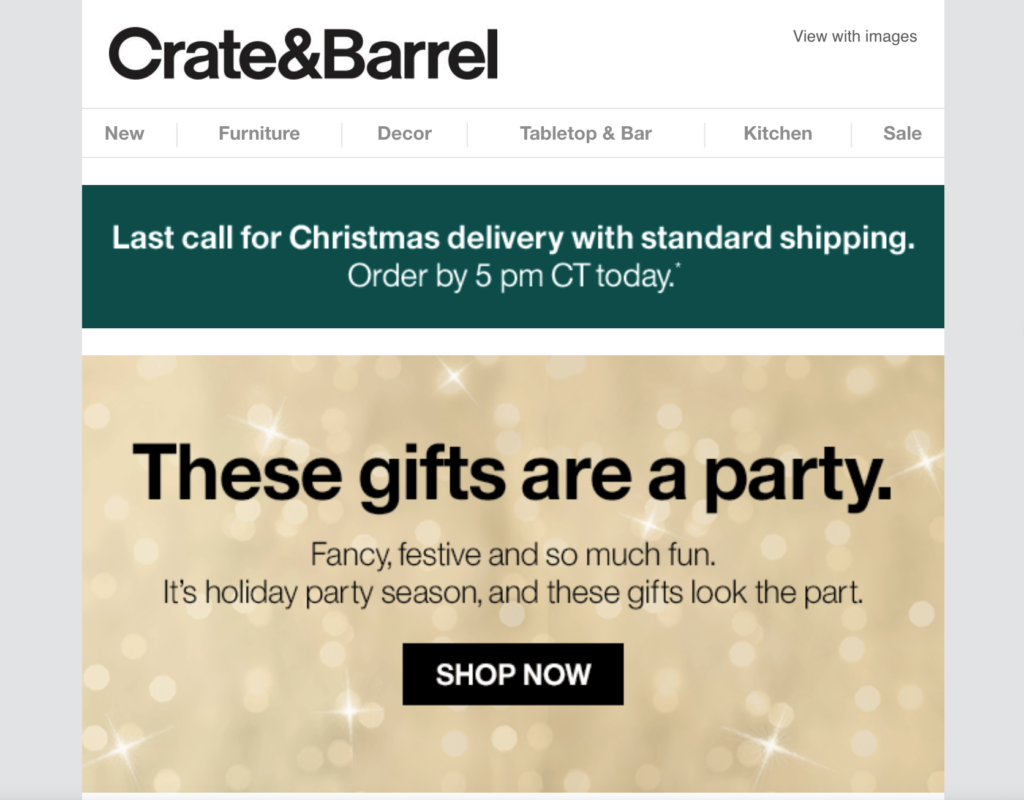 The header has traditionally been the most common place to add some seasonal imagery. However, mobile and responsive design puts a squeeze on headers, making it challenging to add seasonal imagery to the mobile version of emails. Retailers have compensated by converting their desktop "Gifts" or "Holiday" navigation bar links into tappable mobile call-to-action icons and boxes.
Target kept a little seasonal imagery around their logo and placed a "Shop Top Toys" CTA next to it along with a picture of Frozen's Olaf:

5. Dress down your emails with holiday footer and additional CTAs to address holiday needs
During the holiday season, shoppers have different needs, such as order-by deadlines, store hours, return policies, and more. You can add all this into a footer near the bottom of your triggered emails, as well as any additional information on topics your subscriber might find helpful—like gift guides, gift services, or extended holiday returns.
Yours can be rather simple, like this from Janie and Jack: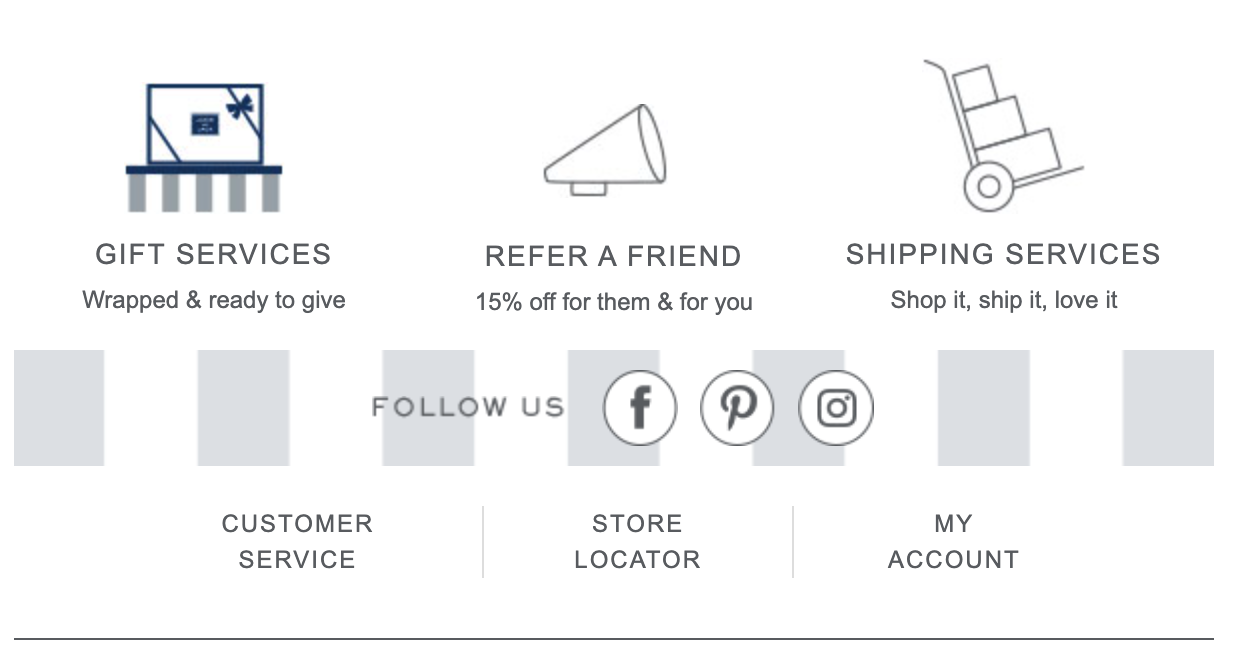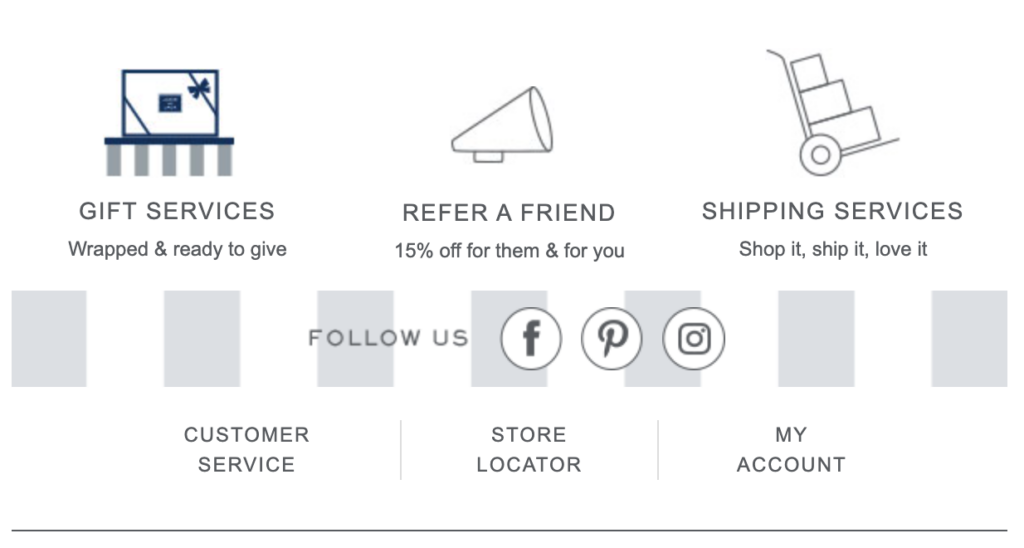 Or extensive, like Aveda did in this abandoned cart email from last year, which includes CTAs to chat, shows off payment plans, and more: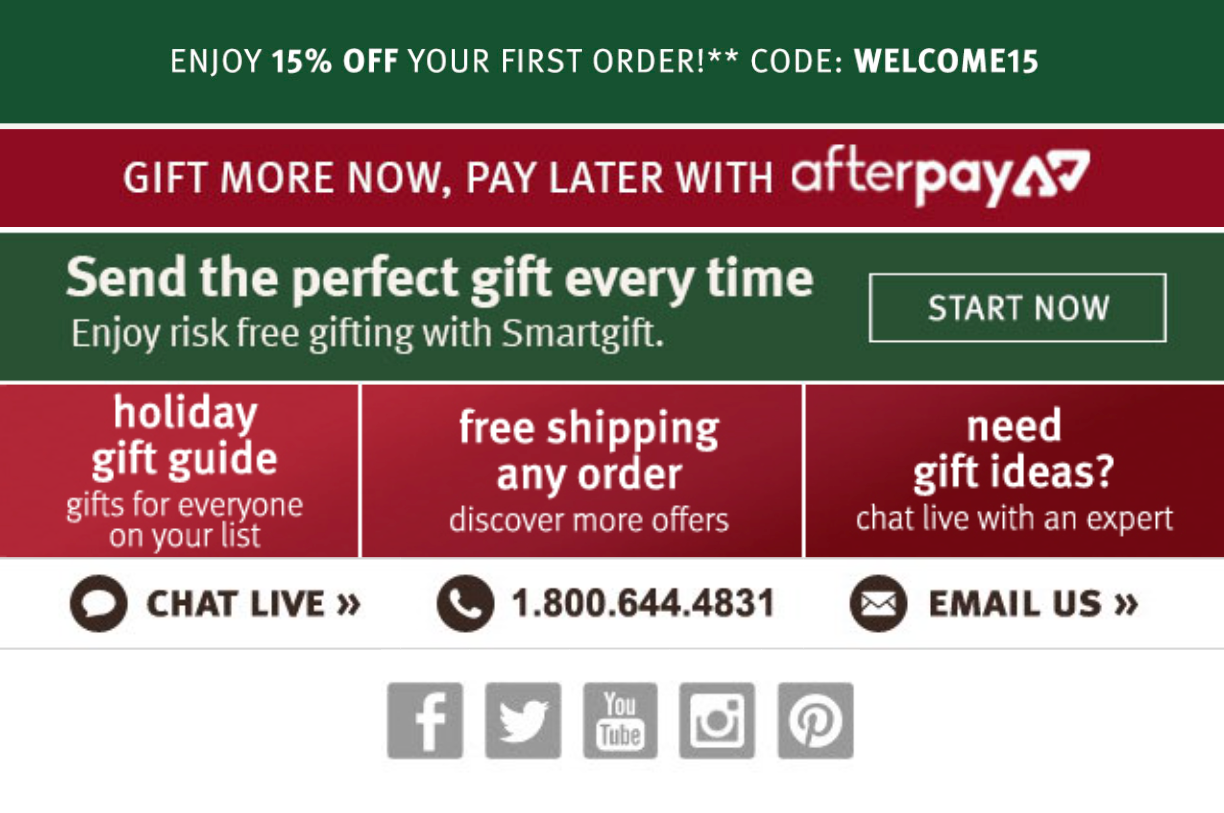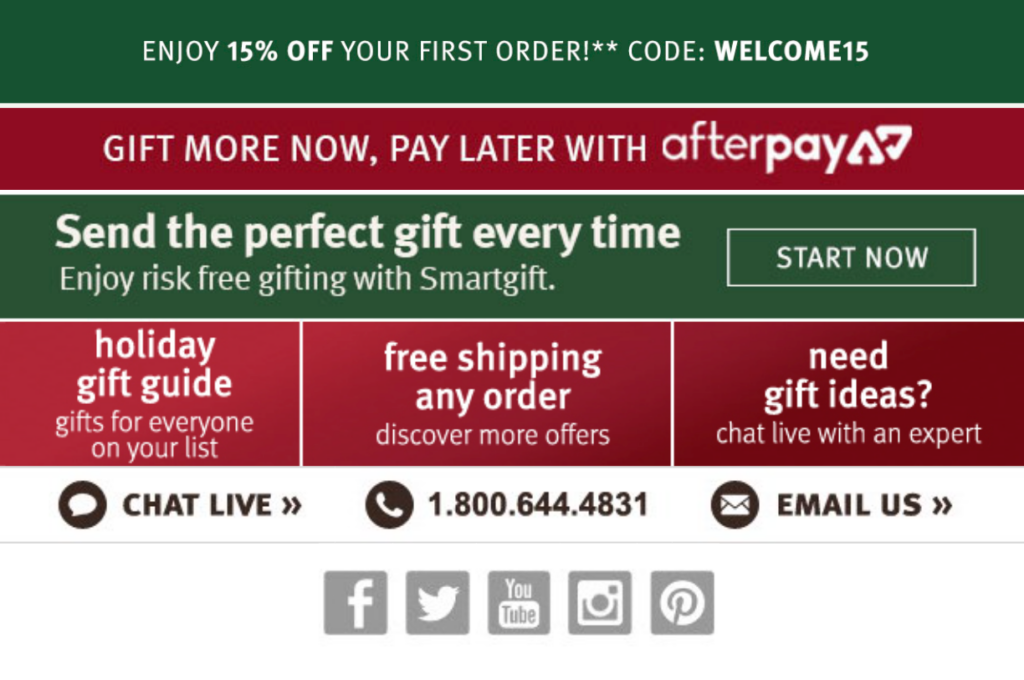 Keep in mind, your gift services footer should change over the course of the holiday season, since shoppers' needs are different in late November than they are in late December.
Instead of a footer, you can also add a CTA block, as Williams Sonoma did at the end of this cart abandonment email.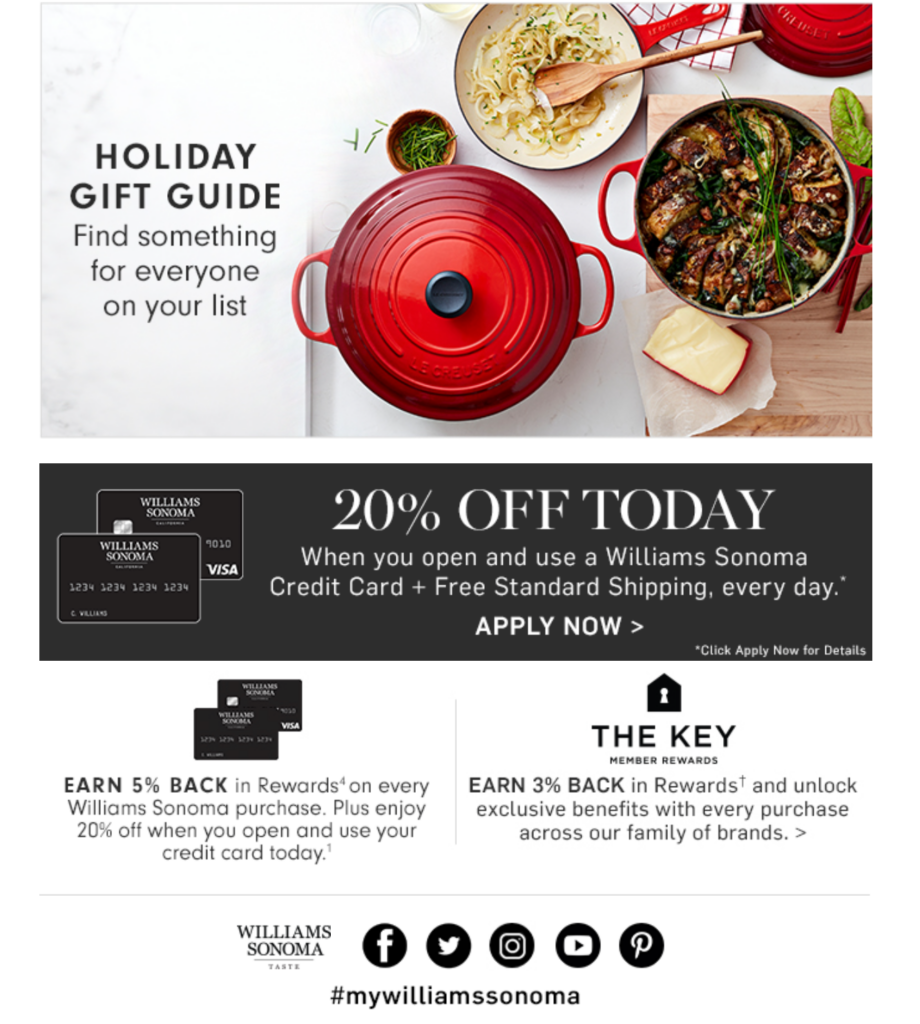 6. Don't forget your inventory alert emails
During the holiday season—and especially over the Thanksgiving-to-Cyber-Monday weekend—inventory may change quickly. Out-of-stocks are not uncommon. If that's the case for your business, use back-in-stocks to trigger notifications to subscribers who abandoned a page with an out-of-stock product, as Williams Sonoma has done in the past with this email sent late November: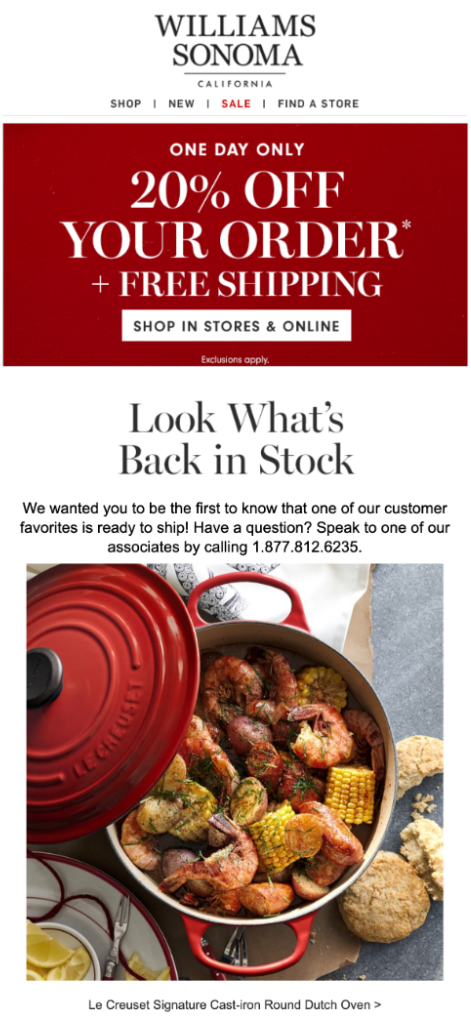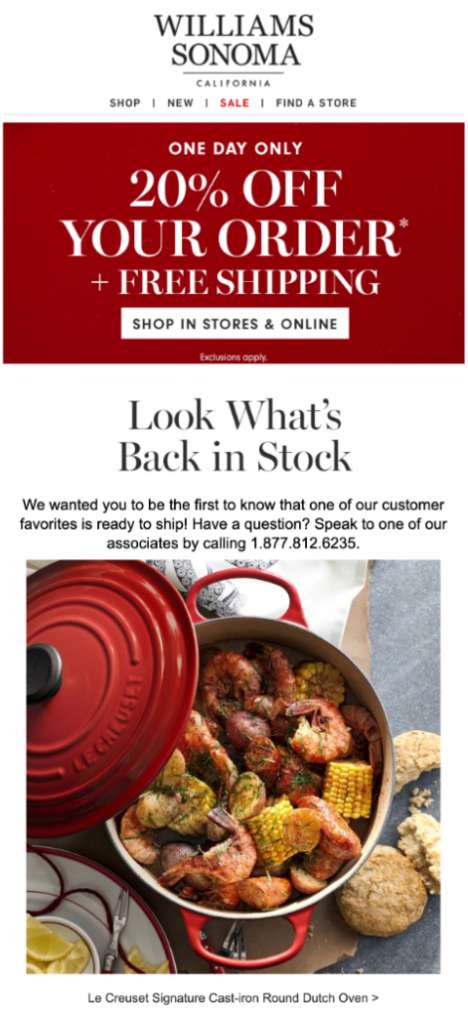 The same goes for low stock alert emails. If you have triggers set up for low inventory, make sure to add those holiday elements mentioned above, like how The Company Store did with holiday CTA blocks: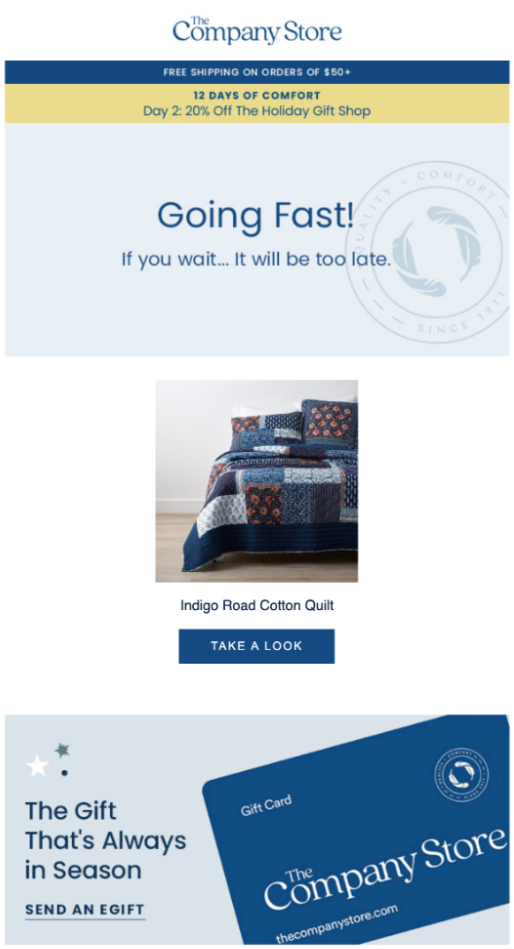 7. Automate using a real-time personalization tool
Speed is of the essence during the holiday shopping season—a time where customers are interacting in real-time, more than any other season. With changing promotions, shipping deadlines, product inventories, there's a lot more to account for.
Updating all your triggered campaigns can require hours of additional email production time. What's a solution that can save you and your team major time? A real-time personalization tool to reduce the number of email versions you'd have to create and test (like Movable Ink or Liveclicker), empowering you to create more personalized, dynamic experiences.
For example, if a promo code for a Black Friday sale has expired, but you'd like to swap it in time for Cyber Monday, using a real-time personalization tool can allow you to do just that—in one place.
In this Black Friday email from Under Armour, multiple uses of real-time personalization are used in action. First, the offer in the email is a unique barcode. Second, by using Movable Ink, they were able to generate store location information based on the time of the email's open.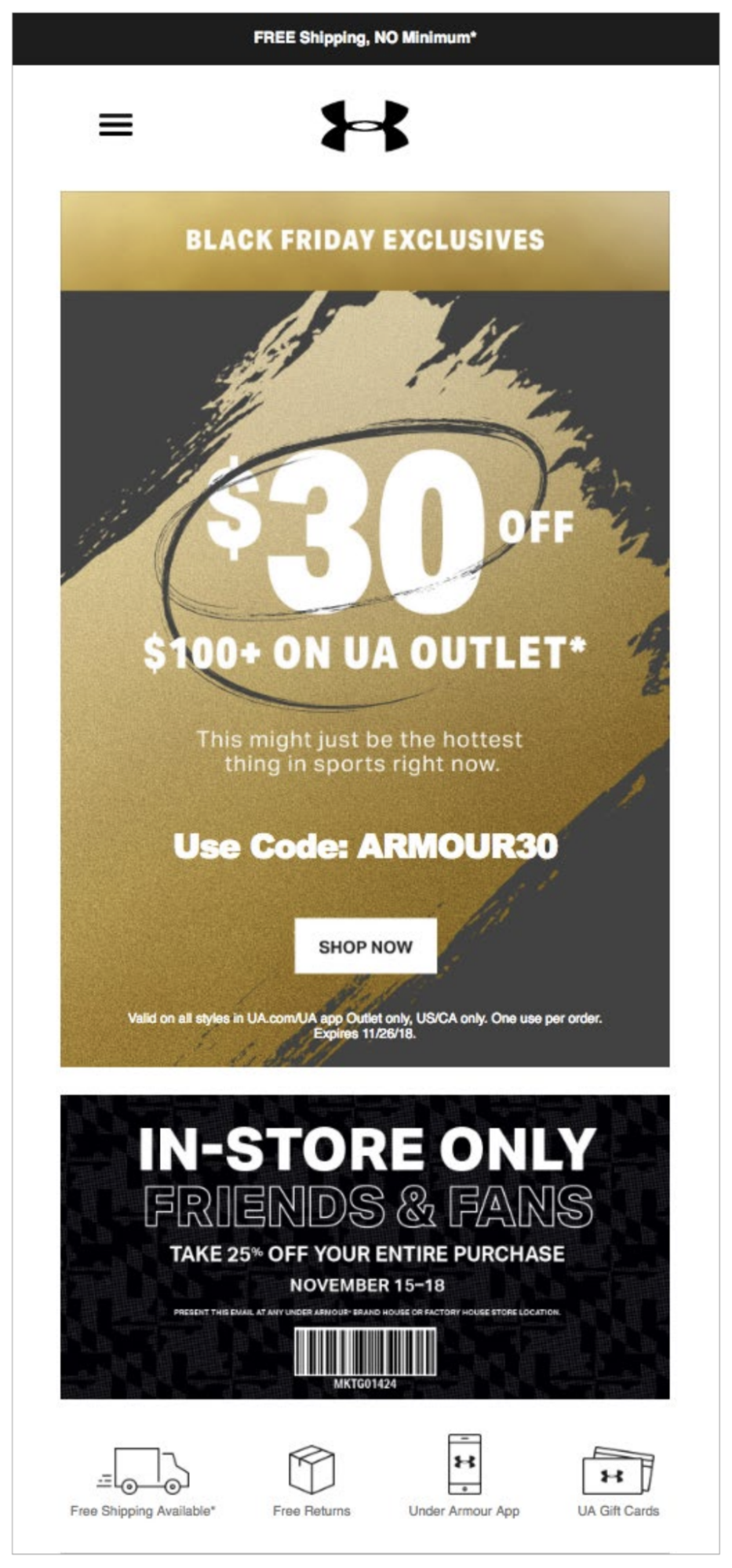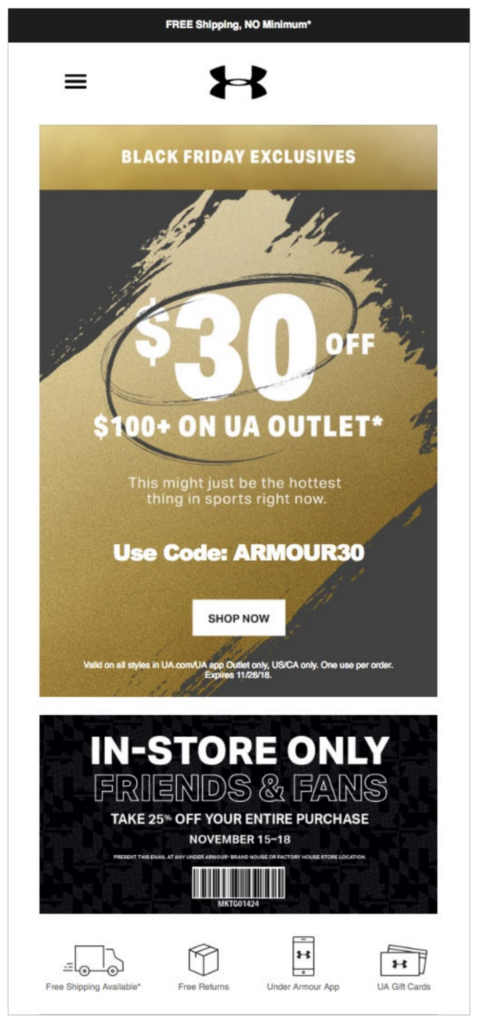 You've got this holiday season in the bag
The last quarter of the year can feel overwhelming, but the good news is you're ahead of the game with these tips! Feeling ready for this holiday season? You've got this in the bag.
Be sure to also check out the rest of our holiday email blog posts for more inspiration:
Optimize your triggered emails with Litmus

Spread the holiday cheer—not fear. Preview your emails in 100+ email clients, apps, and devices to ensure a delightfully on-brand, error-free subscriber experience. Every time.