You know that last-minute scramble before any holiday or birthday when you realize there are still arrangements to be made and gifts to be purchased? Back in 2007, eBay saw this play out with their online sales. A few weeks before Christmas, there was a surge in sales.
The final push of year-end shopping was so great that the company coined the term "Green Monday." While it sounds like something related more to Earth Day than holiday shopping, it happens each December. The "Green" stands for, well, American money.
And it poses another opportunity for creative email marketing.
What is Green Monday?
Green Monday is on the second Monday in December and is typically the last sales push to make purchases for Christmas gifts.
As you'll see in some of the examples below, Green Monday promotions often focus on the last days you can shop online and receive items via standard shipping by Christmas. This year, Green Monday lands on December 13th, 2021, but marketers don't stick to a strict schedule with this event.
So, your company's Green Monday timeline could vary slightly from other brands depending on your shipping speed and product availability. If you expect any supply chain issues, then your Green Monday might need to come a little earlier. Don't forget that there's a diverse set of year-end holidays, and you can use any of the email strategies below leading up to different events.
10 Green Monday email marketing strategies
Let it be known that Green Monday emails are usually sales-forward. While there's nothing stopping you from shaking it up (like REI's annual #OptOutside campaign), most companies use Green Monday for promotions.
The only problem is that you'll be coming off Black Friday and Cyber Monday (BFCM) less than a month before, and you and your audience may be overwhelmed with email offers. Can there possibly be other ways to talk about a sale or encourage customers to check out the latest items? Absolutely!
Let's look at ten Green Monday strategies you can leverage this year to increase sales without feeling like a broken record.
1. Remind people of the last day to shop for Christmas delivery
If you suspect (or hope) customers will gift your products for Christmas, let them know the last day to order before the holiday. Remember, there are plenty of other holidays at this time of year than Christmas, so it's smart to personalize emails for your audience and their location. To do this, you'll need to send a pre-holiday email asking subscribers what messages they want to receive.
On shared a global map with the last dates to place an order with standard shipping for Christmas delivery.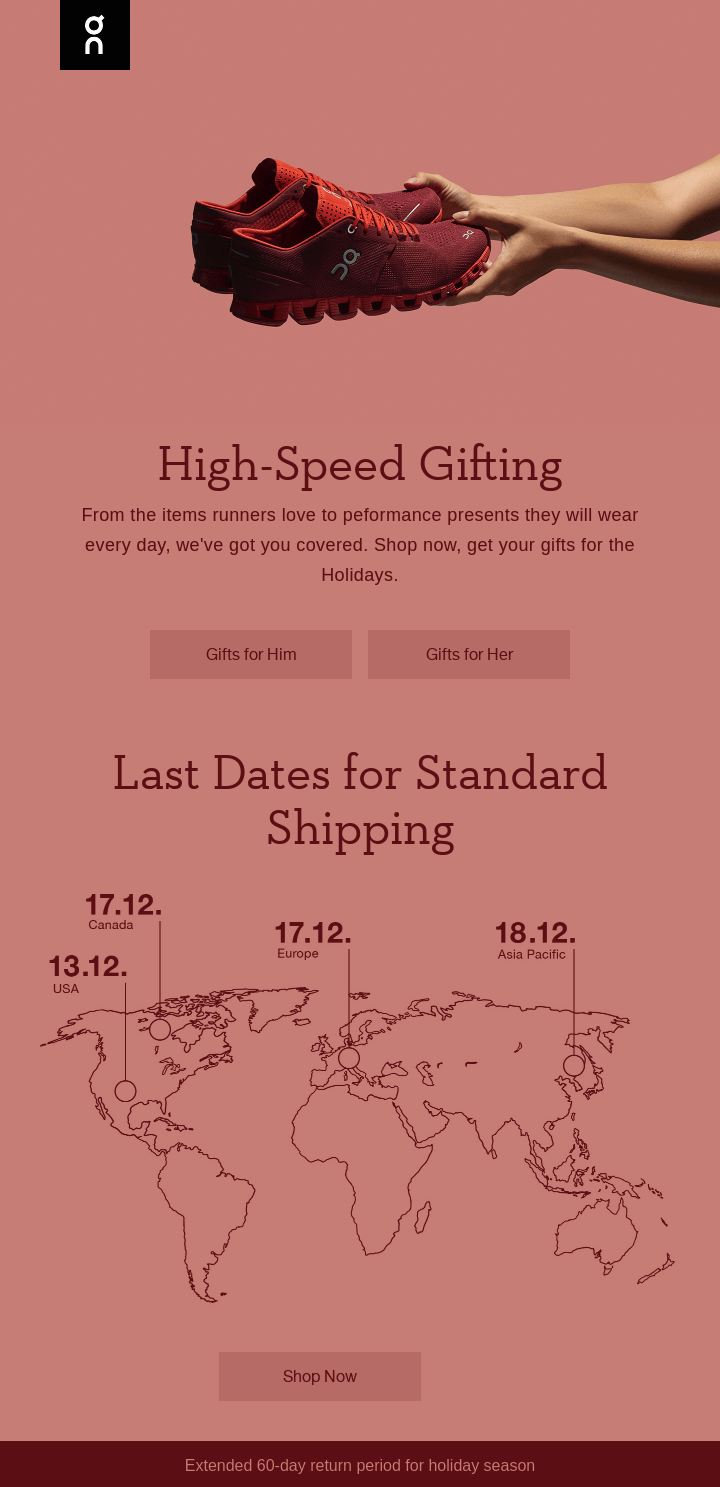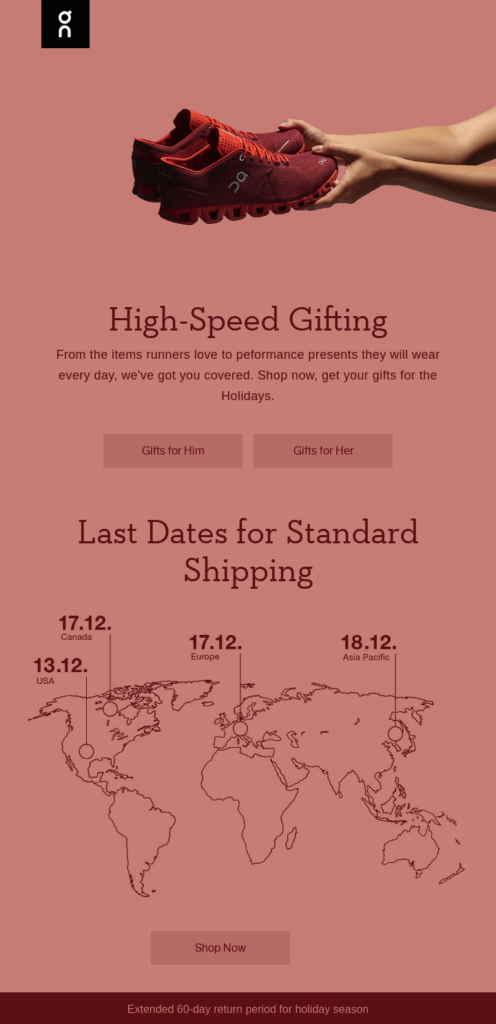 2. Send gift ideas
If people have put off buying gifts until Green Monday, a lack of ideas could be a contributing factor. You can use your Green Monday email to highlight items for different interests or groups of people and help take the guesswork out of gifting.
Havenly decided to include input from none other than their own team. The email features gifts for three different categories, along with commentary from the people who curated the items. You could also break down gift idea lists by budget, brand, or item category.


3. Gift one, get one
Chaco heard it was better "to give than receive" and thought, "Why not both?" Instead of a standard discount on items, Chaco promoted bundled items in their Green Monday email. Last-minute shoppers could scoop up a gift for someone on their list and score something for themselves. Double win. Feel free to use this positioning the next time you want to shake up a BOGO (Buy One, Get One) sale, too.


4. Focus on your smaller items
If you want to use Green Monday to boost sales but wonder if your audience has either a) finished buying gifts or b) is reaching the end of their budget, consider "stocking stuffers." Pure Hockey focused on small gifts for Green Monday and was sure to mention the last days to order for delivery before December 25th. Entry-level item promotions could also be a good way to turn lookers into first-time buyers.


5. Include gift wrapping
Sticking to the theme of last-minute gifting, Randolph Engineering offered Green Monday shoppers a free gift bag and tissue paper with each purchase. While a premium gift bag isn't as tempting as, say, 75% off everything on your site, it could be a nice touch that tips the scales toward a sale.


6. FOMO
Considering Green Monday's origins as a final-shopping-sprint holiday, it isn't surprising that some companies lean into the fear of missing out (FOMO). For example, HoneyBug let customers know when a sale was in its final hours and reminded them of the last day to order for Christmas delivery.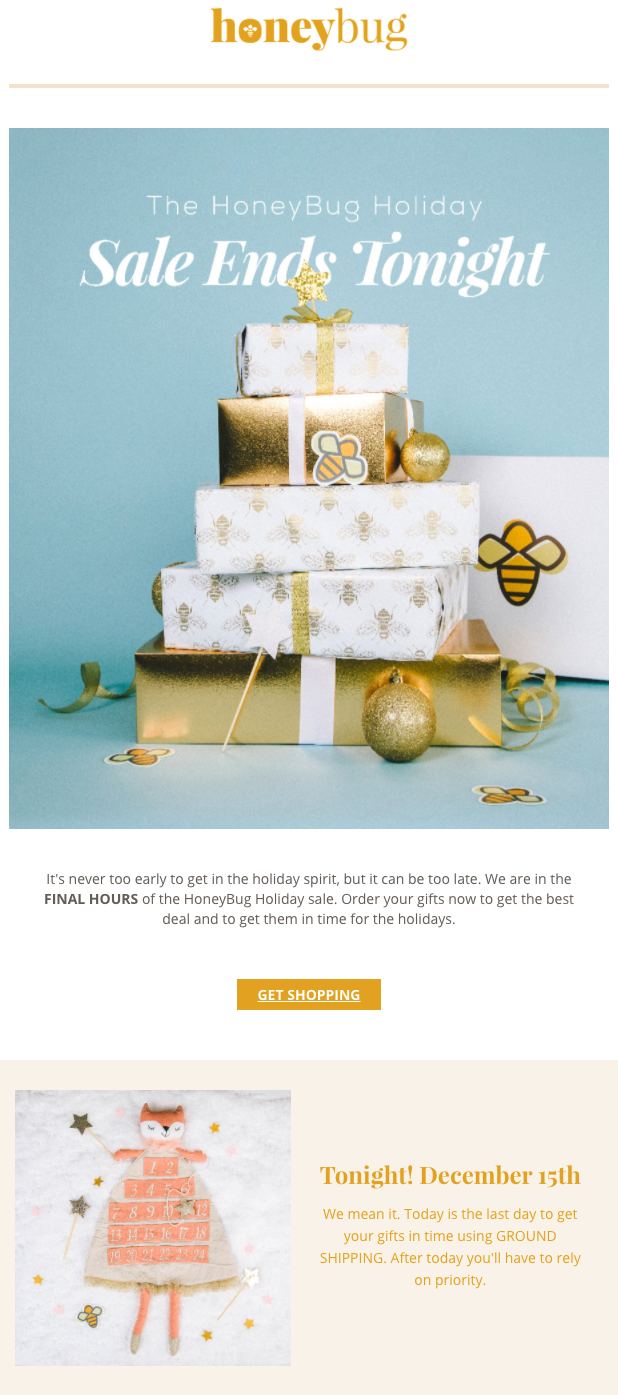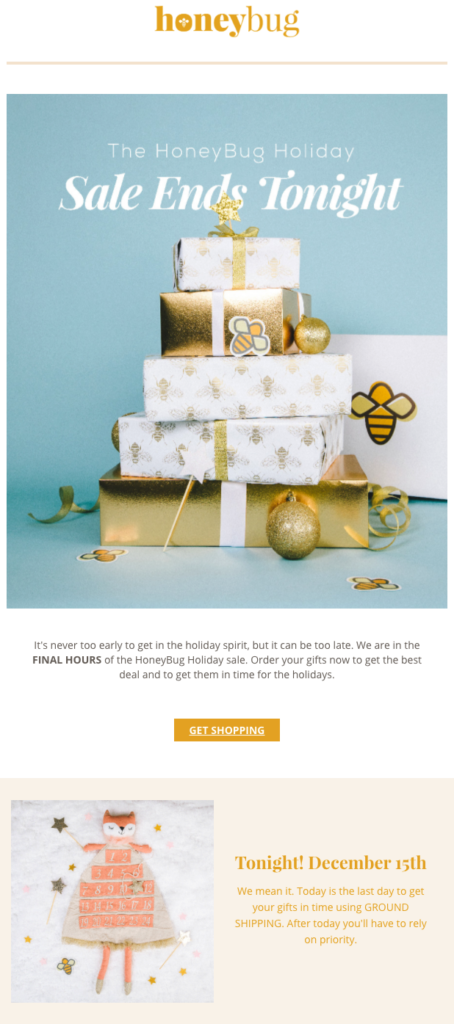 Some typical FOMO strategies, like countdown timers, might not work for Apple Mail users this holiday season because of Mail Privacy Protection updates. If you want to use a countdown timer, be sure to check if Apple Mail is popular among your subscribers. It is the most popular email client on average, when combining Apple Mail opens from iPhones, Macs, and iPads.
7. Countdown to Christmas
If you prefer to trickle out your promotions over time, you can highlight a new item, deal, or piece of content every day. The Futon Shop used Green Monday to kick off "12 Days of Christmas." Each day, a new item category went on sale with a coordinating code.


8. Play around with animation
If you want to stick to what you know works for the all-important BFCM, you can get a bit more creative with Green Monday. For example, Vans Australia took a simple "$20 off a $100" purchase deal and turned it into an animation full of movement. Play around with animations or interactive content, and if it goes well, you can try it for bigger shopping holidays next year.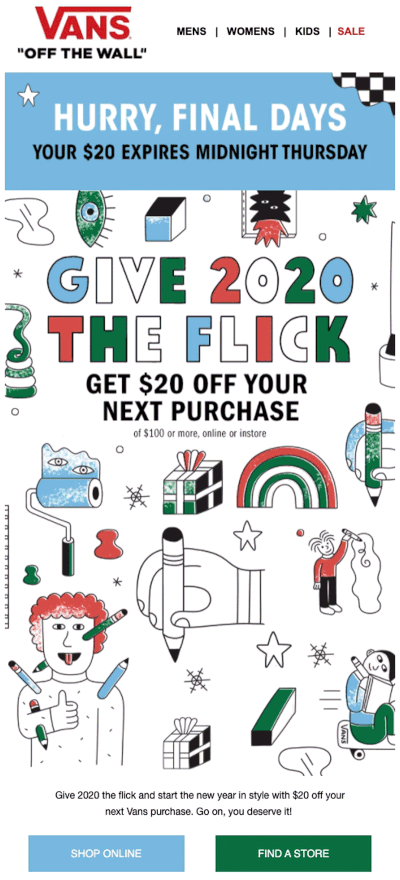 9. Promote gift cards
When in doubt, buy a gift card. That's the approach Angus & Robertson took for Green Monday 2020. Their email encouraged people to choose a gift card if they weren't sure what the recipient would like, which is a smart last-minute marketing strategy. Digital gift cards aren't bound by postage, which means you can promote them (and people can buy them) as late as the same day for any holiday.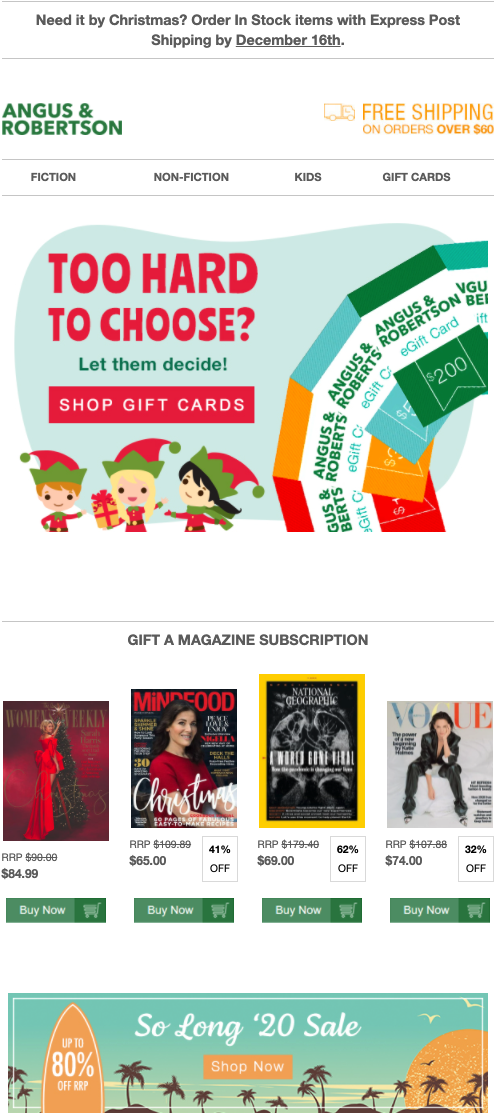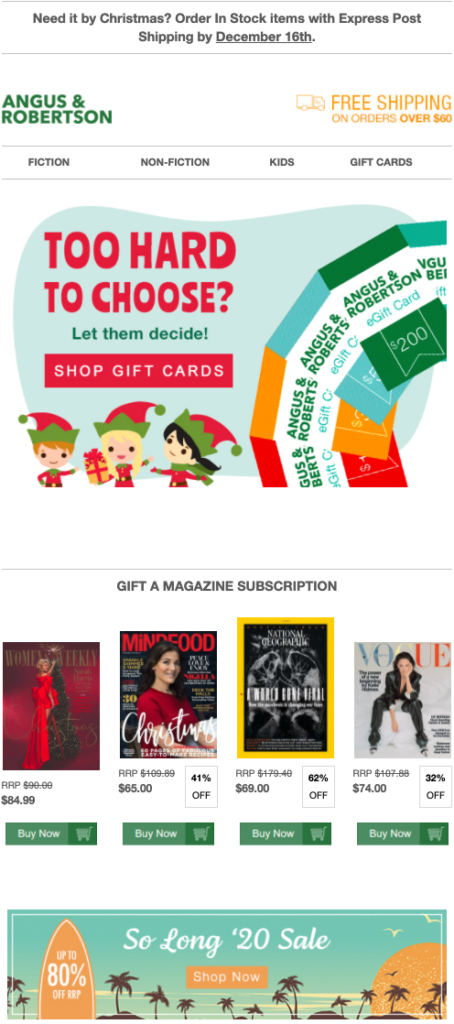 10. Social proof to make decisions easier
If subscribers are on the fence about buying an item, a little social proof could make their decision easier. Colleen Rothschild Beauty promoted Green Monday with a coupon code and text from five-star reviews on select products.


Litmus helps your holiday email plans go as planned
Now is the time to start planning, previewing, and testing your holiday email campaigns. If you want to make this year's campaigns your best yet, try Litmus for free to streamline your workflow and ensure every email is on-brand and error-free.
For more holiday email inspiration and best practices, go to the next article in our blog series.
Up next: Season's Greetings emails →
Or check out all of our holiday-related blog posts:
Optimize your Green Monday emails with Litmus

Spread the holiday cheer—not fear. Preview your emails in 100+ email clients, apps, and devices to ensure a delightfully on-brand, error-free subscriber experience. Every time.