Read Time: 5 min
The Anatomy of a Broken Email: errors that make marketers shudder and how to fix them
"Wait… what happened to my email?!" The dreaded words you never want to utter. When things with your email go sideways and you get that sick feeling in the pit of your stomach, all you want to do is hide. But hey, we've all been there—whether you're a newbie or seasoned pro.
I've been doing emails for over 10 years now, and I still make mistakes. Sometimes they're small (like a minor typo), and sometimes they're big (like a broken link). The important thing is that we learn from our mistakes, and keep an eye out for them to prevent more in the future.
Let's walk through the most common errors and how to avoid them.
Get your copy of The Anatomy of a Broken Email

Take a deep dive into the most common issues that will break your emails, find out the impact on your email marketing program, and get practical tips & tricks to create on-brand, error-free emails. Every time.
Watch out for the most common email mistakes
Knowledge is power. And when you know what can break your emails, you can avoid them. Here are 12 of the most common issues we see in emails today: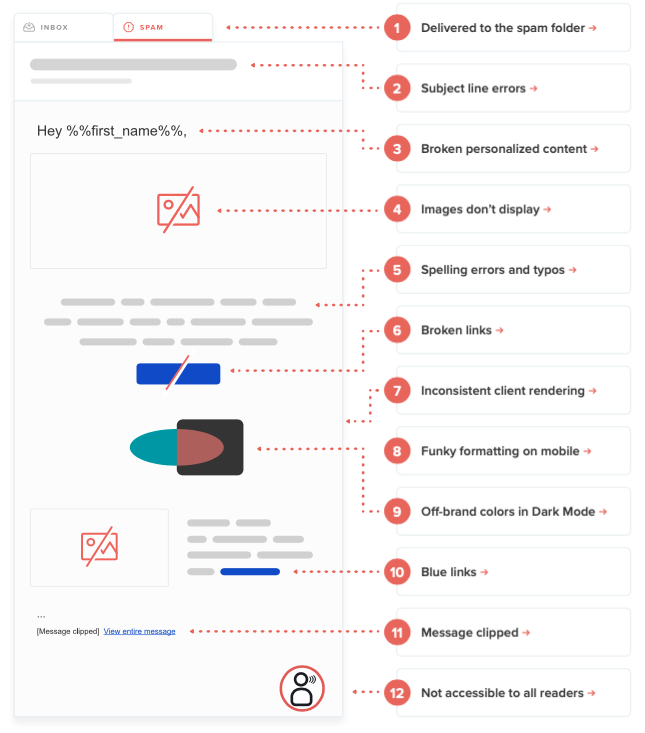 Don't underestimate the damage email errors can do to your brand in the long term.
If you want your brand to be seen as trustworthy and competent—especially if you're dealing with people's health, money, or security—the details matter. And mistakes like these won't work in your favor.
Let's break down what each of the most common email issues are so you can get ahead of them before they do damage.
1. Delivered to the spam folder

Maybe you're on a blocklist or your content triggered a spam filter. Or maybe your subscribers marked you as spam. Yikes. Email deliverability issues are no joke.
2. Subject line errors

First impressions matter. Errors you might run into include typos, broken characters or emojis, and truncated text that completely changes the tone of your email.
3. Broken personalized content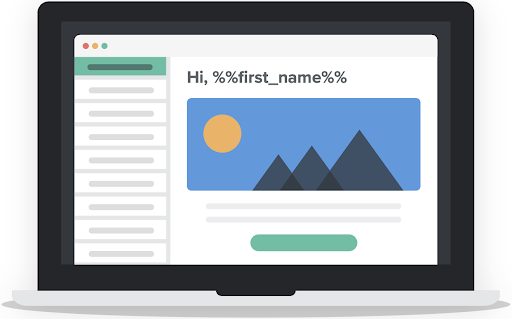 We've all seen first name personalization gone wrong. It's almost like a rite of passage for all email marketers. And that's just one example of an issue that can crop up with your merge tags or dynamic content.
4. Images don't display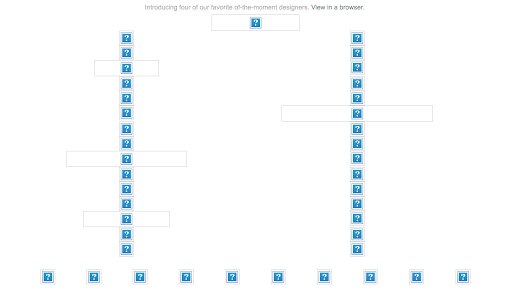 Your images might be blocked or loading slowly. Many subscribers even have email images turned off by default. If your main message is in images, then your subscribers won't see it.
5. Spelling errors and typos


It seems like no matter how many rounds of revision emails go through, spelling and grammatical errors still manage to sneak by. If you're unlucky, these errors can change the meaning of your message.
6. Broken links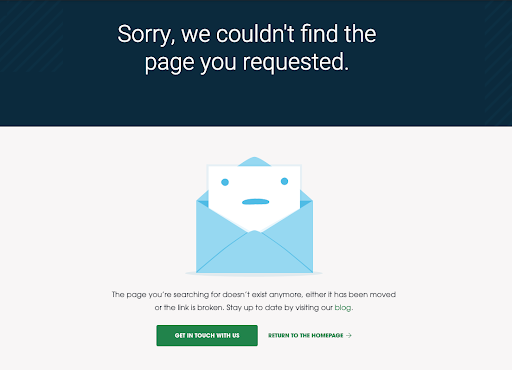 Maybe you're not using the right URL or there's a typo in it. Either way, if your links don't send your subscribers to the right place, there won't be a conversion.
7. Inconsistent client rendering

Unlike the web, there's no universal standard for email development. A feature that works in Apple Mail might not work on Outlook. Plus, your email service provider (ESP) can make changes to your code that impact rendering as well.
8. Funky formatting on mobile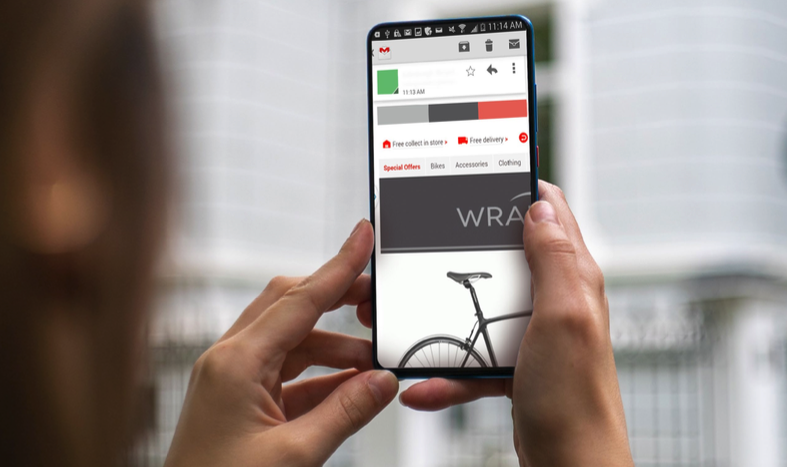 Scrolling sideways or zooming in to read emails on a mobile device is no fun. And your subscribers are unlikely to do it. Instead, it's straight to the trash bin.
9. Off-brand colors in Dark Mode

Dark Mode is here to stay. Unfortunately, it can cause the colors in your email to feel all over the place. And definitely not within your brand's guidelines.
10. Blue links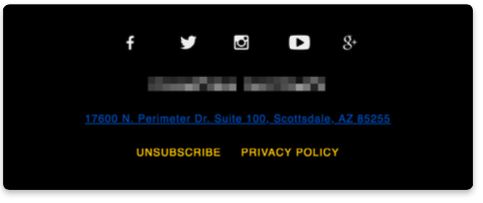 Another issue that throws your email off brand? Blue links (of death). Some email clients—especially mobile devices—love automatically linking things like phone numbers and addresses in their default blue link color.
11. Message clipped

If your email is too large or long, Gmail will clip your message, forcing people to take another action to read the rest of your email. And maybe they won't.
12. Not accessible to all readers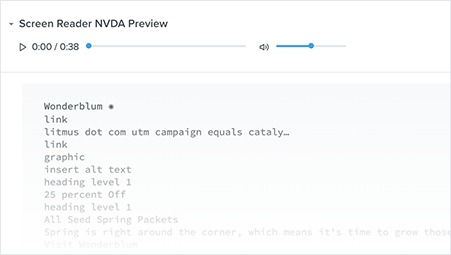 Your email might not be understandable when read out loud. Or it can be hard to read for people with low vision if you've got things like small font sizes and low color contrast.
Prevent email mistakes with testing
The great news is: Thorough email quality assurance (QA) testing can save the day. A careful pre-send check of your emails helps you catch and fix the email issues that give you nightmares. Our tip? Make a checklist of these issues (and any others you might be facing), so you can be sure to check your emails against them before hitting send.
And if you want specific tips & tricks for dealing with the issues mentioned here (or just want to save this list to reference later), download our comprehensive ebook: The Anatomy of a Broken Email.
We love it when emails go out without a hitch, and we're here to help each and every one of you create perfect, on-brand emails that land in your subscribers' inboxes!
Automatically catch issues before you hit send


Get a guided check of the critical elements that impact email performance—with Litmus. Preview your email in popular email clients and devices; validate that links, images, and tracking work; and protect your brand reputation every time.
Originally published on August 12, 2019, by Whitney Rudeseal Peet. Last updated February 24, 2021.
Most Popular
Don't Miss Litmus Live 2022 this Fall!

The Premier Email Event by Email Pros, for Email Pros.
From Anywhere–and Any Budget.

Learn More