As email marketers, we see a lot of campaigns in our own inboxes. I mean… a lot. Some are good, some are bad, but they all serve as inspiration for our own email campaigns. Whether it's the copy, design, strategy, or some super specific detail, all work together to create the subscriber experience. We thought it'd be cool to share some of our own favorite emails in a new monthly series on the Litmus blog, and showcase the brands that are working hard to create a better subscriber experience.
So, here are the campaigns that caught our attention in April.
Jason Rodriguez, Community & Product Evangelist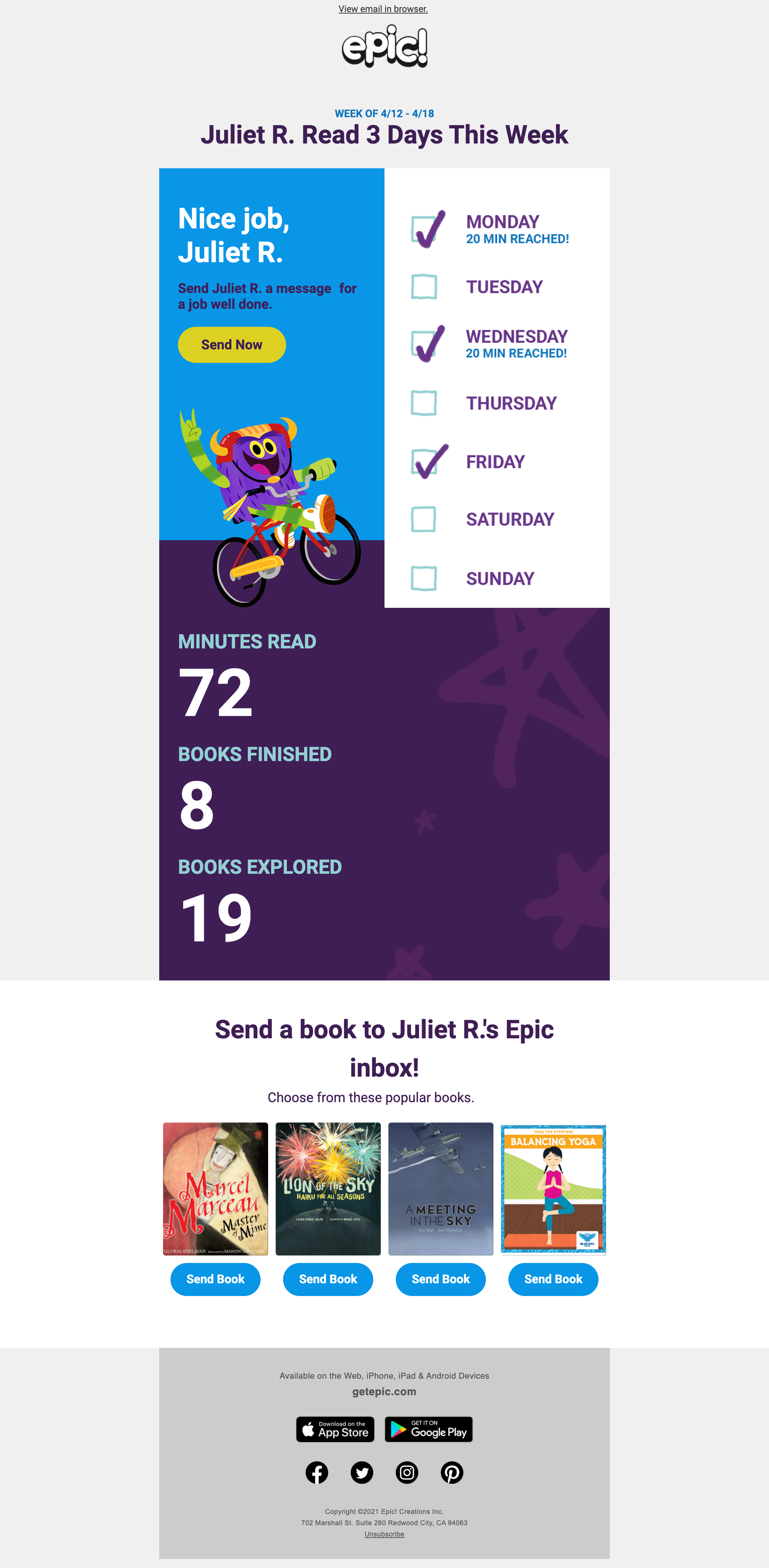 Sender: Epic Books for Kids
Subject line: Weekly Progress for Juliet R.
I love this weekly progress report on my daughter's reading through the Epic books service. While I'd love it if she was reading Epic books every day of the week, it's a great way to keep up with when and how much she read for the school program. I love that I can quickly send her a message through the service and recommend books I think she'd like. Plus, most of the message is live text styled with CSS—so I know it's fairly accessible for people using the service.
Jess Materna, Senior Product Marketing Manager

Sender: Drizly
Subject line: The pumpkin spice of spring.
Preview text: Put the petal to the… mouth.
The creative juxtaposition of something I love about fall (pumpkin spice) being tied to spring caught my eye. I also love the play on "petal" in place of "pedal" in the preview text.
Upon opening the email, I wasn't disappointed! I love the simplicity of the email and the theme of beverages with floral notes. The alternating gray backgrounds helped to break up the products and make it easy to scan. Drizly has consistently creative emails that always make me smile, and this one was no exception!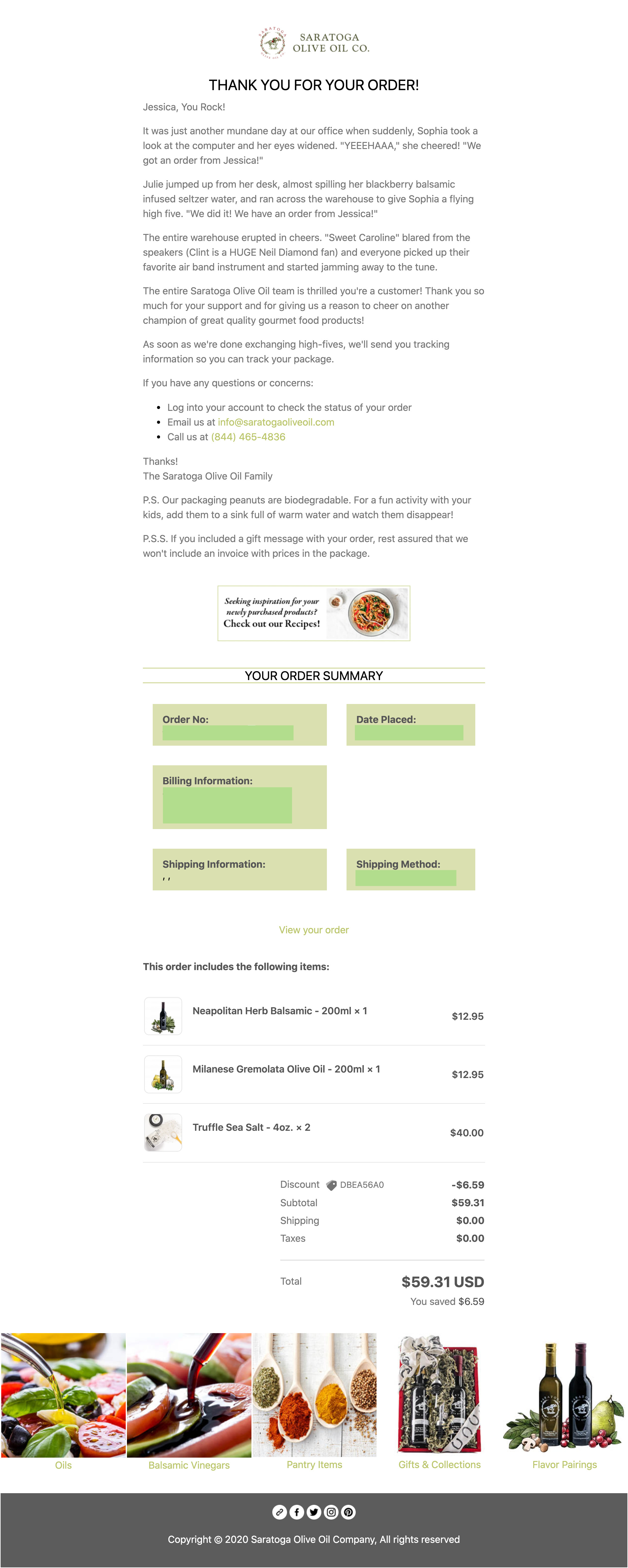 Sender: Saratoga Olive Oil Co.
Subject line: Order #XXXXXX confirmed
I love the creativity of the copy in this confirmation email and the personalized feel. It's such a great (and small) local company, and their confirmation email had that same local feel. I also love the postscripts that provide creative ways to use the packaging materials as a fun activity and assure folks that products purchased as a gift won't include invoices—perfect for making sure your spending habits aren't shared with gift recipients.

Sender: Brooks Running
Subject line: Tips on running with your pup
I love how this email shows that the Brooks Running brand cares about animals. I'm a huge Brooks fan, but these emails help to share important tips while building brand loyalty. They nailed it with this one.
I love the relatable hero image and copy leading to the thought leadership article they're promoting. Even more, I love that they showcased photos of people's real pets near their products. It gave me the warm and fuzzies while showcasing their product at the same time. Love it!
Lily Worth, Email Design and Production Specialist
Sender: Figma
Subject line: Must be FigJam 'cause jelly don't shake like that
Preview text: Everything we announced at Config 2021, including new spaces for creators to imagine and iterate, brainstorm, and build — together.
Figma delivers gorgeous design, loads of info with a great journey for a long email, and fun little elements like work highlights and scratch outs. Figma makes tools for designers, so it's no surprise that their emails look so good—but this one really stood out.

Sender: Starbucks
Subject line: Here's to our favorite planet
Preview text: Celebrate this earth month with us
Again, Starbucks is known for its great visual design. This campaign is no exception. I love the content mix, and the use of both photography and illustration. Plus, it's not afraid of the "fold" and embraces scrolling! My only complaint is the center-aligned footer copy, which makes it less accessible and harder to read for folks with certain disabilities.
What was your favorite email in April?
We'd love to see which campaigns stood out in your own inbox. Drop a comment below with a link to see the email and share a few thoughts on what made it so great.
Want to make sure your email campaigns look great, work well, and stay accessible? Simplify your pre-send process with Litmus Email Previews and Test—our comprehensive suite of QA tools that helps you send every email with confidence.