Every month, we track opens from more than 1 billion emails using Litmus' Email Analytics and share the trends we observe in various email clients and environments. In November, webmail market share grew to 29%, while mobile and desktop dropped to 55% and 16%, respectively.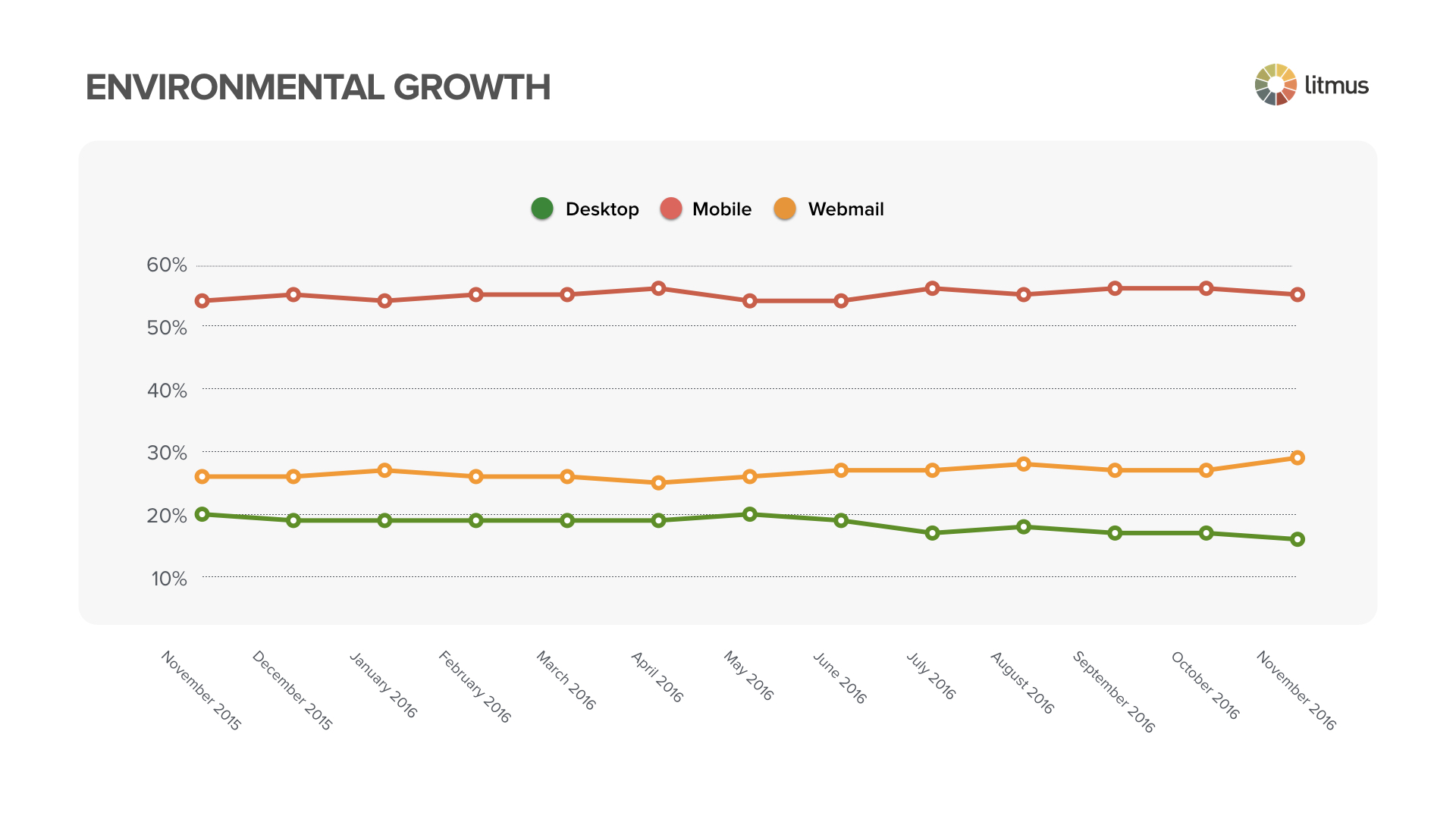 A REFRESHER ON MARKET SHARE TERMS + EMAIL OPENS
"Mobile" refers not only to mobile-specific email clients, like iPhone or Android, but also where users are opening their email. If they're using the Yahoo Mail app on their iPhone, for example, that counts as a mobile open for iPhone. This also includes tablets like the iPad.
"Desktop" shows any email client opened on a desktop application. That means any email client that required you to install software. If you're using a Mac, for instance, that could mean Apple Mail. On a PC, that might be Outlook.
"Webmail," by contrast, means you're using an email client within a browser. Logging onto your Gmail account or using Outlook.com fall under the "webmail" category.
How do we track opens? Open tracking in Litmus Email Analytics is based on 1×1 invisible pixel image tracking, which is the same technique that your email service provider uses to report your
open rate. When a customer opens your email, the image is loaded. This counts as an open. (Don't worry—the tracking pixel doesn't alter your carefully planned designs!)
Let's dig into the data:
Top 10 Email Clients
Apple iPhone holds the top spot with 33.69% of all opens, with Gmail coming in a distant second at 15.96%.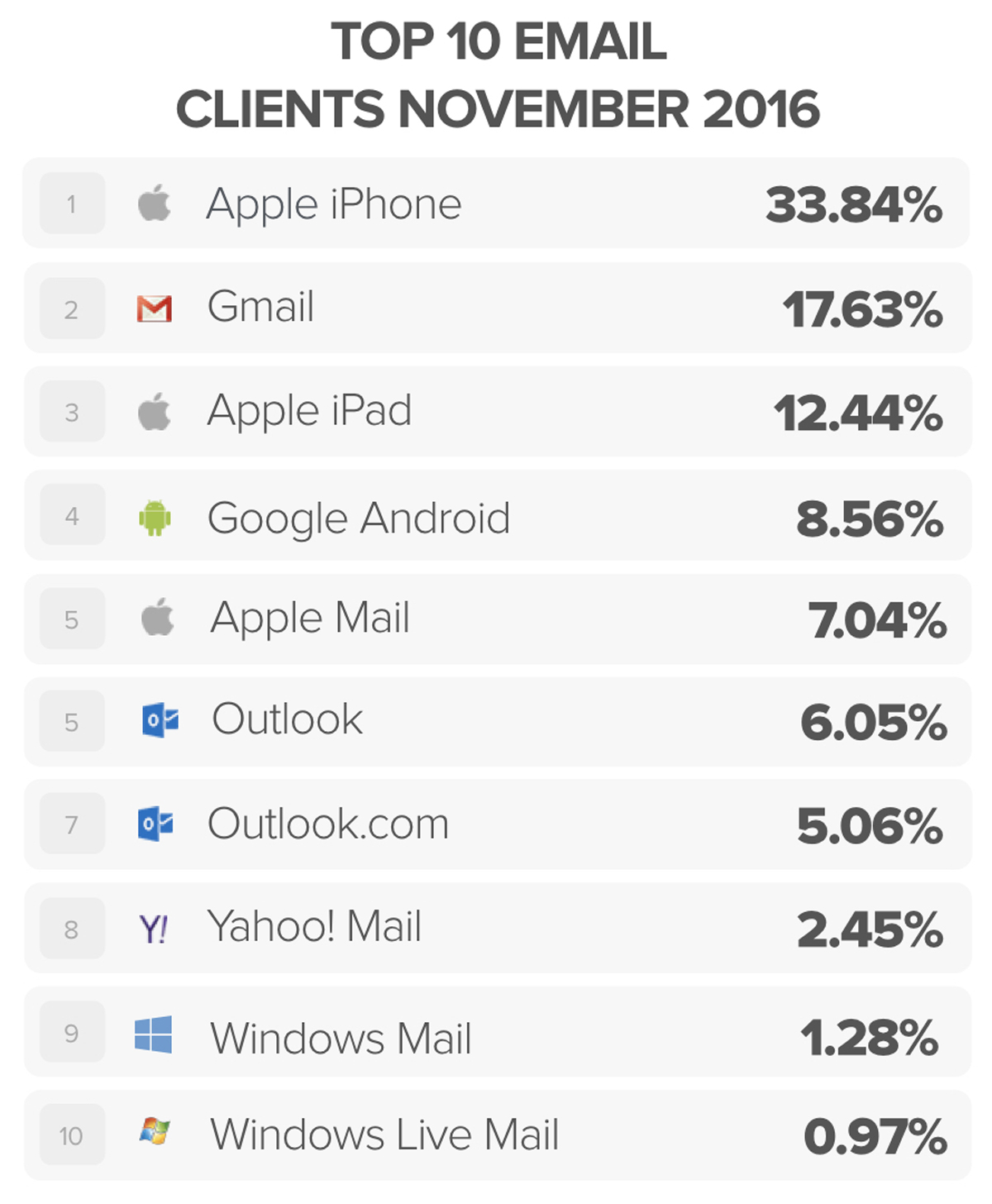 Discover your top 10

When it comes to email marketing, it's all about your audience. Use Litmus Email Analytics to discover which email clients are most popular with your subscribers. Sign up free!
iPad Growth Holds, Android Drops for Mobile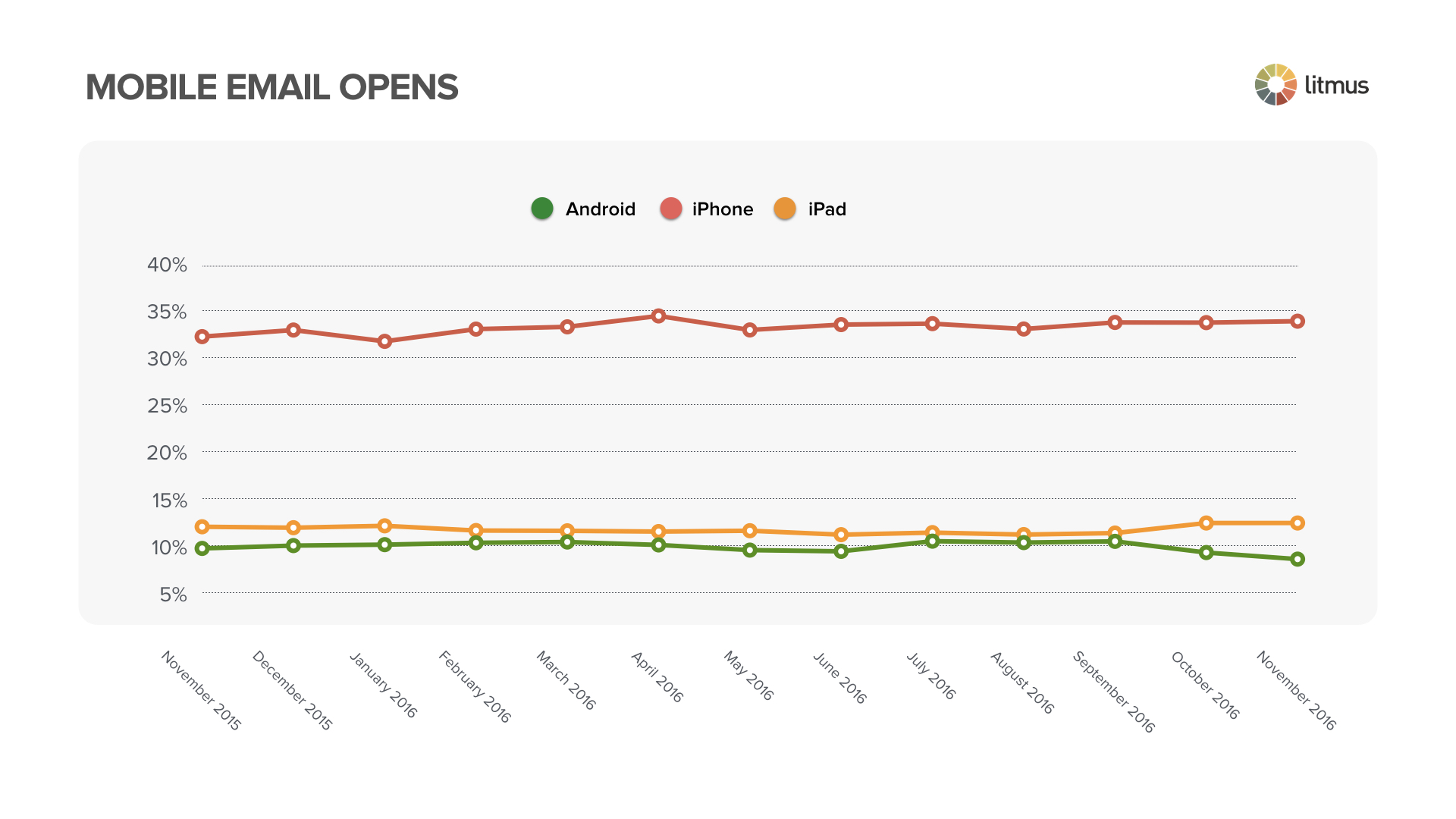 While mobile dropped to 55%, it may be a regular fluctuation. Mobile market share oscillated between 56% and 55% share since July 2016. However, the drop was a surprise since Black Friday mobile sales broke records this month. Since many major retailers offered special mobile-only deals, it may be that those deals were promoted in-app, instead of via email. Either way, Black Friday mobile sales topped $1 billion—mobile is still king.
Last month's trends continue this month, with Apple iPad holding at 12.4%, its highest point since February 2015. Before last month, iPad hadn't been above 12% since January 2016. This growth may signal that iPad users may be replacing their laptop or desktop with an iPad, at least for email.
Android continues to drop, down to 8.56% total opens, almost a 1% decrease since last month (when Android also dropped 1%).
This drop may be due to users switching ship from Android's native email app to Gmail. Recent changes like the "Gmailify" feature that allows users to obtain an email address without "@gmail.com" may appeal to Android's user base. In addition, Gmail now supports responsive design—holdouts turned off by a poor user experience from non-responsive emails in the past may now be switching.
Desktop Drops to 16%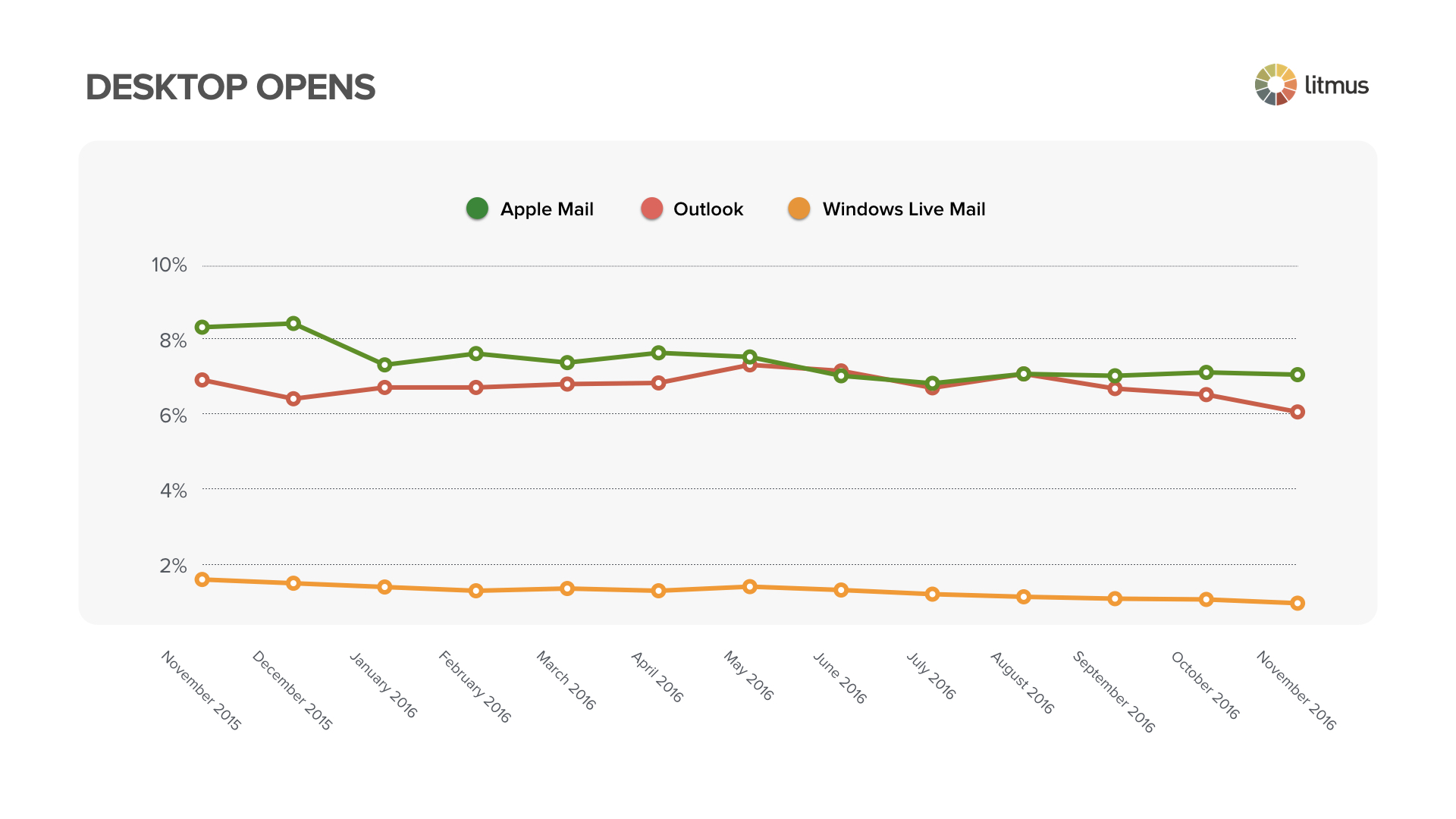 Desktop opens dropped to 16% this month, its lowest ever. Desktop has been trending downwards since May 2016 and we may see additional drops as mobile and webmail become the choice for email users.
Outlook remains in the top 10 at 6.05% of market share despite dropping steadily since August 2016. And while Outlook may account for a low overall percentage of email client market share, it's important to know what percentage of your audience is opening there—especially because Outlook can give email geeks headaches.
Here are a few things to be aware of when coding emails for Outlook:
To properly structure your emails for maximum cross-device/client/browser render-ability, you'll need to use tables.
Outlook doesn't support animated GIFs—it will only show the first frame.
To make background images work, Outlook requires the use of VML
Outlook has no padding support on p, div, and a tags
There is hope, email geeks. We've partnered with Microsoft to prioritize email rendering bugs in Outlook, identify issues faster, and announce improvements and fixes to the community. You can submit Outlook bugs here.
Webmail Opens Grow to 29%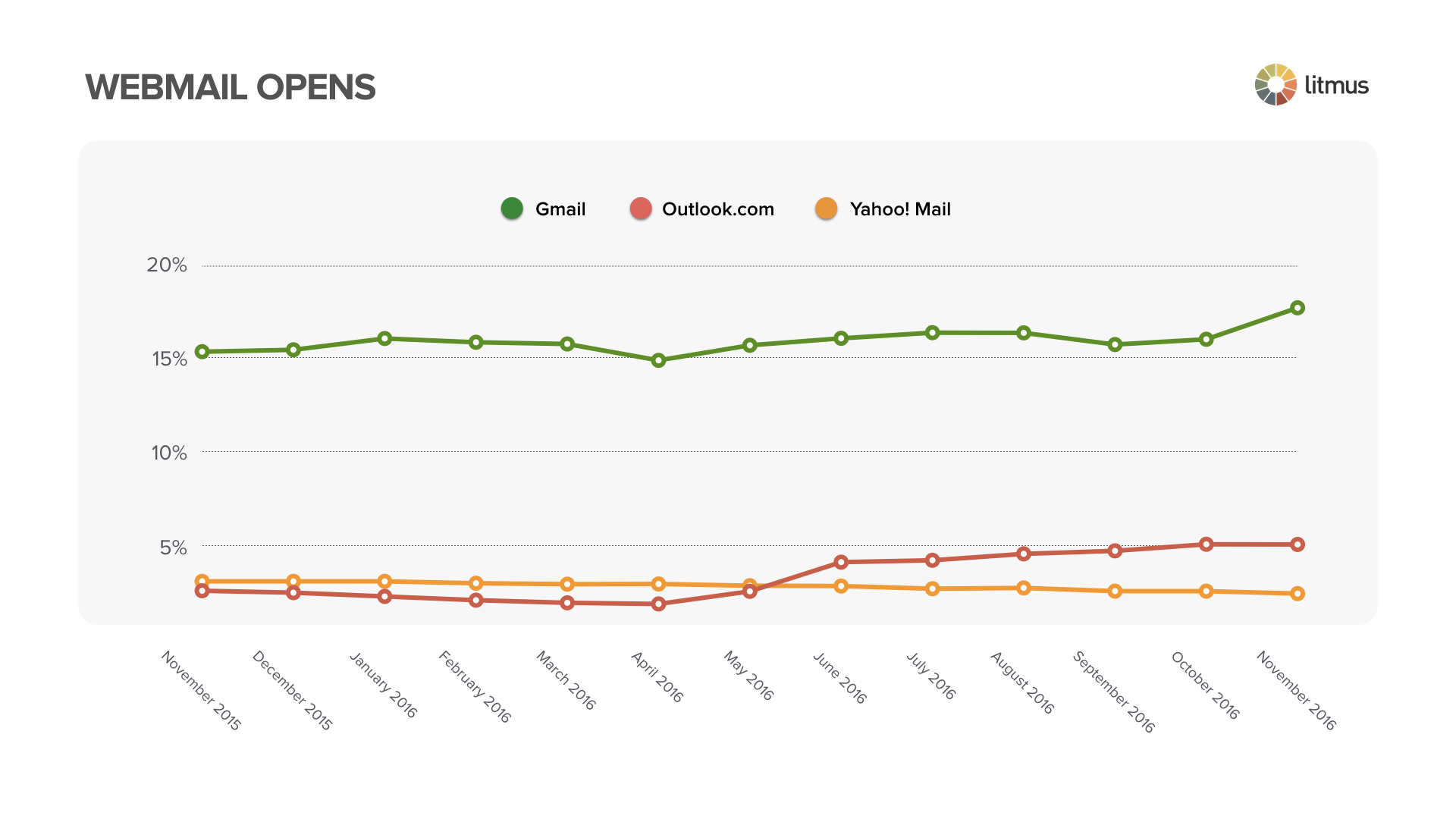 The main driver of webmail growth? Gmail.
Gmail remains the most popular webmail client by far, jumping up from 15% to 17% this month. While Gmail has been notoriously difficult to design and develop for, there's hope! The Gmail team recently rolled out support responsive design, improved font styling, and CSS for accessibility.
We're following this closely on our Gmail live ticker as changes continue to roll out this quarter. While that may take some time, this month saw the rollout finally hit the Gmail iOS app. All Gmail mobile apps now support responsive email. G Suite accounts show the rendering update as well.
If there was ever a time to go for responsive design, it's now! We define responsive design as using fluid tables, fluid images, and media queries to control the layout of an email across different device sizes. Get started with our how-to guide.
WHERE DID WE GET ALL THIS DATA?
This data is derived from over 1 billion opens collected worldwide with Litmus Email Analytics between November 1, 2016 and November 30, 2016. It highlights worldwide trends across all industries and verticals. Some email clients may be over- or under-represented due to image blocking. Tracking trends over time is the best way to monitor open data for email!
WHICH EMAIL CLIENTS ARE MOST POPULAR WITH YOUR AUDIENCE?
While general email client open data is great for looking at trends, it's your audience that matters. With the addition of a small tracking code to your campaigns, Litmus Email Analytics generates a report of where your subscribers open your emails. Use that data to focus your testing efforts—and ensure your campaigns look great in inboxes where your subscribers are opening.
Try Litmus free!